You are currently browsing the category archive for the 'Uncategorized' category.
Memorial Minute of William Boen (1735-1824), a Black Quaker of New Jersey and personal friend of John Woolman. Enslaved until age thirty, he waited for decades before Friends at last accepted his application for membership in 1814. "He was concerned above all things, to walk in the path of truth and righteousness; and according to his measure, to be faithful to every opening of duty, by which means he obtained the esteem of all who knew him. As he thus continued steadfast to the light in his own mind, he was favoured to see the necessity of a daily cross to all the gratifications of self, and that the cause of truth cannot grow in us, while we are governed by a worldly spirit. By yielding full of obedience to that light, which it was his chiefest joy to follow, he became truly convinced of the necessity of maintaining the various testimonies which we, as a people, have been called upon to bear; and, in some respects, he had to bear a testimony against things in which many of his white brethren indulge, particularly in regard to slavery; refusing to wear, or use in any shape, articles which come through that corrupted channel."
"Wisdom's Gate" is the title of a new post at Abiding Quaker patradallmann.com, which features a recording of a group discussion on George Fox's Epistle 44. The following excerpt is from that epistle. But in the light of God all wait, which will bring you to see where wisdom's gate is; the fear of the Lord is the beginning of it. Pure wisdom is let out of the treasury into the pure heart, which sees God; and fearing the living God, it keeps the heart pure and clean, to receive the wisdom from the treasury freely, who doth not upbraid. And as ye depart from evil and iniquity, he breaks the bonds by showing mercy; and then the understanding grows pure and clear (Works, VII, 54).
If we are honest with ourselves Quakes would recognize that we exist not just because of George Fox but because of Margaret Fell. We are the marriage of his Spirit and her connections and practical organization. She was married to a judge until the judge died. That mattered. We have always had one foot in privilege, one foot in prison. One foot in acceptance, the other in challenge. The only time we talk about being a majority, in Pennsylvania, I am confident we were outnumbered by Natives. Our systems while appearing hopelessly idealistic are eminently practical. We were born in this marriage, and we embody it. We can not be all one or the other or we lose ourselves.
19.06.2021 – US, United States – Independent Media Institute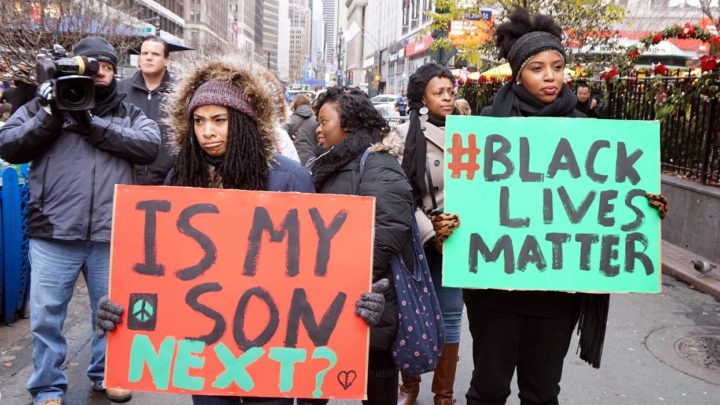 The horrors of slavery and the harms from subsequent racial injustices cannot be met with symbolic gestures like holidays. Real restitution must come in the form of reparations—which neither party seems interested in.
By Sonali Kolhatkar
After the United States Senate and House in quick succession passed a federal bill to make "Juneteenth" a federal holiday to commemorate the end of slavery, President Joe Biden wasted no time in signing the bill into law. "Making Juneteenth a federal holiday is a major step forward to recognize the wrongs of the past," said Senate Majority Leader Chuck Schumer, expressing what has come to be his party's standard performative gesturing toward historic racial injustices by a party that likes to set itself apart from Republicans via lip service to liberal ideals.
To his credit, Schumer added, "But we must continue to work to ensure equal justice and fulfill the promise of the Emancipation Proclamation and our Constitution." Ensuring "equal justice" is precisely the step that would carry real meaning and add teeth to the very short, one-page Juneteenth bill. So why is that critical aspect missing from the bill?
There are many historical accounts of how Juneteenth came about, but the most widely accepted one is that enslaved Black people in Texas were the last in the U.S. to know that they had the legal right to be free—two and a half years after the Emancipation Proclamation of January 1, 1863. The revelation that freedom was at hand came from General Gordon Granger in Galveston on June 19, 1865, and if ever there was a declaration of American independence that carried any moral weight, it is the day that came to be known as Juneteenth—rather than the Fourth of July and the syrupy and blind patriotism that accompanies it.
When a wave of mass protests against racist police brutality swept the United States last summer after George Floyd's killing, corporate America began to acknowledge Juneteenth as an important day, "discovering" what many Black communities had commemorated for years. Then-President Donald Trump also took credit for publicizing it, saying with his usual audacious ignorance, "I did something good: I made Juneteenth very famous. It's actually an important event, an important time. But nobody had ever heard of it." Since most white Americans had likely not heard of Juneteenth, in the 45th president's mind, that meant nobody had. Trump made the comments in the context of a controversial political rally that his reelection campaign scheduled for June 19, 2020, in Tulsa, Oklahoma, the historical site of some of the nation's bloodiest racial violence.
A year later, Democrats, with their newfound political power, are trying to set themselves apart from Trump and the GOP. Rather than making aggressive efforts to pass a hefty infrastructure bill, a minimum wage increase, or important voting rights reform—all of which would more substantially benefit Black Americans—the party is now expecting credit for recognizing Juneteenth as a federal holiday that all Americans can mark.
Congresswoman Sheila Jackson Lee of Texas who sponsored the Juneteenth holiday legislation went as far saying, "what I see here today is racial divide crumbling, being crushed this day under a momentous vote that brings together people who understand the value of freedom." These words are as hollow as the declarations of a "post-racial" era when Barack Obama was elected to the presidency in 2008.
What Democrats are utterly failing to acknowledge is that when enslaved people were declared free, that freedom meant an abrupt end to the horrific injustices wreaked upon generations of Black Americans, but it also meant almost no accountability or justice to compensate for what was done to them, no payment for the centuries of stolen labor, no redress for the violence, terror, family separations, sexual assaults, grinding servitude, and other hard-to-imagine harms.
For Democrats to make a symbolic gesture toward racial justice without the financial redress that could actualize such justice is mere posturing. Melina Abdullah, a leader in the Los Angeles chapter of Black Lives Matter and a professor in Pan-African studies at California State University of Los Angeles, made a statement that cuts to the heart of what lawmakers need to hear, saying about Juneteenth, "White folks need to sit this one out. It's not yours. Your acknowledgment should come in the form of #reparations." She added, "And by 'white folks' I mean government, corporations, and the individual white families whose wealth is built on the stolen labor of Black folks." Her sentiments were widely echoed by other Black Americans on social media.
Neither party appears to have the political courage to truly respect the idea of racial justice for Black Americans. Democrats, who take great pride in the symbolism of their history-making half Black, half Indian Vice President Kamala Harris, are also going out of their way to censure and silence Somali American Congresswoman Ilhan Omar of Minnesota for speaking uncomfortable truths. The liberal party excels in performance over substance and in celebrating Black Americans as long as they help meet diversity quotas but remain subservient to the establishment.
In contrast, Republicans have brushed aside all pretense toward respecting racial equality altogether. The rabidly racist Senator Ron Johnson (R-WI) almost objected to the Juneteenth bill, saying, "it still seems strange that having taxpayers provide federal employees paid time off is now required to celebrate the end of slavery." (One wonders what the senator would deem acceptable instead.) And in Texas, where the original Juneteenth celebrations began and where the day was declared a state holiday earlier this year, Gov. Greg Abbott signed a bill championed by Texas Republicans to bar the teaching of critical race theory (CRT) in state schools. It is precisely the academic framework of CRT that has helped to create a broad understanding of why Juneteenth is important, and it is also what can help make the case for why reparations must be central to racial justice.
Republicans and conservatives have fought hard to ensure that injustices arising from slavery remain the past and that there must be no accounting for it in the present day. (These are often the same people who righteously insist on preserving Confederate-era statues for the sake of history.) If only it were true that racial injustices ended when slavery ended. But American society has remained hostile to Black communities through persistent, ongoing, debilitating racial discrimination and injustices even today. There has been no serious federal acknowledgment in the form of accountability and compensation either of historic injustices or present-day discrimination. Neither Democrats nor Republicans are bold enough to embark on a project of reparations, and instead the two major parties remain emotionally invested in the myth of American exceptionalism.
Marking Juneteenth as a federal holiday is only the first step toward financial redress, not the last. The small town of Asheville, North Carolina, last year launched a program targeting Black residents for housing and business opportunities without actually dispensing what matters—money. The city of Evanston, Illinois, earlier this year went a bit further and began issuing $25,000 housing grants to Black residents to compensate for systematic housing discrimination along racial lines. Amherst, Massachusetts, is exploring pathways to reparations, and even states like California are considering steps for financial restitution.
Such efforts indicate that the countless Black academics, leaders, journalists and activists who have painstakingly made the case for reparations for decades might be seeing some vindication. Now if only federal lawmakers like Schumer, Ed Markey (D-MA), and Lee would use their political clout to move beyond performative gestures, we might believe they truly care about righting historical injustices in the service of full equality.
This article was produced by Economy for All, a project of the Independent Media Institute.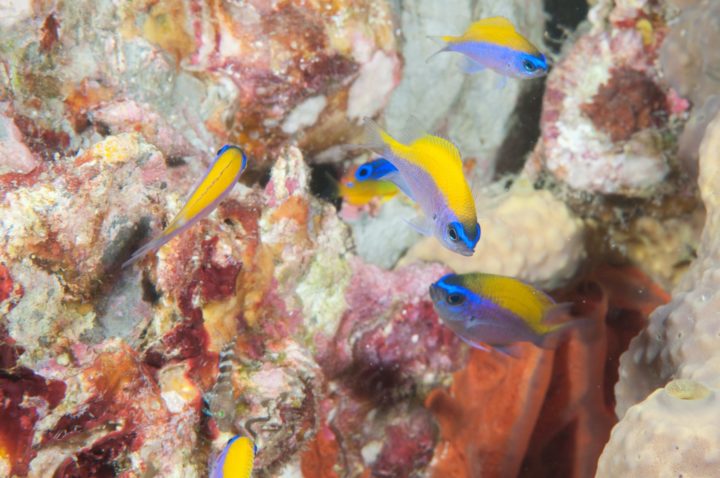 Some climate solutions can actually harm biodiversity. But there are synergistic solutions that can tackle both issues.
By Reynard Loki
The natural world is undergoing two enormous crises that are currently threatening the natural world: climate change and biodiversity loss. These crises are intertwined. Climate change is cur­rently impacting 19 percent of species listed as threatened on the IUCN Red List of Threatened Species, the world's catalog of endangered species. We are currently experiencing the Sixth Extinction, the sixth major extinction event in Earth's history and the only one caused by human activity. The Sixth Extinction is not only itself accelerating—it is also accelerating climate change, creating a destructive feedback loop. Now scientists are beginning to understand that another kind of destructive feedback loop is happening: Our own efforts to protect the climate could actually harm biodiversity.
On June 10, two separate United Nations bodies—the Intergovernmental Panel on Climate Change (IPCC) and the Intergovernmental Science-Policy Platform on Biodiversity and Ecosystem Services (IPBES)—released a joint report that they hope will alter the way society is tackling these crises. The report is the result of a four-day virtual workshop convened by the Scientific Steering Committee assembled by IPBES and IPCC and attended by 50 of the world's preeminent climate and biodiversity experts who examined how climate and biodiversity policies and strategies relate to each other, work at odds with each other, and can be dovetailed to maximize positive impacts.
The report's authors call for a "new conservation paradigm [that] would address the simultaneous objectives of a habitable climate, self-sustaining biodiversity, and a good quality of life for all. New approaches would include both innovation, as well as the adaptation and upscaling of existing approaches."
Within the scientific community, discussions about climate and biodiversity are often separate, creating silos of information that are ultimately not helpful in solving these interrelated dilemmas. (Case in point: The UN joint report represents the first-ever collaboration between the two intergovernmental science-policy bodies.) The report found that policies have generally addressed the two issues independently of each other, which has led to missed opportunities that can maximize efforts on both fronts while meeting global development goals.
"Human-caused climate change is increasingly threatening nature and its contributions to people, including its ability to help mitigate climate change. The warmer the world gets, the less food, drinking water and other key contributions nature can make to our lives, in many regions," said Professor Hans-Otto Pörtner, co-chair of the Scientific Steering Committee. "Changes in biodiversity, in turn, affect climate, especially through impacts on nitrogen, carbon and water cycles."
One of the ways that society can protect both the climate and the planet's biodiversity is to preserve and restore land and marine ecosystems that are rich in both carbon and species. By leaving such regions untouched by human development—or bringing them back to their natural state—the carbon stored in them remains out of the atmosphere, where it would contribute to global warming, and the species that live there would benefit from healthy, functioning habitats. In addition, by leaving forests intact, for example, human society would continue to benefit from the ecosystem services they provide, like regulating floods, protecting coasts, enhancing the quality of water resources, preventing soil erosion and supporting plant pollination. The report found that reducing deforestation and forest degradation can contribute to lowering annual greenhouse gas emissions, by as much as 5.8 metric gigatons of carbon dioxide every year.
An increase in sustainable agricultural and forestry practices—which would reduce greenhouse gas emissions, increase carbon sequestration and enhance biodiversity—is also a way to tackle both issues. By improving the way farmlands are managed, particularly by conserving soil quality and reducing the use of fertilizer, we could prevent as much as 6 metric gigatons of carbon dioxide emissions every year, according to the report.
The report's authors point out that while the creation of protected areas has been essential for species protection, these areas are not nearly enough to prevent the rapid decline of species on a planetary scale, with only a paltry 15 percent of land and 7.5 percent of the ocean currently protected. And even in many of those areas, laws are not properly enforced. "Not only are protected areas too small on aggregate (and often individually), but they are also frequently sub-optimally distributed and interconnected, inadequately resourced and managed, and at risk of downgrading," the report states.
In April 2019, a group of 19 prominent scientists published the "Global Deal for Nature" (GDN), a "time-bound, science-driven plan to save the diversity and abundance of life on Earth," which, when paired with the Paris Climate Agreement, is meant to "avoid catastrophic climate change, conserve species, and secure essential ecosystem services." The GDN's main objective is to conserve "30×30": 30 percent of the Earth in its natural state by 2030. The idea has become an international rallying cry, with 50 nations joining the movement to defend big swaths of intact ecosystems from exploitation, extraction and development.
The Wyss Foundation, a private charitable foundation based in Washington, D.C., "dedicated to… empower[ing] communities… and strengthen[ing] connections to the land," has joined forces with National Geographic to launch the Wyss Campaign for Nature—"a $1 billion investment to help [nations], communities, [and] Indigenous peoples" mobilize to achieve the 30×30 goal. The campaign has launched a public petition urging immediate action to protect those ecosystems that have not yet been completely despoiled by the unrelenting expansion of humanity. "Protecting 30 percent of our entire planet by 2030 (30×30) is an ambitious but achievable goal," the campaign says. "To achieve it, all countries must embrace the goal and contribute to it; Indigenous rights must be respected; and conservation efforts must be fully funded."
Similarly, the UN report calls for the "external recognition of Indigenous peoples' and community conserved territories and areas (ICCA), initiated, designed, and governed by Indigenous communities," as well as "enhanc[ing] financing for nature" through a "[s]ubstantial upscaling" of financial resources.
The report also brings up concerns that some climate change mitigation strategies can actually harm biodiversity. For example, growing corn for biofuel or burying captured carbon requires land-use changes that would reduce or compromise wildlife habitats. (Conversely, the scientists did not find any species protection measures that had a negative impact on the climate.)
"The evidence is clear: a sustainable global future for people and nature is still achievable, but it requires transformative change with rapid and far-reaching actions of a type never before attempted, building on ambitious emissions reductions," said Pörtner. "Solving some of the strong and apparently unavoidable trade-offs between climate and biodiversity will entail a profound collective shift of individual and shared values concerning nature—such as moving away from the conception of economic progress based solely on GDP growth, to one that balances human development with multiple values of nature for a good quality of life, while not overshooting biophysical and social limits."
Simon Lewis, chairman of global change science at University College London, did not participate in the UN report, but he called it "an important milestone." "Finally the world's bodies that synthesize scientific information on two of the most profound 21st-century crises are working together," he said. "Halting biodiversity loss is even harder than phasing out fossil fuel use."
This article was produced by Earth | Food | Life, a project of the Independent Media Institute.
18.06.2021 – Joseph Gerson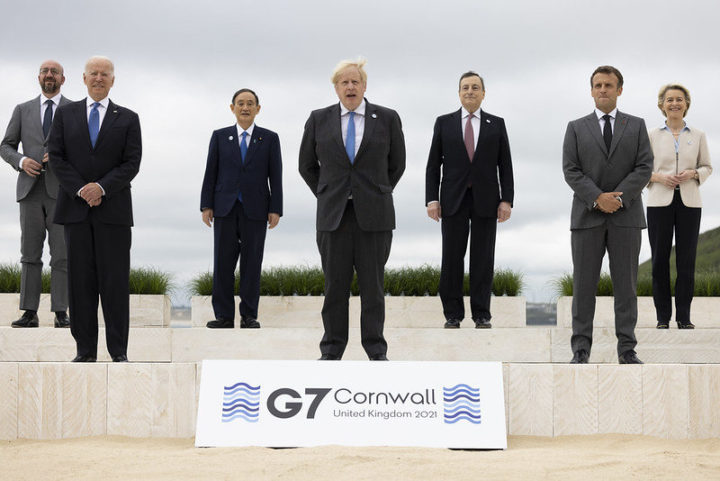 President Biden's European sojourn has been a signal effort to restructure the global disorder to reinforce U.S. hegemony and to contain and manage China's rise. Not limited to NATO's new 2030 doctrine which reinforces U.S. Indo-Pacific military dominance with European forces, Biden and his associates are working to turn Europe's economic, technological, diplomatic and cultural resources against China. At a time when the collaboration of the world's nations and resources are urgently needed to reverse the climate emergency, win nuclear disarmament and stanch today's and future pandemics, the U.S. and its allies are leading humanity on a forced march to tragedy that must be averted.
Analysis by Joseph Gerson
Joe Biden's and Donald Trump's differences about how to approach NATO and other alliances are those of night and day. However, they have been totally consistent in their arrogant and dangerous commitments to contain China and manage its rise. Donald Trump believed that the U.S. could contain China with unilateral economic and military policies. Biden is working to cobble together a coalition of the willing to confront China and force it to remember its place in the U.S. dominated rules-based order. First, Biden welcomed Japan's Prime Minister Suga and South Korea's President Moon as the first heads of state to be feted by his administration in Washington. This week he moved to more radically restructure the global order.
Not mentioning NATO's endorsement of its new 2030 Doctrine which makes containing China a priority, the New York Times nonetheless reported that "China's rising military ambitions are presenting NATO with challenges that must be addressed , the 30-nation Western alliance said Monday." The summit marked a "fundamental shift in the attentions of an institution devoted to protecting Europe and North America – not Asia."
In fact, as NATO's first General Secretary noted, NATO was created to keep Russia out, Germany down, and the U.S. in. Instead of being retired with the end of the Cold War, NATO has been transformed into a global alliance, now extending across Eurasia and the Indo-Pacific, and designed to contain China.
The U.S. led campaign to contain China is not limited to the two powers' military competition. By bringing the G-7 heads and the European Union into greater collaboration and unity to challenge Beijing, Biden and his lieutenants ratcheted up efforts to contain China not only militarily, but economically, diplomatically, and culturally.
Among the collateral damage of Biden's European sojourn was the prospect of meaningful and essential collaboration to address the climate emergency and future pandemics.
Given the importance of their trade with and investments in China, and their uncertainty over the United States political future Europe's elites have been reluctant to fully sign up for a new Cold War with China. However, China's campaign to militarily enforce its contested territorial claims in the South China/West Philippine and East China Seas, its increasingly authoritarian rule and human rights repression, and its growing influence in Europe have inclined European leaders to be increasingly willing to challenge the Middle Kingdom. Pressed by the United States, the G-7's final communique was a reflection, according to National Security Advisor Jake Sullivan, of seven of the world's richest and most powerful nations "converging around a common strategy." Biden's meeting with the European Union's leadership before leaving for Geneva and his summit with Vladimir Putin, reconfirmed this commitment, with agreements for greater collaboration in trade and technology.
While not explicitly condemning China, the G-7 joint communique reflected consolidation of Western and Japanese determination to bring China to heel. It urged China to "respect human rights and fundamental freedoms, especially in relation to Xinjiang and those rights, freedoms and high degree of autonomy for Hong Kong" as per the Sino-British Joint Declaration that defined the terms of the former colony's reunification with China. The joint statement expressed concern about the growing tensions in the South and East China Seas, and with dangerously provocative military actions in and around Taiwan for the first time the G-7 stressed the "importance of peace and stability across the Taiwan Strait" and "the peaceful resolution of cross-Strait issues.
The G-7 focused not only on changes demanded of China. From their soft-power commitment to increasing the world's supply of Covid-19 vaccines, to adapting trade policies to reduce complicity in alleged Chinese forced labor practices, seven of the world's richest nations are seeking to transform the ground on which the increasingly (and unnecessary) zero-sum competition with China is being played out. The G-7's combined economic and institutional strengths are being redirected to enforce continued dominance by the United States and its most privileged allies. And, among the changes to watch for will be Italy's reassessment of its collaboration with China's Belt and Road Initiative.
Not surprisingly the NATO summit's final statement was more bellicose, warning that "China's stated ambitions and assertive behaviour present systemic challenges to the rules-based international order and to areas relevant to alliance security." NATO Secretary General Stoltenberg named the realms in which NATO will be more confrontational in insisting that China conform to the Western and Japanese rules of the road: "space, cyber and maritime." It would have been helpful for NATO to have acknowledged that China was an impoverished and marginalized nation when "rules-based order" was imposed by the United States and it allies, and that China's need and desire to modify those rules today are as natural as the rising of the sun.
Signaling NATO's new China containment commitment, in the months leading up to the summit, French and Japanese warships joined the U.S. in provocative and misnamed "freedom of navigation" exercises in the South/West Philippine Sea, and Boris Johnson more recent dispatch of Britain's Queen Elizabeth aircraft carrier to join in demonstrating U.S./Western hegemony in those same seas.
With the end of the Cold War, NATO should have been retired. Instead, it has been on the path to becoming a global alliance to enforce the U.S. and western imposed "rules-based order." Contrary to the GHW Bush -Gorbachev agreement not to expand the alliance a centimeter closer to Moscow in exchange for German reunification on West German terms, it expanded across eastern Europe to Russia's borders, ensuring something akin to a new Cold War. NATO joined the United States invasion of Afghanistan. Its 2010 Lisbon Summit adopted its "out of area doctrine. The Alliance's privileged "global partners", with more soon to be added, currently include Afghanistan, Australia, Colombia, Iraq, Japan, the Republic of Korea, Mongolia, New Zealand and Pakistan.
Now NATO will be pushing back increasingly against what Canadian Prime Minister Trudeau described as increased NATO Chinese tensions in Africa, the Mediterranean, and the Arctic", as well as the newly designated "Indo-Pacific" region, cyberspace and in the competition for technological dominance.
A new and global Cold War with China is among the last things that humanity needs. Even as we reaffirm and press for respect for human dignity and human rights on both sides of the Pacific, the U.S., NATO, and Chinese military e ratcheting up of confrontational tensions deflects our attention and diverts commitment of resources from addressing the truly existential dangers of the climate emergency, nuclear weapons, and pandemics. The new Cold War not only impoverishes our societies, but an accident or miscalculation as U.S., NATO, and Chinese military forces confront one another can all too easily escalate to a nuclear conflagration.
It is past time to be demanding that our national leaders pursue the mutually beneficial diplomacy of common Security.
Happy birthday, Elbert Hubbard (June 19, 1856 – May 7, 1915). Anarchist. Socialist. Writer. Publisher. Artist. Philosopher. Lecturer. Founder of the Roycroft artisan community in East Aurora, New York. Editor and publisher of "The Philistine" magazine, which was wrapped in brown butcher paper because, as he put it, "there's meat inside." Author of "Jesus Was An Anarchist" (1910). Elbert and his wife Alice were aboard the Lusitania when it was sunk by the Germans, a few miles off the coast of Ireland. Their bodies were never recovered. Born in Bloomington, Illinois.
One of my heroes is Congresswoman Barbara Lee. A few days after 9 11, Congress voted to allow funding for retaliation. She was the only member of Congress to stand up and say returning evil for evil is wrong. Congress also gave away their war powers to the president. Twenty years later, a bill passed Congress today taking war powers back. She was influential in getting the bill passed. Tonight on Rachel Maddow, she mentioned several groups which helped to get the bill passed including the Friends Committee on National Legislation, a Quaker lobbying group in Washington which works on peace issues.
QUAKER TESTIMONY: JUSTICE
Do rightly, justly, truly, holily, equally to all people in all things; and that is according to that of God in everyone, and the witness of God, and the wisdom of God, and the life of God in yourselves.
Whatever your calling, live in the power of Truth and wisdom of God to answer that just principle of God in all people upon the earth.
So, let your lives preach, let your light shine, that your works may be seen, that your Father may be glorified. This has the praise of God, and they who do so come to answer that which God requires, to love mercy, do justly, and to walk humbly with God.
George Fox, Letter 200
The Lord is at hand, he is near you all, the kingdom of God is within you, the principle of God is within you, with which (if you mind it) he will break
the yoke of the oppressor within you and without you by the sword of justice, that's his kingdom upon earth, put it not afar off, let it arise in your hearts, set it up above the will of man, let it shine in your hearts, let it speak in your courts, that which is of God in you all, which judges justly and with equity.
James Naylor, 1659
This is to me the hour of greatest joy I ever had in this world. No ear can hear, no tongue can utter, and no heart can understand the sweet incomes and the refreshings of the spirit of the Lord, which I now feel.
Mary Dyer, 1660
Oppression in the extreme appears terrible: but oppression in more refined appearances remains to be oppression; and where the smallest degree of it is cherished it grows stronger and more extensive. To labour for a perfect redemption from this spirit of oppression is the great business of the whole family of Christ Jesus in this world.
John Woolman, 1763 'A Plea for the Poor'
Laws and decrees shall be changed and renewed… Every yoke and burden shall be taken off from the neck of the poor; true judgment and justice, mercy and truth, peace and righteousness shall be exalted; and all the nations shall have judges as at the first and counselors as at the beginning…
We are not for Names, nor Men, nor Titles of Government, nor are we for this Party, nor against the other, because of its Name and Pretence; but we are for Justice and Mercy, and Truth and Peace, and true Freedom, that these may be exalted in our Nation.
Edward Burrough, 1659
Now Friends, you that are Slave-Keepers, I pray and beseech ye, examine your own Hearts, and see and feel too, if you have not the same answer from Truth now within; while you Preach and exhort others to Equity, and to do Justice and love Mercy, and to walk humbly before the Lord and his People, and you yourselves live and act quite contrary, behave proudly, do unjustly and unmercifully, and live in and encourage the grossest Iniquity in the whole World.
For I say, you are got beyond Gospel, Law, Abraham, Prophets, Patriarchs, to Cain the Murtherer, and beyond him too, to the Devil himself, beyond Cain, for he Murthered but one, that we know of but you have many Thousands, or caused 'em to be so, and for ought I know many Hundreds of Thousands, within 50 Years.
What do you think of these Things, you brave Gospel Ministers?
Benjamin Lay, 1738 All Slave-Keepers Apostates, p. 91-92
Does capital punishment tend to the security of the people? By no means. It hardens the hearts of men, and makes the loss of life appear light to them; it renders life insecure, inasmuch as the law holds out that Property is of greater value than life.
Elizabeth Fry, 1818
There is in public opinion a power much greater than that residing in any particular form of government. . . under the impulse of a great principle, with great labour and with great sacrifices, all those obstacles are overcome, so that out of a machine especially contrived for the contrary, justice and freedom are at length achieved for the nation.
John Bright, 1846
That laws of changeless justice bind
Oppressor with oppressed;
And, close as sin and suffering joined,
We march to Fate abreast.
John Greenleaf Whittier, 1861
Justice is of the Spirit, not of the outside world – but our understanding is so wrapped up in outward things that we can only grow spiritually by applying spiritual things to
material ones – there­fore we must be just though Nature is not'
Hilda Clark, 1908
We ought to be willing to work for causes which will not be won now, but cannot be won in the future unless the goals are staked out now and worked for energetically over a period of time.
E. Raymond Wilson, 1943
The uniqueness of early Friends lies not so much in the teaching of a divine Light within man as it does in the work and power that can be accomplished by that Light.
In our own day, however, we have attempted to put the early Quaker teaching of the Light within on a philosophical basis. We have placed this belief in a logical and philosophical framework that agrees with our own thinking. This has resulted in a large degree of failure to understand the true contribution that early Friends made. Nor has it enabled us to understand accurately what the Light meant to them…
We have hurried past the words about an ocean of darkness to the welcome metaphor of an ocean of light…
Our dream has been shattered for most of us today, but there are still some who, unwilling to face the truth of the magnitude of the catastrophe that has engulfed us, bravely whistle in the darkness of our age about the wonderful material advances that await us in the "world of tomorrow….".
We wonder whether Jeremiah's words may be applied to those who now forecast a brave new world – "They have healed the hurt of the daughter of my people slightly, saying, Peace, peace; when there is no peace." [Jeremiah 6:14]
The seeds of racial, class and international struggle now being sown all over the world can only produce a new and more terrible harvest of sin and suffering. Though our faith remains steadfast in the ultimate victory of love over sin, we cannot but realize that an ocean of darkness covers our world now…
We attend meetings for worship and we please ourselves by self-given praise for our pure form of worship, but we have not known in those times of worship the soul-transforming power that results from utter obedience to the invading love of Christ…
So it is that God calls us, ever unwilling to let us be satisfied with even our half-goodness. The ocean of darkness is grim and terrifying in its power and extent, but the ocean of light, even Christ within, seeks to save and redeem us from that darkness. The result is war within ourselves, a basic conflict between selfishness and love. Unable to free ourselves of the ideals and visions which a divine light has planted within us, yet drawn inexorably toward sin, we find ourselves faced with an impossible tension, a moral dualism, which is profoundly disconcerting.
We speak of equality for all men because of the Light within, but we fail to give evidence that our words have meaning. Satisfied with mediocrity, contented with our comfortable plans for a secure future, pleased that our sins are seemingly small and overlooked by others who likewise do not desire complete purity, proud that we occasionally deny ourselves in order to contribute to some good cause, we continue to be weighty Friends and important people in our communities, but we have not known the life and power and spirit of those who have dared to be prophets of God…
Power is a key word in the early literature of the group, a word repeated hundreds of times.
They believed with profound intensity in the power of the Light within to redeem them completely from darkness and sin. God had become a living part of them…
All eternity is met in you as Christ asks you to become a partner with Him in the historic task of the redemption of our world from the ocean of darkness that claims it to the ocean of God's dazzling, blinding light of divine love and perfection.
Cecil E. Hinshaw, 1945
In the America of today there are hills that for us can be Pendle Hills, if we are risen within ourselves. On earth there are more people than ever before, beset by more problems and a greater danger. We need, more than ever, that some seekers shall find, shall receive the light and love that liberates us from our ego-prisons, and works a resurrection.
God alone can lift man into His order, and impart the substance of the divine. To want less than this is to miss the high purpose of religion; is, for Friends, to disavow the origin and aim of their own testimonies; is, for any and every man to consign himself to the welter of evils and conflicts which can never be resolved save as we emerge from scarcity by receiving life from the sacred source within ourselves. We must advance towards new birth in the divine-human order.
May it come to pass through our struggles, our sufferings and joys, the little acts of service, the greater acts of heroism, our daily work, our devotions, our tragedies and triumphs . . . God grow us to Thee.
Jean Toomer, 1949
Let us each one take a good look at our own expectations — our own vision of the Kingdom of God. What sort of condition is the vision in? Is it good enough? Is it clear enough? We pride ourselves as a Society on our practical work for the Kingdom. Others may talk, but we are doing! And indeed, it is right that we should be doing. Many Friends are at this moment about their Father's business in many parts of the world, and have little time to spare for sitting down and listening to lectures about it. But suppose someone should stop one of us tomorrow as we are going about our tasks, and say, "I hear you are working for the Kingdom of God. What is this Kingdom like? I want to know, because I might like to work for it too. I am not very satisfied with things as they are." Very probably we should answer, "I'm so sorry, but I am already late for a committee meeting. Ask me some other time, won't you?" And we would know in our hearts that we could not give an adequate answer. We are so immersed in "next-stepism" that we have no time to look at the vision on the far horizon.
And who does not know Jesus, the man who turned the Roman Empire upside down by simply ignoring it, and proclaiming and living a way of life so different from anything men then knew that it seemed utterly absurd? Other men through the ages have managed to ignore the rules of orderly social change and break right through to the Kingdom.
John Woolman took that leap into the future, and lived as if the Kingdom were already here. He could not have done so if he had not had a clear vision of that Kingdom. By his life, he brought it a little closer to the rest of the world than it had ever been before.
When we are spiritually liberated to live as if the Kingdom were already here, as we surely will be if we are faithful in prayer and seeking, it will slowly move in upon us from the horizon.
Elise Boulding, 1956
A Quaker social concern seems characteristically to arise in a sensitive individual or very small group … The concern arises as a revelation to an individual that there is a painful discrepancy between existing social conditions and what God wills for society and that this discrepancy is not being adequately dealt with. The next step is the determination of the individual to do something about it – not because he is particularly well fitted to tackle the problem, but simply because no one else seems to be doing it.
Dorothy H. Hutchinson, 1961
Without justice there is no peace; even in the absence of open strife there is no peace, only a manipulated lull in hostilities.
Justice has two connotations. One is fairness, righteous dealing, integrity; necessary, but not sufficient conditions for lasting peace. The other, to quote the Oxford English Dictionary, is observance of the divine law; righteousness; the state of being just before God.
When the bonding force of love unifies the two dimensions, the temporal and the spiritual, the task of the peacemaker is fulfilled. Truth has been established: true justice reigns.
Adam Curle, 1981
It is unlikely, therefore, that we shall debate each other, or our fellow citizens, into the ways of love.
For we touch people's hearts not by what we debate with them about, but rather by the quality of our being – by who we are, and by how we live, and by what we do.
Thus, all of our merely verbal efforts in education or politics have meaning only insofar as they spring out of our own very direct experience of joyfully seeing what love can do in practice.
Daniel A. Seeger, 1986
…I must believe in love
As a testimony against madness
and war and broken promises.
I choose love…
Helen Morgan Brooks, 1990,
from 'The Bus Comes'
Our equality testimony flows inevitably from our belief that there is that of God in every person. If we believe in Equality, we must work for Justice. British Friends remind us: 'Are you alert to the practices throughout the world which discriminates against people on the basis of who or what they are, or because of their beliefs? Bear witness to the humanity of all people, including those who break society's conventions or its laws. Try to discern new growing points in social and economic life. Seek to understand the causes of injustice, social unrest, and fear. Are you working to bring about a just and compassionate society which allows everyone to develop their capacities and fosters the desire to serve?
Beverly G. Ward, 2008
Can our Friends meetings be free of privilege and be a living sanctuary where all of God's self is free to minister to us in all of her offices as teacher, priest, and prophet? Can our Friends meetings be those thin places in which our relationships, regardless of race or class, are a sacrament of grace and wholeness? Can our Friends meetings be the body and hands of the Holy Spirit in the world today?
Christina Repoley, 2006
Here we agree on one thing: that there is that of God in all of us. It seems a simple idea, but it is a revolutionary one.
In Quaker fashion, it is a simple idea of what justice means, and it is the beginning of any discernment on how we approach the injustice before us: one of inhumanity and economic insecurity, which in turn affects all of nature.
Injustice is what poverty of spirit looks and feels like… Let us sit in the sweet silence of truth and wait for that still, small voice to provide us with the sustenance we need. Like manna from heaven, let us eat from the table of discernment until we are able to spring forward as examples of justice, not just in words or letters but in deeds.
The moment for spiritual justice is now, and it begins in the present action that springs forth out of the silence of wisdom and discernment.
Nicole Freeman, 2020
When many are content with right thinking and fewer are drawn toward right acting, one must wonder what success has done to our witness… Despite our toned-down bearing, the long-standing commitment to social justice has not waned for many of us…
We also know that the Spirit is a terrible thing to waste. The intent of letting "justice roll down like a mighty stream" (Amos 5:24) is not so that it can pool like a wind free pond.
Leaning on vicarious glow from spiritual ancestors will not move the social justice agenda.
All of us are called to do our part.
Dwight Wilson, 2014


′ Al loro nucleo, i diritti umani riguardano il modo in cui trattiamo le persone. Riconoscono che ci sono alcune cose a cui le persone hanno diritto solo perché sono umane, e che ci sono cose che non va mai bene fare alle persone."-Oliver Robertson, Quaccheri in Gran Bretagna.I quaccheri si sono uniti a gruppi religiosi e umanisti per chiedere al Primo Ministro di proteggere l'Human Rights Act 1998.Lo hanno fatto a causa della preoccupazione per l'adozione di misure che renderebbero più difficile per le persone garantire i propri diritti. Questo segue la revisione della legge sui diritti umani indipendente del governo, lanciata all'inizio di quest'anno.La lettera congiunta è stata coordinata da Umanisti Regno Unito, Rene Cassin e Quaccheri in Gran Bretagna, tra gli altri. È stato anche firmato dal vescovo di Manchester, dai musulmani britannici per la democrazia secolare, dalla rete delle organizzazioni sikh, dalla Soka Gakkai International, dal Movimento per l'ebraismo riformato, dall'ebraismo liberale e dalla Chiesa di Scozia. Dichiara:' Crediamo a cose diverse del mondo, al nostro posto in esso, e a come dovremmo vivere. Ma quello che tutti noi abbiamo in comune è che gli esseri umani sono dotati di dignità intrinseca protetta dai diritti umani.′′ La Convenzione europea dei diritti umani, su cui si basa l'Atto per i diritti umani, è stata la risposta dell'Europa all'orrore dell'Olocausto. L ' Atto ha salvaguardato le nostre libertà, compresa la nostra libertà di pensiero, di credo e di religione. Ci ha permesso di sposarci e di condurre funerali in linea con le nostre comprensioni del mondo, lasciandoci vivere secondo le nostre credenze.′′ Non vogliamo vedere quelle libertà diluire o vedere adottare misure volte a rendere più difficile l'accesso dei propri diritti alle persone. Fare questo priverebbe le persone di ciò che tutti dovrebbero godere. La dignità umana che tutti riconosciamo ha bisogno di un quadro giuridico per proteggerla.′′ Qualsiasi mossa per indebolire l'Human Rights Act rischia di minare la base di tutta la nostra libertà, e sarebbe un marcatore su un pendio molto scivoloso. Per un Regno Unito basato sulla decenza, la dignità e il rispetto, dobbiamo mantenere il nostro Human Rights Act così com'è. 'https://www.quaker.org.uk/…/human-dignity-requires-a…
https://www.quaker.org.uk/news-and-events/news/human-dignity-requires-a-legal-framework?fbclid=IwAR3C5LJJl7gw7L_b1iBYUb4FhnpKO8__n8tvy3lmQkLIOohcJYChZOswB2U
16.06.2021 – US, United States – Waging Nonviolence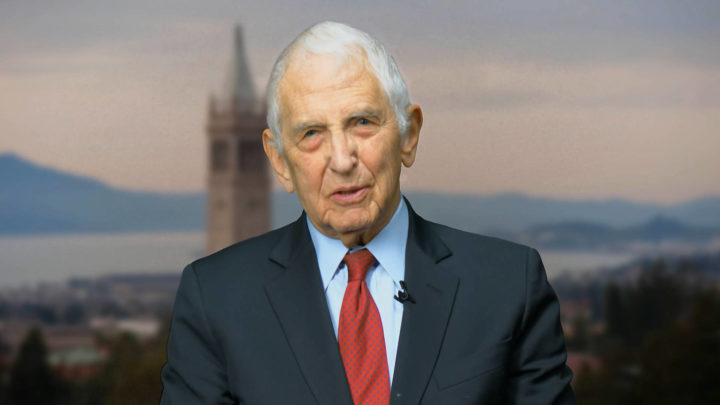 Daniel Ellsberg's release of the Pentagon Papers 50 years ago this week represents one of the most dramatic — if not the most dramatic — nonviolent actions of the movement that helped end the Vietnam War. It was also one of the most impactful as it precipitated events that led to the downfall of Richard Nixon. Less known is how the success of this action hinged on Ellsberg's personal conversion to nonviolence.
By Robert Levering
The media had a field day with the Pentagon Papers story. No wonder. It captured front-page headlines and network news for weeks: top secret documents revealed decades of governmental duplicity; a whistleblower eluded a massive FBI manhunt; the New York Times defied the president and published the papers; major newspapers joined in the defiance; a landmark Supreme Court decision vindicated the media; the whistleblower avoided a 100-plus year prison term because of governmental misconduct.
If the anti-Vietnam War movement has produced any celebrity, surely it's Daniel Ellsberg. Two major filmmakers have put the story onto the big screen — the Oscar-nominated 2009 documentary "The Most Dangerous Man in America" and the 2017 Hollywood feature "The Post," directed by Steven Spielberg and starring Meryl Streep and Tom Hanks.
Last month, the University of Massachusetts Amherst sponsored a major conference about the Pentagon Papers' legacy with Ellsberg himself, fellow whistleblower Edward Snowden, Nixon aide John Dean, and about two dozen journalists, activists and historians. (If you missed the conference, you can still check out the recording.)
Rather than bask in his fame, Ellsberg has used it relentlessly to bolster progressive causes on platforms big and small — or joined civil disobedience actions all over the country. (I was arrested with him four years ago at a nuclear weapons site when he was 86 years old. While in custody, he remarked that he had been busted about the same number of times as his age.)
The personal story behind the release of the Pentagon Papers is nearly as dramatic as the public one. A former Marine, Ellsberg was a gung-ho anti-communist who spent several years in Vietnam working for the government and then for a defense contractor. He became disillusioned with the American conduct of the war and the lies that perpetuated it. But he had only minimal knowledge of the antiwar movement or nonviolence until he met several activists at a conference at Princeton in 1968, including an Indian woman named Janaki, who introduced him to the philosophy of Gandhi and Martin Luther King. He was blown away. In his memoir "Secrets," Ellsberg said that it was a "genuinely new way" of thinking. "It seemed as though it might even offer … a chance of bringing about real change away from violence and revenge."
Anyone who has spent time around Ellsberg is impressed with his intensity and thoroughness. So, it is not surprising that he spent much of the next year reading everything he could about nonviolence — King, Gandhi, Thoreau, Tolstoy, Joan Bondurant, Barbara Deming, among others. Though still working for a defense contractor, he attended another conference, this one sponsored by War Resisters International. There he met several draft resisters, one of whom — a Quaker named Bob Eaton — was sentenced to three years in prison for draft resistance in the middle of the conference. Another — Randy Kehler, a War Resisters League staffer — gave a speech that changed Ellsberg's life. Randy asserted that he was looking "forward to jail, without remorse or fear, because I know that everyone here and lots of people around the world like you will carry on."
Randy's words hit Ellsberg "as though an ax had split my head, and my heart broke open." He left the hall and went to the men's room where he sobbed uncontrollably for about an hour. "What I had just heard from Randy had put the question in my mind, 'What could I do, what should I be doing, to help end the war now that I was ready to go to prison for it?'" Before long he knew his answer: Disclose top secret documents in his office that would become known as the Pentagon Papers. The cold warrior had been transformed into an anti-warrior.
Ellsberg's account of his conversion reveals two important factors that contributed to the effectiveness of his action. First, not only had Ellsberg become convinced intellectually that he had to do something against the war, he allied himself with the antiwar movement. This was no small matter. To his associates in the government and his defense contractor employer, he had gone over to the enemy.
During the War Resisters International conference, he befriended several activists and even joined a demonstration outside the courthouse where Bob Eaton was sentenced. Over the next year and half, Ellsberg discretely contacted other anti-warriors while he was copying and preparing the documents. And, just a month before the documents were released, Ellsberg took part in Mayday, the massive civil disobedience action where antiwar protesters attempted to block the streets of Washington to keep government employees from reaching their offices. Police used tear gas to disperse Ellsberg's affinity group, which included professors Howard Zinn, Noam Chomsky and Marilyn Young.
Once the New York Times published the first installment of the Pentagon Papers, Ellsberg's network of antiwar activists helped facilitate his remaining underground for two weeks while he sent sets of documents to other newspapers — a crucial reason why, despite its best efforts, the government was unable to stop the presses.
In this regard, Ellsberg contrasts with most other recent whistleblowers who essentially acted as lone wolves. Certainly, their courageous disclosures have been greeted approvingly by segments of the media and in progressive circles. But Ellsberg's many allies within the antiwar movement greatly amplified the visibility and impact of his action. He spoke to large crowds of supporters in the months before his trial. And the trial itself became a cause célèbre and a highly publicized antiwar forum.
Ellsberg's personal fearlessness was the second factor that contributed to the success of his action. As with the story of his decision to act, Ellsberg was deeply influenced by Gandhi, who wrote: "[Nonviolent] resistance cannot proceed a step without fearlessness. Those alone can follow the path of [nonviolent] resistance who are free from fear, whether as to their possessions, false honor, their relatives, the government, bodily injuries or death."
Ellsberg internalized this principle when he surfaced after two weeks of evading the massive FBI manhunt. As he approached the Boston courthouse surrounded by the media and dozens of activists, a reporter asked him, "How do you feel about going to prison?" Ellsberg replied simply, "Wouldn't you go to jail to end the war?"
In effect, Ellsberg was showing that he did not fear for the consequences of his action. Indeed, he was openly defying the authorities — in the same tradition as the Vietnam-era draft resisters, the civil rights marchers in Birmingham and Selma, and the participants in Gandhi's Salt March.
Such open defiance forces the opponent's hand. If they don't act, they lose face, and the nonviolent resisters win. So, almost always, those in power crack down by intimidation, arrests or physical violence.
The authorities' reaction sets in motion a dynamic that nonviolent theorist Gene Sharp called "political jiujitsu." If they react too strongly, they may find that their repression backfires, especially if the resisters remain nonviolent and provide a dramatic contrast with state violence. (The Alabama state troopers' beating of the marchers on the Selma bridge is a good example. Their behavior shocked the nation and resulted in the passage of the Voting Rights Act.)
In the case of the Pentagon Papers, Nixon became so enraged at Ellsberg's blatant violation of the law that he did not content himself with merely letting the whistleblower be prosecuted. Nixon created a secret unit called the Plumbers that illegally raided Ellsberg's psychiatrist's office and organized an attempt to physically assault Ellsberg at a rally. Nixon even tried to bribe the trial judge by offering him the plum job as head of the FBI.
Nixon's repression backfired big time. Ellsberg's case was dropped, and the illegal activities of the Plumbers unit created to stop Ellsberg led to Watergate and Nixon's resignation in disgrace.
For his part, Ellsberg's courage has not diminished even at age 90. Last month he released a cache of dozens of pages of a top-secret study that revealed that the U.S. military seriously considered first-use nuclear strikes against China over a 1958 dispute over Taiwan. Ellsberg made these documents public now because he believes the same threat exists today amidst the bellicose talk between the United States and China while both countries continue stockpiling nuclear arms.
By releasing the documents, Ellsberg is daring the government to prosecute him under the Espionage Act, the same law under which recent whistleblowers have been charged. He thinks the law is unconstitutional because of its chilling effect on the right of the public to know what its government is up to. As a disciple of nonviolence, Ellsberg is willing to risk spending the rest of his life in prison for the sake of future whistleblowers.

The original article can be found on our partner's website here
Purtroppo la notizia è arrivata nel tardo pomeriggio di ieri, e ahimè era nell'aria.Il Parlamento ungherese ha approvato una nuova legge contro la comunità lgbtq+, nella quale si vieta la diffusione di materiale informativo sull'orientamento sessuale o sull'identità di genere nelle scuole e verso i minori di 18 anni. Legge che si aggiunge al divieto di adozione per le coppie omogenitoriali e stabilendo la fine del riconoscimento legale del cambiamento di genere.Questa legge, che ha i contorni della legge russa sulla propaganda gay, è stata approvata dall'assembla nazionale con 157 voti contro uno facendo sì che il partito di governo Fidesz, guidato dal leader Viktor Orban, si rafforzasse ancora di più e che possa sempre più intensificare la campagna contro i diritti delle persone omosessuali.
Come è stato riportato dal Guardian, il governo ungherese ha dichiarato che "ci sono contenuti che i bambini sotto una certa età possono fraintendere e che possono avere un effetto dannoso sul loro sviluppo". Inoltre, le lezioni di educazione sessuale possono essere svolte solo da persone o organizzazioni elencate in un registro ufficiale preparato dal governo, questo perché si vuole "evitare l'accesso a queste tipo di lezioni a organizzazioni con dubbia formazione professionale, spesso stabilite per la rappresentazione di specifici orientamenti sessuali".
Non solo, il governo ungherese avrà il potere di vietare a tutte le grandi aziende di diffondere annunci pubblicitari o messaggi di solidarietà e a sostegno della comunità lgbtq+. Un'idea che era già campeggiata nelle menti dei componenti del partito di governo, quando nel 2019 chiesero di boicottare i prodotti di una nota marca di bevande che aveva usato lo slogan contro l'omolesbobistransfobia e immagini di persone omosessuali all'interno della propria campagna pubblicitaria.
Ma alla viglia del voto, la commissaria per i diritti umani del Consiglio d'Europa ,Dunja Mijatovic, ha chiesto alle forze politiche ungheresi di rinunciare al progetto di legge. Mentre l'europarlamentare ungherese Anna Donath, intervistata dal Guardian, ha definito la legge come " incompatibile con i valori fondamentali delle società democratiche europee e con i valori della cittadinanza ungherese" e di aver chiesto al Parlamento europeo di intervenire contro l'Ungheria.
17.06.2021 – Colombia – scoop.me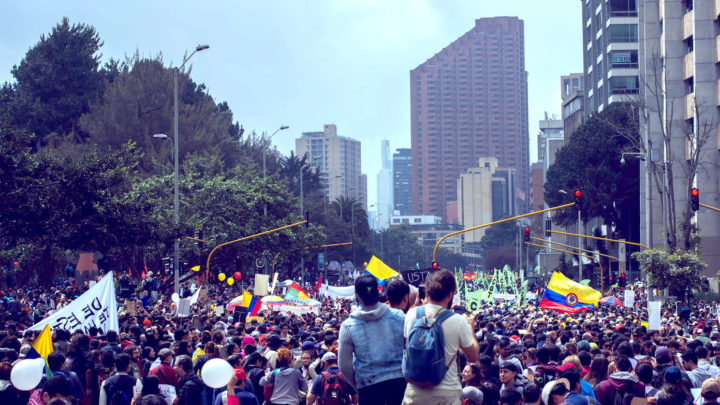 By Amerika21
The millions of poor in an enormously rich country can no longer bear to choose between very little and nothing. They have very little to lose. The tax reform proposal of 2021 was the straw that broke the camel's back. A commentary by the Colombian journalist Hernando Calvo Ospina.
Colombia's system of government has been at permanent war with its people since the beginning of the 19th century.
It began as soon as the Venezuelan Simón Bolivar left power in Bogotá, when he found himself betrayed and to be assassinated. Among other things, he had brought freedom to Colombia, fighting with his troops of ragged braves, almost all of them Venezuelans, until the Spanish crown was driven out. Prior to any other state in Latin America, Colombia's political leadership and Catholic Church began to enact repressive laws to persecute "communism." I am talking about the year 1920.
Colombia: eliminating internal enemies
But even if we start only from the 1960s, we can say that Colombia, without needing dictatorships and always under the patronage of the United States, has enforced the doctrine of National Security like no other nation in the region. President Kennedy, whose administration conceived and expanded the doctrine, congratulated the Colombians with admiration for their ability to implement it.
This strategy of eliminating the "internal enemy," the political opposition, is still going on. And under this doctrine – read carefully and excuse the comparison – each Colombian president, after four years in office, leaves more dead and disappeared for political reasons than all the dictatorships that the United States has established in Chile, Brazil, Uruguay, Paraguay, Bolivia and Argentina, combined and in the period of 16 years.
Crematoria to crocodile farms were created to make communitarian leaders disappear. There is no other country in the world where mass graves have been found with over 2,000 people in each.
The paramilitary groups have been part of the Colombian government system for six decades. Trained in the 1980s by Israeli, British and U.S. experts, they were and are financed with money from drug trafficking. They are in charge of doing the "dirty work" for the army and "cleansing" the rural areas of possible opponents of the transnational corporations and large landowners who seize control of the country's immense strategic resources.
U.S: fighting and buying cocaine
Colombia is the largest producer and exporter of cocaine in the world, despite the intervention of U.S. troops who came under the pretext of fighting just that; while at the same time the U.S. is the main buyer and its banks rake in 95 percent of the profits from this multi-billion dollar business.
Despite this, people keep affirming that Colombia is the oldest democracy in Latin America. Sure, there are regular elections, and as if by magic they close their eyes to reality.
I have been asked to write a text to President Iván Duque or to the "International Community" about the current repression (which has moved to the cities after always being concentrated in the countryside), but I cannot. The reason is simple: I cannot write calmly while knowing this reality and its roots (just as I cannot in the face of the aggressions against Cuba, Venezuela or so many other countries). It is impossible for me to use "presentable" terms.
Tax reform: "Protests should be directed to the President of the United states"
Moreover, any protest should not be directed to those Colombian mafioso and murderous politicians, because they are only the servants: it must be directed to the President of the United States, since he is first and foremost responsible. It is him who rules Colombia.
Thank you very much for suggesting this to me. Thank you for what you can do for this people who, despite the terrible oppression, including the economic one, fight every day and in every way. Oh, I am talking about the people, PEOPLE, not the petty bourgeois majority in the cities, who only occasionally feel what state violence is, but are ready to point out the "excesses of the mob".
The people of Colombia have very little to lose
And in conclusion, I say to you: The tax reform proposal of 2021 was the straw that broke the camel's back. These millions of poor people in an enormously rich country can no longer stand having to choose between very little and nothing. They have very little to lose.
The city that has risen up most fiercely in anger and wants to silence the terrible repression and crimes of the state forces is Cali, in the southwest of the country. To "calm" the protests they have sent whole troop contingents, on top of the thousands of soldiers already on the scene.
The commander of the armed forces himself directs the "deployment operations".
It would be strange, but perhaps they have studied the history of the country and know that in this city the first cry for independence was voiced and the war to banish the Spanish crown started.
That was the first independence…
  · Free! LIve & By Zoom: Harriet Tubman will be at Spring Friends Meeting in Snow Camp NC [ https:///www.springfriends.org%5D on Sunday June 27! Our Friend Diane Faison [ https://www.dianefaison.com/] will perform her acclaimed presentation as The Spirit of Harriet Tubman live and in person at Spring Friends Meeting (and the performance will also be streamed live via Zoom). Diane has offered this gripping original presentation as Harriet hundreds of times. Visitors are welcome and the program is free of charge. The performance will start at 10:45 a.m. (after an abbreviated meeting for worship). It will be followed by discussion and Q & A until noon, with fellowship and light refreshments after that. Friends who receive the weekly Spring Friends listserv emails will automatically receive the Zoom link. Others who wish to join via Zoom are asked to register with this form: [https://tinyurl.com/bxwxcset] no later than Wednesday, June 23. The performance will not be recorded.