You are currently browsing the category archive for the 'Uncategorized' category.
24 Interesting Things about George Fox and the Quakers:
George Fox was born July 1624, Fenny Drayton, United Kingdom, died: January 13, 1691, London, United Kingdom.
George Fox was 23-years-old (1647) when he became a "disarming critic of his own Christian culture." Church leaders and counselors could not "FILL" his "SPIRITUAL VOID."
In sanctuary, in "hollow trees and lonesome places" Fox received "Openings." He believed attending a university does not make a minister.
"The PEOPLE, not the STEEPLE, are the church." – George Fox
"The "SPIRIT" who inspired the scriptures; is their true interpreter." – George Fox
George Fox's vision contrasted greatly with the world of political violence and ecclesiastical (ministerial) hypocrisy of his time.
The "Conflict that rages is a Spiritual Conflict" – George Fox
Fox began preaching at the close of Puritan Meetings, in large crowds. As opposition intensified, he was "attacked" multiple times, thrown down church steps, beaten with sticks, and once beaten with a brass-bound Bible. Was imprisoned in Derby and refused to be "intimidated.
Courage and physical stamina were central themes in his life.
The message of LOVE was spreading. Groups like the "Covenant of Peace," "Publishers of Truth" (actual Quaker publishers), "Children of the Light," "The Camp of the Lord," eventually they settled on "Covenant of Friends" which eventually just became "Friends."
In 1652 the "Quaker Friends" movement began in England with George Fox as it's main founder. He was not alone: Gervase Benson, John Audland, Edward Burrough, Mary Fisher, Ann Austin, Francis Hillgill, William Dewsbury, James Nayle, and many others are termed "The Lambs" or Founders of Quakerism. All followers of George Fox's vision and preachers of his principals and all equally contributing their own ideas to a powerful political and theological REVOLUTION that grew both in England and in the New American Colonies, with numbers quickly reaching 100,000 by 1660.
The term "Quaker" was actually dubbed by their critics for their noticeable "EMOTIONAL EXUBERANCE!" George Fox was often described as more "FIRE" than "TACT." Once shouting at an English Judge: "You should TEMBLE/QUAKE at the word of the LORD!"
A group of Quakers in 1660 called "The Valiant Sixty" officially declared Quakerism as a Christian Denomination.
1662-1664 England enforced a law called "The Clarendon Code." Putting thousands of Quakers in Prison for ILLEGAL ASSEMBLY and for REFUSING "TEST OATHS."
June 1, 1660, Boston. "THE BOSTON HANGINGS" or "The Boston Martyrs" (Quaker named tradition). English members of the Society of Friends, Marmaduke Stephenson, William Robinson and Mary Dyer, and Friend William Leddra of Barbados, were ALL CONDEMNED TO DEATH and executed by PUBLIC HANGING for THEIR RELIGIOUS BELIEFS. This UNDER THE LEGISLATURE OF THE MASSACHUSETTS BAY COLONY in 1659, 1660 and 1661.
There is a statue of Mary Dyer in Boston Common, being the first woman condemned to death for religious beliefs on American Soil. She was a grandmother and an American citizen.
Deaths in Boston are a testimony for the "Price Paid" for RELIGIOUS FREEDOM.
NO Oaths, NO Sacraments, NO Cross, NO Crown. The Revolution Begins.
The hanging of Mary Dyer and other Quakers on the Boston gallows marked "the beginning of the end" of the Puritan theocracy and New England independence from English rule. In 1661 King Charles II explicitly forbade Massachusetts from executing anyone for professing Quakerism. George Fox was released from PRISON.
Fox sets up a system of LOCAL and REGIONAL QUAKERS "MEETINGS" to make sure "the cult of personality was "RESISTED." "A cult of personality" arises when a REGIME uses MASS MEDIA, PROPAGANDA, or other methods such as government-organized demonstrations to create an idealized, heroic, and at times worshipful image of a leader, often through unquestioning flattery and praise.
1669 George Fox marries a Quaker WIDOW named Margaret Fell. Mrs. Fell was also a ACTIVIST, a PUBLIC MINISTER, and was also IMPRISONED several times. Quite the couple.
George Fox died in 1691. He was a cobbler, and established himself as a wool and cattle dealer. Believed his "business integrity" is what brought him "Commercial Success."
Truth Can Live in the Jails" – George Fox
Fox often spoke about the "Authentic Christian Experience" which is RICH in BIBLICAL "METAPHOR."
Iran's #MeToo Movement Challenges Patriarchy and Western Stereotypes
18.09.2020 – BEIRUT – IDN InDepthNews

Viewpoint by Sara Tafakori*
t has been called an Iranian #MeToo movement, and it is. Thousands of women in Iran – and some men – are going online to speak about the sexual assault and harassment they experienced. What is crucially important, at what promises to be a historic turning point in Iranian women's struggle for their rights, is to set the movement clearly in its proper local and global context, rather than locating it in terms of the familiar binaries of East and West, as much of the coverage in the coming weeks and months will do.
This is an article which has been in the making for years, although I never thought there would be a revolutionary online commitment to naming names and to speaking out against #rape (#Tajavaz), #sexual harassment (#Azar-e Jensi), and #perpetrators (#Motajaves). Nor, probably, did the brave women who – unlike me – have spoken out against their abusers. It's been over two weeks now: hashtags are still pouring out, naming more names, and it does not seem that they are going to stop soon. 'Let's build a hashtag storm', said a tweet.
As a media anthropologist and gender studies academic, I have been following this eruption of rage and pain from the beginning, but I noticed how difficult it was for me to start writing about it since it is partly my story – the story of my eight years as a journalist in Iran. I have not been surprised to see many names of men whom I never dared to call out for their actions, many of whom I considered as colleagues and friends, who would make 'benign' sexual references and/or advances, who would tell you to 'loosen up', not to be 'provincial' or 'old-fashioned' – using a discourse which associated liberated metropolitan modernity – not (be it noted) religion or tradition – with female sexual subordination. In turn, I was expected to be 'enlightened' and 'modern' enough to regard all this as male joking around, in order to protect their feelings.
There has been a dramatic change in what it is now possible to talk about, and how it is framed. In 2018, in the wake of the Harvey Weinstein revelations, Sharq (The East), a prominent left-of-centre newspaper in Iran, ran an article by Mahzad Elyassi. This was the first article that not only reflected on #MeToo, but introduced a local connection, sharing Elyassi's own experience of how, as a 21-year old in the early 2000s, she had to fend off sexual advances from a famous Iranian film director, who was not named in the article.
In our conversations over the past few days, when I asked her about reactions to her piece back then, she told me the response was basically zero; one woman shared her own story but didn't want to speak out. In a follow-up article a while later, Elyassi concluded that 'perhaps we [Iranians] are not ready for it', that #MeToo was for privileged whites only, at least at that time. As she points out, the current movement in Iran actually seems to involve women from smaller as well as larger cities and comprises a range of political as well as economic backgrounds. In that sense, it is more intersectional than the original movement of 2018.
The first hashtag storm was built quickly in early August around two cases, the second involving an internationally famous artist, one of those 'national treasures' who, more often than not in Iran, are men. These cases sparked empathy, but also fury at women who want 'more followers', who are 'attention-seeking', and 'do everything that it takes'- which in this case meant wilfully 'lying' and making up stories.
These patterns of insult and abuse will be familiar. They speak to 'toxic masculinity', to use the well-known term, as an integral element of mediated global culture. (This, of course, supposes there is or was a 'healthy' masculinity, inside of the system of gender, as opposed to becoming a 'healthy' human being). It speaks to the idea of 'popular misogyny', as Sarah Banet-Weiser has termed it, which accompanies 'popular feminism' in the global media 'economy of visibility'.
Unlike in the US, however, the first set of revelations, using the hashtag #rape, did not involve a powerful celebrity, but an art school graduate and bookshop assistant, who was later arrested by the police. This 'ordinary guy' would invite female colleagues and friends over to eat and drink homemade wine, taking the opportunity to slip a drug into their drink. Women woke up in his bed without remembering much of the previous night. One woman posted the story of her shame, her anxiety, the fact she kept quiet for years.
Within a couple of hours, there was an eruption of similar stories, with women recounting how he would verbally humiliate them afterwards. What adds a layer of complexity which has not been addressed so far in Western media stories, is that when the police eventually decided to intervene and encourage victims to come forward, they had to specifically state that they would not be arresting people for having illegal (unmarried) sex or drinking alcohol, so no one should worry.
Given that the Islamic Republic is a political institution which applies sharia law and forces women to publicly veil themselves, this approach occasioned much debate on social media about how to engage with a politically regressive system in a way that would not involve completely rejecting its demands. A further, much discussed, the complication was the likely consequence if the accusations against the man were upheld, given that the legal punishment for rape is execution.
At first, the responses to this case, from both men and women, were warmly empathetic and sympathetic to the victims – there were very few 'you should have realised' comments, or observations that an invitation to drink tea or wine is just another expression for 'Netflix and chill'. Within days there were new hashtags, such as #sexual harassment, where women would post stories of assault and abuse that had a much more 'everyday' quality. There was a change in the emotional atmosphere during this second wave, a new contentiousness to the online comments.
This time there were many comments, mainly but not exclusively from men, to the effect that 'women are taking this too far' – that women 'misunderstand' normal sexual advances as harassment, alongside remarks in the vein of: 'if she didn't want me to kiss her, why didn't she say so clearly'. The phrase 'don't trivialise it' became common across different platforms, rhetorically drawing a line between rape, as a serious matter, and claims of sexual harassment, cast as not only less serious, but also as staging a claim to an 'undeserved' victimhood.
Nonetheless, the movement is continuously refining its strategies and educating itself in response. On August 25, stories started circulating about a previous boss of mine, accusing him of pressuring women to have sex with him. In response to those who objected that the women were not forced to sleep with him, there have been frequent comments about the compulsion that stems from 'unequal power relations'. People remind each other constantly not to victim-blame.
Despite or because of their differences, women throughout Iran – and the diaspora – feel solidarity with each other that is made possible through talking about the pain and suffering of being a woman in misogynistic environments. If complexity is missing from Western media portrayals of Iran, so too is the sort of framing that highlights the global, transnational commonalities to women's experiences of oppression and how it is resisted.
I am relaying these events not only because stories matter, but because it matters who tells the stories. Iranian women are active producers of knowledge; they are not looking for a spokesperson to represent or narrate their experiences. Neither are we reducible to exotic spectacles of exceptional vulnerability for Western audiences?
Both our vulnerabilities and our forms of agency, as women, are far from unique. As such, this movement is part of a global outpouring of anger against male privilege. We can call it popular feminism, social media feminism… but this feminism which centres around individual voice, and self-empowerment, has – whisper it – a certain universality.
'Hashtags are emancipating after all; no one can say otherwise after the Iranian #Metoo' as someone tweeted. The affordances of social media allow and enable a myriad of private spheres, it is true – the 'economy of visibility' is partly to do with self-commodification – but it also contains the potential for marginalised voices to create alternative public spheres – intimate publics, based around shared feelings – that connect the personal to the political, and the national to the transnational, to confront the misogynist narratives that would seek to stifle those voices through practices of shaming, or the threat of being shamed.
Sure, as feminists in many countries have long argued, it would be better if women's rights campaigners were able to meet physically, agree structures, demands and a line of march, elect spokespeople, in an open and democratic way. But the accelerated temporality made possible by social media should make us rethink critiques of 'spontaneous' movements, which have not only been underestimated by feminist activists in Iran, by the global left more generally.
Instead of the picture of the Islamic Republic of Iran as all-encompassing authoritarian unity, as it is so often framed in the West, what we see is a much more complex image of struggle against sexual assault and harassment. An article in The Washington Post has presented women's protests as directed against 'the regime itself'. Yes, the movement has emerged within the Islamic Republic, but its points of orientation are to a great extent, as I have argued, global and universal: the primary referent of the women speaking out is neither the state nor the regime; it is the very misogynist and patriarchal structures of both workplace and society within which these women's lives are embedded. And yes, the men accused include clerics and employees of the state broadcaster, but many of those in the firing line have nothing directly to do with the 'regime'.
In truth, this moment of Iranian women makes feminist narratives which seek lessons from the 'liberal' West appear distinctly shop-worn. In the Washington Post article, co-authored by the well-known Iranian campaigner against the compulsory hijab, Masih Alinejad, and the writer Roya Hakakian, a central contention is that Iranian #MeToo exposes the illusion that the hijab could have protected women against abusive men – as though the women posting their stories didn't already know this. Their standpoint, essentially, is that the Islamic Republic is – exceptionally – predicated upon the abuse of women – as though state power and patriarchy are not intertwined within Western countries, or, indeed, elsewhere.
The rule of law, they further argue, applies in the West, but not in Iran. This is a misleading simplification: it denies or reduces the complexity of the movement and its origins inside Iran – and it simultaneously dismisses the gendered and racialised problematics of the justice systems in the West. I am wary of this appropriation of the Iranian women's movement for a political agenda which portrays us as always seeking to catch up and learn from the West.
Given that #MeToo as a hashtag, a movement, and an effect of outrage originated in the US in October 2017, as thousands of woman spoke out against their abusers, and that it followed in the wake of the Women's March in Washington in January 2017 provoked by Trump's comments about 'pussy-grabbing', the very use of the term 'Me Too' by Iranian women is a rebuke to those who would identify the West as the realm of freedom and the East as the place of women's oppression. This is the same administration which is 'weaponizing women's rights' (as Niki Akhavan put it in 2018), in order to paint Iran as a uniquely repressive state, for its own geopolitical reasons.
What does this mean for the women's movement against male sexual abuse globally? To begin with, any transnational feminist solidarity movement worth its salt has to recognise that 'barbarism' begins at home, wherever that is – and 'home' can be taken in both personal and national senses. In so doing, two things have to be left behind: firstly, the 'white saviour' complex – the notion of 'saving brown women from brown men'; secondly, a fake 'anti-imperialist' nativism that passes off its oppressive agenda as the 'authenticity' of 'our' traditions.
We need a global solidarity movement that mediates effectively between 'home and the world' (to quote Rahul Rao, following Rabindranath Tagore), that scorns national particularism, but does not make the mistake of placing all its faith in a liberal international order that has always incorporated a dimension of colonial violence. As Frantz Fanon recognised, international solidarity is built on a dialogue with and between nationally-situated struggles. [IDN-InDepthNews – 15 September 2020]
* Sara Tafakori has recently completed her PhD at the University of Manchester, UK, where she also taught on the politics of gender and sexuality in the Middle East. She was brought up and lived in Iran, where she worked as a journalist and reporter on national newspapers and journals. This article was originally published on openDemocracy. Any views or opinions expressed are solely those of the author and do not necessarily represent those of IDN-InDepth News.
 The original article can be found on our partner's website here
17.09.2020 – RT
This post is also available in: Greek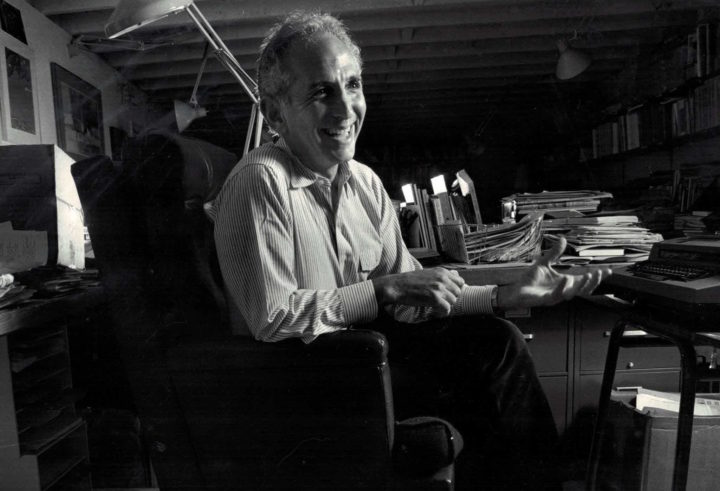 Whistleblower Daniel Ellsberg – whose 'Pentagon Papers' leak exposed illegal US bombing during the Vietnam War – said Julian Assange would not see a fair trial if extradited to the US, comparing the publisher's case to his own.
Testifying at Assange's extradition hearing on Wednesday, Ellsberg said the WikiLeaks co-founder would be denied a chance to defend himself if sent to the US for a trial, noting that, like in his own case, Assange would not be permitted to argue his publications were in the 'public interest.'
"I observe the closest of similarities to the position I faced, where the exposure of illegality and criminal acts institutionally and by individuals was intended to be crushed by the administration carrying out those illegalities," Ellsberg told the court.
[Assange] cannot get a fair trial for what he has done under these charges in the United States.
WikiLeaks disclosures – such as the grisly 'Collateral Murder' video, showing an American gunship firing on Iraqi journalists – have exposed evidence of war crimes, the famed whistleblower went on, arguing that Americans had a right to know what their government had done in their name.
"I was acutely aware that what was depicted in that video deserved the term murder, a war crime," he said of the 'Collateral Murder' footage, adding in his written testimony that the video confronted citizens with the "reality of our war."
The American public needed urgently to know what was being done routinely in their name, and there was no other way for them to learn it than by unauthorized disclosure.
On cross examination, a lawyer acting on behalf of Washington, James Lewis, argued that Assange was not being prosecuted for the infamous video in particular, but rather for publishing the military's classified rules of engagement in Iraq, among other things. Ellsberg replied that disclosing the rules was necessary to demonstrate the war crimes committed in the video, adding that instead of punishing the soldiers involved, the government was now prosecuting the man who revealed evidence of their wrongdoing.
Lewis also challenged Ellsberg's comparison to his own 1971 'Pentagon Papers' leak – in which he passed 7,000 pages of classified documents on the Vietnam War to the press – observing that Ellsberg had withheld information from the disclosure. However, the whistleblower said he had not redacted a single name of an informant or covert CIA agent, and that unlike himself, Assange had withheld some names, and even approached the Defense and State Departments for help in making additional redactions. He was denied, Ellsberg said.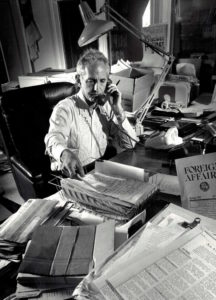 "So it's all the governments' fault then," Lewis shot back.
"Yes, they bear a heavy responsibility," Ellsberg responded, adding that the government's sudden concern about redactions was "highly cynical" given that officials had rebuffed Assange's request for assistance.
Ellsberg – a former strategic analyst for RAND Corp. who regularly worked with the State Department and the Pentagon between the 1950s and 1970s – disclosed evidence that the US had illegally expanded its bombing campaign on Vietnam into neighboring Laos and Cambodia, as well as how American officials in four administrations had misled the public about the war effort. Following the leak, Ellsberg was charged with 12 counts under the Espionage Act, the same law underpinning most of Assange's charges, and faced up to 115 years in prison. His case was ultimately dropped after it was revealed that the government had gathered evidence against him illegally.
Assange remains in custody at London's maximum security Belmarsh prison as he awaits a verdict in his extradition case, which is set to last into early October. If sent to the US for trial, the WikiLeaks publisher faces a 175-year prison sentence, charged with 17 counts linked to espionage and computer intrusion over his role in disclosing classified material.
17.09.2020 – UN News Centre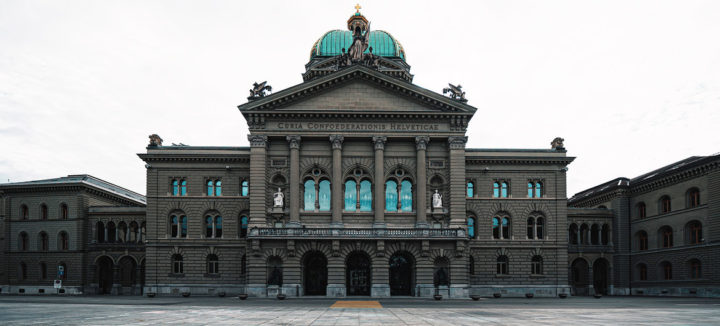 A proposed new anti-terrorism law in Switzerland could set a dangerous precedent for the suppression of political dissent worldwide, a group of five independent UN human rights experts warned on Friday.
The draft legislation, currently before the Swiss Parliament, expands the definition of terrorism and no longer requires the prospect of any crime at all, they said, in a plea for a last-minute reversal by legislators.
'Expansive' definition of terrorism
Citing international standards, the experts defined terrorism as the intimidation or coercion of populations or governments through violence that causes death or serious injury, or the taking of hostages.
Under the bill, "terrorist activity" may encompass even lawful acts aimed at influencing or modifying the constitutional order, such as legitimate activities of journalists, civil society and political activists.
"Expanding the definition of terrorism to any non-violent campaign involving the spreading of fear goes far beyond current Swiss domestic law and violates international standards", said the experts, all of whom were appointed by the UN Human Rights Council.
"This excessively expansive definition sets a dangerous precedent and risks serving as a model for authoritarian governments seeking to suppress political dissent including through torture and other cruel, inhuman or degrading treatment or punishment."
Other sections of the draft law have also raised concerns, such as those giving the federal police extensive authority to designate "potential terrorists" and to decide preventive measures against them.https://platform.twitter.com/embed/index.html?creatorScreenName=UN_News_Centre&dnt=true&embedId=twitter-widget-0&frame=false&hideCard=false&hideThread=false&id=1304439970262851584&lang=en&origin=https%3A%2F%2Fwww.pressenza.com%2F2020%2F09%2Fswitzerland-draft-anti-terrorism-law-sets-dangerous-precedent-rights-experts-warn%2F&siteScreenName=PressenzaIPA&theme=light&widgetsVersion=219d021%3A1598982042171&width=500px
Switzerland's new "terrorism" definition sets a dangerous precedent worldwide, UN human rights experts warn. https://t.co/K1XdljQ5J3 pic.twitter.com/o6ajE8zcrx

— UN Special Procedures (@UN_SPExperts) September 11, 2020
Expertise declined
The rights experts had earlier written to the Swiss authorities, expressing their concerns about the incompatibility of the bill with human rights and international best practices in counter-terrorism. However, no changes were implemented.
"While we recognize the serious security risks posed by terrorism, we very much regret that the Swiss authorities have declined this opportunity to benefit from our technical assistance and expertise on how to combine effective preventive measures with respect for human rights", they said.
The experts called on Swiss parliamentarians to keep in mind their country's traditionally strong commitment to human rights, urging them to reject a law which "is bound to become a serious stain on Switzerland's otherwise strong human rights legacy."
Role of UN Special Rapporteurs
The five experts are all UN Special Rapporteurs who are mandated to monitor specific country human rights situations or thematic issues in all parts of the world.
They are not UN staff, nor are they paid by the Organization.
The original article can be found on our partner's website here
16.09.2020 – Global Voices Online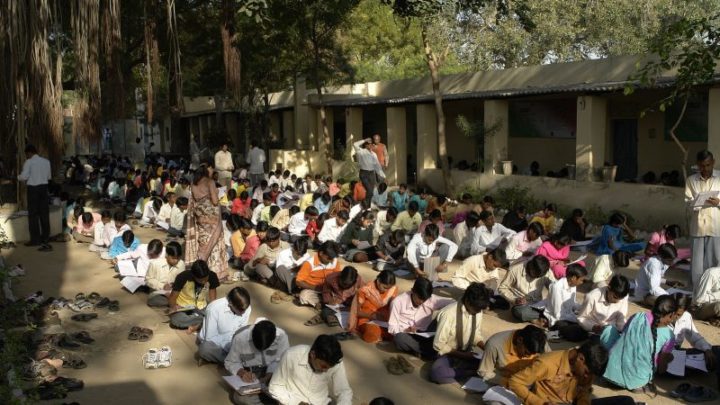 Some of the country's schools are also set to reopen later this month
Around 2.8 million Indian students sat university examinations from the end of the August to September 13 as the country approaches the grim milestone of 5-million total COVID-19 cases.
Despite pleas from civil society to defer examinations, including by Swedish climate activist Greta Thunberg, a Supreme Court ruling on August 17 gave the government the green light to keep the original schedule for the engineer and medical colleges entrance exams.
The JEE and the NEET, how university exams for those two careers are called, are India's most competitive — they sprawl industries of their own, with preparation courses generating millions of dollars annually.
The court bench headed by Justice Ashok Bhushan said that "the career of the students cannot be put on peril for long and a full academic year cannot be wasted." The court will not hear any further petitions regarding postponing future exam dates.
Journalist S Poorvaja tweeted:https://platform.twitter.com/embed/index.html?creatorScreenName=PressenzaIPA&dnt=true&embedId=twitter-widget-1&frame=false&hideCard=false&hideThread=false&id=1305109697553342470&lang=en&origin=https%3A%2F%2Fwww.pressenza.com%2F2020%2F09%2Fmillions-of-indian-students-sit-university-entrance-exams-after-government-disregards-protests-to-postpone-them%2F&siteScreenName=PressenzaIPA&theme=light&widgetsVersion=219d021%3A1598982042171&width=500px
The Union Cabinet Minister for Education Ramesh Pokhriyal tweeted:https://platform.twitter.com/embed/index.html?creatorScreenName=PressenzaIPA&dnt=true&embedId=twitter-widget-2&frame=false&hideCard=false&hideThread=false&id=1305142341179564033&lang=en&origin=https%3A%2F%2Fwww.pressenza.com%2F2020%2F09%2Fmillions-of-indian-students-sit-university-entrance-exams-after-government-disregards-protests-to-postpone-them%2F&siteScreenName=PressenzaIPA&theme=light&widgetsVersion=219d021%3A1598982042171&width=500px
According to the Ministry of Education, 74 percent of the students registered to the first of the JEE took the exam, while an above 80-percent attendance was observed for the NEET exam.
Students are now gearing up for the second stage of the JEE (the JEE Advanced), which will take place on September 27. Protests against the exam date have dwindled since the Supreme Court decision.
Reopening schools
In addition, Indian schools outside of containment zones are preparing to resume offline classes starting September 21, despite protests from parents, teachers and activists to also postpone school reopening.
Containment zones are geographical areas, usually of a three-kilometre radius, where a high number of COVID-19 cases have been reported. Most activities are restricted in the containment zones, with only essential services being allowed to function.
The schools allowed to resume classes will have to follow guidelines issued by the Ministry of Home Affairs and the Ministry of Health & Family Welfare, including mandatory mask-wearing, physical distancing, and enhanced cleaning of facilities.
India's schools have been closed since March when the central government imposed one of the world's strictest lockdowns.
Student protests
During the month of August, protests against the government's maintaining of university examination dates erupted in pockets across India.https://www.instagram.com/p/CEgqHNygIu2/embed/captioned/?cr=1&v=12&wp=500&rd=https%3A%2F%2Fwww.pressenza.com&rp=%2F2020%2F09%2Fmillions-of-indian-students-sit-university-entrance-exams-after-government-disregards-protests-to-postpone-them%2F#%7B%22ci%22%3A0%2C%22os%22%3A5153.999999980442%2C%22ls%22%3A4875.019999977667%2C%22le%22%3A5147.999999986496%7D
Students' concerns ranged from possible agglomeration in test centres and means of transportation to them. Many suburban and rural areas are also under containment zones, where transportation is restricted.
Besides, the states of Bihar, Asam and Gujarat were heavily struck by floods in recent weeks, affecting the students' ability to prepare for the tests.
The National President of the All India Students' Association (AISA) N Sai Balaji tweeted on August 22:https://platform.twitter.com/embed/index.html?creatorScreenName=PressenzaIPA&dnt=true&embedId=twitter-widget-3&frame=false&hideCard=false&hideThread=false&id=1297206818343550977&lang=en&origin=https%3A%2F%2Fwww.pressenza.com%2F2020%2F09%2Fmillions-of-indian-students-sit-university-entrance-exams-after-government-disregards-protests-to-postpone-them%2F&siteScreenName=PressenzaIPA&theme=light&widgetsVersion=219d021%3A1598982042171&width=500px
Protests also happened online as social distancing measures were still in place in large parts of India.
The hashtag #StudentLivesMatter has been trending in India since July, and #JEENEETpostpone since August.
Online protests often used satire, with memes and elaborate videos arguing that students should not be forced to risk theirs and their families' health in order to sit the exams.
Celebrities and social media influencers also joined the campaign to postpone the exams.
Some students have pointed out the irony of the Supreme Court ruling that obligated students to sit exams amid the pandemic was made via conference call.
Students also mass disliked a video by Prime Minister Narendra Modi on YouTube in which he praises the educational system for "raising to challenges" posed by the pandemic and the government's response overall. Modi doesn't address the JEE and NEET issue in the video.https://www.instagram.com/p/CEleBNPKKXB/embed/captioned/?cr=1&v=12&wp=500&rd=https%3A%2F%2Fwww.pressenza.com&rp=%2F2020%2F09%2Fmillions-of-indian-students-sit-university-entrance-exams-after-government-disregards-protests-to-postpone-them%2F#%7B%22ci%22%3A1%2C%22os%22%3A5167.0000000158325%2C%22ls%22%3A4875.019999977667%2C%22le%22%3A5147.999999986496%7DWritten by Vishal Yashoda /Devika Sakhadeo
14.09.2020 – Murat Cinar
This post is also available in: Italian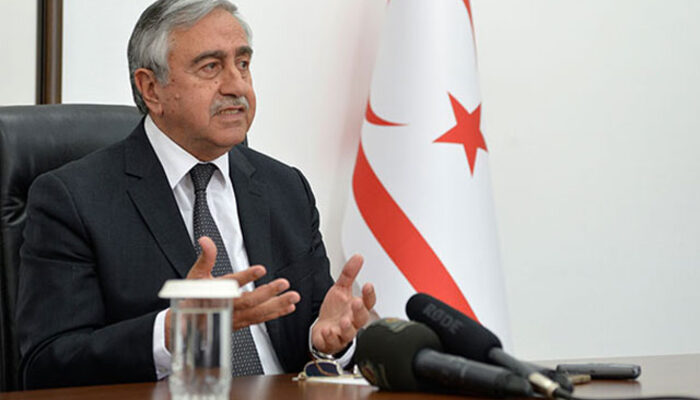 Mustafa Akinci is the President of the Republic of Northern Cyprus, that is, the northern part of the Mediterranean island, recognized only by Turkey. Akinci has been leading the country since 2015 and is preparing for his second reelection in the upcoming elections. Akinci belongs to the Democracy Party of Communities (TDP). Ex-mayor of Nicosia, the capital city divided into two parts, he is also one of the promoters and founders of the Movement for Democracy and Peace, being also committed to the unification of the island.
Akinci gave a long video interview to Euronews in which he spoke about hot topics like that concerning energy policies in the eastern Mediterranean, which increase the possibility of conflicts and clashes, but also about the complicated relationship between his republic and the Ankara government.
"After the discovery of gas fields in the eastern Mediterranean, the tension has increased. There is a need to build the possibility of dialogue between the neighbouring countries. The population of Northern Cyprus cannot be excluded from the agreements made concerning energy policies.Turkey has weak and conflicting relations with various Mediterranean countries which do not help to normalize the situation: this needs to be fixed. It is necessary to declare a kind of moratorium in order to resolve the historical problems of the area. The natural resources of the area belong to all the countries: this should be accepted by all. France is a country which has weight in the area, but must collaborate with everyone: it should not take initiatives alone or only with some countries. The relations between the European Union and Ankara must be improved and must be based on a democratic culture: I personally hold to this. The current energy projects are not sustainable from an economic point of view: even the Greek experts say so. A solution to the Cypriot conflict will make the area more stable: all the leaders must apply themselves to making this possible. We do not have complete recognition even on the part of Turkey: quite simply, a Turkish football team cannot play against one of our teams. So a united Cyprus is an advantage also for Ankara. In Turkey there are people who want to maintain the precariousness of our status for a number of their own advantages. I have seen and lived war: it serves no purpose and should not be our destiny. Arms traffickers want there to be permanent conflict in this area. We need a new future. Citizens, politicians and the media have a great responsibility to sustain the culture of peace. No country can be excluded and think it can be isolated from the rest of the world, especially in this historical era."
13.09.2020 – The Ecologist
This post is also available in: Italian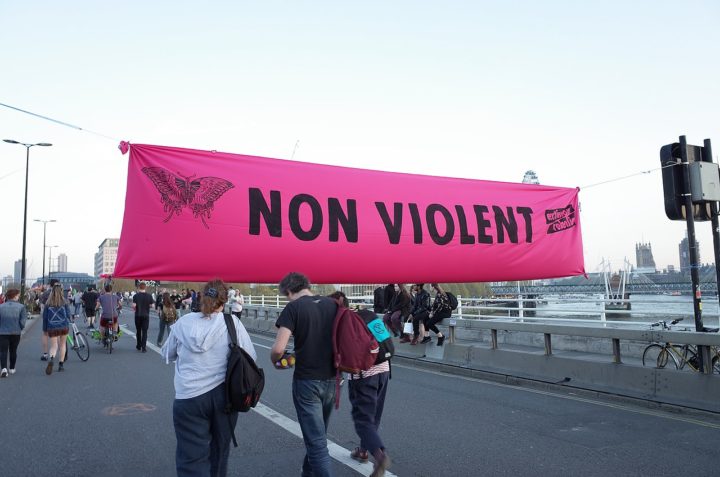 At least 13 topless women attached themselves to the outside of the Palace of Westminster with bike locks around their necks on Thursday.
Police arrested a group of semi-naked protesters who chained themselves to railings surrounding Parliament in a bid to expose what they called the "bare truth" about the climate crisis.
At least 13 topless women attached themselves to the outside of the Palace of Westminster with bike locks around their necks on Thursday.
They were part of a larger group from the Extinction Rebellion (XR) campaign, which have used attention-grabbing techniques to highlight the threat to the planet.
Famine
The women wore masks with "4C" written on them, and with words including drought, starvation and wildfires written on their chests to highlight the anticipated consequences of global heating.
To passing MPs, a banner read: "Can't bare the truth?"
Sarah Mintram, a teacher who took part in the action, said: "Now we've got your attention. By neglecting to communicate the consequences of a 4C world – war, famine, drought, displacement – the Government are failing to protect us."
Halt
Officers removed the D-locks from their necks and took the women to police stations in four separate vans as supporters cheered the protesters on from Parliament Square.
Meanwhile, pictures shared on social media appeared to show graffiti had been sprayed on a Parliament Square statue branding the former prime minister Winston Churchill a "racist".
The Met said they have so far arrested 648 people while policing the protests in London since the beginning of the month. XR has won wider backing from the public as they marched on cities across the UK, including grinding parts of London to a halt in protest.
Writen by Sam Blewett
12.09.2020 – US, United States – David Andersson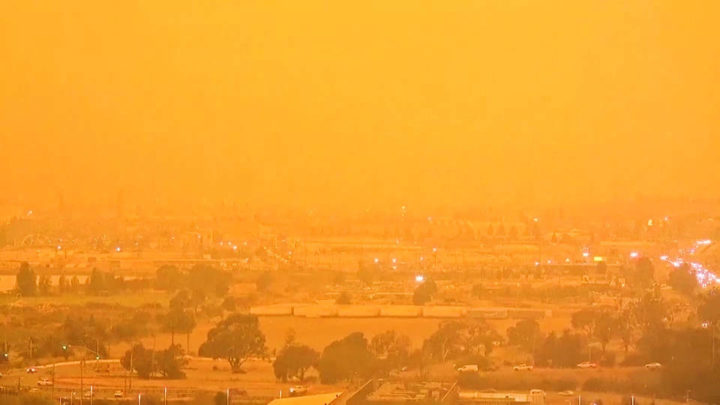 First we need to send all our best wishes of well-being to our friends, brothers and sisters in California who are confronting an unprecedented disaster. The fires there are absolutely ferocious.
A current map shows the entire West Coast of the US with the worst air quality on earth.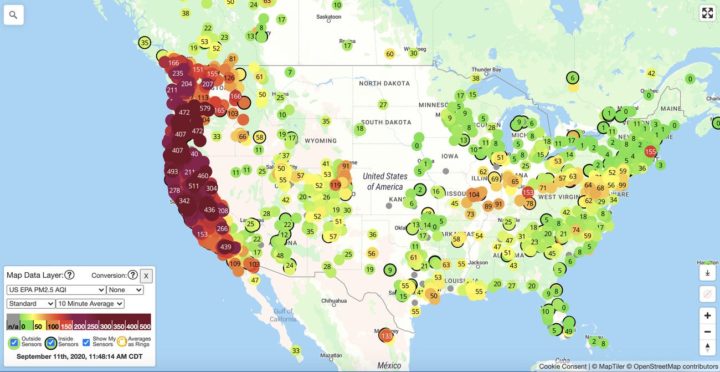 California is the biggest state in the country and is the world's fifth-largest economy, according to data released in May 2018 by the U.S. Department of Commerce. Its 2017 Gross State Product was $2.747 trillion, surpassing the United Kingdom's $2.625 trillion Gross Domestic Product.
These fires are not a natural disaster but are human made. California could have been a beacon of cultural and social transformation, using the energy and dynamic of the 1960's social movements to orient society in a new direction: supporting a balanced ecology, developing an innovative and energy-smart public transportation system, opening new architectural avenues for public housing, transforming and democratizing the economical structure, using technology to increase access to direct democracy and expand political participation. California could have produced a whole new social model, having everything in its hands to do it — the people, the coast line, the sun, the land, and the support of the rest of the country.
Instead, California became the center of the System. Silo once elegantly described the System as "the center of the secondary," and California is the prefect model. California missed a big opportunity by taking a wrong direction and becoming the center of extreme individualism, capitalism, materialism, and immediatism. Party as if there's no tomorrow.
But now tomorrow has come, and the American Dream has become a nightmare. Climate change is very real and California has done little about it. It is not a question of political left or right, Republican or Democrat, but a question of culture, where having 2 or 3 cars per family is the norm, where public transportation is devalued, where making money is the priority (there are currently 170 billionaires in California alone).
So now what? The same opportunities exist there today as 60 years ago. The issue is what model do they choose, what values do they prioritize, what project toward the future do they launch? Are we really going to humanize this world and stop pretending to do it? Will we start working together — private, public, local, national, international — for real collaboration and solidarity, with the understanding that my freedom must not infringe someone else's freedom? Can we all agree to ban the use of violence to resolve our conflicts, that science should be accepted as our ultimate knowledge, that money and economy must be at the service of humanity and social development (and not the reverse), that there is nothing more important that our fellow human beings and their wellbeing? If we learn to treat people well, we will treat nature and the animal kingdom well too.
We can only hope that these fires will burn our illusions and reveries about our present society and will open our minds and hearts. We must become active in the current of humanization that has been working for over 50 years with the same proposals: to put personal development at the same level as social development (there is not one without the other); to treat others as you want to be treated; to prioritize reconciliation over revenge; to oppose violence in all its forms and to take part in the nonviolent movement that has saved humanity many times over (from India, the US to Ireland and South Africa and much more). The decisions we make now will have repercussions for generations to come.
11.09.2020 – The Ecologist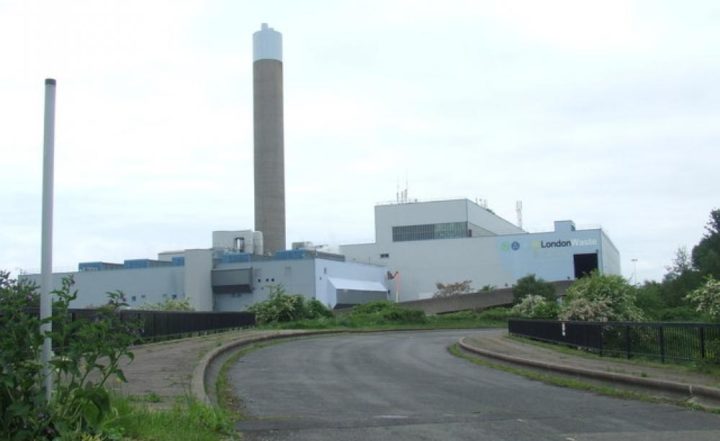 Campaigners launch legal challenge to Environment Agency's decision to grant a permit for one of Europe's biggest waste incinerators.
A campaign group, representing seven villages in Essex, has issued a legal challenge against the Environment Agency over concerns that residents will be exposed to the potentially hazardous effects of the development of one of Europe's biggest waste incinerators.
Represented by Leigh Day solicitors, No Essex Incinerator Limited (also known as Parishes Against Incinerator: PAIN) has applied for permission to judicially review the Environment Agency's decision to grant the developer of the incinerator, Gent Fairhead and Co Limited, permission to vary the environmental permit it has had since 2017.
The decision means that Gent Fairhead can build a shorter 35-metre stack – used to disperse the pollutions produced by the waste plant to reduce their adverse effects on air quality – at the integrated waste management facility on Rivenhall Airfield, Essex, which was given planning permission in 2010.
Impacts
Four years ago, it was accepted by the Environment Agency that a 35-metre stack would not meet the EU's best practice guidance for building waste incinerators (known as Best Available Techniques). However, the Environment Agency has now granted a licence for the shorter stack, which means the company can now go ahead with the project.
There are fears that the uniquely low height of the stack will severely impact the air quality on homes in the surrounding area. Of particular concern is the potential effects on the hundreds of children who attend primary schools in the local area.
PAIN also has serious concerns about the effects the development would have on the environment if the permit goes unchallenged.
PAIN says that the emissions from the site would be equivalent to 120,000 cars each travelling 8,000 miles a year around Braintree in Essex. It believes there is no other waste management facility with a stack at such a low height in the whole of the UK. Without a sufficiently high stack to limit the harmful effects caused by the waste plant, PAIN believe the effects on the environment could be catastrophic.
The plant would include an anaerobic digester which could process 75 tonnes of non-hazardous waste a day, an incineration plant with the capacity to process more than three tonnes an hour, and a mechanical biological treatment facility.
Health
The campaigners represent residents from the parishes of Coggeshall, Feering, Silver End, Stisted, Rivenhall, Kelvedon and Witham.
They make their case for judicial review on the grounds that permitting the 35m stack height amounts to a breach of the Industrial Emissions Directive, and that even if a 35m stack was capable of being a Best Available Technique, the Environment Agency failed to take into account the need to reduce to a minimum the overall impact of the emissions on the environment
The campaigners argue that the decision was made in a manner contrary to guidance produced by the Environment Agency without good reason.
Nick Unsworth, PAIN campaigner, said: "This is the last roll of the dice for us and, as there is no Ombudsman or arbitration mechanism, somebody must ask why this has been allowed given the Environment Agency's original emphatic refusal of a 35m stack.
"It seems totally contrary to the climate change crisis we face, what we now know about the impacts of air quality on human health, education, schools, and the impact of CO2 on our environment (the incinerator will generate 500,000 tons per year) never mind the various agreements the UK government has signed up to.
"In addition there are lessons within the Covid-19 pandemic we must heed that showing us what actually happens when we reduce emissions and the subsequent improvement in air quality."
Failure
Leigh Day solicitor John Crowley said: "Our client believes that the building of a 35-metre stack at what will be one of the biggest waste incinerators in Europe will have a massively negative effect on the lives of residents in the surrounding villages.
"In giving permission to vary the terms of Gent Fairhead's existing licence, and going against its previous decision on the subject, my client believes the Environment Agency has not only failed to follow the relevant EU legislation but also its own guidance."
This Article
This article is based on a press release from Leigh Day.
The original article can be found on our partner's website here
11.09.2020 – Human Rights Watch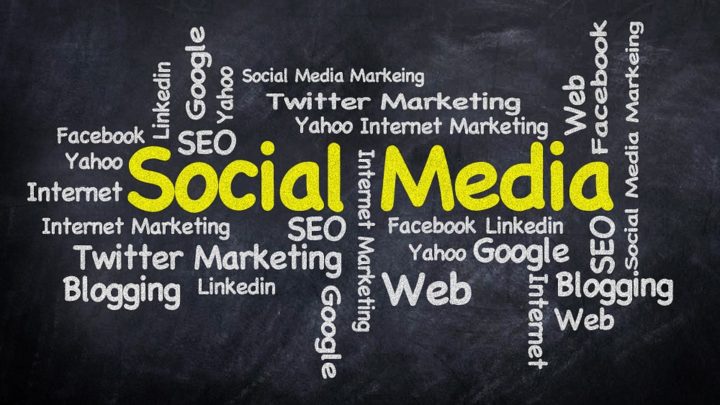 Archive Needed to Preserve Content Deemed Dangerous
Social media platforms are taking down online content they consider terrorist, violently extremist, or hateful in a way that prevents its potential use to investigate serious crimes, including war crimes, Human Rights Watch said in a report released today. While it is understandable that these platforms remove content that incites or promotes violence, they should ensure that this material is archived so it can possibly be used to hold those responsible to account.
The 42-page report, "'Video Unavailable': Social Media Platforms Remove Evidence of War Crimes," urges all stakeholders, including social media platforms, to come together to develop an independent mechanism to preserve potential evidence of serious crimes. They should ensure that the content is available to support national and international investigations, as well as research by nongovernmental organizations, journalists, and academics. Rights groups have been urging social media companies since 2017 to improve transparency and accountability around content takedowns.
"Some of the content that Facebook, YouTube, and other platforms are taking down has crucial and irreplaceable value as evidence of human rights atrocities," said Belkis Wille, senior crisis and conflict researcher at Human Rights Watch. "With prosecutors, researchers, and journalists increasingly relying on photographs and videos posted publicly on social media, these platforms should be doing more to ensure that they can get access to potential evidence of serious crimes."
Social media content, particularly photographs and videos, posted by perpetrators, victims, and witnesses to abuses, has become increasingly central to some prosecutions of war crimes and other serious crimes, including at the International Criminal Court (ICC) and national proceedings in Europe. This content also helps the media and civil society document atrocities and other abuses, such as a chemical weapons attacks in Syria, a security force crackdown in Sudan, and police abuse in the United States.
For this report, Human Rights Watch interviewed seven people who work at civil society organizations, three lawyers, two archivists, one statistician, two journalists, one former prosecutor with experience in international tribunals, five individuals within internationally mandated investigations, three national law enforcement officers, one European Union official, and one Member of the European Parliament.
It also reviewed Facebook, Twitter, and YouTube content that Human Rights Watch has cited in its reports to support allegations of abuse since 2007. From 5,396 total pieces of content referenced in 4,739 reports – the vast majority of which were published in the last five years -, it found that 619 (or 11 percent) had been removed.
In letters to Facebook, Twitter, and Google sent in May 2020, Human Rights Watch shared the links to this content that had been taken down and asked the companies if Human Rights Watch could regain access for archival purposes, a request which was not granted.
In recent years, social media companies including Facebook, YouTube, and Twitter have ramped up efforts to take posts from their platforms offline that they consider violate their rules, community guidelines, or standards according to their terms of service. This includes content they consider to be terrorist or violent extremist, hate speech, organized hate, hateful conduct, and violent threats.
The companies take down posts that users flag and content moderators review. But increasingly they also use algorithms to identify and remove offending posts, in some cases so quickly that no user sees the content before it is taken down. Governments globally have encouraged this trend, calling on companies to take down dangerous content as quickly as possible. It is unclear whether or how long social media companies store various types of content they take down or block from their sites.
Companies are right to promptly take content offline that could incite violence, otherwise harm individuals, or jeopardize national security or public order, so long as the standards they apply comport with international human rights and due process principles. Permanent removal of such content, however, can make it inaccessible and hamper important criminal accountability efforts.
No mechanism yet exists to preserve and archive social media takedowns that could provide crucial evidence of abuses, much less to ensure access by those who investigate international crimes. In most countries, national law enforcement officials can compel social media companies to hand over the content through the use of warrants, subpoenas, and court orders, but international investigators have limited ability to access the content because they lack law enforcement powers and standing.
Independent organizations and journalists have played a vital role in documenting atrocities around the globe, often when there were no judicial bodies conducting investigations. In some cases, this documentation has triggered judicial proceedings. However, they also have no ability to access taken-down content, and in common with official investigators, will not have notice of material artificial intelligence systems take down before anyone views it.
A European law enforcement officer investigating war crimes told Human Rights Watch that "content being taken down has become a daily part of my work experience. I am constantly being confronted with possible crucial evidence that is not accessible to me anymore."
Holding individuals accountable for serious crimes may help deter future violations and promote respect for the rule of law, Human Rights Watch said. Criminal justice efforts may also help restore dignity to victims by acknowledging their suffering and helping to create a historical record that protects against revisionism by those who deny that atrocities occurred. International law obligates countries to prosecute genocide, crimes against humanity, and war crimes.
It is vital for social media companies and all relevant stakeholders to jointly develop a plan to establish an independent mechanism to take on the role of liaison with social media platforms and to preserve this content. The archive should be responsible for sorting and granting access to the content for research and investigative purposes, in accord with human rights and data privacy standards.
In parallel with these efforts, social media platforms should be more transparent about their existing takedown procedures, including through the increased use of algorithms, Human Rights Watch said. They should ensure that their own systems are not overly broad or biased and that they provide meaningful opportunities to appeal content removal.
"We appreciate that the task before social media companies is not easy, including striking the right balance between protecting free speech and privacy, and taking down content that can cause serious harm," Wille said. "Consultations that draw on the experiences of other historical archives could lead to a real breakthrough and help the platforms protect free speech and public safety, while also ensuring that accountability efforts aren't hampered."
The original article can be found on our partner's website here