You are currently browsing the category archive for the 'Uncategorized' category.
This post is also available in: Italian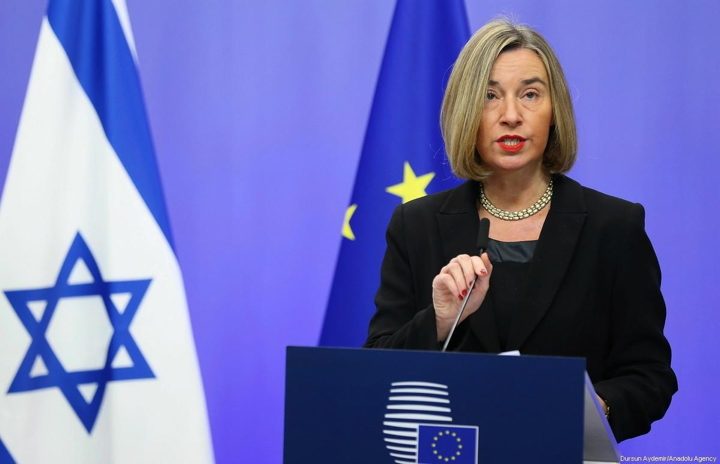 Jordan's foreign minister and the European Union's foreign policy chief discussed Jerusalem over the phone Monday and agreed on the need to resolve the Palestinian-Israeli conflict on the basis of a two-state solution, Anadolu reports.
In a written statement, Jordan's Foreign Ministry said Ayman Safadi and Federica Mogherini addressed the results of a meeting of the Arab League ministerial working group hosted by Jordan on Saturday.
Safadi told Mogherini the Arab countries that opposed the US's decision to recognize Jerusalem as Israel's capital had reached a consensus on working together with the international community to recognize the Palestinian state on the pre-1967 borders with East Jerusalem as its capital.
The ministerial working group, which comprised the foreign ministers of Egypt, Jordan, Saudi Arabia, the United Arab Emirates, Palestine and Morocco, also proposed finding an alternative mediator in the Middle East peace process following the US decision on Jerusalem.
In addition, they agreed on the need to intensify efforts for a political solution to end the Palestinian-Israeli dispute by discussing ways to counter the US move.
Last week, Jerusalem's Knesset, or parliament, passed a bill making it necessary to obtain the approval of 80 out of 120 assembly members — rather than a simple majority — to change Jerusalem's official status or municipal boundaries.
The move followed US President Donald Trump's decision last month to recognize Jerusalem as Israel's capital, drawing international condemnation, including in a UN resolution spearheaded by Turkey.
Jerusalem remains at the heart of the Middle East conflict, with Palestinians hoping that East Jerusalem — occupied by Israel since 1967 — might eventually serve as the capital of an independent Palestinian state.
Published by The Conversation 
It appears that 2018 is already shaping up to be the year of women working together across race and class divides to fight back against sexism and sexual harassment. On the very first day of January, new movement Time's Up was announced via an open letter from women working in the entertainment industry. While it could have just been a statement against the alleged sexual assault and harassment of those working in Hollywood, this was a message of solidarity to all "sisters".
Some very powerful women in the entertainment industry created Time's Up, but this is not about personal gain – they are using their status to help the disempowered. Time's Up is all about high profile women using their privilege to highlight and counter sexual discrimination against all women in employment, whatever industry they are in.
The movement is the work of more than 300 female professionals from the fields of television, film and theatre, including producers, actresses, writers and directors. Just a selection of the starry names leading and contributing to the initiative are Emma Stone, Natalie Portman, Cate Blanchett, Ashley Judd, America Ferrera, Rashida Jones, Selena Gomez, Reese Witherspoon, Kerry Washington, Eva Longoria and Ellen Page, as well as Donna Langley, the chairwoman of Universal Pictures, and top lawyers Nina L. Shaw and Tina Tchen. As the days have gone on, more notable women have been publicly adding their names to the campaign and contributing to the fund, too, using the Twitter hashtag #TIMESUP.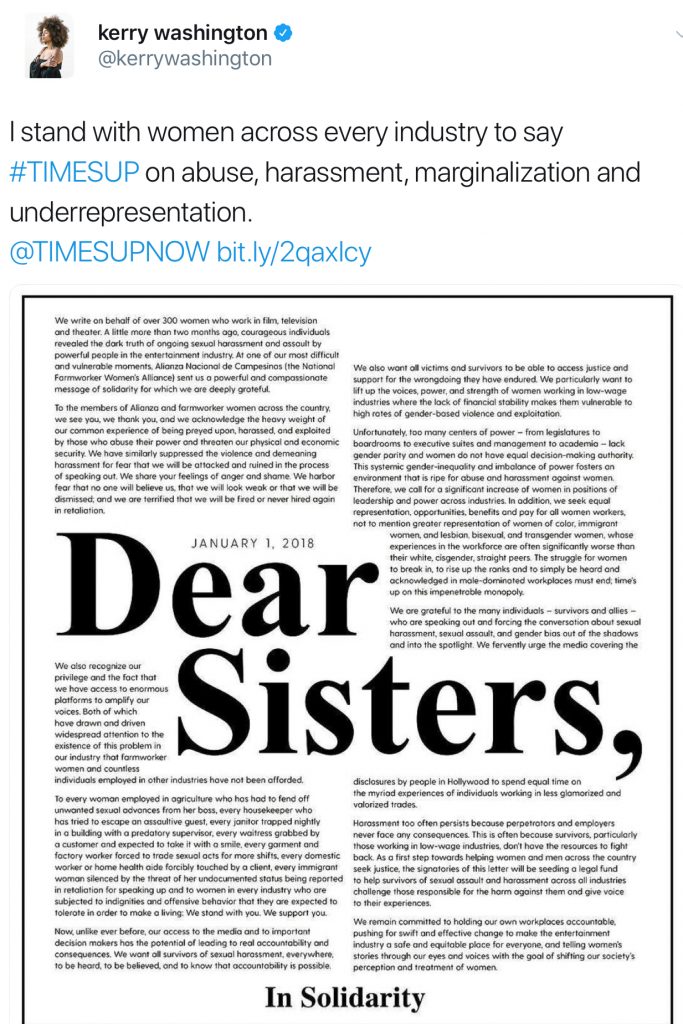 Hollywood's feminists have previously been accused of representing an elitist group, who are far removed from the struggles of ordinary, less glamorous women. The Time's Up movement is a serious attempt to counter these accusations through showing solidarity with working women of all backgrounds and ethnicities.
Their aim, is to raise $15m for a legal defense fund that can benefit low income victims of sexual misconduct. They also want to campaign for new legislation to protect women from harassment, and work towards gender parity at studios and talent agencies. A request has also been issued for celebrities to raise awareness by wearing black while walking the red carpet at the Golden Globe awards on January 7.
All women
The campaign's cross class solidarity was prompted by a letter of support from the predominantly Latina Alianza Nacional de Campesinas. This national female farm workers organisation wrote to the women of Hollywood who had spoken out against sexual abuse following allegations against Harvey Weinstein and others.
In a moving section of their letter, the farm workers wrote:
We do not work under bright stage lights or on the big screen. We work in the shadows of society in isolated fields and packinghouses that are out of sight and out of mind for most people in this country. Your job feeds souls, fills hearts and spreads joy. Our job nourishes the nation with the fruits, vegetables and other crops that we plant, pick and pack.
Even though we work in very different environments, we share a common experience of being preyed upon by individuals who have the power to hire, fire, blacklist and otherwise threaten our economic, physical and emotional security.
While the farm workers might be expected to level accusations of elitism against their wealthy sisters, they stood with them. Despite the enormous gulf in social and economic status, they offered their support – "Please know that you're not alone. We believe and stand with you."
This act of solidarity clearly touched the entertainment professionals who have, through the Time's Up movement, taken the first concrete steps to support poor working women. The Time's Up letter mirrors the language used by Alianza, while intiatives like the legal defence fund are a clear demonstration that this is more than just a PR exercise:
To the members of Alianza and farmworker women across the country, we see you, we thank you, and we acknowledge the heavy weight of our common experience of being preyed upon, harassed, and exploited by those who abuse their power and threaten our physical and economic security.
This collective action taken by so many women in the film, television and theatre industries is unprecedented. Using the celebrity status created by the very industry in which they have suffered might just be the best way to seek to protect all women from abuse, harassment and sexism​.
Sixty-three Israeli teenagers have published an open letter to Prime Minister Netanyahu on Thursday, declaring their refusal to join the Israeli army due to their opposition to the occupation. The group calls itself the "2017 Seniors' Letter," continuing a long tradition of similar letters sent by high school seniors announcing their refusal to join the army, dating back to 197
By Haggai Matar |Published December 29, 2017
"The army carries out a racist government policy that enforces one legal system for Israelis and another for Palestinian in the same territory," they write. "Therefore, we have decided not to take any part in the occupation and oppression of the Palestinian people… for as long as people live under an occupation that denies their human rights and national rights – we cannot have peace."
The group calls itself the "2017 Seniors' Letter," continuing a long tradition of similar letters sent by high school seniors announcing their refusal to join the army, dating back to 1970 (the writer of this text was a signatory of the 2001 letter). Members of the group have stated they are willing to be imprisoned for their conscientious objection; one of them, Matan Helman, is already serving a prison sentence. The teens have also stated they will be traveling the country, speaking to others their age, challenging them to rethink their positions on military service and inviting them to join the movement.
The Israeli army does not recognize the right to conscientiously object to the draft based on rejection of the occupation. It does, however, allow for objection based solely on pacifism and the rejection of allforms of violence. These young refusers, therefore, are likely to be denied exemptions, and sent to repeated prison sentences of two to four weeks each, as has been the case with other conscientious objectors in recent years.
'Testimonies of former soldiers teach us that the reality of occupation does not allow one to make a difference from within. The power to change reality does not lay with the single soldier — but with the system as a whole.'
In their letter, the young refusers list the occupation, the siege on Gaza, settlements, and violence toward Palestinians as the main reasons for the decision. However, they also mention the ongoing effects of militarism on the Israeli society, enshrining violent solutions instead of peace as a central value, and the effect the occupation has on strengthening Israeli capitalism and dependence on American military aid.
"Testimonies of former soldiers and heads of the security establishment teach us that the reality of occupation does not allow one to make a difference from within," they write. "The power to change reality does not lay with the single soldier but with the system as a whole. Similarly, the blame for this reality does not lie with the soldier, but with the army and government. This is the system we wish to change."
This post is also available in: Spanish
Ten years after the 1st World March[i], the 2nd edition is announced.
The 2nd World March for Peace and Nonviolence (WM2) will start in Madrid on the 2nd of October 2019.  After 159 days circling the planet, it will arrive back at its starting point in the Spanish capital on the 8th of March 2020.  We expect WM2 to pass through more than 100 countries with hundreds of thousands of activities and participants in this planetary mobilisation.
WM2 was announced in the Nonviolence Conference held between the 15th and the 18th of November last year, organised by World without Wars and Violence[ii] in association with PNND[iii], The Peace Culture Foundation[iv], WILPF Spain[v], Nonviolence 2018[vi], Ecologists in Action[vii], Pressenza[viii], the Spanish Peace Research Association[ix] and others.  The conference took place in several parts of Madrid, such as the Congress of Deputies where an International Network of Parliamentarians Supporting the World March was announced.  In the Madrid City Hall, an intense and packed day of 10 panels took place with presentations by more than 30 speakers covering diverse subjects connected to the WM.  Finally in the El Pozo Cultural Centre in Vallecas practical workshops were held.
The fundamental characteristics of both the WM1 and 2 were reviewed in the "Presentation of the 2nd World March for Peace and Nonviolence" and in the workshop on "How to create the conditions for WM2".
In the years after the 1st WM, the question remained; will there be a WM2?  "For several years now we have been studying this possibility, reaching the conclusion that it is necessary, important and even urgent, given the direction which international events have taken.  What we didn't know was if the WM2 would reach the level of support achieved by the WM1."
"This has been why we have been carrying out several tests, from the results of which we have obtained sufficient indications of being able to satisfactorily answer the questions.  We have the conditions for participation, support and collaboration sufficient for an endeavour of this magnitude.  What's more, we bet that the WM2 will have greater impact than the 1st one."
What are the characteristics of the WM2?
There will be some changes in the WM2 with respect to the WM1.
It will be a march that will start and finish in the same city, Madrid, circling the planet in an east-west direction.
The issues highlighted will be expanded from the question of nuclear weapons and wars, they will be proactive and deal with the central problems facing humanity,
The idea is to repeat the March every five years. In future editions, the starting and ending city will be different, and,
The WM will be a path in which both a social struggle and a personal search are included. Every participant will take the aspects that better resonate with them.
Interested in creating the best conditions for the launch of the WM2 in November 2017, in the workshop in Vallecas, the importance of undertaking "exemplary actions" was underlined.  To that end a review was made of activities characterised as "demonstration effects", "scalable" and "viral".  We also saw different kinds of marches (converging, regional, local, etc.) as well as the base teams of such marches and the WM trunk route.
The importance of organising conferences, forums or symposiums was underlined in order to converge with other organisations, fix ideas, actions, learn from experiences and weave a network.  For the creation of human symbols and formation in social activism and nonviolence, a questionnaire was created; the need to create networks and increase the presence of the WM in the virtual world was underscored; the importance of university, city councils and parliamentarians was presented.  Furthermore, several working groups studied the actions proposed by participants to add to World March 2.  The proposal invited every participant to project those activities that are already being carried out in society to a different scale with the strength of the WM.
Timetable
At the beginning of 2018, the first Promotion Teams (PT) of the WM2 will be organised by city on the basis of already existing initiatives.  In countries where several cities are working, a national PT will be organised.  These teams will arise from actions and projects that emerge from the grassroots.  "Everybody takes charge of what they propose." With this spirit the organisers hope that just as in the WM1, a large number of initiatives will emerge and that thousands of organisations and groups will collaborate and make WM2 their own.  It is recommended to read the book of the 1st World March in which numerous examples of actions and initiatives can be found.  The book is available online here and can be downloaded here.
In July 2018, with the information coming from the Promotion Teams in different countries, all the initiatives will be pieced together and a trunk route and convergent routes for WM2 will be defined.
In November 2018, the worldwide launch of the WM2 will take place with a calendar and central elements already defined.  This launch will take place in the framework of the II World Forum on Urban Violence and Education for Coexistence and Peace[x] that will bring together mayors from more than 300 of the world's biggest cities together in Madrid.
From November 2018 to October 2019, the WM will be launched by country and city, preferably six months before the WM2 reaches there.
At the beginning of 2019 the participants of the Base Team (BT) whose function will be to participate in the trunk route journey will be defined.
Route
The start of WM2 coincides with the International Day of Nonviolence on the 2nd of October 2019, 10 years after the start of WM1.  It will head for Africa, America North and South, Oceania, Asia and Europe and arrive 159 days later in Madrid on International Women's Day, the 8th of March, 2020.
Provisional Calendar
EUROPE: Madrid 02/10/2019, Cádiz 06/10/2019
AFRICA: Casablanca 08/10/2019, Dakar 27/10/2019
AMERICA: New York 28/10/2019, San José, Costa Rica 20/11/2019, Bogota 21/11/2019, Santiago de Chile 03/01/2020,
OCEANIA-ASIA: Wellington 04/01/2020, New Delhi 30/01/2020
EUROPE: Moscow 06/02/2020, Madrid 08/03/2020
For more context, World without Wars and Violence invites you to watch the documentary of the 1st World March[xi].
The organisers would like to express their thanks to all those who are already collaborating and making it so that this action gains more strength, meaning and inspiration every day.
[i] World March for Peace and Nonviolence http://www.theworldmarch.org/
[ii] World without Wars and Violence http://www.worldwithoutwars.org/
[iii] PNND – Parliamentarians for Nuclear Non-proliferation and Disarmament. http://archive.pnnd.org/index.html
[iv] Peace Culture Foundation http://www.fund-culturadepaz.org/
[v] WILPF Spain https://wilpf.es/
[vi] Nonviolence 2018 http://noviolencia2018.es/
[vii] Ecologists in Action https://www.ecologistasenaccion.org/
[viii] Pressenza, International Press Agency, https://www.pressenza.com/
[ix] Spanish Peace Research Association, http://www.aipaz.org/content/
[x] I World Forum on Urban Violence and Education for Coexistence and Peace http://www.ciudadesdepaz.com/
[xi] Documentary of the 1st World March https://youtu.be/r_gyzUaHU1M
This post is also available in: German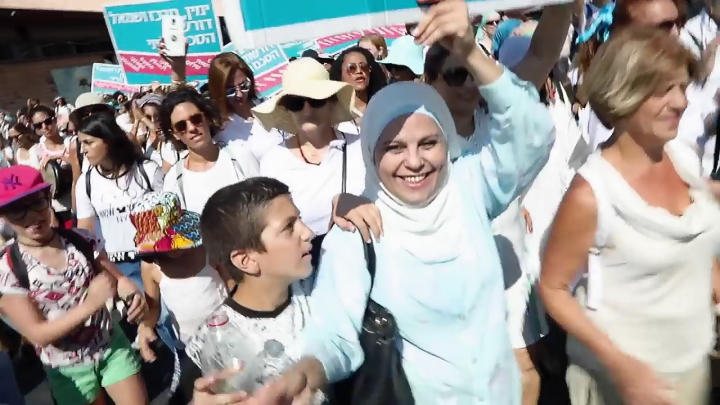 What politicians haven't been able to achieve in years, women are achieving with the power of music. It is a force that unites, beyond any language, nationality or political view. A force which can be stronger than a thousand words, speeches, agreements and promises because it comes straight from the heart.
"Home" – the new single of Israeli-Canadian singer, songwriter and peace activist Yael Deckelbaum and her Ensemble The Mothers – is an invitation to all of us to feel this force within and to follow it. For it can be found where our true home is – within ourselves, in our own humanity. It is what connects us as human beings. It is the deep respect for life and the strong wish for peace and a better world for our children.
After the success of "Prayer of the Mothers", the song that in 2016 became the hymn of the March of Hope which for the first time brought together thousands of Israeli and Palestinian women, the grassroots movement Women Wage Peace had called again for a march in September:
This time the Journey to Peace united 30.000 women and men marching together for two weeks across the whole of Israel and the West Bank. During this period numerous events and meetings with local communities and groups such as the Bedouin women took place in many different locations before finally reaching Jerusalem. There was also a huge tent where the daughters of Sarah and Hagar, Jewish and Palestinian women, met, talked, discussed, danced, sang and enjoyed themselves together in hope and peace. The positive energy that was created could no longer be ignored by the media and this time it was internationally reported on.
Yael and her ensemble The Mothers, a joint group of twelve women artists "from left and right, secular, religious, settlers, Arab and Jewish women" had once more accompanied the Journey to Peace musically. Their impressions and inspirations are processed in the video clip to the song which documents the highlights of these two weeks.
"We don't agree on all matters, but there's a fundamental openness to explore together the humanity that hides behind all the definitions and identities that separate us. This ensemble for us, is the formation of an achievable peaceful existence that can be reached when approached with an open heart and while exploring together the plain truths while using music as a uniting tool."
"Home" is part of an EP which combines recordings in the studio, live and from the Journey to Peace. It was launched on December 20th during a big event at the Abraham Hostel in Tel Aviv together with Aveva Dese and Ester Rada on the stage, two Ethiopian-Israeli singers and songwriters who also participate in the march.
"I am excited to musically empower the movement of "Women Wage Peace" and any initiative focused on uniting, healing and the formation of a new language, a language that will carry us on the route towards a better existence on this land," says Yael Deckelbaum.
This call for peace and collaboration, for reason and reconciliation, for nonviolence and mutual respect in the midst of a system of violence and wars is also being heard in the rest of the world, awakening a yearning which is slumbering in the hearts of millions of people. We now need to nurture this yearning with images of peace as those in "Home" and with the universal language of that which unites us: our Humanity.
Home – Lyrics / Music & Lyrics by Yael Deckelbaum
Well I looked in the mirror
And I saw humanity
In my struggle to find freedom endlessly
Still I'm so far away from uncovering the secret
That is hidden in the rhythm of my heart
We all keep progressing
And elaborate our needs
As we hide behind our fierce technology
Still we're so far away from uncovering the secret
That is hidden in the rhythm of our hearts
There is sun, there is sky
And I want to feel alive
So let us all get together with our wisdom
Out of the system
Remembering to listen
Spinning in the rhythm of our home
We can give politicians the key to build our world
But they'd only give us fake security
Cause they're so far away from uncovering the secret
That is hidden in the rhythm of our hearts
There is sun, there is sky
And I want to feel alive
So let us all get together with our wisdom
Out of the system
Remembering to listen
Spinning in the rhythm of our home
https://yaeldeckelbaum.bandcamp.com/track/home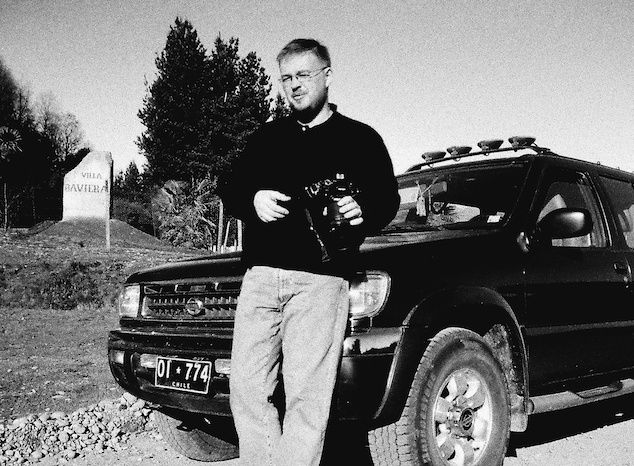 By Andre Vltchek,
Sometimes it is useful to take a break from news bulletins and newspapers, and even from 'friendly' Internet publications.
Occasionally it is good to realize that there are actually two parallel realities that are constantly competing for the 'hearts and minds' of people living all over the world. There is real life and 'fake life'. There is reality and elaborately manufactured pseudo-reality, which is designed to appear more real than the reality itself. It is like that chemically produced green apple shampoo that smells more authentic than the fruit itself.
Periodically I disappear into some jungle or a war zone, in Afghanistan, Southern Philippines or in the middle of plundered Borneo Island. When I return to what some people would readily describe as the'normal world', and a news bulletin unexpectedly confronts me at some airport lounge, everything suddenly appears to be bizarre, grotesque, totally surreal, at least for the few initial but excruciating moments.
It is because most of the mainstream news communiqués and analyses are produced in the plush comfort of an armchair, or at a mahogany writing table, thousands of miles from shrapnel, sweat, torn flesh, blood, burning forests, polluted waterways, and the other horrors which are, in fact, nothing other than the true reality for billions of human beings inhabiting our planet.
Remembering how things really feel, taste and smell I get desperate. I don't recognize places described by the mass media. We are talking about two different universes; yes, about two absolutely opposite realities.
If mainstream reporters go to the field, they are well equipped with bulletproof vests, helmets, with 4×4 vehicles (some of them also bulletproof), with excellent life and health insurances that include airlifts and other evacuation clauses, as well as with hefty salaries and other compensation schemes. On their chests and their backs, it says loudly and explicitly "PRESS".
So what am I bitching about? Is it wrong to compensate people who are risking their lives, or to try to protect them?
No, it is not; of course it is not wrong.
Except, there is that one tiny 'but'… You can never, ever get 'too close' to anything real, this way. You cannot turn yourself to a buffoon or a walking media Rambo, and expect to uncover something hidden, something important, and something thoroughly groundbreaking.
If you over-protect your life, over-insure your each and every step, you'd build a thick wall between yourself and the real life.
If you go into the field looking like this, you will be spotted and questioned, and you will need all sorts of permits and stamps. It is almost like declaring: "I'll play by your rules, I'll not rock the boat, and I'll let you monitor each step that I take". Imagine arriving while being decked out like that and attempting to cover genocide in Papua! Good luck, really. About official permits, if you are from a 'friendly' mainstream agency, you can get them almost immediately. Yes, of course, organizations such as the BBC or CNN could easily supply you with all the necessary credentials. You could even count on an official government armed 'escort', or you could count on an escort supplied by friendly (to the West) 'rebel groups'. Not to speak of all those 'all you can eat' press briefings.
However, the chances that real people would talk to you would be slim. But would you care about hearing from real people if you work for an official mainstream newspaper or a television channel? I doubt it. Real people could, God forbid, say real things, instead of what you are ordered to 'discover' in such places as Bosnia, Rwanda, Syria or Afghanistan. In the end, you'll hear what you came to hear and report, and your writing and clips would be mainly in accordance with the established stereotypes.
Then what, how? Who could do it; who could describe reality, and actually stay alive?
In a brilliant film directed by Oliver Stone, Salvador (1986), one of the main characters declared:
"You got to get close to the truth. You get too close, you die." 
He died, but what he said – that is precisely it! There is this invisible, imaginary line, in the air or on the ground, somewhere. You never see it, but if you have worked in many war zones before, you sense it, and it is what actually saves your life. It saves it often, most of the times, but of course not always. Those who usually die are men and women who make crucial mistakes during their first attempts, before developing their instincts. What I'm talking about cannot be taught; it is not logical – it's just 'there'.
To get as close to the truth as possible, one has to work, fast, decisively and with certain precision, avoiding obvious blunders.
People around you have to trust you, and you yourself have to know whom to trust and from whom to hide.
You are on your own, or at least most of the time you are.
All this guarantees nothing, but these are some of the basic preconditions, if you want to understand a conflict, a war.
Working in devastated places is very emotional, very deep, and sometimes you get overwhelmed, and sometimes your glasses get blurry. You make mistakes; hopefully not too many. Occasionally you go after a particular story, or you know generally what you want to find and a story bumps into you, or you stumble over it, or it just hits you frontally, brutally and at full strength.
If it is good, it is never just 'reporting'. It is much more than journalism, or it is simply shit. There must be some poetry in what you are doing, there has to be also philosophy and humanism, as well as plenty of context and ideology and passion.
There can be no 'objectivity' in this work: objectivity is just an illusion, a fairytale dispersed by mainstream media. But you should never lie: you witness and say what you have to say, the way you believe it should be said, and while you do it, it is your obligation to inform your readers and viewers where precisely you stand.
As a human being, as an artist and thinker, you should always take sides. But your position – on which side of the 'barricade' you stand – has to be clear and honest. Otherwise you are a liar.
The bitter but essential truth is: Even if you put your life on the line, even if you get badly injured or psychologically exhausted, do not expect much gratitude or support.
Many local victims – people whom you came to defend – will suppose and even tell you straight to your face that 'you came to get rich using their suffering and misery'.
Your readers in wealthy countries will imagine that you are being generously funded. They were conditioned to believe that there are no altruistic individuals, governments and countries left on this earth.
The reality is quite different: if you work independently, if you refuse to repeat lies and take orders, to merge with the mainstream, if you go against the interest of the West and its allies and 'clients', the chances are that you will get zero financial support, no protection whatsoever and absolutely no perks.
You may get millions of readers, of course. And you can recycle your reports in your books and films, as I did in my more than 800-page long "Exposing Lies Of The Empire" and "Fighting Against Western Imperialism". If your writing is good, your books will sell, somehow, even if they attack the establishment frontally. But don't count on any support from 'friendly governments' or wealthy but 'left leaning individuals'. There is no Engels around, these days. You are really on your own. Trust me, you are.
You and your determined work may save several villages, or if you are very good, you could make a difference on a global scale. Your writing or your films may help to stop a war. But never expect any official recognition, any practical backing or even mercy from your readers. In 2015, after making several films and writing books about several particularly horrid war zones, mostly in Africa, I totally collapsed. For several weeks, I was not able to move. I thought it was the end. There was no help at all coming from those millions of my readers living in all parts of the world. At that time I made my condition public. Still nothing. Few letters of 'moral support' arrived. Few: "Be strong, the world needs you!" In the end, it was my close family circle that literally pampered and rescued me and put me back to my feet and into fighting order.
This is not a reproach, just a warning to those who are getting ready to fight for the survival of humanity: "You will be totally on your own. You will most definitely collapse on several occasions."
Still, I know no other way how to live meaningfully. I would never trade my life with the life of anyone else.
There is another very important and revealing piece of information, which I'd like to share with you, my readers.
In 2017 I worked in several extremely dangerous parts of the world, including Afghanistan, the Pakistani-Afghan border during the exchange of fire between the two countries, on the Turkish-Syrian border in Euphrates area during the Turkish invasion, in the war-torn southern Philippines, in Lebanon and in the fully devastated (by logging and mining) Indonesian part of the Island of Borneo.
I drove all around Afghanistan, with no protection, no security and no one covering my back. My friendwho doubled as my driver and interpreter was the only man I could count on. Sometimes I held the wheel myself. We even made it into the Taliban controlled territories and drug-infested slums of Kabul. All in a 20 year old, beat up Toyota Corona.
In all these places, I did not see one single Western mainstream reporter. Not one!
Where were they, all those media superstars, I don't know, but most likely they were holed up somewhere at the NATO headquarters, or at least in the only remaining plush hotel in Afghanistan – Serena.The same can be said about the southern Philippines, although there, to be 'objective', one Aussie colleague actually got hit by a sniper's bullet, just couple of days before I arrived.
Do never trust those who write about the suffering of others exclusively from the safety of their living room couches. It is fine to write from there, of course, but only after you have actually seen the people you are talking about; after you have seen them at least once, for a substantial amount of time, after you have listened to their stories, to their desperate cries, and after you have got very dirty and very scared yourself, and truly desperate, in short: after you have got right there, near that invisible line which separates life from death, and after you have tasted the water of the proverbial river Lethe.
But back to where I began.
Imagine: I leave the places where people are fighting for survival, or where they are fighting for true freedom, or against imperialism. I hardly have time to take a deep breath, to recover from food and air poisoning, to change into some presentable clothes, and it all hits me directly in my face: I see some news bulletin, I read articles published by mainstream media, and while doing it, I absolutely don't recognize the world, which I have witnessed in all its rainbow of colors, with all its glory and its misery.
I feel 'out of place'.
I know, some call it 'Vietnam Syndrome'. There are many other definitions for these feelings, or for this outrage, or desperation, or whatever you want to call it.
You suddenly feel it, you know it: somewhere far away where you had been living and working just several hours ago, there is still what could be defined as the 'real world', inhabited by real people. And then, right now, there is this other world, which over imposes, almost fully covers (and even dwarfs) that real one, by using its mainstream clichés and false mass-produced certainties.
This year – this 'departing year' 2017 – has definitely not been a good year for our planet.
A group of nations, which has been controlling the world for already several centuries brutally and shamelessly, is pushing us, our entire human race, closer and closer towards complete disaster, towards a showdown, towards a confrontation that may abruptly terminate millions of innocent human lives.
I'm concerned. I'm very concerned. I have already witnessed indescribable calamities in so many places. I know, I can perfectly well imagine, where all this could lead.
Colonialism is always wrong. Imperialism is always wrong. Cultural, religious or economic supremacy theories are wrong, with absolutely no exceptions.
If a group of nations from one relatively small continent has been continuously usurping the entire world, shaping it to its advantage and enslaving people of other colors, beliefs and values, it is all unmistakably wrong.
But the world is like that – brutal, unjust, and controlled by one aggressive, greedy, sly and arrogant minority. The world is still like that. Once again, it is increasingly like that.
And I cannot stand such an 'arrangement'.
I don't want it to be like that. I'm tired of covering grief, pain, horror and violence. I'm exhausted of filming or photographing perpetual destruction and downfalls.
That's why I'm writing this, at the very end of the year 2017. Perhaps it is just one more futile attempt to stop something inhuman and unnecessary from happening.
Perhaps it is almost impossible to cut through the pseudo-reality manufactured by the mainstream media, academia and 'culture'. Or maybe it's not impossible. I actually believe that 'it is never too late', as I believe that nothing in life is truly 'impossible'.
HAPPY NEW YEAR 2018!
Let me inform you that the world is totally different, actually much more beautiful and diverse than you have been told. Even most of those places that are now in flames are beautiful. And if left in peace, they'd thrive.
The world is worth fighting for. It is worth defending.
Don't ever trust the "news" and "information" which is being disseminated by those who are continuously trying to loot and enslave the world. Trust only what you see and hear, and what you feel. Trust people who are in love with this world, if you manage to identify them. Trust your own senses, your inner logic, and your emotions.
Do not vote for bombing or putting sanctions on any foreign country, anywhere on Earth, before you see it with your own eyes, before you are really convinced, before you talk to its people, and before you truly understand what they are saying. Do not make decisions or conclusions after staring at the television set only. Remember: pseudo-reality kills! And it wants you to participate in this murder.
Go!
Discover!
See for yourself. I hope to encounter you, at least some of you, in Syria, in North Korea, in Afghanistan, Iran, Iraq, Venezuela, Russia, China, South Africa, Cuba, and Eritrea –also in hundreds of other great places, which have been brutalized and smeared by those who are dreaming about making this entire world thoroughly banal, consisting only of a few super-wealthy nations served and fed by all those "others"that have been reduced to slavery.
After seeing the world with your own eyes, after understanding it, I'm almost certain that you will agree with me: right now there are two parallel realities on this planet. One consists of true human lives and human stories, the other one only of trivial but manipulative interpretations of the world. One (true) reality is longing for progress, kindness, optimism and harmony; the other (fake one) is constantly spreading uncertainty, nihilism, destruction and hopelessness.
It is not only what they call "fake news", it is an entire 'fake reality' that has been manufactured by the establishment and upheld by men and women with helmets, bulletproof vests, 4WD's and prominent PRESS insignia.
Once again, HAPPY NEW YEAR 2018!
Happy Discovery Of The World!
Happy Struggle For Survival Of Our Precious Planet!"
Year 2018 will be crucial. Let us all join forces in order for Humanism and that beautiful lady called 'The True Reality'survive, to prevail, and to triumph".
---
Andre Vltchek is a philosopher, novelist, filmmaker and investigative journalist. He has covered wars and conflicts in dozens of countries. Three of his latest books are his tribute to "The Great October Socialist Revolution" a revolutionary novel "Aurora" and a bestselling work of political non-fiction: "Exposing Lies Of The Empire". View his other books here. Watch Rwanda Gambit, his groundbreaking documentary about Rwanda and DRCongo and his film/dialogue with Noam Chomsky "On Western Terrorism". Vltchek presently resides in East Asia and the Middle East, and continues to work around the world. He can be reached through his website and his Twitter.
This post is also available in: Spanish, Italian, Greek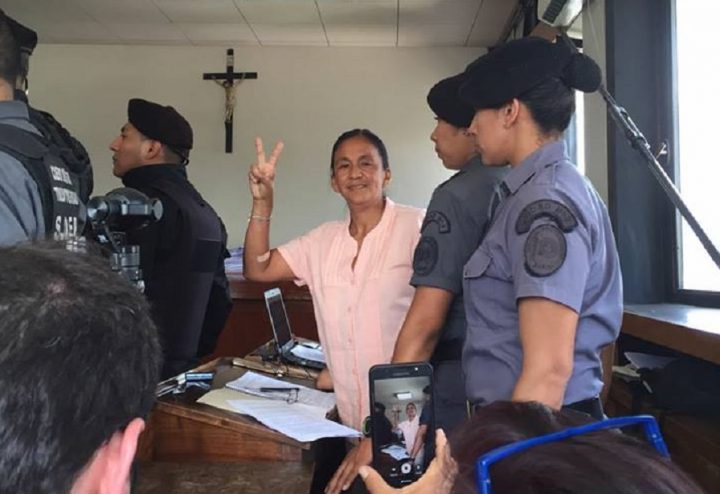 One day after the Supreme Court of Argentina agreed to the ruling by the Inter-American Court of Human Rights, which demanded that the Argentinean justice and the national government provide, as a minimum, the house arrest of Milagro Sala in order to preserve her physical integrity, the Federal Court No. 2 of Jujuy acquitted the Tupac Amaru leader.
"Despite the years in which I have been harassed in this case, it has been shown that I am really innocent," Sala said while being removed from the hearing by the Prison Service of the province of Jujuy, in northern Argentina.
For the past 692 days, Sala has been arbitrarily detained and cases have been created and complaints filed against her, in a staggered manner, in order to prolong the effects of pre-trial detention.
The lawyer for the social leader, Elizabeth Gómez Alcorta explained that "the judges acquitted Sala based on the principle of doubt, that's all we know. We will have to see if the prosecuting parties appeal." The defence of the leader of the Tupac Amaru Neighbourhood Organization is completed by lawyers Paula Alvarez Carreras and Luis Paz.
"There are moments when the obvious lies are broken, the fakes are exposed and the curtain falls and there is no more room to dictate a sentence," added Gómez Alcorta about the lack of consistency of the case, made more than three years ago by the son of the now-governor Gerardo Morales.
"The Court made it known to the judges that they must comply immediately and fully with the Human Rights Court's ruling, and this means that there is no longer any margin, there is no excuse to keep Milagro in prison for one more minute," she said, explaining that the IACHR also ordered that the sentence be served in her habitual residence in the Cuyaya neighborhood and not in the El Carmen building, where she stayed for a few weeks and that was unfit for human habitation.
"We are going to eliminate and destroy every accusation against Milagro. Today it has been demonstrated that the armed forces of the Executive Branch have limits," said Sala Luis Paz's lawyer. Gómez Alcorta, for her part, celebrated that "Milagro Sala will spend Christmas at home with her family.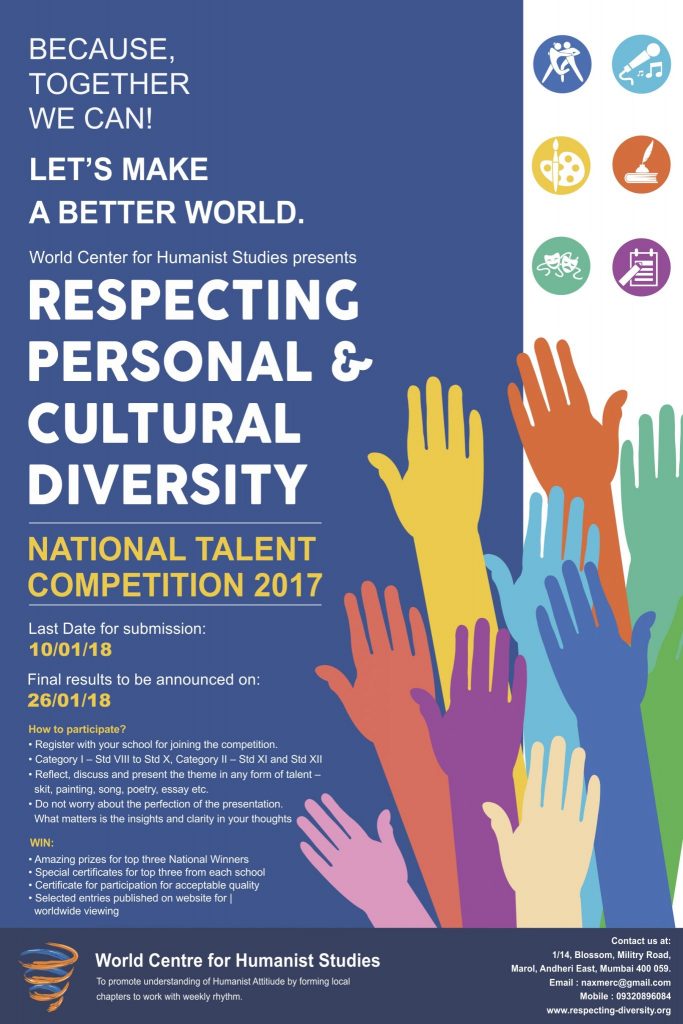 How do we deal with the diversity? When we do not respect diversity, we tend to claim that 'ours' is superior to 'theirs'. This stand fosters division among us and promotes bitterness. Each country, each culture, each family and even each individual is unique. 
We can choose to view diversity in this way:
My country is better than yours
My culture is better than yours
My family is better than yours
I am better than you.
Or we can choose a view that respects human diversity:
I am proud of my country and I respect your country
I am proud of my culture and I respect your culture
I am proud of my family and I respect your family
I am proud of myself and I respect you.
The World Center for Humanist Studies, Mumbai Chapter, is organizing a National Talent Competition that is open to all schools. This year, the theme is Respecting Personal and Cultural Diversity. The objective is to sensitize young minds about the importance of respecting personal and cultural diversity for a more harmonious society. Each one is different in some way or other. When we do not respect diversity, we end up claiming that 'we' are superior then 'them'. This creates walls and promotes bitterness. We need to reinforce the appreciation of diversity and respect for all human beings.
The National Talent Competition is open to all schools for students from STD VIII to STD X in India or students from STD XI to STD XII, irrespective of nationality. Students can create a group of 2 to 5 members, pick a subject and present their thoughts, insights, and point of view in a skit, painting, song, poem, essay, video, powerpoint presentation etc, harnessing their talents and creativity to express their reflections and thoughts on the theme. Participants can choose one of the following topics: Recognizing Diversity, Equality of Opportunity, Social Inclusion, Conflict Resolution, Non-Discrimination; and, can use any language.
To participate, simply register your school for the competition and upload entries on the competition website. There will be prizes for the top three national winners and special certificates for the top three from each school. Certificates for all entries with acceptable quality will also be given and selected entries with be published on the website for worldwide access. The last date for submission is 10th January 2018. To register and for more details, go to the website: http://www.respecting-diversity.org/
For the last three years, The World Center for Humanist Studies, Mumbai chapter has been organizing such competitions to promote sensitivity towards the humanist attitude. A large number of schools had participated from all over India.
In 2015, it launched an Essay Competition on the theme Violence and Me. Highlights can be found at: https://violenceandme.org/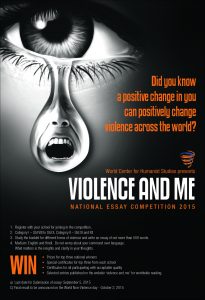 For 2016, a Skit Competition was held on the theme The Human Being as a Central Value. Selected entries can be viewed at http://human-inhuman.org/about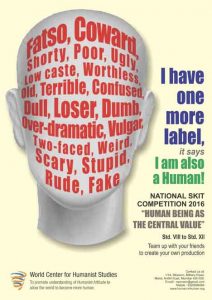 The World Center for Humanist Studies is an organism of the Humanist Movement, which is based on the current of thought known as New Humanism or Universalist Humanism. This current can be found expressed in Silo´s works and in those of diverse authors who are inspired by it. This Movement, which also implies a sentiment and a way of life, takes shape in multiple fields of human endeavor, giving rise to diverse organisms and action fronts. All of them are applied to their specific fields of activity with a common aim: to Humanize the Earth, thereby contributing to freedom and happiness in human beings. These organisms have in common the methodology of Active Nonviolence and the proposal for personal change as a function of social transformation.
The organism, World Center for Humanist Studies, was founded in the First World Humanist Forum in Moscow in October 1993. The Indian chapter's mission is to promote studies of this humanist attitude, inspired by the Humanist Movement which is driven globally by millions of men and women, volunteers who are concerned with building a better and more humane world. A world where the human being is the central value (and not profit and power as it is now) with dignity and growth opportunities in life for everyone and not just a few.
For more details, feel free to contact Parimal Merchant at merchantpr@gmail.com.
Or visit:  http://www.respecting-diversity.org/
https://www.facebook.com/WCHSMumbai/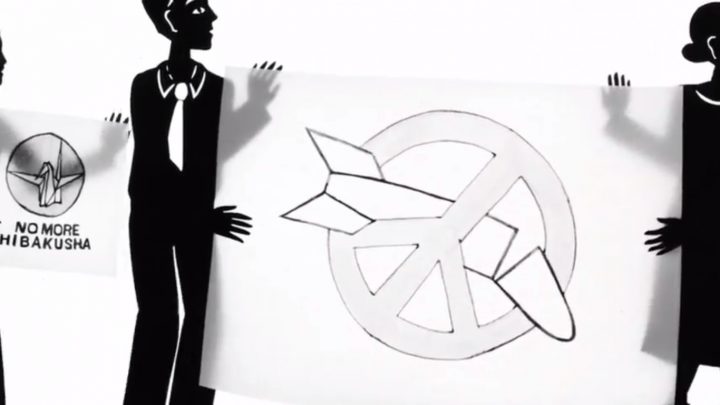 As a 13-year-old schoolgirl in 1945, Setsuko Thurlow survived the atomic bombing of Hiroshima.
A beautifully animated short film, If You Love This Planet brings to life Hiroshima survivor Setsuko Thurlow's passionate call to action, on the day that the Treaty on the Prohibition of Nuclear Weapons was adopted at the United Nations – 7 July 2017.
The video was produced by Kathleen Sullivan and animated by Amber Cooper-Davies, with music by Sam Sadigursky.
This post is also available in: Spanish, Portuguese, Greek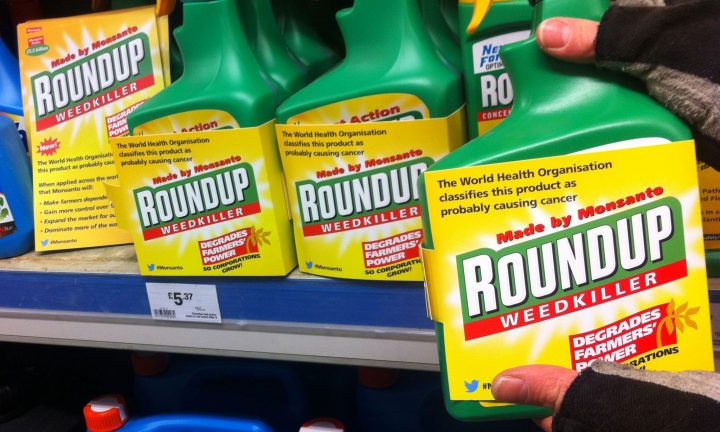 By Erik Edman for DiEM25
As we predicted right after the European Parliament voted not to renew glyphosate's licence in Europe, the European Member States have now ignored all democratic voices and have decided to renew the licence of the potential carcinogenic herbicide.
This decision does not only ignore the precautionary principle and a score of scientific studies indicating that glyphosate is probably carcinogenic; it is a direct show of contempt towards citizens and their sadly flawed European democratic tools. The European Citizens Initiative (ECI) which, provided a million signatures are gathered, allows Europeans to mandate the European Commission with a topic on which to initiate debate, is an infamously unusable format, with the vast majority of such initiatives being scrapped. However, in this case over 1.3 million signatures were collected by the ECI "Stop Glyphosate"; a historic victory for civil society and citizen activism, which regardless was unceremoniously ignored by European governments.
Of course, this decision also exposes the European Parliament, an institution filled with many passionate and principled individuals, for what it really is: the European Union's astronomically expensive public relations stunt. Power, as the member states have reminded us, rests ultimately with our bickering, inward-looking governments and the powerful lobbyists who have their ear.
But this sad failure for democracy is also a timely reminder on the lead-up to the European Elections of 2019: our democratic structures are woefully inadequate for representing European citizens. That was never what they were designed to do. So, instead of being appeased with scraps that only aesthetically improve the established way of conducting politics, while ensuring minimal disruption to those in power, it is time we demand that these European institutions become answerable directly to us. Come 2019, this is what DiEM25 will demand, loud and clear, across the entire continent.
Erik Edman is DiEM25's Internal Communications Coordinator.