You are currently browsing Maurizio's articles.
QUAKER ARTISTS-OCTOBER 2020
J. Muste (1885-1967) was an American political activist, labor organizer, pastor and writer. Known as the "American Gandhi", he was the foremost pacifist in the United States in the 20th century. He believed in an active and creative nonviolence that focused on justice. While his tactics varied, he came to base this on mass non-violent movements. Among Muste's books were Nonviolence in an Aggressive World, Not by Might and The Essays of A. J. Muste. He also co-founded Liberation, a magazine for pacifists. Muste was active in the labor movement in the 1920's and 1930's. He created or participated in several other organizations, as well: the Fellowship of Reconciliation, the War Resisters League, the Committee for Non-Violent Action, SANE, and Clergy and Laity Concerned. An early opponent of the Vietnam War, he was the founding chairman of the National Mobilization Committee to End the War in Vietnam. He was also a mentor to Martin Luther King, Jr. and Bayard Rustin, both of whom were introduced to nonviolent philosophy and strategy by him.Muste became a Quaker in 1918 in response to the First World War. He was also influenced by reading the works of George Fox, John Woolman and Rufus Jones. Leaving the Congregationalist Church, he enrolled as a Friends minister at the Providence (NEYM) Meeting. Muste, however, was usually active as a Quaker in a leadership role in peace and justice organizations, rather than in Friends Meetings. He served as the first chairman of the American Friends Service Committee, and he co-wrote Speak Truth to Power, the AFSC pamphlet. Muste's The World Task of Pacifism, War Is the Enemy, Of Holy Disobedience and Saints for This Age were published as Pendle Hill pamphlets. His sense of the Inner Light was so important to him that he always acted upon it, especially in his political work.I have always admired A.J. and participated in many Mobe marches during the Vietnam War. His blend of the mystical and the practical was very moving to me (and very Quaker).Some quotes:"There is no way to peace; peace is the way"."If I can't love Hitler, I can't love at all". (Spoken at a Quaker Meeting)."In a world built on violence, one must be a revolutionary before one can be a pacifist".Gary Sandman(Below is a photo of Muste with fellow activists at a CNVA protest at the Atomic Energy Commission in August 1963).
11.10.2020 – The Conversation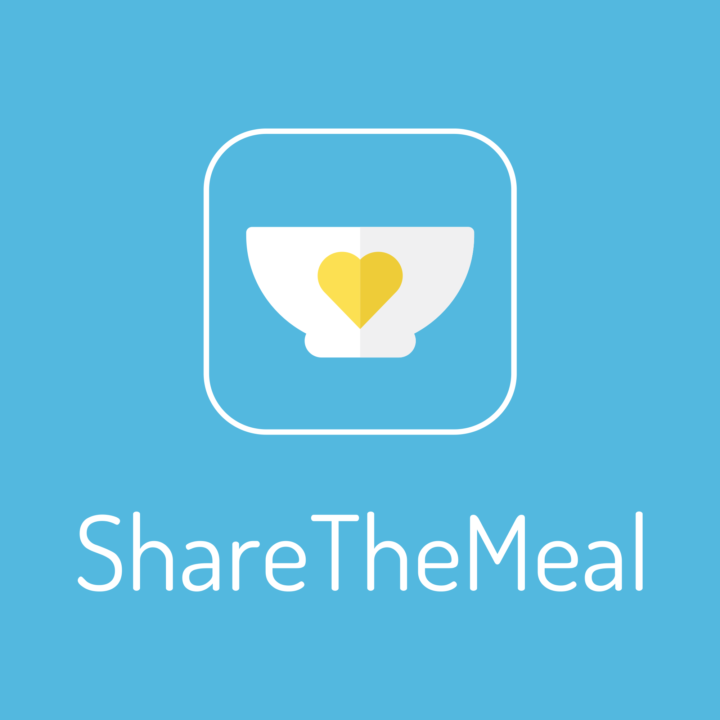 By awarding the 2020 Nobel peace prize to the UN's World Food Programme (WFP), the Nobel committee said that it wanted to "turn the eyes of the world to the millions of people who suffer from or face the threat of hunger". Among its reasons for awarding the prize were WFP's "efforts to prevent the use of hunger as a weapon of war and conflict".
These issues don't apply just to people living in areas of acute conflict, but also to the many people around the world who have experienced high levels of malnutrition for decades – usually in countries affected by multiple and long-term political crises such as Somalia, Sudan, South Sudan, the Democratic Republic of Congo and Yemen.
The focus that the Nobel committee has brought to hunger and conflict is welcome and very much needed. It must be addressed as a matter of urgency – but not by WFP alone.
Hunger as a weapon
Hunger has been used as a weapon of war for many years, but the issue has recently risen to prominence because of the increased risk of mass starvation in today's conflicts.
The political acts which cause hunger and starvation can be divided into acts of commission, omission and provision. Acts of commission are attacks on food production, markets and the restriction of people's movement. Omission is the failure to act, such as when food relief is blocked, while provision is the selective provision of aid to one side of a conflict.
Similar tactics are used in protracted crises but with more subtle manipulation of markets, trade and aid than direct attacks. The war on terror, a rise in authoritarian governments, and geopolitical manoeuvring have magnified these issues and increased the risk of starvation.
The link between war and hunger was recognised explicitly with the passing of a UN security council resolution in 2018 which prohibited the use of hunger as a weapon of war. Since then, WFP has been working more actively to understand the link between food security and conflict and how it can contribute to building peace.
The power of food aid
Since its establishment in 1961, WFP has set up an expansive food logistics system and a wealth of tools to assess needs and vulnerability. In the past decade, it has also become involved in cash transfers.
It is now one of the world's largest humanitarian organisations, but also a business which dominates all aspects of general food distribution and humanitarian assistance. It involves a whole range of people, institutions and practices which can have political and economic consequences well beyond meeting the needs of hungry people.
One of most intractable issues is the manipulation of food aid during conflict and its incorporation into the political economy of famine and war. Food aid has been stolen or taxed by warring parties or local authorities, providing not only a source of finance but boosting their political status.
In Somalia, food aid has been big business and its contractors key political actors. Elsewhere, governments increasingly deny access for food distribution in opposition-held areas, with Syria, and Sudan under its previous regime, being a case in point.
The denial of food aid can also benefit traders as it increases food prices and it benefits business because as people become displaced they are potential sources of cheap labour. The vulnerable are frequently excluded or marginalised, because they are the politically weaker members of society.
Spotlight on political inaction
As part of its role in improving conditions for peace, WFP can analyse these wider political and economic effects, and include them in the way it makes decisions. However, WFP cannot address the political causes of hunger, food insecurity and malnutrition with food aid – or in fact with any technical intervention.
Conflicts need political solutions and crimes of mass starvation need to be prosecuted. Even one of WFP's most successful operations, the massive food distribution in Darfur in 2005 which effectively reduced malnutrition and mortality, required diplomatic efforts to negotiate the necessary access.
There is a danger that WFP becomes a substitute for political action to address the causes of conflict or for prosecuting crimes of mass starvation. This would actually perpetuate the problem, as structural causes of hunger and malnutrition remain unaddressed.
In turn, this keeps vulnerable people in a state of protracted crisis or precarity and persistent malnutrition. An over-reliance on WFP can also absolve politicians of the blame for creating famine or, alternatively, the international community's responsibility to protect.
With the spotlight of the Nobel peace prize, WFP can do much by making the political causes of hunger in conflict visible, helping to identify famine crimes, promoting effective assistance that is specific to particular contexts, and using its power to bring about political action.
A year ago, on October 10, 2019, I had a stroke. And I saw a vision of my future. It started in the living room, about 7AM. I was in my battered recliner, reading newspapers on an Ipad. Across from me, on our long couch, grandson Calvin was stirring. His mom worked nights at Waffle…

A Whole Year In One Stroke — A Friendly Letter
09.10.2020 – UNHCR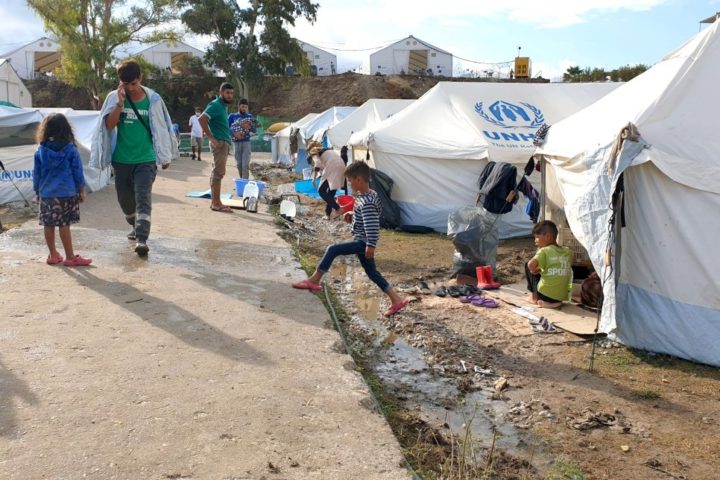 This is a summary of what was said by UNHCR spokesperson Shabia Mantoo – to whom quoted text may be attributed – at today's press briefing at the Palais des Nations in Geneva.
Four weeks after the fires destroyed Moria Reception and Identification Centre on Lesvos, UNHCR, the UN Refugee Agency, is reiterating its call that urgent action and improvements are needed to avoid further deterioration of living conditions for some 7,800 refugees and asylum-seekers currently sheltered in the emergency site in Kara Tepe.
Colder weather and the onset of winter will only bring more hardship for the people there. There are critical gaps in drainage, water, sanitation, hygiene and health services that need to be addressed without any delay.
Heavy rains on 8 October have exacerbated the situation for residents in the emergency site. Some have seen their tents flooded with water. UNHCR conducted protection monitoring visits to assess the situation in the site following the heavy rainfalls and prioritised tarpaulins for people whose tents were affected by the rain. Refugees themselves also found other interim solutions such as digging water channels and trenches around their tents to prevent flooding as proper drainage throughout the site is lacking.
Moria Reception and Identification Centre was devasted by fires on 9 September forcing some 12,000 men, women and children on to the streets. The Greek authorities swiftly mobilized the Hellenic Army and humanitarian partners to establish an emergency shelter facility. Significant efforts have been made by national authorities and aid agencies working on Lesvos. However, living conditions in the emergency site remain in urgent need of improvement.
UNHCR and other humanitarian partners have alerted the Greek authorities to safety hazards and risks in the emergency site, requiring their immediate action. The area is prone to flooding and the current tented site is not equipped to provide necessary protection against the elements and low temperatures.
At the request of the Greek authorities and in support of the government-led humanitarian response, UNHCR is delivering gravel to help lessen the risk of flooding in tented and common areas. As the weather is becoming colder and wetter, we are providing insulation kits, flooring with pallets and plywood sheets for family tents.
However, these are only short-term interventions that cannot be deemed adequate or sufficient to withstand the winter. We have stressed to the authorities that large-scale efforts are required, including to promptly ensure proper drainage throughout the site and ensure better shelter solutions for the most vulnerable people and their families. At the same time, we continue to call for more transfers to the mainland in suitable accommodation.
With the onset of more rains and harsh weather, UNHCR urges immediate action on all Greek Aegean islands. On Samos, where almost 4,500 people continue to stay in inadequate and overcrowded conditions, most sleep in summer tents or makeshift shelters in the woods, outside the reception centre meant to accommodate only 650. Suffering of these people can be avoided, through winter preparations and more transfers to adequate accommodation.
Meanwhile, UNHCR is encouraged by this month's efforts to decongest overcrowded sites across the Aegean islands, through government-led transfers of the most vulnerable asylum seekers and recognized refugees to the mainland. We continue to support and encourage acceleration of these efforts.
At a time of heightened needs for appropriate housing for asylum-seekers in Greece, UNHCR is particularly concerned about the announced plans to close down facilities on Lesvos island, that have been dedicated to shelter hundreds of the most vulnerable families, women and children.
These include the municipal accommodation centre in Kara Tepe and PIKPA, a self-organized solidarity space. One of the founders of this space received the UNHCR Nansen Refugee Award in 2016. Greek volunteer Efi Latsoudi has worked tirelessly to help thousands of refugees arriving on Greek shores, providing a safe haven for the most vulnerable after they reached land.
Until more comprehensive and dignified solutions are secured, UNHCR calls on the Greek authorities to ensure that such initiatives are in place to provide protection and address the specific needs of particularly vulnerable refugees.
08.10.2020 – Greenpeace International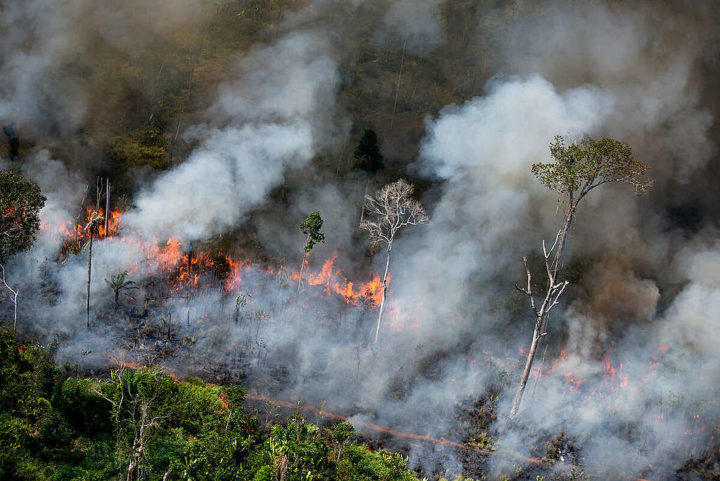 It is no accident that there are fires all across Brazil, and it is no accident that the fires this year are worse than last. In fact, the fires in 2020 are the worst in the last decade.
The world is looking in horror for the second straight year as historic blazes ravage the world's largest tropical forest. All the while, instead of fighting the fires, the Brazilian government fans the flames by emboldening those who are setting the fires to expand their agribusiness.
What's worse, the Amazon is not the only biome in Brazil that is on fire. The Cerrado savannah has already registered more than 38 thousand fire hotspots this year, and the Pantanal wetlands, a biome rich in biodiversity, home to the biggest number of spotted jaguar, has already had 23% of its area destroyed.
Last year, more than 1 million hectares of forest were burned in the Amazon, and the destruction won't stop unless we take action.
Brazilian President Jair Bolsonaro may be willing to sacrifice vital ecosystems in Brazil for profit, but the true cost of losing the forest is incalculable. The more fires there are, the farther away we get from beating the current climate, health, and biodiversity crises, and the greater the risk to Indigenous Peoples and traditional wisdom that protects the forest.
The fires in Brazil are not natural. Greedy and reckless people are the arsonists. But what are the reasons behind all this destruction?
The meat on our plate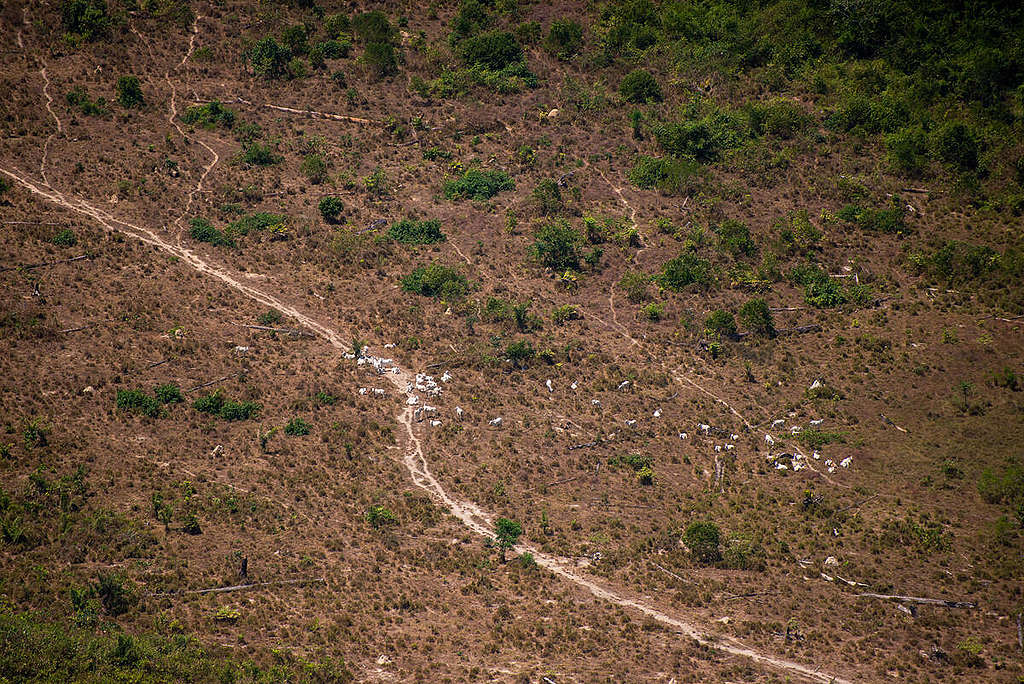 Industrial agriculture is the biggest driver of deforestation – the practice of clearing forest to make way for agriculture or grazing – in the world. In Brazil, cattle ranchers and land-grabbers set the Amazon on fire to illegally clear land and expand their destructive business. Cattle ranching is estimated to have directly caused 80% of deforestation in the Brazilian Amazon.
Land in Brazil is not only being destroyed to make way for cattle raising. Even though deforestation for soy production is banned in the Brazilian Amazon, the Cerrado Savannah has become a gigantic soy farming field, expanding into a biodiversity-rich biome and threatening and displacing traditional communities that have lived in the region for generations. The production of soy is also directly related to the meat the world is eating. 90% of all the soy produced in the world is destined to feed livestock. We're growing food to feed food.
Guardians of the forest under threat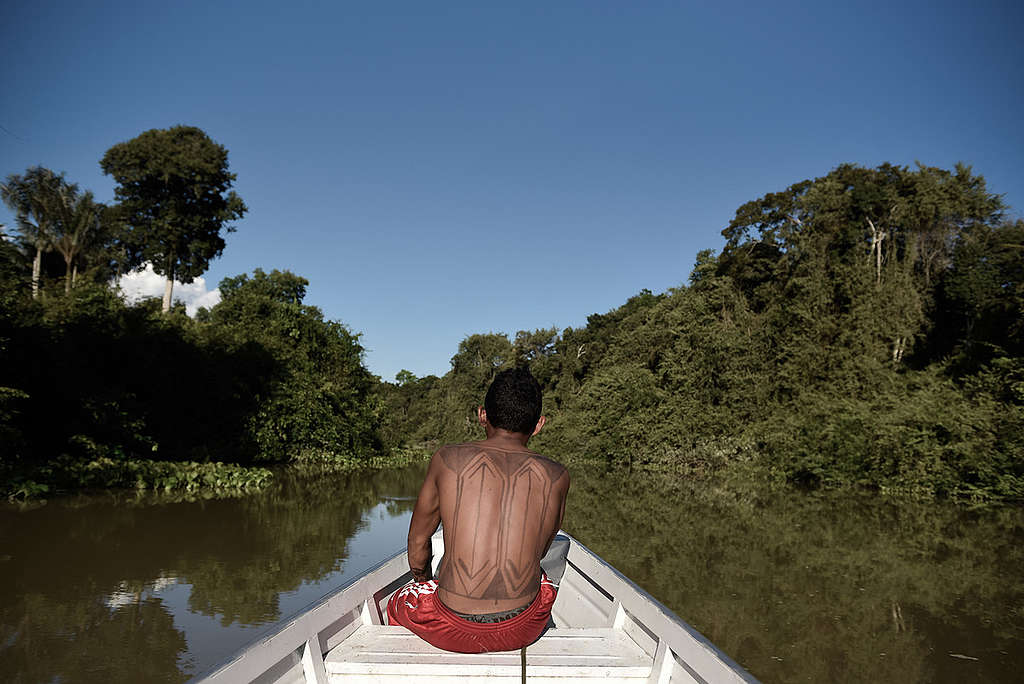 The destruction of the Amazon, the Cerrado and the Pantanal doesn't happen only on public lands. Indigenous Peoples have been fighting to protect their territories and the forest for generations, but their lands are constantly invaded by land-grabbers, loggers and miners. These invasions are a violation of Indigenous Peoples' constitutional rights and a threat to their lives. The Brazilian government should be protecting Indigenous rights, but instead, it enables the destruction and weakens federal agencies whose goal is to monitor and protect Indigenous Peoples' lands.
The COVID-19 pandemic has added another threat to Indigenous Peoples' lives. With a mortality rate three times higher than the rest of the Brazilian population, Indigenous Peoples are facing an even bigger threat, with miners and other invaders risking to bring the pandemic into their territories. As of 2 October, more than 34 thousand Indigenous Peoples have been diagnosed with COVID-19, and 837 people have died in Brazil. Indigenous lands are one of the most effective ways to protect the forests. As invaders seize their lands and the populations are put at risk, the world risks losing the knowledge of how to best care for the Amazon.
A government of lies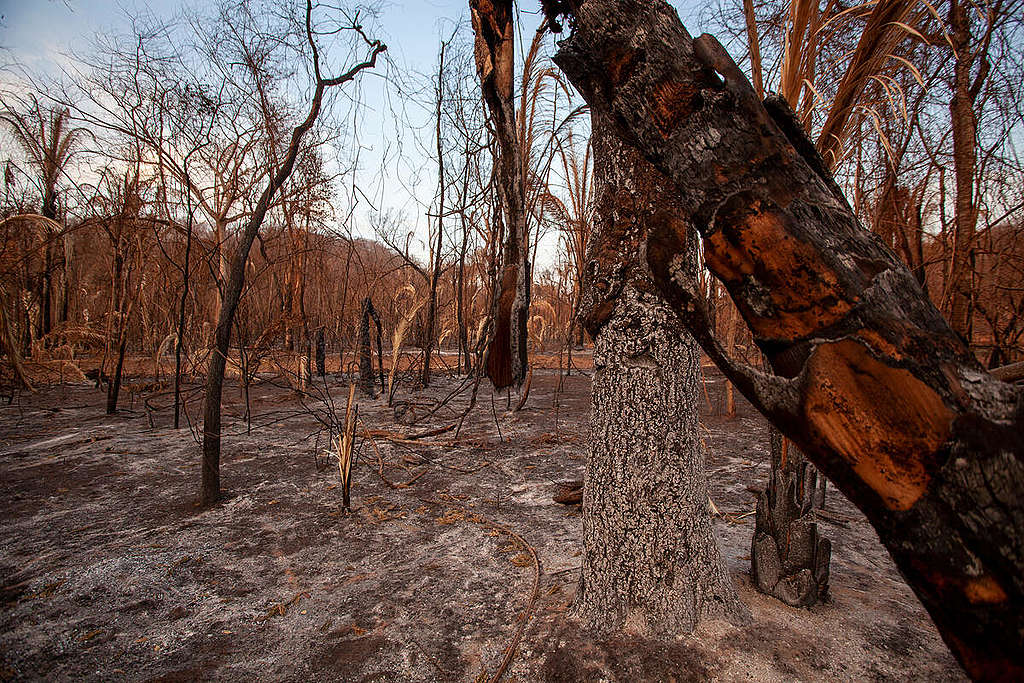 While Brazil's vital and irreplaceable biomes burn and Indigenous Peoples have to face a pandemic that is widespread throughout the country, the Brazilian government denies both crises. In fact, President Bolsonaro prefers to blame and attack NGOs, Indigenous Peoples and anyone else who stands up to him for the fires ravaging the forest and chooses to create meaningless measures to combat the devastation of the Amazon, such as sending the army to the forest, and announcing a decree to ban fires for 120 days. Instead, the Brazilian government should have maintained the capacity of federal agencies the country already had in place, so that environmental laws could be properly enforced, as well invest in monitoring and enforcement.
In the meantime, the forest – and the fate of the world – keeps going up in flames. In September, Brazil surpassed the grim record of fires from 2019, the highest in 10 years. This is a consequence of a government that, since day one, has been tearing down environmental laws and enabling the destruction from the agribusiness and mining sectors.
Why the Amazon—and other ecosystems—matters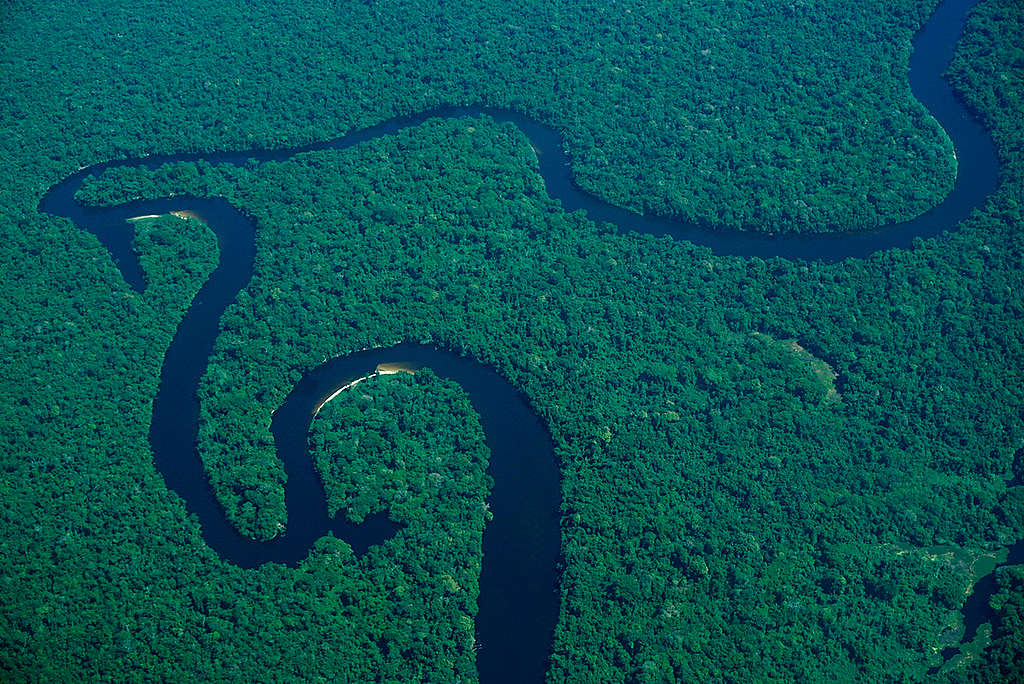 The destruction of the Amazon is not only a threat to biodiversity and to Indigenous Peoples. The Amazon is the biggest rainforest in the world and is vital in stabilizing the climate in the continent. The Amazon is responsible for generating and bringing rain to other parts of South America such as the southeast of Brazil, where major cities like São Paulo and Rio de Janeiro are located. Without the Amazon, severe droughts could devastate the region, impacting the lives of the most populated region in the country.
The Amazon is also crucial for the fight against the global climate crisis. It stores a vast amount of carbon dioxide that is released into the atmosphere when the forest is burnt. The more carbon in the atmosphere means a warmer and drier climate, which makes the land more prone to burning. It's a vicious cycle that we cannot allow to continue.
But if we all know the threats the destruction of the Amazon poses to the entire world, why do we keep seeing more and more fires each year? We cannot allow global corporations, backed by governments, to continue risking our future for money in their pockets. From more deadly floods and droughts to hurricanes and wildfires, we are already seeing the impacts of the climate crisis. We all need to act together to protect the planet.
08.10.2020 – US, United States – David Swanson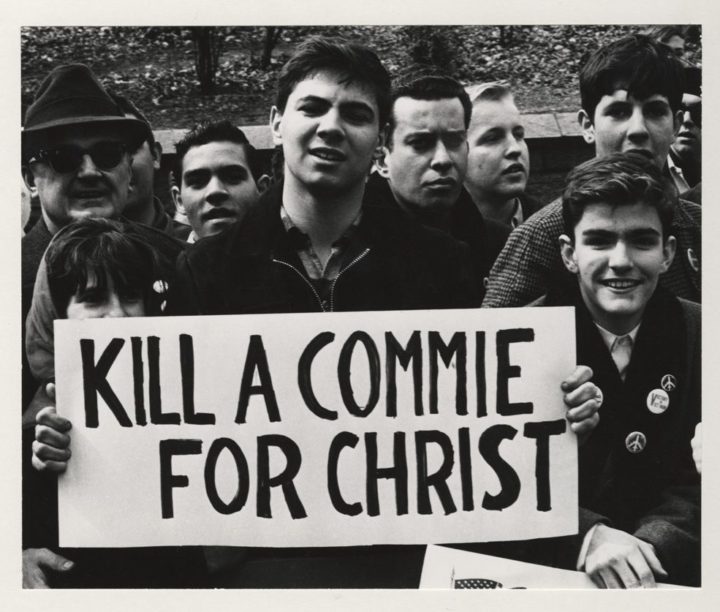 The New York Times loves the latest war-is-good-for-you book, War: How Conflict Shaped Us by Margaret MacMillan. The book fits into the growing and exclusively U.S. genre that includes Ian Morris's War: What Is It Good For? Conflict and Progress of Civilization from Primates to Robots (Morris came to the U.S. from the U.K. decades ago) and Neil deGrasse Tyson's Accessory to War: The Unspoken Alliance Between Astrophysics and the Military.
According to Morris, the only way to make peace is to make large societies, and the only way to make large societies is through war. And when a society is large enough it can figure out how to ignore all the wars it is waging and achieve bliss. "Interstate wars" Morris claims, with no evidence and no footnotes, have "almost disappeared." See there? Ignored effectively! Also vanishing from the globe, according to Morris: wealth inequality! Also there is no climate crisis worth worrying over. Plus nuclear weapons can't kill us all anymore — but Iran endangers us all by building them — however, missile "defense" works! All this terrific news is dampened a little by Morris' guarantee that World War III is just around the corner — unless you gain the understanding that that is a good thing — which perhaps you will when, as Morris forecasts, computer programmers meld all of our minds into one.
According to celebrity astrophysicist Neil deGrasse Tyson, because 17th century Europe invested in science by investing in warfare, therefore only through militarism can any culture advance, and therefore — conveniently enough — astrophysicists are 100% justified in working for the Pentagon and taking credit for dreaming up a military weaponry "Space Force."
Among those who knew better in a less war-mad era was Carl Sagan. But nutty and self-justifying as this new genre might be, you'd never question it at all if you only heard about it second-hand through fawning U.S. corporate media and academia and the institutions that give out book awards.
In Teddy Roosevelt's day war was good for us because it built up the race and speeded the eradication of the inferior races. Those reasons why war is good for us are no longer deemed acceptable, but new ones are being substituted that are exactly as ludicrous — and they are given exactly as much respect as the old ones used to be, at least in the United States.
Margaret MacMillan's book is not quite as goofy as Ian Morris's, but that's because most of the book is filler. A fraction of the book makes the war-is-good-for-us case. The rest just piles super-brief anecdotes into themed sections superficially presenting every war-related topic under the sun, mostly with no connection to making any argument, and with any controversial topics presented in an extravaganza of bothsidesism run amok. Is Rousseau or Hobbes right about "human nature"? Yes! Is Steven Pinker right or wrong that war is vanishing even though the facts say just the opposite? Yes!
Not a single one of these books touches on the powers of nonviolent action. In this genre, as in U.S. "news" "coverage," to engage in mass-slaughter is to "do something." The alternative is to "do nothing." Not a single one of these books examines the deadly economic trade-offs, the billions of lives that could be benefitted by reducing war spending, the climate damage of the war industry, the justification of government secrecy, the erosion of rights, the spread of hatred, or even — in any serious way — the deaths and injuries created by war.
MacMillan purports to tell a society absolutely saturated in war culture (and a readership she can predictably count on to lap up page after page of war fascination with no particular point to it) that . . . wait for it . . . war is important. Soaring over this inch-high hurdle, MacMillan still manages to go astray by mistaking Western or even U.S. society for "humanity." When China invests in major projects despite not waging any wars, we are apparently supposed to think that Chinese people are not human, because according to MacMillan only war concentrates people's attention enough for them to accomplish anything major.
MacMillan is here to save us from the danger of war being left out of the study of history — an odd threat in a land where history texts are generally dominated by war after war, and war monuments dot the landscape. Not only is war important, MacMillan reveals to us, but it is the path to education and unemployment insurance as well as to the "stories" that nations supposedly require if they are to be "cohesive."
MacMillan mixes ancient myth with fiction with historical account — all of which, I guess, count as stories. But she puts everything into the present tense and claims to be establishing permanent laws. "[B]orders have been set by war." "[W]ar has also brought progress and change . . . greater law and order, . . . more democracy, social benefits, improved education, changes in the position of women or labor, advances in medicine, science, and technology." MacMillan approvingly quotes another writer claiming that war is not just a crime, "it is also the punishment of a crime." Larger nations, MacMillan tells us, like Morris, "are often the result of war." Following tales of various ancient empires, MacMillan tells us that "great powers" "provide a minimum of security and stability." After accounts of wars, all from over a century ago, MacMillan tells us that the world "reverts surprisingly easily to Hobbes's state of anarchy."
But wars are not creating many borders and haven't in almost a century. Wars are not creating anything of value that couldn't have been produced better without wars. That Neil deGrasse Tyson thinks that only by making a project about war can he get it funded by the U.S. government is not a comment on humanity, but on the U.S. government and on Neil deGrasse Tyson. War has not been defensible as punishment of a crime for nearly a century. The European Union was not formed by war but to avoid it. No "powers," whether "great" or otherwise, fail to provide a minimum of security, but ancient imperial butchers haven't provided anyone with anything since ancient times.
I don't think MacMillan would tell you that Chinese people are not human. But listen to this all-too-familiar-if-grotesquely-genocidal assertion from her book: "The American Civil War probably had more casualties than all other American wars combined." If Native Americans and Filipinos and Koreans and Germans and Vietnamese and Iraqis and Afghans and so on and so forth are human, why can they never be counted as casualties? Why does MacMillan claim that the United States only started attacking outside its borders at the end of the nineteenth century if Native Americans were/are human beings? Why does she claim that a war "almost accidentally" "gave" the United States the Philippines, if the huge numbers of people the United States had to murder in order to take the Philippines were people? Why is the U.S.-led destruction of Iraq presented as a strategically flawed operation? Is that how MacMillan would present the Iraqi destruction of the United States? Why does she claim that the world now has religious wars without naming one or explaining the claim?
Wars, like the war on Iraq, MacMillan claims, take on their own momentum. Yet 535 members of the U.S. Congress could choose to end any war at any moment and consistently choose not to. Human agency is missing from yet another book written by a human.
War, the entire institution, MacMillan wants us to suppose, takes on a life of its own. How so? Well, MacMillan tells us that "the evidence seems to be on the side" of those who claim that humans have made war "as far back as we can tell." How far back can we tell? Who knows! The book cites exactly no evidence and contains — count them! — zero footnotes. Of course, the idea that war has always been around and always will be is common U.S. opinion, which is presumably why it can be presented with no evidence even when it's presented as a radical breakthrough.
MacMillan admits that humans have been around for 350,000 years while claiming that war "became more systematic" 10,000 years ago, and claiming that unspecified evidence shows that humans made weapons as early as "the later Stone Age" — which we might quantify as 5,000 years ago or so (she gives us no number). All of this adds up to a claim that some humans have sometimes done something somewhat resembling the warfare of some centuries ago for some 3% of their time on earth and possibly much longer sort of.
We know from the writings of people like Douglas Fry that a case can be made, citing specific examples, that there have been societies in recent times that knew no war and that most of humanity's existence through pre-history was without war. It's hard to weigh that case against an argument that cites no evidence. We know from looking around that over 90% of humanity is governed right now by states that invest radically less in war than does the United States. We know that there is very little overlap between the places with the wars — and generally blamed for the wars — and the places creating and exporting the weapons — an industry oddly absent from these books. We know that greed and self-defense and childish emotions can't explain wars, as MacMillan tells us, unless she can explain why the United States has so much more of those things than other countries, and unless she can explain away the evidence that building bases and stationing ships and preparing for wars is a primary cause of wars (see David Vine's forthcoming book, The United States of War).
If the United States reduced its militarism to the average of other nations, in either absolute or per-capita terms, we would be well on our way to war abolition, and yet these U.S. books on the inevitability and benefits of war (and why must it be inevitable it we're really going to believe in the benefits?) always seem to come back to that meaningless term of excuse, "human nature." How can 4% of humanity define what is and must always be human?
The only nature of humans, as Jean-Paul Sartre tried to explain quite some time back now, is to be able to choose — which includes being able to make bad choices and invent excuses for doing so. Let's suppose that everything the war lovers tell us is so. Let's suppose that war has been around a lot more and a lot longer than anyone has ever imagined. Let's suppose that violent chimps are our step brothers and sisters while amorous bonobos are all secretly evil. Let's suppose that nonviolence has never worked. Let's suppose that nobody has ever bothered to do anything or invent anything or think anything except as part of a war.
I'm sorry, but why would I care if all of those things were true? How would you get me to care? If I can choose not to eat or make love or breathe, how are you going to convince me that I cannot choose to work for the abolition of war? And if I can work for the abolition of war, why can't everyone?
There is no reason, of course, that everyone can't. There is just suggestion, just muddled mythology, just propaganda.
After last Saturday's SAYMA Representative Meeting, Sharon Smith celebrated in a circular email: How many people do you know, who can say they survived not just one, but two Quaker lynchings? That's the way I feel today, after that botched attempt yesterday. I am so proud of me . . . lol But this was […]

SAYMA Update: After the "Lynching" that Wasn't
06.10.2020 – Gianmarco Pisa
This post is also available in: Italian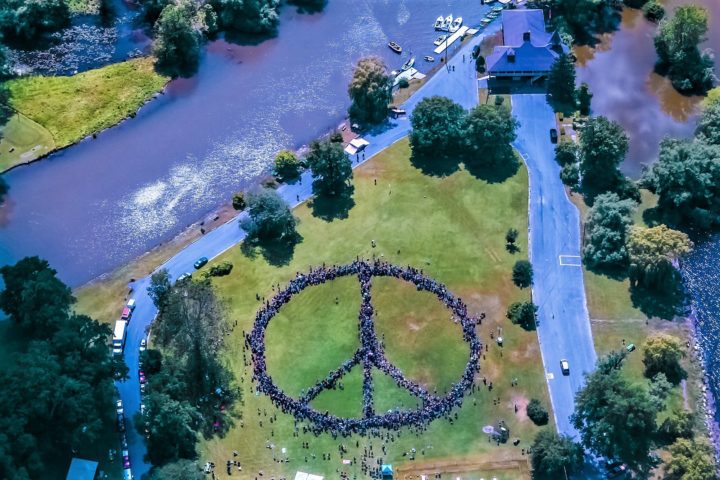 Is it not appropriate to devote a few minutes of our time to a careful and reflective reading of the latest thematic contribution by Jan Oberg, which the Centro Studi Sereno Regis conveniently published on 25 September 2020 with the title "The Lost Discourse on Peace and the Arts as a
Possible Way Out"? Jan Oberg is not new to studies and reflections with such a profile: co-founder of the Transnational Foundation for Peace & Future Research (TFF), one of the most solid international entities in the field of action research for peace, inspired by the Galtunghian motto
of the construction of "peace by peaceful means", Jan Oberg is a lecturer of Peace Studies, a professor at the University of Lund, former director of the Lund University Peace Research Institute (LUPRI) and in the past also a member of the Security and Disarmament Committee of the Danish Government. An expert in action research, he has been involved in peace initiatives and mediation in former Yugoslavia, Georgia, Burundi, Iraq and Syria.
This the background on which in the "short essay" mentioned above he asks himself (and asks us in a broad sense, as the community of peacemakers and worldwide public opinion) a couple of major questions. It is better to review them, in order to extract the nucleus and bring reflections
to light. First question: the disappearance of "peace". This is his opening reflection and is, at the same time, the knot with which for decades the forces and the protagonists of the movement of movements and, in particular, the movements for peace and against war find themselves faced
with: "the discourse on peace or for peace has mostly disappeared in the last 20-30 years. It applies to research, and its non-governmental financing possibilities, to politics in general and the media. In foreign and security policy, the intellectual level is now such that it does not at all seem strange to the decision makers to never seek advice on peace or consult peace experts. The fanciful hypothesis is that only if there are sufficient military "security means" applied to enough problems of society, will peace then be automatically established."
This is a timely and pertinent observation which represents the real current condition, but whose roots should be studied in depth. "Militarization" has become increasingly a deep, structural dimension of the ways in which social relations and the public arena are organized:
capitalism, patriarchy and militarism increasingly assert themselves as aspects of the same dynamic, a structural dynamic, which inevitably ends up also generating radical cultural impacts, in perception and in aspiration, in the 'imaginaries' and in the so-called "styles of thinking". Not only has the military approach become and continues increasingly to be the fundamental and essential approach in international relations and in international disputes (we only need to think of migration policies and the continuous, even obsessive, association of the term "migration" with the subject of "security"). But also completely 'civil' functions become ever more managed with "military" tools and capabilities, revealing a model or a design of continual refunctionalisation and legitimization of the military (examples in abundance, of soldiers in the streets to keep public order, for civil protection – in fact, civilian – substantially entrusted to the military, up to the presence of the military with the function of teachers or broadcasters in the schools, which aspect the MIR campaign for "Demilitarized Schools" appropriately reminds us, against "the presence and increase, in the school environment, of multiple activities, initiatives and projects, in collaboration with the Armed Forces and thus in clear contrast with the educational, training and cultural aims of the scholastic institution").
The second question: The concretization of "peace". (Reading between the lines) it is an allusion, not even very veiled, to our responsibilities. Again paraphrasing Galtung, both by omission (all the times that all these excesses of militarization, after all have not disturbed us very much) and in actions (whenever we have not forced ourselves to imagine peace to be "constructed", rather than "declaimed"). "95% of people in the West expend 95% of their own energies to the world as it is now – criticizing this or that, making diagnoses and prognoses, predicting catastrophes, sending out warnings and fighting each other over the correct interpretation or making up conspiracies and propaganda. But such negative energy will get us
nowhere." During the presentation of a book, a few years ago, I also felt that unpleasant sensation which is born of the surprise of your interlocutor: "I didn't even know that there existed such a job as peacemaker!". But the discussion could be expanded: how many times is our action only a proclamation and a testimony and is mixed with propaganda and whimsical? Maybe, thinking about peace "in action" is a good place from which to start to discuss these reflections, so demanding that which the text urges us to do.https://www.facebook.com/v3.0/plugins/like.php?action=like&app_id=&channel=https%3A%2F%2Fstaticxx.facebook.com%2Fx%2Fconnect%2Fxd_arbiter%2F%3Fversion%3D46%23cb%3Df3b4b59e6cc0204%26domain%3Dwww.pressenza.com%26origin%3Dhttps%253A%252F%252Fwww.pressenza.com%252Ff14eedf8eaf2a5%26relation%3Dparent.parent&container_width=0&href=https%3A%2F%2Fwww.pressenza.com%2F2020%2F10%2Ftaking-action-for-peace%2F&layout=button_count&locale=en_US&sdk=joey&share=false&show_faces=truehttps://www.facebook.com/v3.0/plugins/share_button.php?app_id=&channel=https%3A%2F%2Fstaticxx.facebook.com%2Fx%2Fconnect%2Fxd_arbiter%2F%3Fversion%3D46%23cb%3Df240c4b5cb2a84%26domain%3Dwww.pressenza.com%26origin%3Dhttps%253A%252F%252Fwww.pressenza.com%252Ff14eedf8eaf2a5%26relation%3Dparent.parent&container_width=0&href=https%3A%2F%2Fwww.pressenza.com%2F2020%2F10%2Ftaking-action-for-peace%2F&layout=button_count&locale=en_US&sdk=joeyhttps://platform.twitter.com/widgets/tweet_button.96fd96193cc66c3e11d4c5e4c7c7ec97.en.html#dnt=false&id=twitter-widget-0&lang=en&original_referer=https%3A%2F%2Fwww.pressenza.com%2F2020%2F10%2Ftaking-action-for-peace%2F&size=m&text=Taking%20Action%20for%20Peace&time=1602027253237&type=share&url=https%3A%2F%2Fwww.pressenza.com%2F2020%2F10%2Ftaking-action-for-peace%2Fhttps://apis.google.com/u/0/se/0/_/+1/fastbutton?usegapi=1&size=medium&origin=https%3A%2F%2Fwww.pressenza.com&url=https%3A%2F%2Fwww.pressenza.com%2F2020%2F10%2Ftaking-action-for-peace%2F&gsrc=3p&ic=1&jsh=m%3B%2F_%2Fscs%2Fapps-static%2F_%2Fjs%2Fk%3Doz.gapi.it.zC_UBxQkL9o.O%2Fam%3DwQE%2Fd%3D1%2Fct%3Dzgms%2Frs%3DAGLTcCPdkkXFM2pKO72VEqoUv68EjDzlVA%2Fm%3D__features__#_methods=onPlusOne%2C_ready%2C_close%2C_open%2C_resizeMe%2C_renderstart%2Concircled%2Cdrefresh%2Cerefresh%2Conload&id=I0_1602027252313&_gfid=I0_1602027252313&parent=https%3A%2F%2Fwww.pressenza.com&pfname=&rpctoken=49211647
04.10.2020 – The Ecologist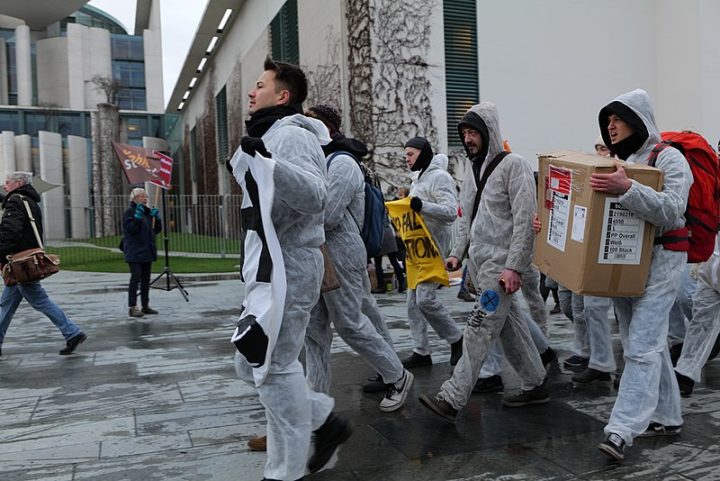 Ende Gelände mobilised thousands in Germany last weekend, targeting both coal and gas and developing tactics to protect activists from coronavirus transmission.
The eighth Ende Gelände went ahead in the drizzly and cold Rhineland region of Germany last weekend. Over 3,000 activists pushed through police lines to shut down a number of targets associated with coal mining and fossil gas in the region for two days.
Ende Gelände has regularly mobilised thousands of activists to physically blockade coal infrastructure in Germany over the past five years. Germany still has a vast coal industry where the hugely polluting brown or 'lignite' coal makes up a sizeable proportion, despite the country's green image on the international stage.
Most coal is burned within Germany's borders but a significant amount of the electricity generated is exported to neighbouring countries that are not required to account for the CO2 emitted from its production in Germany. The German Government created the 'Coal Commission' – including coal industry representatives along with men from Greenpeace and BUND – following pressure from campaigners. The Commission agreed to a coal phase-out of 2038.
Fossil fuels
However, Ende Gelände have argued that market forces would result in the collapse of the coal industry much sooner. Industries and government officials working towards a phase-out by 2038 are actually facilitating the prolonged continuation of the industry.
The overriding argument from Ende Gelände has been that to avert the worst affects of climate change and adhere to an increase of no more than 2 degrees, a phase-out of 2038 is simply too late.
Ende Gelände has, up until now, only targeted the coal industry, but for the first time since its inception organisers successfully blockaded fossil gas infrastructure during this last action. Two groups of activists blockaded the construction of a gas pipeline and one blocked the site of a gas power station.
Activists recognised one of the key lessons learnt from their anti-nuclear predecessors, the British struggle against coal and fracking and the European Gastivists Network: demanding the end to one ecocidal source of energy may not mean that government and industry will necessarily choose renewables.
Indeed, despite the wins of the green movements against nuclear in Germany and coal in the UK, fossil capitalism has resulted in the expansion of coal in Germany and the shift to gas and biomass in the UK. Adding gas infrastructure to the repertoire of targets for Ende Gelände has marked a significant development for the strategic orientation of the movement.
Coronavirus
Mobilising three thousand activists for this Ende Gelände in the midst of coronavirus times was a significant decision for the organisers and not one taken lightly.
Ende Gelände has regularly organised large-scale protest camps, reaching a peak of around 7,000 attendees in June last year (2019). This time, organisers developed a corona-secure 'Hygiene Concept' that differentiated this mobilisation from previous years.
Instead of one large camp a multitude of much smaller camps and urban convergence spaces were created to reduce infection risk. The affinity group model for direct action organising took on an even greater significance as participants were allowed to mix with their affinity group but kept distant from others and spent as little time in confined spaces as possible.
Along with one-way systems and regular hand washing, organisers even developed their own anonymous Corona tracking system to trace infections if there was a break-out.
There was a significant reduction in international activists compared to recent years, as people from particular areas of Europe like France and Brussels were banned from participating. The Hygiene Concept was non-negotiable for all activists.
Justice
This Hygiene Concept was also central to the actions themselves. Ende Gelände uses a 'finger' model where hundreds or even thousands of people march together to push through police lines and occupy the targets. This time there were significantly more 'fingers' to reduce the Corona risk.
Fourteen fingers in total went into action. As well as gas infrastructure, fingers blockaded coal mines, train tracks that transport the coal and shut down the running of a coal power station itself.
Among these fingers there were 'queer-feminist' fingers to critique masculine notions of climate heroism, an accessible finger designed for activists with physical access needs and an anti-colonial, anti-racist finger co-organised with migrant solidarity and Black Lives Matter activists and designed to connect the intersections of climate, ecology and race.
Ende Gelände has used a climate justice approach to organise in an overtly anti-capitalist and intersectional way, in theory and in practice, consistently mobilising many thousands.
Policing
Ende Gelände uses the large numbers of people mobilised to create a level of 'safety in numbers' when facing police. It also reduces the legal consequences of such an act of civil disobedience by deliberately trying to avoid arrest and legal repression. Indeed this mode of action has meant that not a single conviction has resulted from an Ende Gelände mass mobilisation in the past five years. However, with smaller 'fingers' this year, many experienced a higher level of police brutality.
In keeping with last year, a significant number of young people participated in the actions, including teenagers and people in their early twenties activated through Fridays for Future and marching with the 'Anti-Coal Kids' finger.
Many of these young people were on the receiving end of horse charges, baton beatings, pepper spray and other violence from police as they fought for a just and liveable future for their own and future generations.
View images of the action here.
This Author
Alice Swift has been a radical climate activist for ten years. She helped to found Fossil Free UK and is studying a PhD on the European climate camp movement at Manchester University. Follow her on Twitter: @swiftnotswallow.
VISITATORI ALLA DATA DEL 2 OTTOBRE: oltre 51.000 persone raggiungiamo nella giornata della NONVIOLENZA coi nostri media. Sono tutti dedicati a Patrick Zaky
Non preoccupatevi le preghiere della settimana saranno riportate nei Meeting Minutes di domenica
Ecumenici.com 2019: 108.594 hits -2020: 120.302 hit con incremento in 12 mesi di 11.708 visitatori
Quaccheri.it 2019 21.740 visite 2020 : 32.999 hits con un incremento in 12 mesi di 21.740 visitatori
Quaccheri medio olona.it 9.747 hits 2020 11.699 hits con incremento in 12 mesi di 1952 visitatori
Ecumenics.eu 2019 7684 visite 2020 14,230 hits con incremento in 12 mesi di 6546 visitatori 
Lessico cristiano.it 6.473 hits 2020: 9.850 hits con  incremento in 12 mesi di 3377 visitatori 
TOTALE 2019 154.247 totale 2020 1.991 hits con incremento in 12 mesi di ben 46602 visitatori
Sito personale di Maurizio Benazzi.it: 2019 1279 2030: 1.991 hits – se ne tene conto in quanto non ci sono messaggi personali o privati.
con incremento in 12 mesi di visitatori 712
Menbri Mailing List di Yahoo (emails) Leonhard Ragaz 510 Ecumenici 390, Newsletter ecumenici 2957, Nuovi orientamenti ecumenici 340 e Orientamenti ecumenici 370
Totale 4567 iscritti via email
Aderenti ai gruppi Facebook: Newsletter ecumenici 351, Meditazione giornaliera 58 e Amici di Gesù 73
Totale 482 iscritti
Totale generale ; 51.084 persone coinvolte ogni giorno!