You are currently browsing Maurizio's articles.
This post is also available in: Spanish, Italian, Greek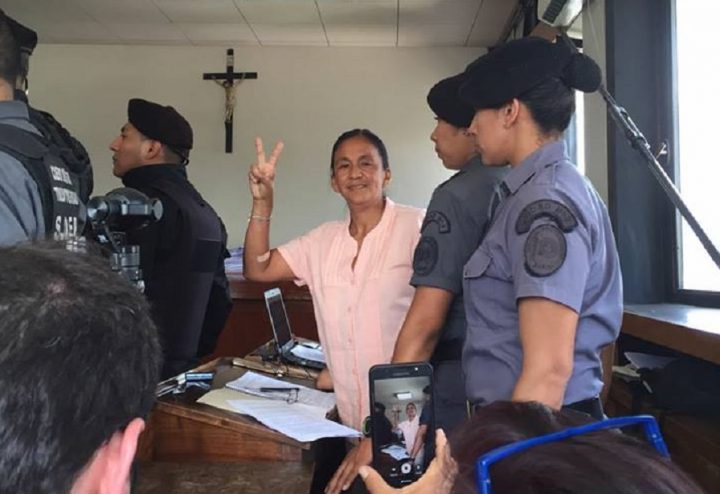 One day after the Supreme Court of Argentina agreed to the ruling by the Inter-American Court of Human Rights, which demanded that the Argentinean justice and the national government provide, as a minimum, the house arrest of Milagro Sala in order to preserve her physical integrity, the Federal Court No. 2 of Jujuy acquitted the Tupac Amaru leader.
"Despite the years in which I have been harassed in this case, it has been shown that I am really innocent," Sala said while being removed from the hearing by the Prison Service of the province of Jujuy, in northern Argentina.
For the past 692 days, Sala has been arbitrarily detained and cases have been created and complaints filed against her, in a staggered manner, in order to prolong the effects of pre-trial detention.
The lawyer for the social leader, Elizabeth Gómez Alcorta explained that "the judges acquitted Sala based on the principle of doubt, that's all we know. We will have to see if the prosecuting parties appeal." The defence of the leader of the Tupac Amaru Neighbourhood Organization is completed by lawyers Paula Alvarez Carreras and Luis Paz.
"There are moments when the obvious lies are broken, the fakes are exposed and the curtain falls and there is no more room to dictate a sentence," added Gómez Alcorta about the lack of consistency of the case, made more than three years ago by the son of the now-governor Gerardo Morales.
"The Court made it known to the judges that they must comply immediately and fully with the Human Rights Court's ruling, and this means that there is no longer any margin, there is no excuse to keep Milagro in prison for one more minute," she said, explaining that the IACHR also ordered that the sentence be served in her habitual residence in the Cuyaya neighborhood and not in the El Carmen building, where she stayed for a few weeks and that was unfit for human habitation.
"We are going to eliminate and destroy every accusation against Milagro. Today it has been demonstrated that the armed forces of the Executive Branch have limits," said Sala Luis Paz's lawyer. Gómez Alcorta, for her part, celebrated that "Milagro Sala will spend Christmas at home with her family.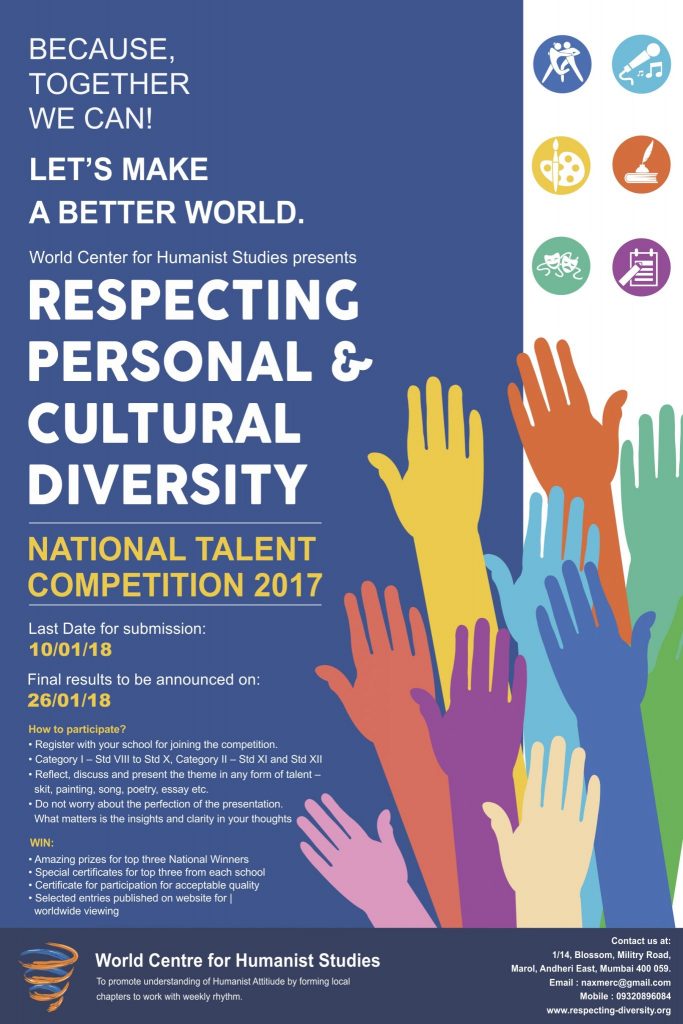 How do we deal with the diversity? When we do not respect diversity, we tend to claim that 'ours' is superior to 'theirs'. This stand fosters division among us and promotes bitterness. Each country, each culture, each family and even each individual is unique. 
We can choose to view diversity in this way:
My country is better than yours
My culture is better than yours
My family is better than yours
I am better than you.
Or we can choose a view that respects human diversity:
I am proud of my country and I respect your country
I am proud of my culture and I respect your culture
I am proud of my family and I respect your family
I am proud of myself and I respect you.
The World Center for Humanist Studies, Mumbai Chapter, is organizing a National Talent Competition that is open to all schools. This year, the theme is Respecting Personal and Cultural Diversity. The objective is to sensitize young minds about the importance of respecting personal and cultural diversity for a more harmonious society. Each one is different in some way or other. When we do not respect diversity, we end up claiming that 'we' are superior then 'them'. This creates walls and promotes bitterness. We need to reinforce the appreciation of diversity and respect for all human beings.
The National Talent Competition is open to all schools for students from STD VIII to STD X in India or students from STD XI to STD XII, irrespective of nationality. Students can create a group of 2 to 5 members, pick a subject and present their thoughts, insights, and point of view in a skit, painting, song, poem, essay, video, powerpoint presentation etc, harnessing their talents and creativity to express their reflections and thoughts on the theme. Participants can choose one of the following topics: Recognizing Diversity, Equality of Opportunity, Social Inclusion, Conflict Resolution, Non-Discrimination; and, can use any language.
To participate, simply register your school for the competition and upload entries on the competition website. There will be prizes for the top three national winners and special certificates for the top three from each school. Certificates for all entries with acceptable quality will also be given and selected entries with be published on the website for worldwide access. The last date for submission is 10th January 2018. To register and for more details, go to the website: http://www.respecting-diversity.org/
For the last three years, The World Center for Humanist Studies, Mumbai chapter has been organizing such competitions to promote sensitivity towards the humanist attitude. A large number of schools had participated from all over India.
In 2015, it launched an Essay Competition on the theme Violence and Me. Highlights can be found at: https://violenceandme.org/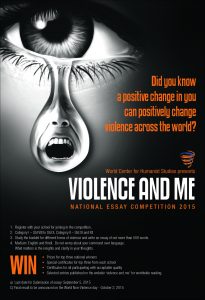 For 2016, a Skit Competition was held on the theme The Human Being as a Central Value. Selected entries can be viewed at http://human-inhuman.org/about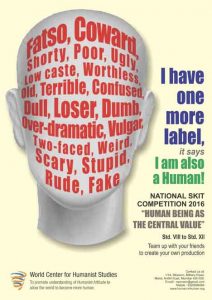 The World Center for Humanist Studies is an organism of the Humanist Movement, which is based on the current of thought known as New Humanism or Universalist Humanism. This current can be found expressed in Silo´s works and in those of diverse authors who are inspired by it. This Movement, which also implies a sentiment and a way of life, takes shape in multiple fields of human endeavor, giving rise to diverse organisms and action fronts. All of them are applied to their specific fields of activity with a common aim: to Humanize the Earth, thereby contributing to freedom and happiness in human beings. These organisms have in common the methodology of Active Nonviolence and the proposal for personal change as a function of social transformation.
The organism, World Center for Humanist Studies, was founded in the First World Humanist Forum in Moscow in October 1993. The Indian chapter's mission is to promote studies of this humanist attitude, inspired by the Humanist Movement which is driven globally by millions of men and women, volunteers who are concerned with building a better and more humane world. A world where the human being is the central value (and not profit and power as it is now) with dignity and growth opportunities in life for everyone and not just a few.
For more details, feel free to contact Parimal Merchant at merchantpr@gmail.com.
Or visit:  http://www.respecting-diversity.org/
https://www.facebook.com/WCHSMumbai/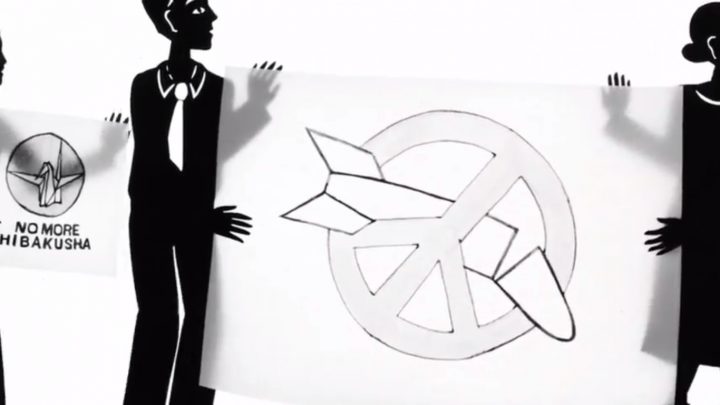 As a 13-year-old schoolgirl in 1945, Setsuko Thurlow survived the atomic bombing of Hiroshima.
A beautifully animated short film, If You Love This Planet brings to life Hiroshima survivor Setsuko Thurlow's passionate call to action, on the day that the Treaty on the Prohibition of Nuclear Weapons was adopted at the United Nations – 7 July 2017.
The video was produced by Kathleen Sullivan and animated by Amber Cooper-Davies, with music by Sam Sadigursky.
This post is also available in: Spanish, Portuguese, Greek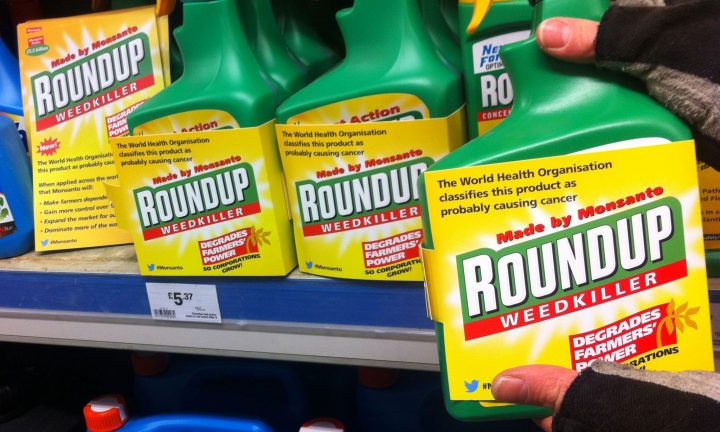 By Erik Edman for DiEM25
As we predicted right after the European Parliament voted not to renew glyphosate's licence in Europe, the European Member States have now ignored all democratic voices and have decided to renew the licence of the potential carcinogenic herbicide.
This decision does not only ignore the precautionary principle and a score of scientific studies indicating that glyphosate is probably carcinogenic; it is a direct show of contempt towards citizens and their sadly flawed European democratic tools. The European Citizens Initiative (ECI) which, provided a million signatures are gathered, allows Europeans to mandate the European Commission with a topic on which to initiate debate, is an infamously unusable format, with the vast majority of such initiatives being scrapped. However, in this case over 1.3 million signatures were collected by the ECI "Stop Glyphosate"; a historic victory for civil society and citizen activism, which regardless was unceremoniously ignored by European governments.
Of course, this decision also exposes the European Parliament, an institution filled with many passionate and principled individuals, for what it really is: the European Union's astronomically expensive public relations stunt. Power, as the member states have reminded us, rests ultimately with our bickering, inward-looking governments and the powerful lobbyists who have their ear.
But this sad failure for democracy is also a timely reminder on the lead-up to the European Elections of 2019: our democratic structures are woefully inadequate for representing European citizens. That was never what they were designed to do. So, instead of being appeased with scraps that only aesthetically improve the established way of conducting politics, while ensuring minimal disruption to those in power, it is time we demand that these European institutions become answerable directly to us. Come 2019, this is what DiEM25 will demand, loud and clear, across the entire continent.
Erik Edman is DiEM25's Internal Communications Coordinator.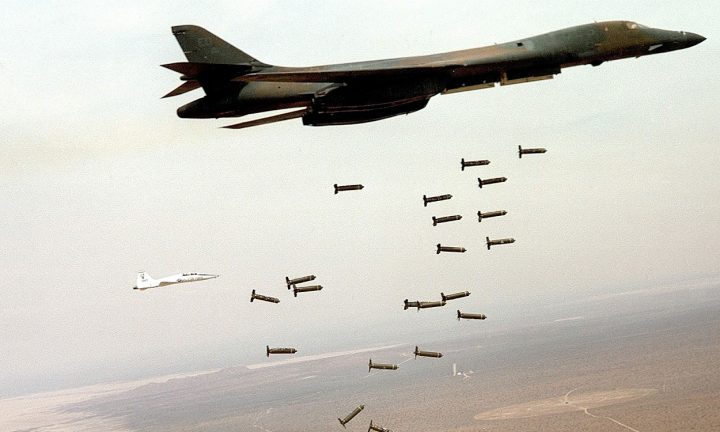 Four Japanese banks and insurance companies have stopped certain investments in producers making cluster bombs, according to reports today in several Japanese media outlets (in Japanese): Mainichi Newspaper, TV Asahi, Jiji Tsushin, Asahi Newspaper, and Tokyo Newspaper
The reports say the financial institutions are responding to public outrage generated by the launch of the PAX report 'Worldwide Investments in Cluster Munitions' in Tokyo in May 2017. The study's Hall of Shame showed that these four Japanese financial institutions had major investments in cluster bomb producers. These investments have now reportedly been withdrawn.
A welcome move
"We welcome this humanitarian decision and we hope other Japanese and South Korean financial institutions will also stop their investment in cluster munition producers right now," said Mr. Toshi Shimizu of the Japanese Campaign to Ban Landmines (JCBL). The JCBL has played a key role in raising awareness among the Japanese public about the catastrophic humanitarian consequences caused by cluster bombs and in the campaign to end all investments in cluster bomb producers by Japanese financial institutions.
Maaike Beenes, program officer at PAX who co-launched the report in Tokyo, is also excited about the news. "The new policy that these Japanese financial institutions announced is a big step forward. We are glad that these banks and insurers have now decided to listen to the public's concerns and change their policy regarding these banned weapons. These policies should now be expanded to cover all financial relations with cluster munition producers."
Inhumane
Mitsubishi UFJ Financial Group issued a statement saying "Starting December 2017, in light of the inhumane nature of cluster bombs, the [Bank of Tokyo-Mitsubishi UFJ] and the [Trust Banking Corporation] prohibit the provision of credit to any company that manufactures cluster bombs, regardless of whether the purpose of the credit is related to cluster bomb manufacturing or not."
Cluster munitions cannot distinguish between a civilian or a military target. Anyone within the strike area of a cluster bomb is likely to be injured or killed, and when cluster munitions are used in populated areas, civilians always fall victim. For example, over 80% of casualties caused by cluster munitions in Yemen were civilians. The inhumane nature of cluster munitions are the reason they have been banned by most countries through the 2008 Convention on Cluster Munitions (CCM). However, financial institutions still invest in companies that produce cluster bombs. These investments contribute to the continued production of these weapons.
Government can do more
While welcoming this news, PAX calls on the Japanese government to take its responsibility and start playing a leading role in ending investments in cluster bomb producers. The publication earlier this year of the Japanese Government Pension Fund's shareholdings showed that the fund is still heavily invested in cluster bomb producers. As a government pension fund from a country that has joined the international ban on cluster bombs, GPIF should end these investments. In addition, Japan needs to adopt national legislation prohibiting such investments altogether and should work towards increasing the universalisation of the CCM in its own region: although Japan itself joined the CCM already in 2008, its neighbours China and South Korea remain outside of the treaty, and continue to produce and stockpile cluster munitions.
With the report 'Worldwide Investments in Cluster Munitions', PAX and the CMC aim to name and shame those financial institutions that invest in producers of cluster munitions. The full 2017 update of the report 'Worldwide Investments in Cluster Munitions, a shared responsibility' can be downloaded here.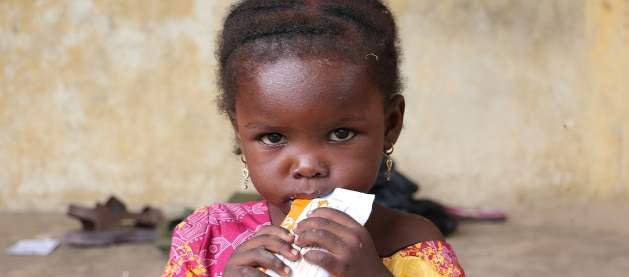 By Baher Kamal
Believe it or not, the way to eradicate hunger from the face of the Earth is as feasible as it is handy. In fact, the current loss and waste of one-third of all food produced for human consumption would be just enough to feed the nearly one billion people who go to bed hungry every single night.
Here, the figures are self-explanatory: as much as 1.3 billion tons per year of food is lost or wasted throughout the supply chain, from initial agricultural production down to final household consumption, according to the UN.
Moreover, it is not just about losing or wasting food—it also implies a waste of resources used in production such as land, water, energy and inputs, increasing the greenhouse gas emissions.
"Up to one third of all food is spoiled or squandered before it is consumed by people. It is an excess in an age where almost a billion people go hungry," adds the UN Food and Agriculture Organization (FAO).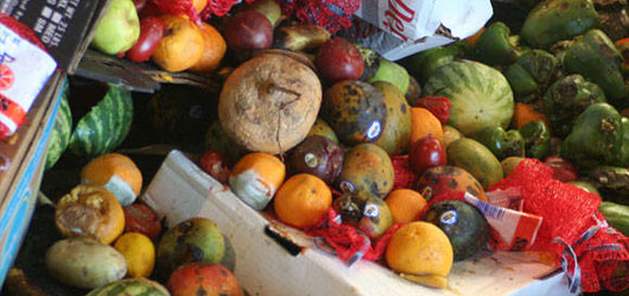 But… What Is Food Loss and Food Waste?
Food loss and food waste refer to the decrease of food in subsequent stages of the food supply chain intended for human consumption. Food is lost or wasted throughout the supply chain, from initial production down to final household consumption, explains FAO.
The decrease may be accidental or intentional, it adds, but ultimately leads to less food available for all. Food that gets spilled or spoilt before it reaches its final product or retail stage is called food loss, it adds. This may be due to problems in harvesting, storage, packing, transport, infrastructure or market /price mechanisms, as well as institutional and legal frameworks.
Harvested bananas that fall off a truck, for instance, are considered food loss, according to FAO. Food that is fit for human consumption but is not consumed because it is or left to spoil or discarded by retailers or consumers is called food waste.
Key facts on food loss and waste you should know! 
• Roughly one third of the food produced in the world for human consumption every year — approximately 1.3 billion tonnes — gets lost or wasted.
• Food losses and waste amounts to roughly US$ 680 billion in industrialised countries and US$ 310 billion in developing countries.
• Industrialised and developing countries dissipate roughly the same quantities of food — respectively 670 and 630 million tonnes.
• Fruits and vegetables, plus roots and tubers have the highest wastage rates of any food.
• Global quantitative food losses and waste per year are roughly 30% for cereals, 40-50% for root crops, fruits and vegetables, 20% for oil seeds, meat and dairy plus 35% for fish.
• Every year, consumers in rich countries waste almost as much food (222 million tonnes) as the entire net food production of sub-Saharan Africa (230 million tonnes).
• The amount of food lost or wasted every year is equivalent to more than half of the world's annual cereals crop (2.3 billion tonnes in 2009/2010).
• Per capita waste by consumers is between 95-115 kg a year in Europe and North America, while consumers in sub-Saharan Africa, south and south-eastern Asia, each throw away only 6-11 kg a year.
SOURCE: FAO
This may be because of rigid or misunderstood date marking rules, improper storage, buying or cooking practices. A carton of brown-spotted bananas thrown away by a shop, for instance, is considered food waste, says the UN agency.
Where Is Food Lost and Wasted?
Significantly, the World Resources Institute (WRI) explains that food loss and waste occurs more 'near the fork' in developed regions and more 'near the farm' in developing regions.
In the case of the European Union member countries, for instance, recent estimates of European food waste levels (FUSIONS, 2016) reveal that 70 per cent of the European bloc of 27 states, food waste arises in the household, food service and retail sectors, with production and processing sectors contributing the remaining 30 per cent.
Such high rates led the EU member states to commit to meeting the Sustainable Development Goals (SDG), adopted in September 2015, including a target to halve per capita food waste at the retail and consumer level by 2030, and reduce food losses along the food production and supply chains.
Meanwhile, in the United States, food waste is estimated at between 30-40 per cent of the food supply.
This estimate, based on estimates from USDA's Economic Research Service of 31 per cent food loss at the retail and consumer levels, according to the Office of the Chief Economist, United States Department of Agriculture.
This amount of waste, adds the Office of the Chief Economist in US, has far-reaching impacts on food security, resource conservation and climate change:
Wholesome food that could have helped feed families in need is sent to landfills.
The land, water, labor, energy and other inputs used in producing, processing, transporting, preparing, storing, and disposing of discarded food are pulled away from uses that may have been more beneficial to society – and generate impacts on the environment that may endanger the long-run health of the planet.
Food waste, which is the single largest component going into municipal landfills,quickly generates methane, helping to make landfills the third largest source of methane in the United States.
On September 16, 2015, the first-ever national food loss and waste goal in the United States was launched, calling for a 50-percent reduction by 2030.
What to Do?
Back to the global level, the UN specialised agency reminds that hunger is still one of the most urgent development challenges, yet the world is producing more than enough food.
The FAO-led SAVE FOOD: Global Initiative on Food Loss and Waste Reduction is partnering with international organisations, the private sector and civil society to enable food systems to reduce food loss and waste in both the developing and the industrialised world.
Governments, research institutions, producers, distributors, retailers and consumers all have different ideas about the problem – the solutions – and the ability to change. What are they waiting for?
Several years ago in Cameroon, a country in West Africa, a Western Black Rhinoceros was killed. It was the last of its kind on Earth.
Hence, the Western Black Rhinoceros, the largest subspecies of rhinoceros which had lived for millions of years and was the second largest land mammal on Earth, no longer exists.
But while you have probably heard of the Western Black Rhinoceros, and may even have known of its extinction, did you know that on the same day that it became extinct, another 200 species of life on Earth also became extinct?
This is because the sixth mass extinction event in Earth's history is now accelerating at an unprecedented rate with 200 species of plants, birds, animals, fish, amphibians, insects and reptiles being driven to extinction on a daily basis. And the odds are high that you have never even heard of any of them. For example, have you heard of the Christmas Island Pipistrelle, recently declared extinct? See 'Christmas Island Pipistrelle declared extinct by IUCN'.
Apart from the 200 species extinctions each day however, and just to emphasize the catastrophic extent of this crisis, myriad local populations of many species are driven to extinction daily and millions of individual lifeforms are also killed. See 'Biological annihilation via the ongoing sixth mass extinction signaled by vertebrate population losses and declines'.
For a taste of the vast literature on this subject touching only on impacts in relation to insects, see 'Death and Extinction of the Bees', 'Insectageddon: farming is more catastrophic than climate breakdown' and '"Decimated": Germany's birds disappear as insect abundance plummets 76%'.
Is anything being done to end this omnicide (the destruction of all life)?
Not really, although there is plenty of rhetoric and limited action in some contexts as all bar a few committed individuals and organizations ignore this onslaught while even fewer take action that addresses the underlying cause and/or fundamental drivers of this killing. Unfortunately, most effort is still wasted on lobbying elites.
For example, in the latest example of the foolishness of lobbying elites to take action in our struggle to defend Earth's biosphere, the European Union has again just renewed Monsanto's licence to keep poisoning (and otherwise destroying) our world – see 'German vote swings EU decision on 5-year glyphosate renewal' – despite the already overwhelming evidence of the catastrophic consequences of doing so. See, for example, 'Killing Us Softly – Glyphosate Herbicide or Genocide?' and 'GM Food Crops Illegally Growing in India: The Criminal Plan to Change the Genetic Core of the Nation's Food System'.
Of course, massive poisoning of the biosphere is only one way to destroy it and while elites and their agents drive most of this destruction they nevertheless often rely on our complicity. To itemize just a few of these many techniques for destroying our biosphere in most of which we are complicit, consider the following. We destroy rainforests – see 'Cycles of Wealth in Brazil's Amazon: Gold, Lumber, Cattle and Now, Energy' – we contaminate and privatize the fresh water – see 'Groundwater drunk by BILLIONS of people may be contaminated by radioactive material spread across the world by nuclear testing in the 1950s' and 'Nestlé CEO Denies That Water is an Essential Human Right' – we overfish and pollute the oceans – see 'New UN report finds marine debris harming more than 800 species, costing countries millions' – we eat meat despite the devastating impact of animal agriculture on Earth's biosphere – see 'The True Environmental Cost of Eating Meat' – we destroy the soil – see 'Only 60 Years of Farming Left If Soil Degradation Continues' – and we use our cars and air travel (along with our meat-eating) as key weapons in our destruction of Earth's atmosphere and climate with atmospheric carbon dioxide, methane and nitrous oxide levels all breaking new records in 2016. See 'Greenhouse Gas Bulletin'.
But if you think that is bad enough, did you know about the out-of-control methane releases into the atmosphere that we have triggered – see '7,000 underground gas bubbles poised to "explode" in Arctic' and 'Release of Arctic Methane "May Be Apocalyptic," Study Warns' – and did you know that scientists at the University of Leicester warn that we are destroying the Earth's oxygen? See 'Global warming disaster could suffocate life on planet Earth, research shows' and 'The Extinction Event Gains Momentum'.
In addition, relying on our ignorance and our complicity, elites kill vast areas of Earth's biosphere through war and other military violence (without even considering the unique, and possibly life-ending, devastation if the recently and repeatedly threatened nuclear war eventuates) – see, for example, the Toxic Remnants of War Project and the film 'Scarred Lands & Wounded Lives' – subject it to uncontrolled releases of radioactive contamination – see 'Fukushima Radiation Has Contaminated The Entire Pacific Ocean – And It's Going To Get Worse' – and use geoengineering to wage war on its climate, environment and ultimately ourselves. See, for example, 'Engineered Climate Cataclysm: Hurricane Harvey', 'Planetary Weapons and Military Weather Modification: Chemtrails, Atmospheric Geoengineering and Environmental Warfare', 'Chemtrails: Aerosol and Electromagnetic Weapons in the Age of Nuclear War' and 'The Ultimate Weapon of Mass Destruction: "Owning the Weather" for Military Use'.
Of course, all of this is done at immediate cost to human beings, particularly indigenous peoples – see, for example, 'Five ways climate change harms indigenous people' – and those who are in the worst position to resist – see 'Global Poverty: How the Rich Eat the Poor and the World: The Big Lies' – but elites know they can ignore our lobbying and occasional, tokenistic and disorganized protests while relying on the fear and powerlessness of most of us to ensure that we do nothing strategic to fight back.
And given the unrelenting criminal onslaught of the insane global elite – see 'The Global Elite is Insane' – directed against Earth's biosphere, together with the elite's many sycophantic academic, bureaucratic, business, legal, media, military, political and scientific servants who deny science and threaten human survival in the interests of short-term personal privilege, corporate profit and social control, it is long past time when those of us who are genuinely concerned should be developing and implementing a strategy that recognises the elite and its many agents as opponents to be resisted with a careful and powerful strategy.
So, in essence, the problem is this: Human beings are destroying the biosphere and driving countless lifeforms, including ourselves, to extinction. And there is little strategic resistance to this onslaught.
There is, of course, an explanation for this and this explanation needs to be understood if we are to implement a strategy to successfully halt our omnicidal assault on Earth's biosphere in time to save ourselves and as many other species as possible in a viable ecological setting.
This is because if you want to solve a problem or resolve a conflict, then it is imperative to know and act on the truth. Otherwise you are simply acting on a delusion and whatever you do can have no desirable outcome for yourself, others, the Earth or its multitude of creatures. Of course, most people are content to live in delusion: it averts the need to courageously, intelligently and conscientiously analyse what is truly happening and respond to it powerfully. In short: it makes life 'easier' (that is, less frightening) even if problems keep recurring and conflicts are suppressed, to flare up periodically, rather than resolved.
And, of course, this is how elites want it. They do not want powerful individuals or organizations interfering with their scheme to (now rapidly) consolidate their militarized control over the world's populations and resources.
This is why, for example, elites love 'democracy': it ensures disempowerment of the population. How so? you might ask. The fundamental flaw of democracy is that people have been deceived into surrendering their personal power to act responsibly – in relation to the important social, political, economic, environment and climate issues of the day – to elected 'representatives' in government who then fearfully represent the elites who actually control them (whether through financial incentives, electoral support or other means), assuming they aren't members of the elite themselves and simply represent elite priorities out of shared interest (as does Donald Trump).
And because we delegate responsibility to those powerless politicians who fearfully (or out of shared interest) act in response to elite bidding, the best scientific information in relation to the state of the Earth is simply ignored or rejected while conservative 'scientific warnings' advocating 'strategies' that must fail are widely circulated. See, for example, 'World Scientists' Warning to Humanity: A Second Notice'.
So this widespread failure to respond thoughtfully and powerfully is a fundamental reason that we are killing the biosphere and destroying life on Earth. Too few humans are willing to accept personal responsibility to understand why the violence is occurring and to participate in a carefully designed strategy to avert our own extinction, let alone save countless other species from premature entry into the fossil record. It is easier to leave responsibility to others. See 'The Delusion "I Am Not Responsible"'.
And, clearly, time is running out, unless you are gullible enough to believe the elite-sponsored delusion that promotes inaction, and maximizes corporate profits in the meantime, because we are supposed to have until 'the end of the century'. Far from it, however. As some courageous scientists, invariably denied access to mainstream news outlets, explain it: near-term human extinction is now the most likely outcome.
One of these scientists is Professor Guy McPherson who offers compelling evidence that human beings will be extinct by 2030. For a summary of the evidence of this, which emphasizes the usually neglected synergistic impacts of many of these destructive trends (some of which are noted above) and cites many references, listen to the lecture by Professor McPherson on 'Climate Collapse and Near Term Human Extinction'.
Why 2030? Because, according to McPherson, the 'perfect storm' of environmental assaults that we are now inflicting on the Earth, including the 28 self-reinforcing climate feedback loops that have already been triggered, is so far beyond the Earth's capacity to absorb, that there will be an ongoing succession of terminal breakdowns of key ecological systems and processes – that is, habitat loss – over the next decade that it will precipitate the demise of homo sapiens sapiens.
In relation to the climate alone, another scientist, Professor Kevin Anderson, who is Deputy Director of the UK's premier climate modelling institution, the Tyndall Centre for Climate Change Research, has warned that emissions are now out of control and we are heading for a world that is 6 degrees hotter; he pointed out that even the International Energy Agency, and conservative organisations like it, are warning that we are on track for a 4 degree increase (on the pre-industrial level) by 2040. He also accused too many climate scientists of keeping quiet about the unrealistic assessments put out by governments. See 'What They Won't Tell You About Climate Catastrophe'.
So be wary of putting any credence on 'official' explanations, targets and 'action-plans' in relation to the climate that are approved by large gatherings, whether governmental or scientific. Few people have the courage to tell the truth when it guarantees unpopularity and can readily manifest as career-extinction and social and scientific marginalization.
As an aside, it is perhaps worth mentioning that most people have long forgotten that a decade ago (when the global temperature was .8 degrees above the pre-industrial level) it had been suggested that a decrease in global temperature to not more than .5 degrees above the pre-industrial level was actually necessary to achieve a safe climate, with the Arctic intact (although there was no clear feasible method for humans to reduce the global temperature to this level with any speed). Sadly we have made little progress in the past decade apart from to keep raising the 'acceptable' limit (whether to 2 degrees or 'only' 1.5). Most humans love to delude themselves to avoid dealing with the truth.
Hence, for those of us committed to responding powerfully to this crisis, the fundamental question is this: Why, precisely, are human beings destroying life on Earth? Without an accurate answer to this question, any strategy to address this crisis must be based on either guesswork or ideology.
So let us briefly consider some possible answers to this question.
Some people argue that it is genetic: human beings are innately violent and, hence, destructive behaviors towards themselves, others and the Earth are 'built-in' to the human organism; for that reason, violence cannot be prevented or controlled and humans must endlessly destroy.
However, any argument that human beings are genetically-predisposed to inflict violence is easily refuted by the overwhelming evidence of human cooperation throughout the millennia and there are endless examples, ranging from the interpersonal to the international, of humans cooperating to resolve conflict without violence, even when these conflicts involve complex issues and powerful vested interests. There are also plentiful examples of humans, particularly indigenous communities, living in harmony with, rather than destroying, nature.
Other analysts argue that human violence and destructiveness are manifestations of political, economic and/or social structures – such as patriarchy, capitalism and the state, depending on the perspective – and while I agree that (massive) structural violence actually occurs, I do not believe that these structures, by themselves, constitute an adequate explanation of the cause of violence.
This is simply because any structural explanation cannot account for violence in all contexts (including the violence that led to creation of the structure in the first place) or explain why it doesn't happen in some contexts where a particular perspective indicates that it should.
So is there another plausible explanation for human violence? And can we do anything about it? Let me offer an explanation and a way forward that also takes advantage of the insights of those traditions that have critiqued structural violence in its many forms.
I have been researching why human beings are violent since 1966 and the evidence has convinced me that the origin of all human violence is the violence inflicted by adults on children under the guise of what sociologists call 'socialization'. This violence takes many forms – what I call 'visible', 'invisible' and 'utterly invisible' violence – and it creates enormously damaged individuals who then personally inflict violence on themselves, those around them (including their own children) and the Earth, while creating, participating in, defending and/or benefiting from structures of violence and exploitation. For a full explanation of this point, see 'Why Violence?' and 'Fearless Psychology and Fearful Psychology: Principles and Practice'.
Hence, in my view, the evidence is overwhelming that if we want to end human violence, whether inflicted on ourselves, others or the Earth, then the central feature of our strategy must be to end adult violence against children. See 'My Promise to Children'. I claim that this must be 'the central feature of our strategy' for the simple reason that each damaged child grows up to become a willing and active perpetrator of violence when, if they were not so damaged, they would be powerful agents of peace, justice and sustainability committed to resisting violence and exploitation in all contexts until it is eliminated.
This profound evolutionary inheritance – to be an individual of integrity who consciously chooses and lives out their own unique, powerful and nonviolent life path – has been denied to virtually all of us because humans endlessly terrorize their children into mindless obedience and social conformity, leaving them powerless to access and live out their conscience.
And this makes it very easy for elites: By then using a combination of our existing fear, indoctrination (via the education system, corporate media and religion) and intimidation (via the police, legal and prison systems), sometimes sweetened with a few toys and trinkets, national elites maintain social control and maximize corporate profits by coercing the rest of us to waste our lives doing meaningless work, in denial of our Selfhood, in the corporate-controlled economy.
As I implied above, however, we need not be content with just working to end violence against children. We can also work to end all other manifestations of violence – including violence against women, indigenous peoples, people of color, Islamic and working class people, and violence against the Earth – but recognize that if we tackle this violence without simultaneously tackling violence at its source, we fundamentally undermine our effort to tackle these other manifestations of violence too.
Moreover, tackling structural violence (such as capitalism) by using direct violence cannot work either. Because violence always feeds off fear it will always proliferate and remanifest, whether as direct, structural, cultural or ecological violence, however beneficial any short-term outcome may appear.
Importantly then, apart from understanding and addressing the fundamental cause of this crisis, we must implement a comprehensive strategy that takes into account and addresses each and every component of it. There is no point working to achieve a single objective that might address one problem no matter how important that particular problem might be. The crisis is too far advanced to settle for piecemeal action.
Hence, if you wish to tackle all of this violence simultaneously, you might consider joining those participating in the comprehensive strategy simply explained in 'The Flame Tree Project to Save Life on Earth'. If you wish to tackle violence in a particular context, direct, structural or otherwise, consider using the strategic approach outlined in Nonviolent Campaign Strategy or Nonviolent Defense/Liberation Strategy.
And if you would like to publicly commit yourself to participate in the effort to end all human violence, you can do so by signing the online pledge of 'The People's Charter to Create a Nonviolent World'.
Killing the biosphere is the most effective way to destroy life on Earth because it destroys the ecological foundation – the vast array of incredibly diverse and interrelated habitats – on which organisms depend for their survival. And we are now very good at this killing which is why averting human extinction is already going to be extraordinarily difficult.
Hence, unless and until you make a conscious personal decision to participate strategically in the struggle to save life on Earth, you will be one of those individuals who kills the biosphere as a byproduct of living without awareness and commitment: A person who simply over-consumes their way to extinction.
So next time you ponder the fate of humanity, which is inextricably tied to the fate of the Earth, it might be worth considering the unparalleled beauty of what Earth has generated. See, for example, 'Two White Giraffes Seen in Kenyan Conservation Area'.
And as you do this, ask yourself how hard you are willing to fight to save life on Earth.
The "modern" relationship between human beings and Work begins with the Neolithic Revolution when agriculture and animal husbandry coincides with the establishment of permanent settlements.
The beginning of this process in different regions has been dated from 10,000 to 8,000 BC in the Fertile Crescent. The transition from hunter-gatherer to agriculturalist was initially detrimental to the health of the population, something that has been attributed to the reduction in the diversity of food, but also to the increase in harder work needed to maintain a steady supply for the now growing settlements. Recent analyses point out that agriculture also brought about deep social divisions and in particular encouraged inequality between the sexes. Wikipedia
An interesting archeological site that corresponds to this moment in Göbeki Tepe excavated in 1994 by Germán Archeologist Klaus Schmidt which seems to be challenging some of the assumptions made about the chronology of the process. While it was classically assumed that organised religion followed the Neolithic Revolution and the establishment of permanent settlements, those who congregated in Göbeki Tepe for some kind of rituals were in fact hunter-gatherers who brought with them food from other areas. However, as the site developed and the visitors became more settled, the need to feed them appears to have been a factor in the development of plant domestication. That is, some people had to engage in hard Work.
As excavator Klaus Schmidt put it: "First came the temple, then the city". Wikipedia. He should have added, and with it, Work.
The site seems to have inspired a little flurry of stories from those looking to find archeological proof of the Bible, who saw here perhaps the mythical Garden of Eden, but a more interesting interpretation has been proposed that the burden of the agricultural revolution with its consequences of bad health and hard work became over many years the memory of a "moment" allegorised as being expelled from Eden and having to get your bread "by the sweat of your brow".
Whilst Work was regarded as a curse by ancient civilisations, the Protestant work ethics and seeing sloth as a deadly sin have created a culture based on the modern dogma that work is the meaning in life and every human being's duty. There is horror at the thoughts that robots are in the future going to replace humans. But this does not distinguish between mindless, wearing out, menial and repetitive work, the most likely to be replaced by automation, from creative, research oriented and emotionally rewarding work, which may be made lighter by automation but certainly not replaced by it.
If we add that free time created by a reduction of the working week could be used for entertainment, learning and social activities, the future brightens up. The fear created by the automation scenario is based on the present trend of concentration of wealth and resources in fewer and fewer hands. So, the assumption is that automation will allow the rich to get astronomically richer and the workers will be massively unemployed.
Universal Basic Income (UBI)
The only way to address the collapse of the social structures brought about by automation is to ensure that all the population counts on enough money to cover a reasonable lifestyle. Not just "basic" needs but also those that allow full participatpion in community life. Experiments in UBI show that far from becoming "idle" people engage with enthusiasm in the creative tasks that motivate them. Instead of "working" for a salary people participate, engage, develop and learn.
Just like the Neolithic Revolution's negative effects that took millennia to recover, the "Antropocene Revolution" we are facing runs the risk of having negative consequences if the values on which to base itself are a continuation of the dehumanisation we experience today. It requires then to become a "Humanist Revolution", one in which the Human Being becomes the central value, rather than money and power, one in which solidarity rather than individualism and cooperation rather than competition form the basis for new forms of relation and production. Work cannot be the meaning of human life as each individual must have the freedom to explore the meaning of their own existence.
We return then to the motor of the leaps the Human Being takes in its evolution. If a spiritual search preceded some of the most drastic changes, perhaps it is again necessary to find in the depth of human consciousness the spark of the new state of being. This is the key to choose the path that opens the future for all of humanity rather than just a tiny powerful minority. Being able to implement policies such as the UBI and a return to the Commons would be the reflection (and inducer in permanent feedback) of the existential changes that will allow human beings to emerge from their present dehumanisation. It would be not the "return" to a mythical Eden, but the creation of a society based on an image that was always beckoning from the future.
This post is also available in: Italian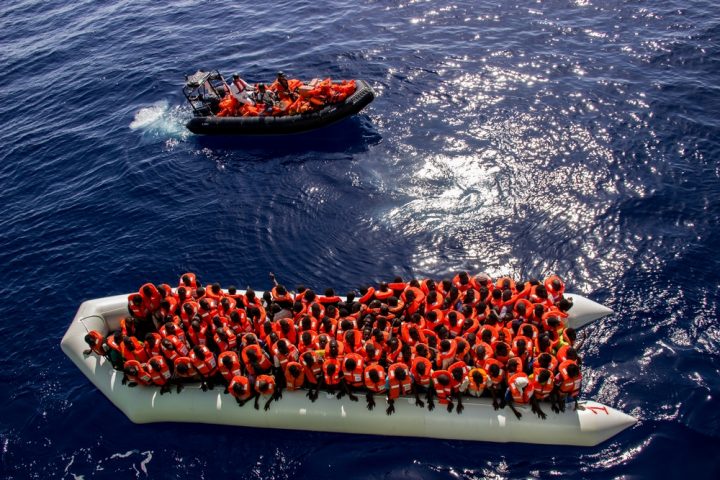 The gavel struck at a Tripoli auction to announce that a migrant had been sold for $400 and took us back 300 years to when markets in Montgomery and New Orleans separated men from women, children from mothers, and sold human-beings like oxen, ducks or horses. Then came Abraham Lincoln and in 1863 the American Constitution introduced the thirteenth amendment, which forbid slavery in the United States of America. Fifty years later the ban was extended globally by a United Nations convention signed in 1926.
Humanity seemed to have been freed forever from the barbarity of slavery, yet a recent CNN film has documented that no, slavery still exists in the 21st century and we are closely implicated as the migrants we reject are the ones being sold as slave laborers. While we aren't directly involved, as we do not have the stomach for these actions, we do enable it by the providing means and advisors to the Libyan Coast Guard.
In a certified statement written on November 14th by Zeid Ra'ad Al Hussein, United Nations High Commissioner for Human Rights, he declared: "The European Union and Italy are providing assistance to the Libyan Coast Guard to intercept migrant boats in the Mediterranean, including in international waters, to bring them back to Libya even though human rights organizations have denounced this as it exposes them to arbitrary and indefinite imprisonment, torture, rape, forced labor and extortion." And he added: "Despite increasing interventions in the area by the European Union and its member states, so far nothing has been done to reduce the level of abuses suffered by migrants."
And as confirmed by CNN's film: that gavel strike proved that Libya follows no rule of law other than that of money, and lacks not only moral leadership, but also basic human decency when it comes to taking advantage of migrants' unprotected and vulnerable status to transform them into auctioned goods.
Now Italy is in the midst of election campaigning, with all of the parties vying to reflect their voters' emotions and say what voters want to hear. Unfortunately, the media has painted migrants as criminals who steal and kill, thugs who rape women and children, and beggars who will impoverish us by taking welfare benefits. Inevitably now a large section of our population has a burning hatred for migrants, considering them to be at the root of all our evils, and political parties are competing to prove who is better at liberating us from this evil. The grosser demagogues go off to repel these migrants at sea with their machine guns while more educated leaders make arrangements with African militias so that they do the dirty work.
The writers of our Constitution would have never believed that our democracy, no matter how battered, could become such competitive machinery, used to trample any principle in the name of victory. But it is not our democracy that has decayed: it is our society that has not been able to accompany technological progress with human progress; which has not been able to accompany the growing of complexity of our world with education capable of understanding how to manage it; which has been unable to accompany growth of the market with growth of societal values to prevent market rules from governing our entire society; which has been unable to accompany the growth of economic power with the growth of information outlets, so now only the few most powerful are able to create a distorted vision of reality.
How to break this perverse cycle is difficult to say, but if there is a possibility, it is from those who have retained their ability to think and raise their voice in disagreement at the cost of being marginalized and vilified. While in prison in 1963, Martin Luther King wrote, "The ultimate tragedy is not the oppression and cruelty by the bad people but the silence over that by the good people." Raising our voice in condemnation is the only way to put an end to the banality of evil, the most contagious disease which humanity suffers from.
Translation from Italian by Liane Arter
This post is also available in: Spanish, Italian, Catalan
The 2nd World March for Peace and Nonviolence was announced during the Conference for Nonviolence that took place between the 15th and 18th of November in Madrid, Spain.  It is scheduled to start on the 2nd of October 2019 (International Nonviolence Day) and end on the 8th of March 2020 (International Women's Day).  The March will start and end in Madrid.
The conference was organised by World without Wars and Violence with support from PNND(i), the Peace Culture Foundation, WILPF (Spain), the Spanish campaign "Nonviolence 2018", Ecologists in Action, Pressenza and the Spanish Peace Research Association among others and was held in several locations of the Spanish capital: from the symbolic Congress of Deputies to the more humble district of Vallecas, passing through the Madrid City Council in Cibeles Square.  The organisers' interest was to introduce the subject of nonviolence in its various expressions in all social fields, from national, to city and neighbourhood level.  This will be strengthened by the development of the 2nd World March which will try to impact all sectors of society with the subjects of peace and nonviolence.
Global security was the subject tackled on the 15th of November, in the Clara Campoamor Hall in the Spanish Congress of Deputies, including the increasing risk of the use of nuclear weapons and its relationship to the recent Treaty on the Prohibition of Nuclear Weapons(ii) the ratification of which is currently underway in the United Nations but without Spain's support.  In this session, Congress Deputy Pedro Arrojo(iii) announced that 50 colleagues from the Podemos parliamentary block had joined the PNND network.  There was also a meeting between Congress Deputy Pablo Bustinduy and Alyn Ware(v), the international coordinator of PNND, on the subject of how New Zealand managed to get and maintain a defence agreement with Australia and the United States which respected the decision of the New Zealand people to reject the presence of nuclear weapons on their territory.  Arrojo also announced the activation of an international network of parliamentarians to support the 2nd World March.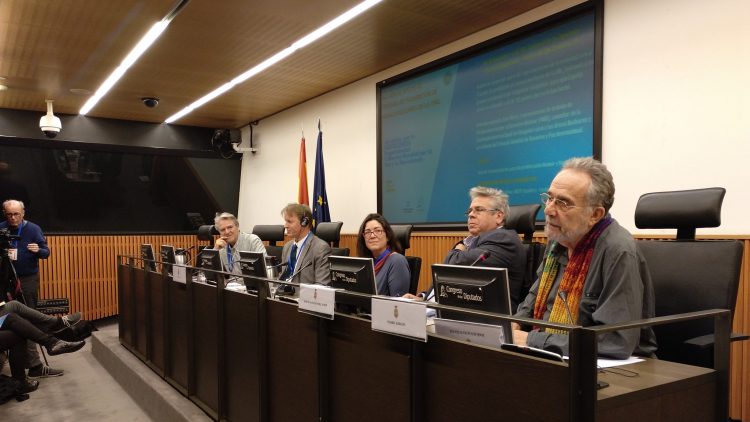 Pictures by René Gómez
On the 17th of November in the Auditorium of the Madrid City Council's Cibeles building, an intense and packed day of events took place with 30 speakers spread among 10 different panels and presentations.
Stephane Grueso(vi) from Radio Carne Cruda, Magda Bandera(vii) from the magazine "La Marea" and Javier Belda from Pressenza took part in the Media panel: "At whose service?".  Among other aspects they highlighted the need to counteract the information that is published by big media corporations which is frequently very far away from the information needs of the people.
Different perspectives were developed in the panel on how Nonviolence and Spirituality are being instilled in today's world.  Moisés Mato underlined the Nonviolence 2018 campaign, Philippe Moal from the Noesis Humanist Centre of Studies presented the philosophical and psychological bases of nonviolence, Houssein el Ouarachi from the ONDA Collective underlined nonviolence from an Islamic perspective, and Aurora Marquina did the same from the new spirituality proposed in Silo's Message.
Photos: René Gómez  (Album)
Antonio Zurita, director of the Ibero-american Union of Capital Cities (UCCI in Spanish Initials) said that Madrid City Council and the UCCI would collaborate and support preparations for the 2nd World March and expressed interest in supporting the values of nonviolence as well as developing the proposal for Peace Cities.  He underlined the need for an alliance between local political power and social power that converges in these types of actions.  He mentioned a reflection by Professor Tierno Galvan, former mayor of Madrid, who said, "empires and the patchwork of nations fall apart but cities remain."  He said that a new edition of the World Forum on Urban Violence will take place in 2018 with the aim of building Cities for Peace and Cities for Coexistence.  Zurita invited World without Wars to participate in the Forum's organising committee.
In this international forum, scheduled for 2018, to which the mayors of 300 of the most-populous cities on the planet will be invited, the 2nd World March for Peace and Nonviolence will be officially launched.
The tentative calendar for the 2nd World March indicating entry and exit dates by continent is as follows:

Europe: Madrid (Spain) 2nd October 2019, Cadiz (Spain) 6th October.
Africa: Casablanca (Morrocco) 8th October, Dakar (Senegal) 27th October.
America: New York (USA) 28th October, San José (Costa Rica) 20th November, Bogota (Colombia) 21st November, Santiago (Chile) 3rd of January, 2020.
Oceania-Asia: Wellington (New Zealand) 4th January, New Delhi 30th January
Europe: Moscow, 6th of February, Madrid 8th of March.
These dates will be confirmed along with the detailed route within countries and continents in October 2018 at the official launch.
Rafael de la Rubia  
Member of the World Coordination Team of World without Wars and Violence and Base Team Coordinator of the 1st World March.
 —
(1) PNND Network of Parliamentarians for Nuclear Nonproliferation and Disarmament.
(ii) On the 2nd of July 2017, 122 countries finished negotiations and approved the text of a Treaty on the Prohibition of Nuclear Weapons. The treaty was subsequently opened for signatures on the 20th of September 2017.  The treaty comes into force once the fiftieth country has ratified it.
(iii) Pedro Arrojo Agudo Deputy in the Spanish Congress for the Podemos Party. He is a Doctor of Physics and Professor at the University of Zaragoza whose research is focused on the economics of water.
(iv) Pablo Bustinduy Amador is the parliamentary spokesperson for the Podemos Party in the Foreign Affairs Committee in the Spanish Congress and a Deputy for Madrid.  He is also the International Secretary for Podemos.
(v) Alyn Ware, Global Coordinator, Parliamentarians for Nuclear Non-proliferation and Disarmament.
(vi) Stephane Grueso, Journalist, film-maker and social activist.
(vii) Magda Bandera, journalist and author.
(viii) UCCI – the Ibero-american Union of Capital Cities.  A network of cities that brings together the capital cities of Iberian and Latin-American countries, and other emblematic cities of the region.
video de Alvaro Orus