You are currently browsing Maurizio's articles.
New Yorkers sanding for Refugees on World Refugee Day. The March organized by African Communities Together (ACT) and City of Refuge Coalition went form 59th St and 5th Ave to Trump World Tower and Dag Hammarskjold Plaza in front of the United Nations.
United Nations Secretary-General António Guterres called on the international community to provide support and solidarity to refugees. "We reflect on the courage of those who fled and the compassion of those who welcome them," the Secretary-General said
Many are concerned about how President Donald Trump's decisions may impact refugees. In his first days in office, Trump signed an executive order restricting travel from several Muslim majority countries, including Syria, where conflicts have displaced 12 million people.
By David Korten
Four days after President Trump announced the United States would withdraw from the Paris climate agreement, the Global Footprint Network (GFN) reported that Earth Overshoot Day 2017 will fall on August 2. Most Americans likely have no idea what that means.
The basic point is quite simple: From January 1 to August 2, the world's 7.5 billion people will have used as much of Earth's biological resources—or biocapacity—as the planet can regenerate in a year. During the remaining five months of 2017, our human consumption will be drawing down Earth's reserves of fresh water, fertile soils, forests, and fisheries, and depleting its ability to regenerate these resources as well as sequester excess carbon released into the atmosphere.
Stated slightly differently, humans are depleting living Earth's capacity to support life.
The GFN methodology can also generate an ecological footprint for individual cities, states, and nations, based on the burden each generates relative to its local biocapacity. It can also compare a personal footprint generated by a distinctive lifestyle to both national and global averages.
The U.S. has a relatively abundant per capita biocapacity compared to most other nations. We are also one of the world's highest per capita consumers. Consequently, the net outcome is a total national biocapacity deficit second only to that of China—a country with a population roughly four times ours.
Knowing that, collectively, the world is consuming far more than the planet can sustain, how do we bring ourselves into balance with Earth's capacities? GFN outlines four critical global priorities:
Humanity's carbon energy use accounts for 60 percent of the global ecological footprint. By GFN's estimate, "Reducing the carbon component of the global Ecological Footprint by 50 percent would get us from consuming the resources of 1.7 Earths down to 1.2 Earths, or move the date of Overshoot Day forward by 89 days, or about three months." That would place Overshoot Day on October 30.
"We cannot ignore population growth if we are truly committed to people having secure lives in a world of finite resources," noted Susan Burns, GFN co-founder. She urges empowering women and assuring that every child is wanted. By GFN's analysis, reducing the current global average family size by half a child would push back Overshoot Day by 31 days.
By GFN's calculation, sourcing food locally, avoiding highly processed foods, reducing meat consumption, and cutting food waste by half could move Overshoot Day forward by 11 days.
GFN estimates that increasing the energy efficiency of the urban built environment through measures such as efficient mass transit could advance Overshoot Day by 2 days.
If we achieved all four of these priorities, we would bring Overshoot Day to December 13 and almost be in balance with Earth's capacity to sustain us.
There is considerable truth to the adage that we can manage only what we measure. Measure the wrong thing, and the consequences can be catastrophic.
Unfortunately, our governments currently invest heavily in reporting financial indicators, such as gross domestic product, that tell us little either about actual human well-being or our long-term viability on Earth. In measuring the right things, GFN shatters the illusions of such measures and analyses. Still, we need a clearer and more complete, and coherent reporting and analysis of the global footprint measurements than the GFN offers.
The responsibility for such statistical gathering and reporting should fall, not to a small non-profit, but rather to the United Nations and the statistical services of the world's national governments. Producing detailed global footprint measurements, reporting, and analysis should be among the top priorities of such official agencies. That will be a far greater contribution to national and global well-being than the grossly misleading economic indicators to which they now devote the bulk of their resources.
---
David Korten wrote this article for YES! Magazine as part of his series of biweekly columns on "A Living Earth Economy." David is co-founder and board chair of YES! Magazine, president of the Living Economies Forum, a member of the Club of Rome, and the author of influential books, including When Corporations Rule the World and Change the Story, Change the Future: A Living Economy for a Living Earth. His work builds on lessons from the 21 years he and his wife Fran lived and worked in Africa, Asia, and Latin America on a quest to end global poverty. Follow him on Twitter @dkorten and Facebook. As do all YES! columnists, he writes here in his personal voice.
This post is also available in: Italian
"It started raining as soon as people gathered, poured during the Women's March to Ban the Bomb and the program outside the UN, then stopped raining, but only after it was all over! A good turnout for a rainy day, estimated about 1.000, including 50 Japanese" activist Ellen Thomas explains.
"The Hibakusha (atomic bomb survivors) spoke and delivered nearly 3 million signatures on a petition to the chief negotiator for the nuclear weapons ban treaty. There were three Women's International League for Peace and Freedom banners in the march, and a lot of blue WILPF t-shirts. Veterans for Peace, Peace Action, drummers, Buddhists, nuns, and vibrant young activists had a soggy but wonderful time".
The march was hosted by the Women's International League for Peace and Freedom (WILPF) and supported by dozens of co-sponsor and partner organizations that are representative of peace, disarmament, women's rights, indigenous, environmental, and human rights communities, among others.
Over 60 sister events took place in other cities across the United States and in Australia, Cameroon, Canada, Germany, Ghana, Italy, Japan, the Netherlands, Nigeria, New Zealand, Philippines, Switzerland, and the UK.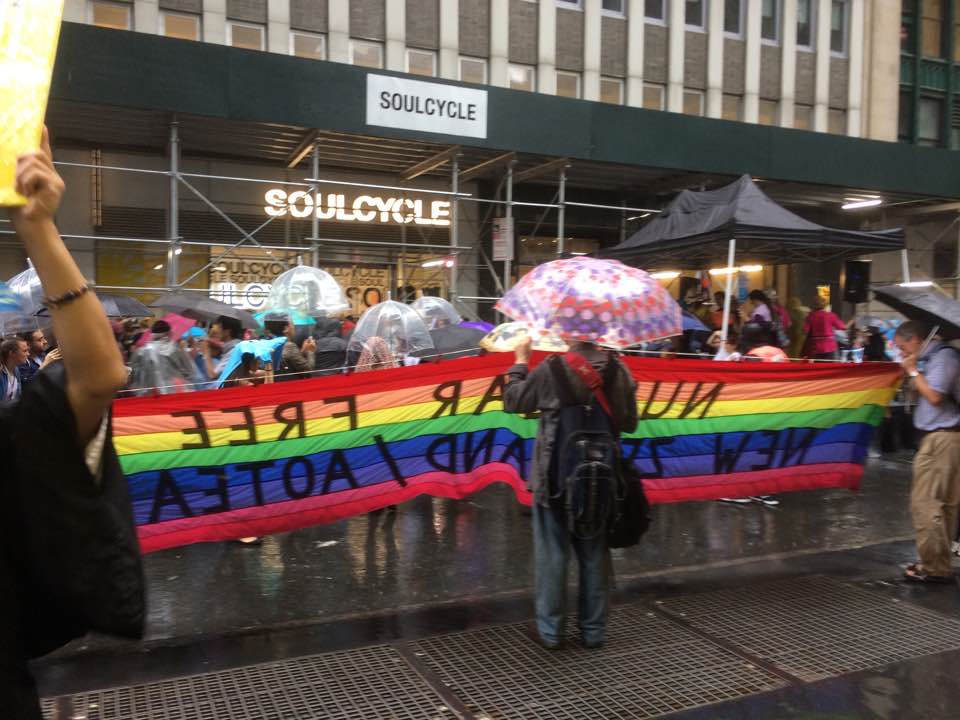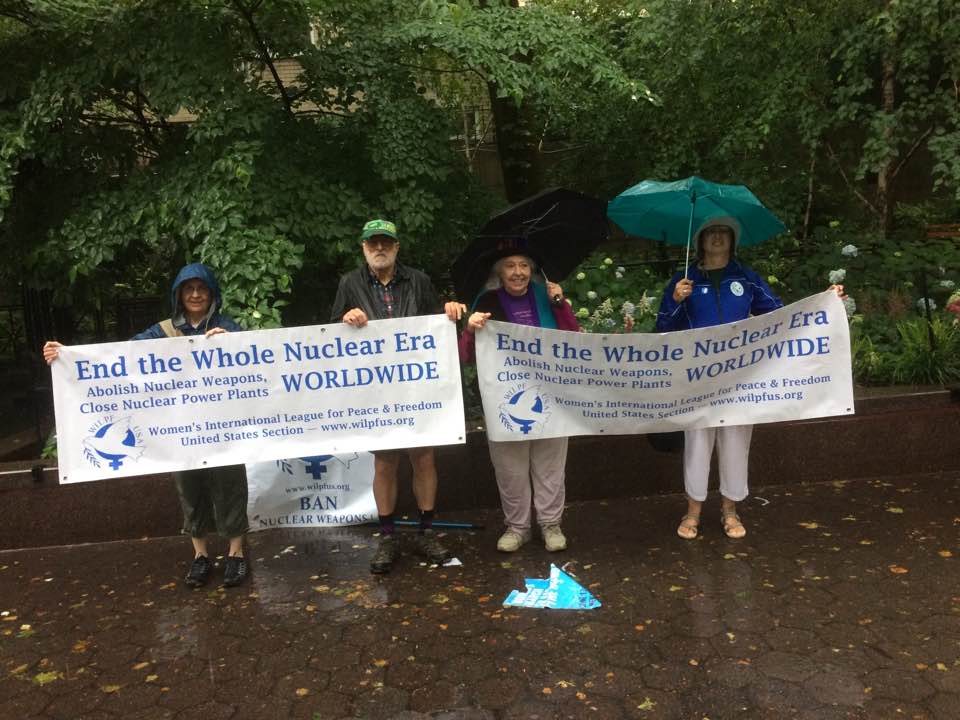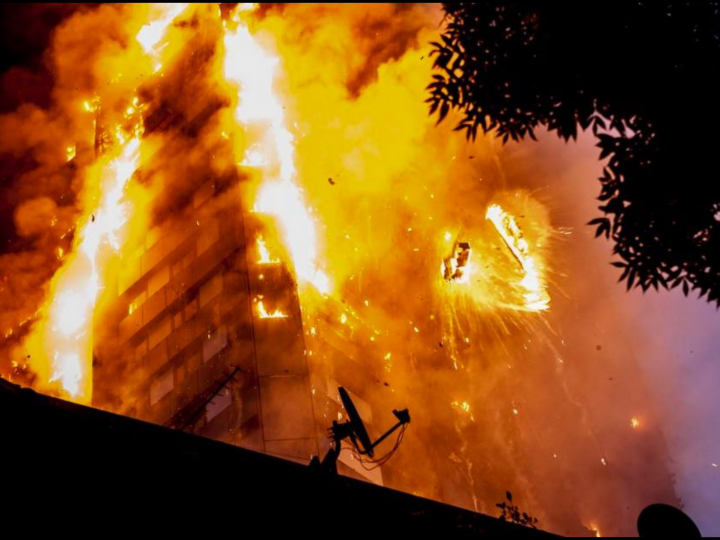 by George Monbiot for The Guardian
Too often safety has been sacrificed to an agenda of deregulation backed by lobbyists: it's time to put the public interest above corner-cutting and greed
For years successive governments have built what they call a bonfire of regulations. They have argued that "red tape" impedes our freedom and damages productivity. Britain, they have assured us, would be a better place with fewer forms to fill in, fewer inspections and less enforcement.
But what they call red tape often consists of essential public protections that defend our lives, our futures and the rest of the living world. The freedom they celebrate is highly selective: in many cases it means the freedom of the rich to exploit the poor, of corporations to exploit their workers, landlords to exploit their tenants and industry of all kinds to use the planet as its dustbin. As RH Tawney remarked, "Freedom for the pike is death for the minnows."
It will be a long time before we know exactly what caused the horrific fire in the Grenfell Tower, and why it was able to rage so freely, with such devastating loss of life. But it seems at this stage likely that the rapidity with which the fire spread was either caused or exacerbated by the cladding with which the tower was refurbished.
There have been plenty of warnings that cladding can present a severe fire risk. To give just one example, in 1999 the House of Commons select committee on environment, transport and rural affairs published a report entitled Potential Risk of Fire Spread in Buildings Via External Cladding Systems.
But both Conservative and New Labour governments have been highly reluctant to introduce new public protections, even when the need is pressing. They have been highly amenable to tearing down existing protections at the behest of trade associations and corporate lobbyists. Deregulation of this kind is a central theme of the neoliberal ideology to which both the Conservatives and Labour under Tony Blair succumbed.
In 2014, the then housing minister (who is now the immigration minister), Brandon Lewis, rejected calls to force construction companies to fit sprinklers in the homes they built on the following grounds:
Conservative MPs see Brexit as an excellent opportunity to strip back regulations
"In our commitment to be the first Government to reduce regulation, we have introduced the one in, two out rule for regulation … Under that rule, when the Government introduce a regulation, we will identify two existing ones to be removed. The Department for Communities and Local Government has gone further and removed an even higher proportion of regulations. In that context, Members will understand why we want to exhaust all non-regulatory options before we introduce any new regulations."
In other words, though he accepted that sprinklers "are an effective way of controlling fires and of protecting lives and property", to oblige builders to introduce them would conflict with the government's deregulatory agenda. Instead, it would be left to the owners of buildings to decide how best to address the fire risk: "Those with responsibility for ensuring fire safety in their businesses, in their homes or as landlords, should and must make informed decisions on how best to manage the risks in their own properties," Lewis said.
This calls to mind the Financial Times journalist Willem Buiter's famous remark that "self-regulation stands in relation to regulation the way self-importance stands in relation to importance". Case after case, across all sectors, demonstrates that self-regulation is no substitute for consistent rules laid down, monitored and enforced by government.
Crucial public protections have long been derided in the billionaire press as "elf 'n' safety gone mad". It's not hard to see how ruthless businesses can cut costs by cutting corners, and how this gives them an advantage over their more scrupulous competitors.
The "pollution paradox" (those corporations whose practices are most offensive to voters have to spend the most money on politics, with the result that their demands come to dominate political life) ensures that our protections are progressively dismantled by governments courting big donors.
Conservative MPs see Brexit as an excellent opportunity to strip back regulations. The speed with which the "great repeal bill" will have to pass through parliament (assuming that any of Theresa May's programme can now be implemented) provides unprecedented scope to destroy the protections guaranteed by European regulations. The bill will rely heavily on statutory instruments, which permit far less parliamentary scrutiny than primary legislation. Unnoticed and undebated, crucial elements of public health and safety, workers' rights and environmental protection could be made to disappear.
Too many times we have seen what the bonfire of regulations, which might sound like common sense when issuing from the mouths of ministers, looks like in the real world. The public protections that governments describe as red tape are what make the difference between a good society and barbarism. It is time to bring the disastrous deregulatory agenda to an end, and put public safety and other basic decencies ahead of corner-cutting and greed.
This post is also available in: Italian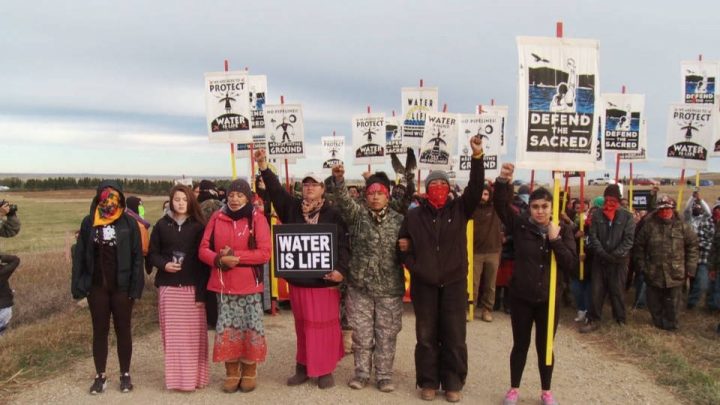 The Standing Rock Sioux Tribe has won a major legal victory in federal court on Wednesday, which may have the power to force the shutdown of the $3.8 billion Dakota Access pipeline. On Wednesday, District Judge James Boasberg ruled that the Trump administration failed to carry out an adequate environmental review of the pipeline, after President Trump ordered the Army Corps to fast-track and greenlight its approval.
Washington, D.C., District Judge Boasberg has requested additional briefings next week on whether the pipeline should be shut off until the completion of a full review of a potential oil spill's impacts on fishing and hunting rights, as well as environmental justice.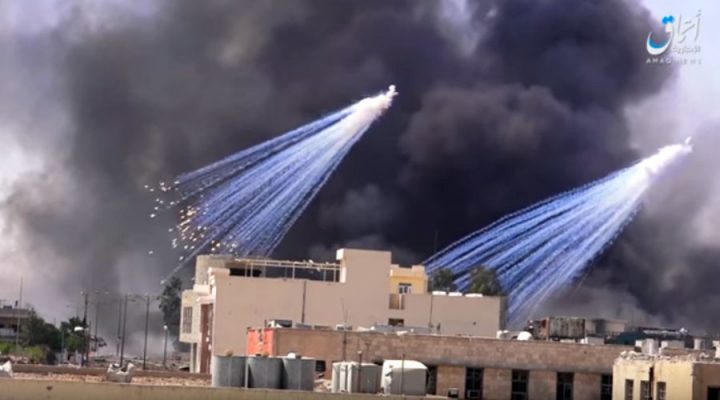 A New Zealand general has confirmed that the US-led coalition fighting in Mosul has used munitions loaded with white phosphorus. It comes amid mounting criticism over the use of the multipurpose weapon, which can be extremely dangerous to civilians.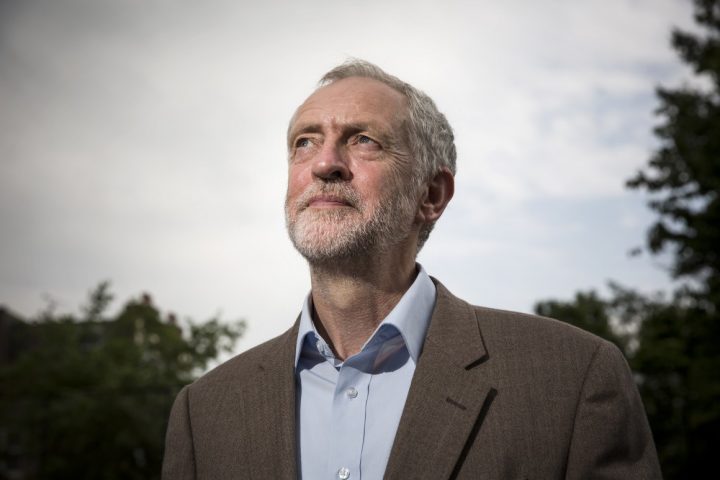 Co-Written by Kevin Zeese and Margaret Flowers
The shocking election result in the United Kingdom – the Conservatives losing their majority and the creation of a hung Parliament; and Jeremy Corbyn being more successful than any recent Labor candidate – cutting a 20 point Theresa May lead down to a near tie – gives hope to many that the global shift to the right, fueled by the failures of governments to meet the basic needs of their population and growing economic insecurity, may be ending.
Corbyn is a lifelong activist whose message and actions have been consistent. He presented a platform directed at ending austerity and the wealth divide and was openly anti-war. There are a lot of lessons for the Labor Party in the UK from this election but there are also lessons for people in the United States. We review what happened and consider the possibilities for creating transformative change in the United States.
The Corbyn Campaign Results
The Corbyn campaign showed that a political leader urging a radical progressive transformative agenda can succeed. Many in his own party, the neo-liberal pro-war Blairites, claimed Corbyn could not win, tried to remove him from leadership, and sabotaged and refused to assist his campaign.
Corbyn showed he could win the leadership of the UK in the future, maybe sooner than later. While Theresa May is in the process of forming a minority government with a small radical conservative party from Northern Ireland, there has already been a backlash, mass petitions and protests against it and UK history has shown in similar circumstances that the second place finisher, may, in the end form the government. Corbyn is taking bold and radical actions. He is preparing to present a Queen's speech in which he will say that he and his party are "ready to serve" and will continue to push his program through Parliament. He is calling on other parties to defeat the government in Parliament.
Corbyn did better than any recent Labor leader. Jonathan Cook, a British political commentator, writes in "The Facts Proving Corbyn's Election Triumph" that Corbyn received 41 percent of the vote against May's 44 percent. This was a big improvement in Labor's share of seats, the largest increase since 1945. Cook points out that Corbyn won more votes than "Ed Miliband, Gordon Brown and Neil Kinnock, who were among those that, sometimes noisily, opposed his leadership of the party." Even Tony Blair does not look all that good compared to Corbyn, Cook recounts:
"Here are the figures for Blair's three wins. He got a 36 per cent share of the vote in 2005 – much less than Corbyn. He received a 41 per cent of the vote – about the same as Corbyn – in 2001. And Blair's landslide victory in 1997 was secured on 43 per cent of the vote, just two percentage points ahead of Corbyn last night.
"In short, Corbyn has proved himself the most popular Labour leader with the electorate in more than 40 years, apart from Blair's landslide victory in 1997."
Bhaskar Sunkara, the founding editor of Jacobin, writes that Corbyn was not only campaigning against the Tories and Theresa May, but battling his own party – yet he still "won":
"This is the first election Labour has won seats in since 1997, and the party got its largest share of the vote since 2005 — all while closing a twenty-four point deficit. Since Corbyn assumed leadership in late 2015, he has survived attack after attack from his own party, culminating in a failed coup attempt against him. As Labour leader he was unable to rely on his parliamentary colleagues or his party staff. The small team around him was bombarded with hostile internal leaks and misinformation, and an unprecedented media smear campaign.
"Every elite interest in the United Kingdom tried to knock down Jeremy Corbyn, but still he stands."
The Blairites were taught a lesson by Corbyn. Many of his harshest critics are now changing their tune and embracing Corbyn. Hopefully they will join in creating a party in Corbyn's image – a party for the many, not the few. Corbyn has rebuilt the mass base of Labor. The party is now the largest in Europe with half a million members. It is time for the "leaders" of Labor to follow the lead of the people and of Jeremy Corbyn.
What can we learn regarding US politics?
Sunkara argues Corbyn demonstrated that a winning campaign strategy is "to offer hopes and dreams to people, not just fear and diminished expectations." In current US terms that means it is insufficient just to oppose Trump, a positive vision for the future that shows what a candidate and party stand for is needed, e.g. it is not just enough to defend the failing Affordable Care Act and oppose the Republican's American Health Care Act, you must stand for something positive: National Improved Medicare for All. This is one example of many.
Sunkara provides more detail:
"Labour's surge confirms what the Left has long argued: people like an honest defense of public goods. Labour's manifesto was sweeping — its most socialist in decades. It was a straightforward document, calling for nationalization of key utilities, access to education, housing, and health services for all, and measures to redistribute income from corporations and the rich to ordinary people.
"£6.3 billion into primary schools, the protection of pensions, free tuition, public housing construction — it was clear what Labour would do for British workers. The plan was attacked in the press for its old-fashioned simplicity — "for the many, not the few" — but it resonated with popular desires, with a view of fairness that seemed elementary to millions.
"The Labour left remembered that you don't win by tacking to an imaginary center — you win by letting people know you feel their anger and giving them a constructive end to channel it towards. 'We demand the full fruits of our labor,' the party's election video said it all."
Corbyn showed how important it is to have the correct analysis on foreign policy. Twice during the campaign, the UK was hit by a terrorist attack. Corbyn responded by telling the truth: part of the reason for terrorism is the UK foreign policy, especially in Libya. He also opposed the use of nuclear weapons. The Conservatives thought these anti-war positions would hurt Corbyn, instead they helped.
This is even more true in the United States with the never ending wars the country is fighting. But, the unspeakable in the United States, as Paul Street calls it, is acknowledging that terrorism is conducted by the US. This taboo subject makes it hard for people to understand that the US is constantly committing acts of terrorism around the world, which lead to predictable blow back from US militarism, regime change and war. No elected official will tell these obvious truths, which the people of the United States would instinctively understand if they were voiced.
Although the U.S. is often portrayed as a 'center-right' nation and progressives are called extremists, the reality is that there is majority support for a progressive agenda. There is a developing national consensus in the United States for transformational change, and Bernie Sanders articulated some of that consensus, at least on domestic issues, in his run for president, but the problem is that U.S. elections are manipulated by the elites in power who make sure that their interests are represented by the winner
Sunkara ends his article on Corbyn saying "Also, Bernie Sanders would have won." We do not know what would have happened in a Trump-Sanders election. The closest example may be McGovern's 1972 campaign against Nixon which he lost in a landslide. In that campaign, the Democrats deserted their candidate, even the AFL-CIO and big unions did not support McGovern and Nixon demonized him in the media. Would Clinton-Democrats have stood with Sanders or would they have sabotaged him like the party did to McGovern?
A key to Corbyn's success was retail politics.  The population of the UK is 65 million, compared to the US population of 321 million. Retail politics can work in the UK, while in the US paid media advertising drives the campaign, which means money often determines the outcome. This gives great power to big business interests, and while it can be overcome, it is a steep hill to climb.
Despite their significant losses, the Democrats are still controlled by Clinton-Obama Wall Street and war neo-liberals as we saw in the recent DNC chair election where Clinton protégé, Tom Perez, was elected. We are not optimistic that the US can apply the Corbyn model within the Democratic Party because it has been a party representing the oligarchs from its origins as the party of plantation slave-owners.
The duopoly parties that represent Wall Street, war and empire will not allow voices that represent "the many, not the few" to participate in US elections. They shut them out whether they run as an insurgent inside a party, as people learned from the mistreatment of Bernie Sanders by the DNC, or if they run outside of the two parties. The bi-partisans make independent party runs nearly impossible with unfair ballot access laws, barriers to voter registration, secret vote counting on unverifiable election machines, exclusion from the debates and exclusion by the corporate media, who are in cahoots with the bi-partisans.
It Comes Down to Building An Independent Mass Political Movement
We live in a mirage democracy with managed elections, as we describe in the article "Fighting for A Legitimate Democracy By and For the People," on the long history of wealth dominating politics in the U.S.
Historically, transformations have occurred because of mass social movements demanding change and participating in elections through independent parties that have grown out of a movement with candidates from the movement (Corbyn has been involved in every anti-war movement, anti-apartheid, anti-austerity, pro-peace and human rights movements among others). Showing mass electoral support, even without winning, has resulted in significant changes – union rights, women's voting rights, the eight-hour workday – indeed the New Deal came out of third party platforms. It is important to resist the duopoly parties in order to get to the root of the problems we face; as Patrick Walker explains, the "grassroots resistance must oppose Democrats as well as Trump."
A broad and diverse social movement whose demands are articulated by an independent party platform has forced one of the two parties to capitulate to the movement or disappear. That still seems to be the most likely path to real change for the US.
Corbyn teaches that we should embrace the radical transformational change that is needed, whether in elections or as a movement, to inspire people to take action and shift the realm of the possible. The people thirst for change as their economic situation becomes more insecure. There needs to be a movement that addresses that insecurity through a human rights lens, or else the insecurity will be channeled towards hatred and violence.
The key first step is to show the many, we are with them; that we are listening and acting consistent with their beliefs. Taking this correct first step, lights the path ahead of us.
Kevin Zeese and Margaret Flowers co-direct Popular Resistance.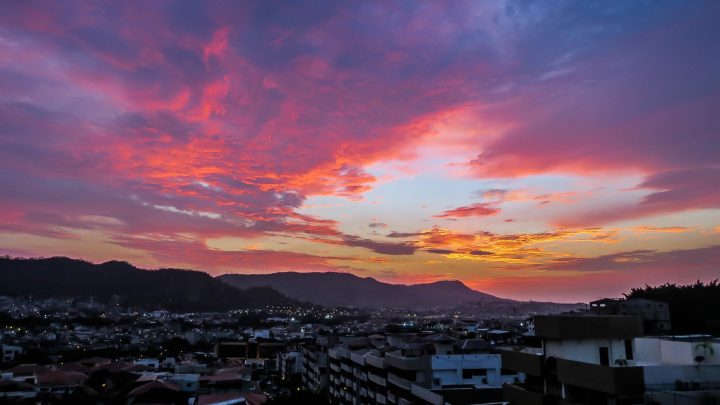 By Johan Galtung
West of Jondal is Torsnes, named after the Nordic war god Thor with his Hammer, a center of the Viking era from 800 to 1050, only 250 years. Why so short? Successful with raids and colonization–Gardarike in Russia, Iceland, Greenland, Vineland in Canada. And then: fini. Why?
Because they had no future.  Evil Lóki had killed Good Baldur–next to Torsnes is Belsnes=Baldursnes.  They were doomed.  Enters Christianity with Evil Satan and Good God, restoring hope. The end.
The Soviet Union Empire had no future: Communism was undefined. Enters Orthodox Christianity–Putin is a true believer–hope restored.
The United States Empire has no future: "allies" refuse to fight US wars and US capitalism increases inequality with reduced growth. Enter Campaigner Trump 'Making America Great Again' by buying-hiring American; President Trump making America isolated, violent, unequal–an autistic, psychotic, narcissistic, paranoid in a psycho-pathological exceptionalist, us-them paranoid state.  A perfect fit for the worst.
2050 is only 33 years ahead; 33 years back is Orwell's 1984. Much happened.  The Berlin Wall collapsed in 1989; the Soviet Empire, Soviet Union and Communism followed. The US Empire declined, former clients refused to fight US wars, but not EU wars; eroding NATO.
The Cold war, threatening humanity with a nuclear arms race that in a hot war could obliterate the planet, melted away with a whimper.
China's incredible growth, also in world presence, from the Deng Xiaoping revolution in 1980, has been mainly within that period.
The attack on Muslim countries by a "US-led coalition" and the reaction by Al Qaeda and the Islamic State-Caliphate: in that period.
All over the world regionalization, ELAC-Economic Commission for Latin America and the Caribbean, African Unity/Union, EU, ASEAN; most states being too small, civilizations blocking for a world state.
All over the world non-dominant nations asserting themselves.
And all over the world, inspired from USA, women emancipating.
A new world, in only 33 years of rapidly accelerating history with another new world in the next 33 years. Some forecasts, using Western identification of units-variables prolonging trends and Daoist identification of holons-dialectics, forces-counterforces, yin/yang; to catch both continuous change and the discontinuous, jumpy changes.
Development, defined as satisfying basic human needs by lifting the bottom up; reduction of inequality can be achieved before 2050. The idea of food-water, clothing-housing, health-education for all has arrived and been well received (maybe not in the USA); one formula being the last two free, the first four subsidized with monthly cash to buy. Homo sapiens being homo faber and homo ludens, productive and playful with lifelong support, not lifelong struggle for sheer survival.
True, ground and river water are scarce but ocean water is not, obtainable by boiling with parabolic mirrors, capturing the vapor.
Environment, defined as satisfying basic nature needs, diversity and symbiosis. Fighting CO2 omission, a bilateral relation for a very complex reality, is much too simplistic, fighting CFCs destroying the ozone layer and symbiosis, strengthening the diversity of biota and abiota beyond using only renewable resources make good sense.
Individuals stop smoking if they attribute death from lung cancer to smoking.  A catastrophe attributed to insulting nature's needs may elicit remedial action from collectivities.  Likely to happen, but better pro-actio than re-actio. A key: the darker the earth the more heating by solar energy; cities are darker than villages. Therefore, move out from big cities ruled by elites to small local units ruled by people.
Peace, defined negatively as absence of parties being bad to each other, and positively as parties being good to each other–at the mega-macro-meso-micro levels–depends on ability to solve underlying conflicts and to concile underlying traumas–possibly increasing.
Forecasts for twenty cases spanning the world and the levels:
          The Peace versus Violence-War Dialectic to 2050: 20 Cases
Islam vs West: counter-cyclical, Muslim togetherness-sharing expanding, Western loneliness-bureaucracy contracting; conversion to Islam and to West building togetherness-sharing. Islamic State and Caliphate based on imams cleanses Islam of the West reaching Mecca.
NATO-USA vs SCO: no world war, NATO dissolving, SCO not.
West vs Russia: no war, EU-Russia European House unifying.
First World vs Third World, "North-South": the last will be the first; Africa and Latin America-Caribbean matching Europe and USA.
West vs Eurasia-SCO, "West-East": Eurasia penetrating and dominating West like China USA, not vice versa; dominion, not war.
Israel vs Palestine-Arab States: An Israel for Jews only will not survive; multi-national Israel as tolerant to Muslims-Arabs as they to Jews and Christians as People of the Book–with Jews all over, will.
Japan-USA vs Russia-Two Chinas-Two Koreas over Islands: violence-war likely unless shared ownership of islands and profits is adopted.
China vs ASEAN in South China Sea: war likely unless US aircraft carriers are withdrawn; sharing ownership, fisheries, and profits.
North Korea vs USA: war likely unless peace treaty, normalization  with North Korea and a nuclear-free Korean peninsula are practiced.
USA: one country among others but focused on Whom to blame, with anti-Semitism; new domestic-world politics and deep scripts coming.
EU: multi-speed with the euro as common, not single currency.
SCO:  will cover most of the Asian continent, blend with Eurasia.
UK: will split into Anglo-Saxon England, Celtic Wales, Scotland, Ireland, and the islands, in a Confederation of the British Isles.
Russia: compensating for "unequal treaties" with Chinese dynamic immigration, making Russia grow as part of Eurasia, with violence.
China: aging, will be overtaken by Africa like it overtook the mini/China-Japan "dragons" that had overtaken Japan overtaking USA.
States, except the biggest, yielding to regions-local authorities, with a United Regions; United Nations with no veto power leaving USA.
Ability to handle fault-line conflicts inside societies: use of human rights for equality across and democracy for shared decisions.
Ability to handle conflicts between-inside persons: so low that it will improve linking good with good, less violence linking bad-bad.
Ability to handle conflict: so low that it will improve. First step: seeing conflict as incompatible goals, as something to be solved.
Ability to concile trauma: so low that it will improve. First step: sharing narratives of what happened, wishing the violence undone.
---
Johan Galtung, a professor of peace studies, dr hc mult, is founder of TRANSCEND International and rector of TRANSCEND Peace University. Prof. Galtung has published more than 1500 articles and book chapters, over 470 Editorials for TRANSCEND Media Service, and more than 170 books on peace and related issues, of which more than 40 have been translated to other languages, including 50 Years – 100 Peace and Conflict Perspectives published by TRANSCEND University Press. More information about Prof. Galtung and all of his publications can be found at transcend.org/galtung.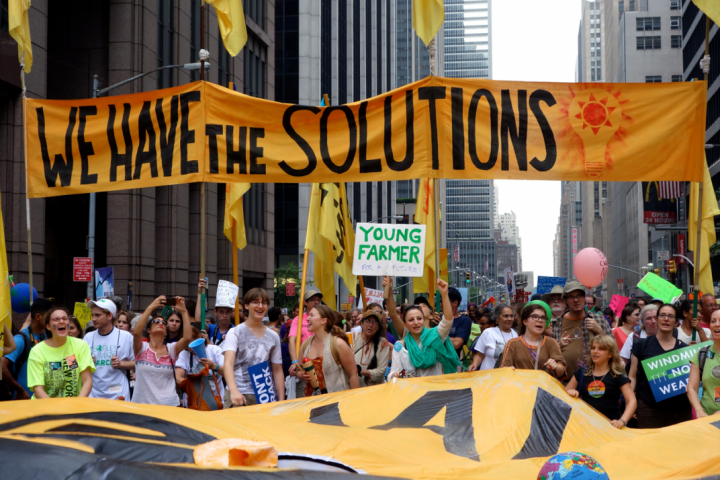 By David Swanson
Laughter is a wonderful thing. It's hard to get too much of it. But there may be something even more valuable — something that you may be better able to grasp than some of your elders.
When you're able to see a failure in others, it can be an opportunity to spot other similar failures — even those that you may be, in some measure, sharing in.
Why do climate deniers deny? No two are identical, but a major factor for many of them seems to be, not an analysis of evidence but loyalty to a worldview. In this worldview it simply cannot be the case that people are destroying the earth. That's not in the sacred texts. There's no place for it in many careers or lifestyles designed around extraction, consumption, destruction, and "development" of the world. Accepting the obvious would be harder than denying it. So it is denied, or — by far preferable — simply ignored and avoided.
But there are two ways in which the world may be destroyed for human (and much other) life, and millions of people who care about ending the destruction of the climate are steadfastly ignoring and avoiding the other problem. Those best informed on climate change have the darkest views on it. They say it's progressing far more quickly than most have been willing to recognize. Those best informed on the other danger we face say the risk of it is at its highest point and increasing.
The other danger is that of nuclear holocaust. The number of bombs needed to end all life on earth through the destruction of the atmosphere and mass starvation continues to shrink in the expert analyses. The number of nuclear weapons ready to fire at a moment's notice in the U.S. and Russia remains sufficient to destroy a large number of planets. The U.S. says it is developing newer, higher-tech, and "more usable" nukes. Other nations say they are following suit. The number of nations with nuclear weapons, and that of nations with nuclear power continue to grow. A major push is on in U.S. politics by some of the same people most concerned about climate change to create ever greater hostility toward Russia. And the proliferation of wars and weapons, with the potential of generating nuclear war, has reached new extremes.
Why do nuclear war deniers deny? No two are identical, but a major factor for many of them seems to be, not an analysis of evidence but loyalty to a worldview. In this worldview it simply cannot be the case that war is destroying the earth. That's not in the sacred texts. There's no place for it in many careers or lifestyles designed around militarism, aggression, xenophobia, and faith in technology. Accepting the obvious would be harder than denying it. So it is denied, or — by far preferable — simply ignored and avoided.
But avoiding recognition of one of the twin dangers we face severely handicaps even one's efforts on the one that is recognized. Militarism is the single greatest contributor to climate and other environmental destruction, yet militarism proceeds utterly unopposed by major environmental advocacy organizations. Advocating for the obvious would be more inconvenient than denying it. So it is avoided.
Does this state of affairs make good liberal environmentalists who support the troops, salute the flag, falsely believe that military spending is economically beneficial, and have no doubt that terrorism can be ended by bombing it, somehow laughable? I don't think so. I think it makes them tragic. And I think we should see climate deniers the same way.
Having lost her majority the UK Prime Minister went out to clutch at some straws in order to attain "stability". Who did she find? The DUP, the Democratic Unionist Party of Northern Ireland. So, who are the DUP? openDemocracy
The Democratic Unionist Party is the anti-abortion pro Brexit party of climate change deniers who don't believe in LGBT rights.
Having concocted stories about Jeremy Corbyn support to IRA terrorists (twisting and misrepresenting Corbyn's willingness to discuss and promote peace in Northern Ireland, moves that were later validated by the Good Friday Agreement), the Conservatives now depend on (and will have to make concessions to) a Party that has close historical links with Loyalist paramilitary groups who were also involved in acts of terrorism.
An article from The Irish Times: "What connects Brexit, the DUP, dark money and a Saudi prince?" also reveals a number of questions about convoluted funding being investigated by openDemocracy.
"To recap briefly: two days before the Brexit referendum last June, the Metro freesheet in London and other British cities came wrapped in a four-page glossy propaganda supplement urging readers to vote Leave. Bizarrely, it was paid for by the DUP, even though Metro does not circulate in Northern Ireland. At the time, the DUP refused to say what the ads cost or where the money came from.
"We've since learned that the Metro wraparound cost a staggering £282,000 (€330,000) – surely the biggest single campaign expense in the history of Irish politics. For context, the DUP had spent about £90,000 (€106,000) on its entire campaign for the previous month's assembly elections. But this was not all: the DUP eventually admitted that this spending came from a much larger donation of £425,622 (€530,000) from a mysterious organisation, the Constitutional Research Council."… "Northern Ireland is exempt from the UK's requirements for the sources of large donations to be declared."… A connection (although no clearly causal) was found to "Prince Nawwaf, who died in 2015, was no casual investor. He had been Saudi minister for finance, government spokesman and diplomatic fixer before becoming head of intelligence." The DUP has refused to clarify such links.
Perhaps the Channel 4 journalist Jon Snow is who best summarises the situation in his tweet: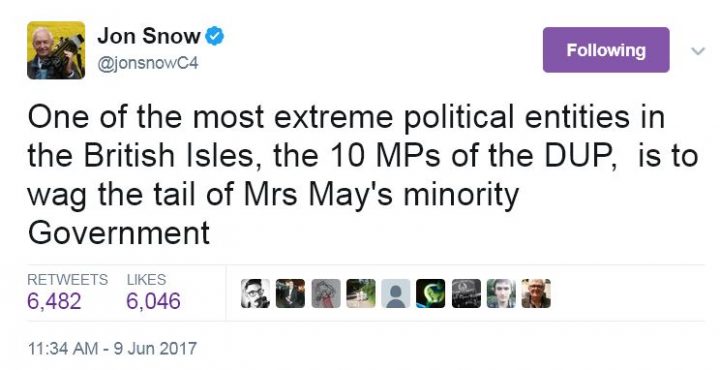 Fortunately the excellent Labour results, the mobilisation of young people and the positive manifesto are likely to create a movement (as is happening in the US with Bernie Saunders) capable of changing the outlook, the expectations and the actions of many who will not accept the Conservative wounded beast to chose the path of violence and destruction. The potential for a humanist moment is closer now than ever, and the signs are there.