You are currently browsing Maurizio's articles.
05.07.2020 – The Ecologist
This post is also available in: French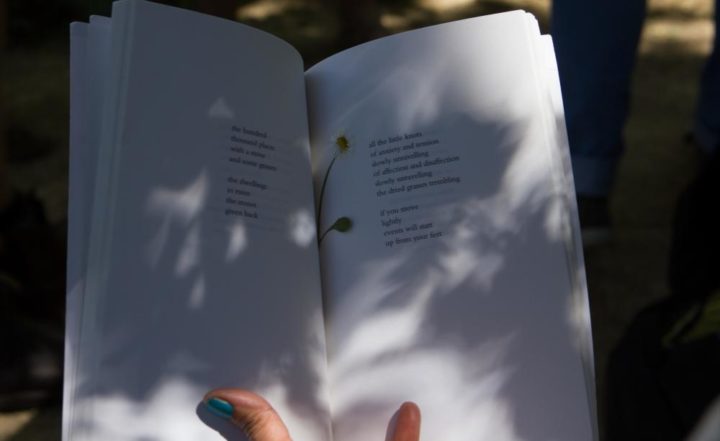 🌳 Professor Deirdre Heddon and Dr Misha Myers explain how their Walking Library functions as a public artwork connecting people with places and writing.
The Walking Library is simply a library filled with books suggested as good to take on a walk.
In 2012, we created our first Walking Library, a commission for Sideways, an ecologically-oriented, pedestrian festival traversing the Flanders region of Belgium.
To make a donation to support the next Timber festival, visit JustGiving.
Sideways aimed to find and walk back into existence the region's 'slow paths' – a mesh of footpaths that offer alternative ways of getting from A to B without the need of a car. For that first Walking Library we posed a simple question: What book would you carry on a walk?
Readers
From more than 200 suggestions, we selected about 90 books and took them out on our daily walks, which, over the course of the month, added up to 334 km on foot.
Our stock was diverse, ranging from books about walking – fictional, biographical, historical – to guidebooks on flora and fauna, and books about treading more gently on the earth.
We invited people to tell us why they made their suggestion, and we added this information to library card's that we placed in pockets inside each book. This made the library more personal, creating invisible networks of affinity between readers.
Together
As we walked and read together, we discovered that the books became our companions, guides, teachers, and interlocutors. Our encounters with both books and landscapes were enriched by putting them in dialogue with each other. We saw new things on the page and in the environment.
We have made a number of Walking Libraries since our first experiment of walking with books in 2012: each with a different focus and prompting a different set of questions, including a Walking Library for Women Walking and a Walking Library for a Wild City.
The Walking Library functions as a public artwork connecting people with places and writing.
We invite participants to select and carry a book from our library and join us on a walk, in the company of about 15 other books and for a duration of anything between 90 minutes and a full day. Prompted by the landscapes through which we walk, we pause together to share aloud extracts from the books we carry.
Forest
We have found the book to be a magnificent 'glue', bringing people together gently in the creation of a convivial space for knowledge sharing, akin perhaps to a friendly and healthy mobile reading room.
Books and walking share the capacity for inspiring simultaneously attentiveness and escape, and stillness and mobility. We read and walk slowly, listening, seeing, learning and paying closer attention.
Our most recent library is a Walking Library for Forest Walks, commissioned for the National Forest. To gather suggestions of books for this new library we asked:
What book would help you see the forest for the trees? What book would provide seeds for thought and future forests? What leaves would you want to turn and share? What forest stories stretch both legs and minds?
We had planned to take this library on its inaugural walk as part of National Forest Walking Festival in May and to bring it to the Timber Festival in July. When COVID-19 lockdown restrictions came into place, we added a new question: Which book transports you to the forest without leaving home?
Virtual
We have received approximately 100 suggestions. Though not able yet to take the library into the forest, we have created some virtual forest walks, adapting the principles of the Walking Library to these new circumstances.
The forest remains the prompt for finding and sharing synergies between texts and place. Working with photographs taken in the National Forest, including many by local resident Hazel McDowell, we sought to virtually locate extracts from books within apt environments.
The photographs provided imaginative illustration of the books and the books brought to life something of the rich forest environment. After all, books have always been mobile devices offering portals to virtual worlds and when you hold a paper book, you hold a tree.
Picture this: an old and somewhat wizened tree, standing large, proud and resolute against a background of sky.
"'Ah, when it was quite a small tree,' he said, 'and I was a little boy, I thought one day of chopping it off with my hook to make a clothes-line prop with. But I put off doing it. And at least it got too big, and how 'tis my enemy, and will be the death of me. Little did I think, when I let that sapling stay, that a time would come when it would torment me, and dash me to my grave.'"
Astonishment
These are words from Thomas Hardy's The Woodlanders, spoken by the elderly and fearful John South, as he looks out of the window from his sickbed onto an elm. This book was suggested by Julie Attard, who wrote:
"Set in a remote woodland village, the tangled lives and struggles of its inhabitants are played out against, and are reflected by, the trees surrounding them. In the novel, trees are almost sentient and characters in their own right. Perspectives shift between scientific and folkloric understandings of the environment. In a sense Hardy asks a question that we are still asking today: what does it mean to be connected to nature?"
Or picture this: a large, green, bushy-topped tree, with a thick trunk, a strange tree-formation that seems to have created a tunnel out of branches, a tree that seems to fizz and froth white flowers.
"'Wisha-wisha-wisha-wisha,' said the trees.
'Come on,' said Joe impatiently. 'Let's go to the Faraway Tree.'
They all went on – and soon came to the mysterious magic tree. Rick stared at in great astonishment.
'Wow, it's simply ENORMOUS!' he said. 'I've never seen such a big tree in my life. And you can't possibly see the top. Goodness me! What kind of tree is it? It's got oak leaves, and yet doesn't really seem like an oak.'
'It's a funny tree,' said Beth. 'It may grow acorns and oak leaves for a little way – and then suddenly you notice that it's growing plums. Then another day it may grow apples or pears. You just never know. But it's all very exciting.'"
The Magic Faraway Tree, by Enid Blyton, was suggested by Blue Bradley Cole simply because, "It's my favourite book in the whole world".
Walks
Though not able to physically visit the National Forest and walk with the library at the Timber festival, we have ventured into rich imaginary alternatives, grateful for the convivial company of authors and the readers who recommended them.
Creating short films which intersperse readings with photographs, we have felt connected in multiple ways with forests and people. This virtual forest has been enchanting, magical, forbidding, generous, vital, and threatened.
We look forward to bringing the library to next year's Timber, and walking with it through the forest, combining the imaginative and real, just as all walks and forests do. Once upon a time…
This Author
Professor Deirdre Heddon holds the James Arnott Chair in Drama at the University of Glasgow. Dr Misha Myers is Senior Lecturer and course director of Creative Arts at Deakin University.
Andrew Weatherall works at the National School of Forestry, University of Cumbria. Jo Maker is the Timber Festival coordinator, The National Forest Company. They are together the guest editors of this Special Collection in The Ecologist. To make a donation to support the next Timber festival, visit JustGiving.
To be saved is to be one whose basic bias is toward universal love, which is the opposite of "the world's" orientation to self. To begin to turn to that new orientation is to enter the process of metanoia.

The Psychology of Salvation, Pt. 3 — The Heart of Quakerism: A New Orientation
05.07.2020 – acTVism Munich
This post is also available in: French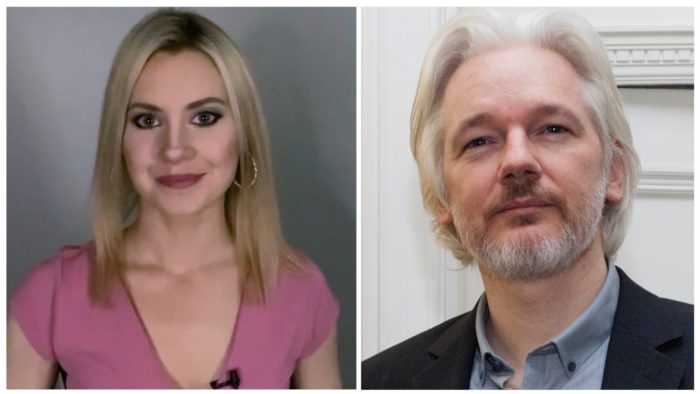 In this video, we discuss the latest call over hearing on Monday June 29th in the Julian Assange case. The hearing was held at Westminster Magistrates Court before Judge Vanessa Baraitser. The new superseding indictment was addressed in court and a venue for the second portion of the substantive extradition hearings was announced. In light of the new indictment, organizations including Reporters Without Borders, Doctors4Assange and International Association of Democratic Lawyers issued statements in support of the WikiLeaks founder.
To watch our previous updates on this case, click here.
The original article can be found on our partner's website here
03.07.2020 – Amnesty International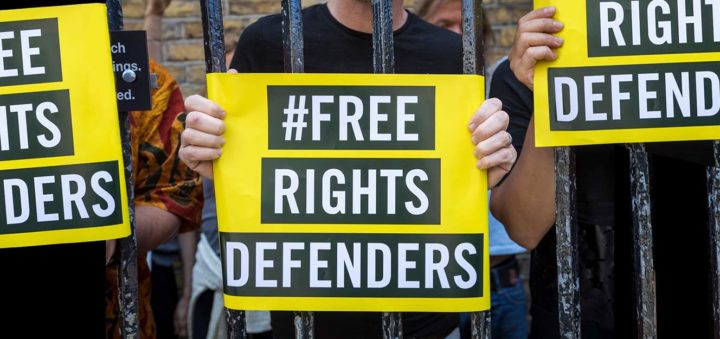 By Nils Muiznieks, Amnesty International's newly-appointed Europe Director
"From the start, this has been a politically motivated trial aiming to silence those in the dock and send a message to the rest of society: fight for human rights or speak the truth at your peril."
The words of Idil Eser, former Amnesty Turkey Director and one of the 11 human rights defenders who have spent nearly three years fighting trumped-up charges in Turkey.
Tomorrow, the wait will be over. They will learn the verdict in a trial that should have never taken place and yet, if any of them is found guilty they could face up to 15 years behind bars.This has been a politically motivated trial aimed at silencing those of us in the dock and send a message to the rest of society: fight for human rights or speak the truth at your perilIdil Eser, former Amnesty Turkey director
Almost three years ago to the day, dozens of police raided a hotel on the picturesque Büyükada island near Istanbul, where the 10 of the 11 were participating in a human rights workshop.
Computers and phones were seized and they were arrested and bundled away in a police a van. They – and another man, former Amnesty International chair Taner Kılıç, detained a month earlier – were charged with 'terrorism' offences.
The prosecution alleges that the gathering in the hotel where they were arrested had been a "secret meeting to organize a Gezi-type uprising" in order to foment "chaos" in the country.
Over the course of the past 11 hearings, the allegations of being members of or assisting terrorist organizations made against all 11 defendants have been repeatedly and categorically disproven, including by the state's own evidence. The prosecution's attempt to present legitimate human rights activities as unlawful acts has comprehensively failed.
After more than 14 months in prison, Taner Kılıç was finally released in August 2018. Eight of the others spent almost four months each behind bars. But thousands of others caught up in Turkey's deep and far reaching crackdown on dissent remain in jail.
Indeed, this trial – known Büyükada case – is emblematic of the wave of repression that has gripped Turkey for almost four years. Later this month, the prominent civil society figure Osman Kavala, will mark his 1,000th day in jail on what he rightly called 'fantastical charges'. Author and former newspaper editor Ahmet Altan is approaching his fourth year in prison in September. Both have been targeted as perceived government critics.
It has been almost four years since the failed coup attempt that led to the crackdown, and it shows no sign of abating.
Many of Turkey's prisons are overcrowded, with tens of thousands on remand or convicted of terrorism related charges. Likewise, the courthouses flooded with cases and fear has become the new norm.In Turkey, defending other people's freedoms in Turkey could ultimately cost you your ownNils Muiznieks, Amnesty International's Europe Director
Following the bloody coup attempt in July 2016, under the guise of a two-year state of emergency, the government launched a sustained assault on civil society. An astonishing 130,000 public service workers have been arbitrarily dismissed and more than 1,300 non-governmental organizations and 180 media outlets have been closed down. Independent journalism has been all but obliterated.
In such circumstances, the job of a human rights activist becomes more vital than ever and at the same time more risky.
This verdict matters, not just to the women and men in the dock and their families but to everyone who values human rights.
Human rights defenders around the world have become increasingly targeted. The Covid-19 crisis alone has seen a worrying roll-back of rights across the world with more than 80 countries declaring states of emergency and many adopting extraordinary measures that have impacted rights, including freedom of expression and freedom of speech.This verdict matters, not just to the women and men in the dock and their families but to everyone who values human rightsNils Muiznieks, Amnesty International's the newly-appointed Europe Director
The activists in the dock in Turkey this week, were aware of the risks they were taking. They knew how standing up for human rights was being increasingly criminalized. And they knew that defending other people's freedoms in Turkey could ultimately cost them their own
Sadly, due to lockdown travel restrictions, I will not be these brave activists in Istanbul, but I – and tens of thousands around the world – will be with them in spirit.
"It has been a long and difficult ordeal," says Idil Eser. "We are hoping for the best, but we are ready for the worst."
The original article can be found on our partner's website here
04.07.2020 – Prensa Latina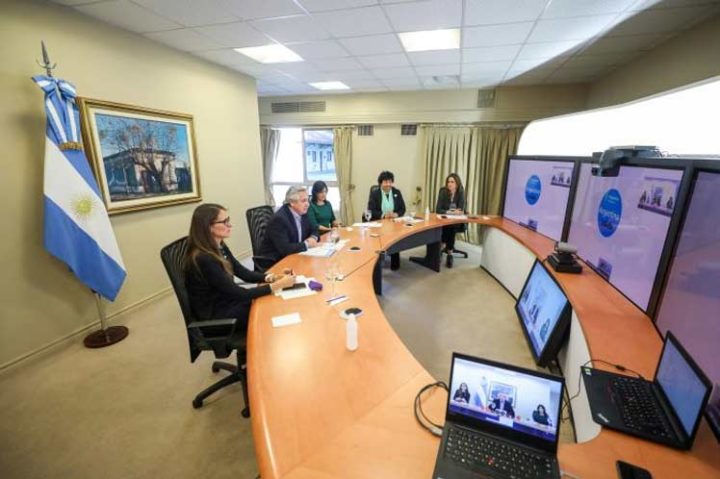 With a wave of femicides that has been hitting this country for many years, among other cases, the Argentine President Alberto Fernandez on Friday announced a domestic plan of action against gender violence until 2022.
'We do not want to see how women suffer and die at the hands of violent men,' the president said, submitting plan, accompanied by the Minister for Women, Genders and Diversity, Elizabeth Gomez Alcorta.
The plan was announced amid a significant increased femicides during the pandemic, which includes women, adolescents, girls and trans people.
From the Quinta de Olivos, the president affirmed that it is an ambitious plan because 'we must be ambitious if we do not want to see how women suffer and die at the hands of violent men,' he said.
We cannot look unfazed that women have worse working conditions than men, said Fernandez, pointing out that he knows the importance of equality as a daily practice and conduct that must be assumed.
The original article can be found on our partner's website here
02.07.2020 – Pressenza New York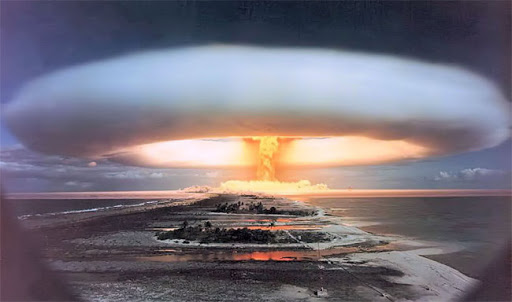 By Peace Movement Aotearoa
"On July 2, 1966 the calm of French Polynesia's Mururoa atoll was shattered by an explosion of unbelievable force. Within a second, the azure tropical sky flashed bright orange, and was ruptured by a towering radioactive cloud that mushroomed into the atmosphere; the placid lagoon was stirred into a tempestuous cauldron, while the coconut trees on the white sand islets were bent by the sheer force of the nuclear explosion. "It's beautiful", said President Charles de Gaulle." ( https://www.facebook.com/PeaceMovementAotearoa/posts/2289709457743077 )
Today is the 54th anniversary of France's first nuclear bomb detonation in French Occupied Polynesia, the first in a total of 193 bomb "tests" at Mururoa and Fangataufa from 1966 to 1996 which left a toxic radioactive legacy that continues to cause immense harm to the health and wellbeing of Tahitians and other Pacific peoples, and threatens the future of the Pacific ocean.
To mark this year's anniversary, here are some links to further information as a reminder of the tragic and long lasting impact the insane pursuit of nuclear weapons supremacy has had in the Pacific.
No te parau tia, no te parau mau, no te tiamaraa, e tu, e tu – For justice, for truth and for independence, wake up, stand up!
The original article can be found on our partner's website here
01.07.2020 – Andrea De Lotto
This post is also available in: Italian, Greek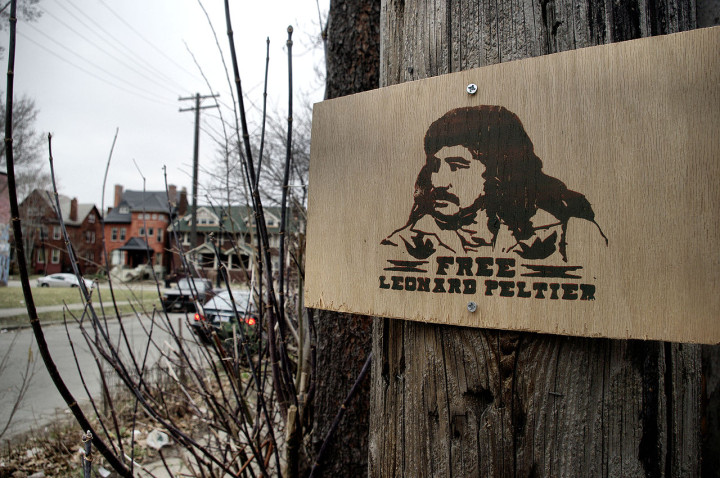 June 26, 1975, 45 years ago. United States, Native American reservation in South Dakora, Oglala.
It is a period of enormous tension in that area; there have been frequent attacks to communities by armed gangs, the GOONS, formed by a part of natives. These are men bought by the U.S. government to suppress the fights of the American Indian Movement (AIM), which still has been fighting for the rights of American Indians for several years now.
That day comes as a surprise, in this small and miserable reserve: a car without identification, with two men on board, stops at a safe distance and a gunfight ensues. In retrospect, it turns out the two men were FBI agents who were looking for an Indian accused of stealing a pair of boots. Can you believe that?
It's probably a trap set by the FBI itself since in the process hundreds of officers arrived within minutes and the shooting was insane. The two whites who arrived first and one native die. On the native, as for the hundreds who died in those years, killed by who knows who, no one investigated, but for those two agents someone had to pay dearly.
Leonard Peltier was 31 years old, he was an AIM activist, he was present that day and that was enough for him to become the scapegoat. He was arrested in Canada the following February 6; extradition was obtained with such false evidence that the Canadian government later formally protested about how it was obtained. The FBI had its revenge: through a mock trial Leonard Peltier was sentenced to two life sentences.
If you want to know more, browse the numerous articles on the Internet that accompanied the many campaigns for the liberation of Leonard Peltier.
2020: let's just say that the moment is propitious to remember that the USA (like other countries in the Americas) was formed on the basis of the largest massacre in history. 80 million natives. An example that Hitler himself appreciated.
Instead, just today the words of these people, of these cultures, can be fundamental given the great risk that the human race runs on this planet.
May Leonard Peltier finally get out of jail, may he reunite with his people, may this symbol of a resistant people take the place, LIVE, of the statues that are being torn down.
Freedom for Leonard Peltier, as well as for Mumia Abu Jamal, brother of struggle and resistance, also a symbol, this time of the black people of America.
If the U.S. police kills with weapons and with the weight of their bodies on the streets, even more people die slowly in U.S. prisons, where all "minorities" become "majorities".
Freedom for Leonard Peltier, for Mumia Abu Jamal and for all political prisoners in the world.
Spread the word: a man locked up in maximum security prisons for 16,195 days and nights.
He will be grateful to you, in the spirit of Crazy Horse.
01.07.2020 – Los Angeles, USA. – Robert Hunziker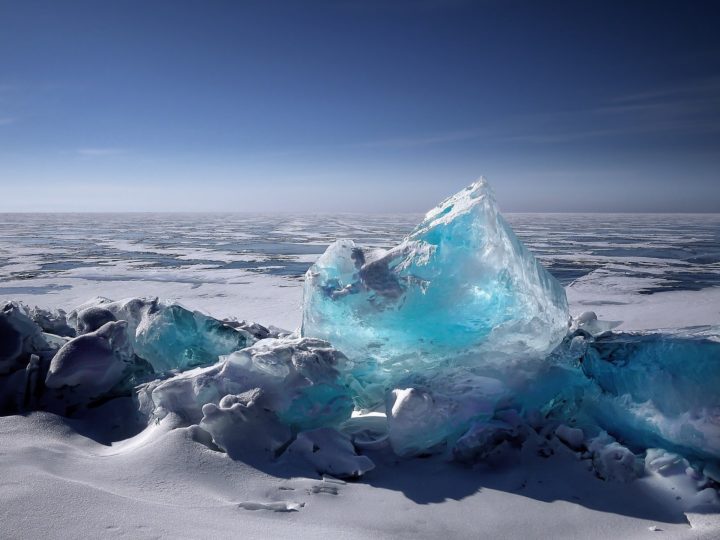 Arctic temperatures are soaring to new records… and staying there, ever since May of this year. Truth be known, the Arctic's been heating up for years. Siberia recently hit 105°F. That's not normal. It's 30°F hotter than normal.
Farther south, the Amazon rainforest is hit with a drought every 5 years like clockwork, not regular run of the mill droughts but massive excessive devastating droughts. NASA's GRACE satellite, measuring water levels stored deep beneath Earth's surface showed Deep Red Zones beneath the Amazon rainforest, not watery blue.
Climate activists have been warning about overheating of the planet for decades, ever since Dr. James Hansen's testimony before the Senate in 1987: "The greenhouse effect has been detected, and it is changing our climate now." (Hansen)
Fast forward to June 2020: Since Hansen's testimony, thirty-three years of climate activists bitching, protesting, kicking and screaming and bellyaching about excessive human-generated CO2 has gone nowhere but backwards as a relentless rise in CO2 emissions trudges ahead measured at Mauna Loa Observatory, Hawaii.
Post-Hansen's testimony the annual rate of CO2 increase has more than doubled, not gone down but doubled. Up, up and away, year-over-year, it never goes down. It's the main culprit blanketing the atmosphere, retaining heat for hundreds of years and fast becoming the Big Oven in the Sky.
Clearly, too much heat has already overwhelmed the Arctic and Amazon rainforest ecosystems. Along the way, greenie frustration is finally coming to a head as environmentalists "catfight" in the open public.
For example, Michael Moore and Jeff Gibbs' controversial film Planet of the Humans (Rumble Media) serves as an opening salvo, exposing a green movement that has turned a light shade of brown. The film paints a painful picture of a movement that, in certain instances, has gone off the rails.
Both Moore and Gibbs are lifetime greenies born green. Their film has spooked the green movement into bouts of self-examination and ferocious anger directed right at them, bull's-eye. After all, the film pulls no punches by highlighting several rash infections of hypocrisy in the uppermost ranks of environmental leadership, acceding to big corporate interests that frankly could care less about the health of ecosystems, other than purely for show.
Otherwise, if they, meaning big corporate interests and billionaires, really cared and were truly concerned, by now they would've thrown everything they've got, including the kitchen sink, at fixing the climate change conundrum. But, they have not done that, have they?
Still and all, if the intention behind the making of Planet of the Humans was a "wake-up call" (Hey fellas and gals, this is not working) then it was enormously successful. After the release of the film, green protestors protested the filmmakers like crazy, but not in the streets. Evidently, Moore and Gibbs struck a chord.
But still, what has 33 years of green advocacy wrought? Answer: Record high CO2 in the atmosphere and nearly 80% dependency upon fossil fuels, the same as 50 years ago. Which advocacy group celebrates that?
Now, along comes another frustrated former greenie, Michael Shellenberger, an active environmentalist throughout his career, publishing a book that takes the green movement to the woodshed, as fully exposed in a recent Wall Street Journal review, d/d June 21st by John Tierney of Shellenberger's book Apocalypse Never, Why Environmental Alarmism Hurts Us All (Harper)
Based upon Tierney's review, and assuming Tierney did not "cherry pick" and massage the facts to satisfy corporate interests, i.e. the WSJ, Shellenberger misses the target by a country mile. For example, Shellenberger's "reach for credibility" includes claims such as: "No, climate change has not caused an increase in the frequency or intensity of floods, droughts, hurricanes and tornadoes." Really? Did Tierney get that right? (Maybe check in with Nebraska, Missouri, S. Dakota, Iowa, and Kansas re the Great Flood of 2019, the longest flood on record, just for starters)
Shellenberger, who evidently promotes industrialization as humanity's savior, actually suggests, not facetiously, capitalist entrepreneurs saved whales by discovering cheap substitutes for whale oil, like petroleum. Ahem!
And, not to worry about plastics as sunlight and other forces break down the substances…. not to worry. And, solar and wind power are impractical and damage the environment requiring vast areas of land and harm flora and fauna. Oh, really! Did Tierney get that right…? (I know, I know! "Read the book," but, based upon the review, no thanks)
And, finally, according to Shellenberger: "While industrialization causes a short-term rise in carbon emissions, in the long term it's beneficial to the environment as people move to cities, allowing farmland to revert to nature, and as prosperity enables them to switch to cleaner and more compact forms of energy."
Hmm – Just wondering, thinking out loud, where does sophism come into play here?
As a final note about Shellenberger's book, a positive review in the WSJ is nothing to be proud of if you are an eco-warrior of any stripe. It's the ultimate sell-out, although, it's not Shellenberger's fault that the WSJ picked up on his diatribe of the green movement.
Still, aren't Wall Street and its kissing cousin the WSJ responsible for promoting the neoliberal leviathan that "sucks up" to fossil fuel interests and literally destroyed America's middle class and unions and checks and balances on pollution by shipping U.S. manufacturing offshore to the lowest common denominator of wages and avoidance of environmental regulations? Answer: Yes!
Based upon Tierney's review, Shellenberger is simply one more lifeline for the fossil fuel industry and Wall Street's neoliberal dreamland advocacy. Although its constituency is quite narrow, the one percent plus a few lesser want-a-be millionaire/billionaire luminaries. So, who's really left to buy the book?
When it comes to neoliberal advocacy, it's certainly worth mentioning Ross Perot nailing it during the 1992 presidential debate (Bush, Clinton, Perot) when he warned the country about the devastation to follow in NAFTA's footsteps: "If you are paying $12 per hour, $13 per hour for factory workers, and you can move your factory to the south of the border, pay a dollar an hour for labor, have no health care, have no environmental controls, no pollution controls, and no retirement plans and you don't care about anything but making money, there will be giant sucking sound going south."
Perot elaborated: "These kinds of deals will wreck the country." P.S. His speech is pretty good fodder for an American revolution. (Source: Perot in 1992 Warned NAFTA Would Create 'Giant Sucking Sound' The Washington Post, July 9, 2019)
Perot's statement speaks volumes as it illuminates why America's middle class and its unions are broken. Neoliberal ideology, along with its kissing cousin globalization, shipped labor offshore, shipped environmental/pollution regulations offshore, decimated unions, and as much as possible, adopted the green movement with largess of their own making. Motto: Whatever it takes! Overtake and dilute and/or use to market products.
Meanwhile, the planet itself, speaking on its behalf, likely disagrees with Shellenberger. Ecosystems are coming apart at the seams, which Shellenberger ignores and refutes by advocating as core values industrialism and fossil fuels and nuclear over renewables and eco economics. He misses an important point as far as the biosphere is concerned. Salvation for humanity and for the planet is dependent upon tossing out the entire neoliberal experiment in favor of eco economics that favors natural systems and human values over profits and inane infinite growth schemes.
Meantime, throughout the biosphere, ecosystems are breaking down. It is palpable, and Shellenberger knows it. And Moore and Gibbs know it and expressed concern about it. Further to the point, how could anybody who's knowledgeable about the climate system miss it?
Consider: It was a little over one year ago when tens of thousands of bats fell out of the sky in Australia because of excessive heat at 42C. According to Dr. Welbergen, president of the Australasian Bat Society: "This sort of event has not happened in Australia this far north since European settlement,". (Source: How One Heatwave Killed 'a third' of a Bat Species in Australia, BBC News, Jan. 15, 2019)
In May 2020 bats dropped dead in the streets in India. "It appears the mass mortality of bats was caused due to brain hemorrhage, caused by excessive heat." (Source: IVRI- Indian Veterinary Research Institute director R.K. Singh)
Not only that, this June 2020 scientists verified the hottest temperature ever recorded in the coldest place on Earth: "The World Meteorological Organization is investigating a record-high temperature for the Arctic after the Siberian town of Verkhoyansk registered a high of 38 degrees Celsius 100 degrees Fahrenheit." (Source: Arctic Siberian Town Hit With Record Heatwave, Al Jazeera, June 25, 2020).
That's Miami weather, and it's not happening all of a sudden. The entire Arctic has turned into a heat machine that's been coming on stream for years now.
Not only that, but collapsing permafrost in the Canadian High Arctic is also happening 70 years earlier than scientists expected, to wit: "Observed maximum thaw depths at our sites are already exceeding those projected to occur by 2090." (Source: Louise M. Farquharson et al, Climate Change Drives Widespread and Rapid Thermokarst Development in Very Cold Permafrost in the Canadian High Arctic, Geophysical Research Letters, June 10, 2019).
In some locations of the Canadian High Arctic landscape collapsed by three feet, houses sunk into the earth, and roads slip-slide in wavy curvatures.
Special Alert! Permafrost covers 25% of the Northern Hemisphere. It's loaded with all kinds of greenhouse gas carbon frozen in place just waiting for release.
Not only that, the Wet Bulb Temperature (WBT) effect has already arrived 50 years earlier than expected in some regions of the planet as measured by a recent study. (Source: Colin Raymond, et al, The Emergence of Heat and Humidity Too Severe for Human Tolerance, Science Advances, Vol. 6, no. 19, May 8, 2020)
The human body has limits. If "temperature plus humidity" is high enough, even a healthy person seated in the shade with plentiful water to drink will suffer severely or likely die. A threshold is reached when the air temperature climbs above 35 degrees Celsius (95 degrees Fahrenheit) and the humidity is above 90 percent. Death ensues.
"Previous studies projected that this (WBT) would happen several decades from now, but this shows it's happening right now." (Raymond)
Not only that, a major study by 89 climatologists in the journal Nature revealed unprecedented rates of ice melt at the planet's two greatest ice masses. The combined rate of ice loss from Greenland and Antarctica averaged 89 billion tons per year in the 1990s. Yet, by the 2010s (if standing, please sit down) the average rate exploded to 523 billion tons per annum. (Source: Ice Loss in Antarctica and Greenland Increased Sixfold in the Last 30 Years, LiveScience, March 2020)
Not only that, throughout the world, mega-droughts are hitting harder and more viciously than ever before. An Australian research paper identified the worst droughts in 800 years. (Source: Multi-century Cool-and Warm-Season rainfall Reconstructions for Australia's Major Climatic Regions, European Geosciences Union, Vol. 13, Issue 12, Nov. 30, 2017 by Mandy Freund and Benjamin Henley)
Not only that, according to the UN World Food Program, as for Central America: "Five years of recurring droughts have destroyed maize and bean harvests, leaving poor subsistence farmers in the so-called Dry Corridor that runs through Guatemala, El Salvador, Honduras and Nicaragua struggling to feed their families." Solution: Pray for rain or migrate north.
And, central Chile is in the midst of what scientists have labeled a "Mega Drought," an uninterrupted period of dry years since 2010. Half of the country has been designated "Emergency Status." Farmers are going out of business. (Source: Chile Declares Agricultural Emergency as Extreme Drought Hits Santiago and Outskirts, Santiago Times, August 26, 2019)
And, in South America's Brazil, "The SPI-12 time series showed that from 2011 to 2019, excluding the south region, the other Brazilian regions have been exposed to the most severe and intense drought events in almost the last 60 years." (Source: Ana Paula M.S. Cunha, et al, Extreme Drought Events Over Brazil from 2011 to 2019, Atmosphere, October 24, 2019)
Not only that, according to NASA, the Middle East's drought cycle from 1998-2012 was the most severe in 900 years. According to Ben Cook of NASA's Goddard Institute for Space Studies. It continues to this day as the eastern and southern Mediterranean coastlines are drying out faster than anywhere else on the planet. Eco migrants follow in kind.
Not only that, throughout much of Asia drought is becoming the norm rather than the exception. (China Daily News, August 12, 2019)
Remarkably, the impact of global warming is just now starting to strut its stuff so visibly and so perceptibly that average people are recognizing its threat. Fox News reported on the Arctic temps of recent. That's as average as it gets. But, is Fox really average, or is it something else altogether different?
Yet, according to Tierney's review of Shellenberger's book, "The trouble with the new environmental religion is that it has become increasingly apocalyptic, destructive, and self-defeating."
And, of course, as stated previously, Shellenberger claims: "No, climate change has not caused an increase in the frequency or intensity of floods, droughts, hurricanes and tornadoes." Not to worry, apocalypse never.
The truth of the matter is environmentalists have not screamed loud enough to make a difference as greenhouse gases are presently at all-time highs after three decades of screaming but not loud enough! Should environmentalists scream ever louder or adopt neoliberalism's laissez-faire approach to business? BTW – Look where that got us.
Ross Perot's statement at the 1992 presidential debate (see above) is a full description of laissez-faire economics in one long sentence. How's that working for working people in America and around the world? And, for the greater environment?
Here's a big part of the problem in a nutshell: In many respects, the Amazon ecosystem and the Arctic are facsimiles of the larger biosphere but more sensitive to climate change. In other words, some ecosystems are ultra-sensitive to changes in the climate system and thus serve as proxies or early warning signals prior to recognition of a looming threat by civilization at large.
Meantime, whilst climate change disrupts ecosystems on the fringes of civilization, society comfortably exists in artificial complexities of cement, steel, glass, and wood within a vast chemically induced world that only recognizes the danger of collapsing ecosystems after it's too late. Then, it is too late!
Because of fabricated/artificial lifestyles, as just described, humans are the last living organisms to see and feel, and indeed, truly comprehend the impact of climate change. Artificial lifestyles masquerade the bigger issues. Thus, artificiality breeds ignorance and stupidity, as reflected in political elections. It's the "Cement, Steel, Glass, Wood, Chemically Induced Syndrome," and it's deadly by stealthily hiding the truth from society at large.
Yet, there are thousands of peer-reviewed scientific papers that see the truth. Some of those papers are quoted in this article.
Postscript: A fact worth repeating, time and again because it's not going away: According to NOAA Climate.gov: "In fact, the last time the atmospheric CO2 amounts were this high was more than 3 million years ago, when the temperature was 2°–3°C (3.6°–5.4°F) higher than during the pre-industrial era, and sea level was 15–25 meters (50–80 feet) higher than today." The lag effect is in-process.
29.06.2020 – The Baltic Word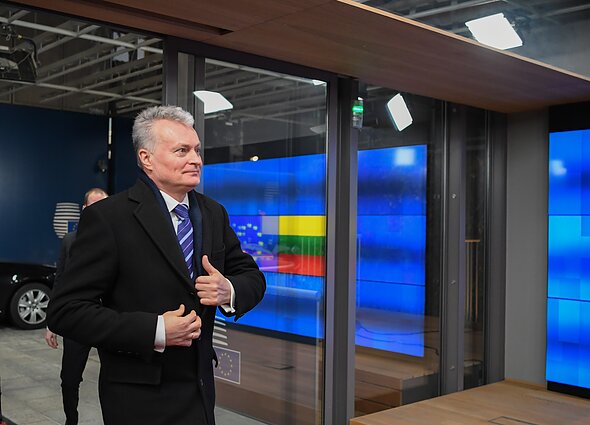 Lithuanian President Gitanas Nausėda has turned to Brussels for mediation between the Baltic states over Belarusian nuclear energy boycott.
"We have already agreed with the EC president [Ursula von der Leyen] that she should become a certain moderator for this whole process as our bilateral relations have not led to the result we hoped for," Nausėda tolld Lietuvos Rytas TV.
"We just need to present the text that could be considered by all sides, evaluated by the EC, and then we would see whether we have an agreement or not. We are no in this process," the Lithuanian president said.
Vilnius has been pushing for a joint Baltic boycott of Belarusian nuclear energy once the Astravyets nuclear power plant becomes operational later this year. However, Riga has been reluctant to join an outright ban.
Lithuanian Energy Minister Žygimantas Vaičiūnas previously proposed a draft declaration, agreed with Estonia and Latvia, which would see the two Baltic countries support Lithuania's aspirations, but wouldn't commit to an outright boycott of Belarusian electricity imports.
Meanwhile, Nausėda did not attend the traditional meeting of the Baltic leaders last Thursday over the issue. "I […] hope that we will manage to change Latvia's position and we will be able to find common agreement between Poland and the Baltic states [to not buy] electricity produced by unsafe power plants outside the EU," said Nausėda, in reference to the Astravyets NPP.
Vilnius maintains that the Belarusian nuclear plant some 50 kilometres from the Lithuanian capital is unsafe, and a political tool for the Kremlin to apply pressure on Minsk and the Baltic states.
Belarus rejects all allegations.