You are currently browsing Maurizio's articles.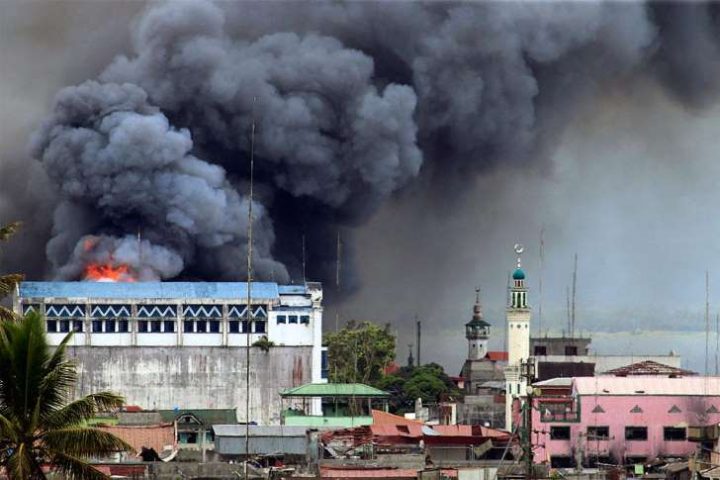 As the Philippine military was finally able to gun down the two terrorists leading the rebellion in Marawi City, Mindanao, President Duterte has declared Marawi liberated from terrorist influence. The bodies of Isnilon Hapilon, leader of the bandit group, Abu Sayyaf, touted as the "emir" of ISIS in Southeast Asia, and Omarkhayam Maute of Lanao del Sur's Maute terrorist clan, were recovered and positively identified after a targeted operation last Monday, October 16. The photos of the slain leaders quickly circulated in social media and drone video shots of the operation were shown on TV, signaling a major turning point in this long drawn-out battle.
But this victory comes at a high cost. After months of intense fighting, Marawi, the only Muslim city in the Philippines, lay in ruins. A city burnt to the ground with buildings reduced to rubble, houses riddled with bullets. During the siege, the militants were able to fight off and elude the heavy bombardment and airstrikes coming from the government. This revealed that the terrorist fighters were well armed and prepared. Fighting on the ground was painstakingly slow; going from street to street as the government forces slowly retook portions of the city in an effort to minimize collateral damage. Majority of the residents had to flee, heading towards Iligan City. Since then, 150,000 evacuees have been living in makeshift shelters and centers. The death toll– more than 800 among the militants and 162 from the government's forces. From the start of the conflict, the terrorists took hostages as they holed up in buildings, houses and mosques. They staunchly fought off the military in a fierce urban war the likes of which has not been seen on Philippine soil for decades. Reports of the terrorists killing hostages and residents unable to flee and caught in the crossfire trickled in as the days passed. There were accounts of women being raped, families separated, houses ransacked. To date, a total of 1700 hostages have been reported as rescued by Philippine forces. The conflict had cost the military at least 2 Billion Pesos and, with the level of devastation levied on the city, officials say more than $1 Billion will be needed to rebuild the city. A new city will have to rise from the ashes, the lives and livelihoods of thousands will have to be rebuilt.
The declaration of liberation was a welcome turn of events but Marawi evacuees still have to wait for the go signal to return to the city. Fighting continues as the city has not yet been totally cleared of terrorists. Speaking to The Associated Press (AP), Gen. Eduardo Ano said Duterte's pronouncement indicated that the terrorist threat was substantially over. "They're leaderless and they have no more organization," the Armed Forces Chief of Staff said.  "There are still skirmishes." According to the military spokesperson, Maj. Gen. Restituto Padilla Jr., there are still terrorists left in Marawi, including foreign fighters and they still hold some hostages which include women and children.
There still remains a part of the network that continues to exist in other parts of Mindanao like Jolo, Tawi-Tawi, Basilan and other parts of Lanao as well as Maguindanao and Cotabato, which needs to be addressed continuously for that threat to be managed," Padilla said. After eliminating Hapilon's Abu Sayyaf faction and the Maute group, Ano said the military's next targets would be the other Abu Sayyaf bandits in Sulu and Basilan provinces, the Bangsamoro Islamic Freedom Fighters (BIFF) in Central Mindanao and the communist New People's Army (NPA) operating in Mindanao. "So this will continue. There will be no letup. It's about time [we finished] these terrorists here in Mindanao," he said.
Martial Law was imposed on the whole island of Mindanao when the fighting ensued. Consultations are now ongoing as to whether Martial Law could be lifted and by when; with Defense Secretary Delfin Lorenzana saying that a decision could be reached before the end of October.
The ferocity and length of the war "defied expectations".
What started out as a serving of a warrant of arrest to the long-pursued fugitive, Isnilon Hapilon who was traced as being in Marawi triggered this long drawn-out war. Many were surprised by the number of terrorists who were in the city which included some foreign fighters, armed with sophisticated weapons and all-out ready to take on the government. The military was forced to come in as a decision was taken not to negotiate or hold back-end talks with the rebels. As the days rolled by, it became evident that they were well prepared. They used tunnels under the city to move from building to building. They used mosques as headquarters, knowing full well that the government will comply with international standards of warfare which prohibit shelling places of worship. They took hostages as human shields, looted stores and homes for food and additional arms. They knew how to fabricate bombs from scavenged material. The government had underestimated the "enemy" and the military, more used to fighting guerrillas and bandits in the jungles, had to adjust to urban warfare tactics while taking extreme caution so as not to unduly endanger hostages and expose soldiers to unnecessary harm.
To date, cleanup of some of the communities in areas considered as safe zones has begun. The government has been meeting with barangay officials to begin mapping out preparations. But evacuees will have to wait for the go signal as to when they can safely begin returning back to Marawi. Consultations, plans and proposals for the reconstruction of the city are underway.
But the fight against terrorists and bandits is not over. Peace still remains elusive. International terrorist experts say that, with ISIS losing ground in the Middle East, the focus of the Islamic state is shifting towards establishing a stronghold in South East Asia. This complicates the historic, decades-long More conflict in Mindanao. The government and all stakeholders need to join forces and work harder to address the roots of the problem and ensure that Mindanao does not become a breeding ground for extremist recruitment.
This post is also available in: French, Italian, Greek
"I want to thank the Prime Minister and the Greek people for serving as gracious hosts to our US naval forces at Souda bay. I also commend Greece for being one of the few NATO countries currently spending at least 2% of GDP on defence.".
This is how, the President of the USA confirmed the excellent relationship between the two countries. This is a consequence of Greece's obligations to NATO and is a policy that isn't affected by any kind of economic crisis.  And of course this is a policy that Alexis Tsipras would have advocated against with all his power if he were in opposition.
"The real cost of the F16 is €1.1 billion," said Greek Defence Minister, Panos Kamenos.  Today, Greek twitter users are circulating different ideas about how Greece – in this economic crisis – could have spent this money, putting forward other priorities like education, health and labour.  Our Government though, spends money like this because they expect geopolitical stability with NATO's intervention in the Aegean and they also provide the USA with an operational center in Souda Bay, Crete for better control of the Middle East.  The government spends our money like this because they're waiting for the IMF to play a clear role in the period after the 3rd Memorandum, which we are currently under, and finally they're spending our money like this waiting for future investments from US companies, which of course, if it ever happens, will be with their labour conditions.
We already know that we don't have a left government in Greece now.  So, we should no longer keep on being surprised every time our Prime Minister betrays himself.  Maybe we're concerned about the level of his "maturity" as time goes by and he gains experience in Office.  Maybe another reason is that, searching for an alternative in the political spectrum, we can't find anything "leftier" than this.
Even though – once again – it is bad that we're such good clients of NATO, with everything that this involves, it is also good because with political movements like this, the abyss between the 300 parliamentarians and the people is getting deeper.  Just one week ago we witnessed the incapability of the opposition to honor its promise and vote in favour of a law about the legal recognition of gender identity.  Today we see the government – which supposedly promotes human rights – kneeling in front of Donald Trump and being praised as good customers in the military expenditure market.
The crisis of formal parliamentary democracy deepens day by day. And because there are always alternatives, it is worth remembering that democracy has other ways of expressing itself and even more direct ones.  And – from what I see – society is already preparing for tomorrow.
This post is also available in: Spanish, Italian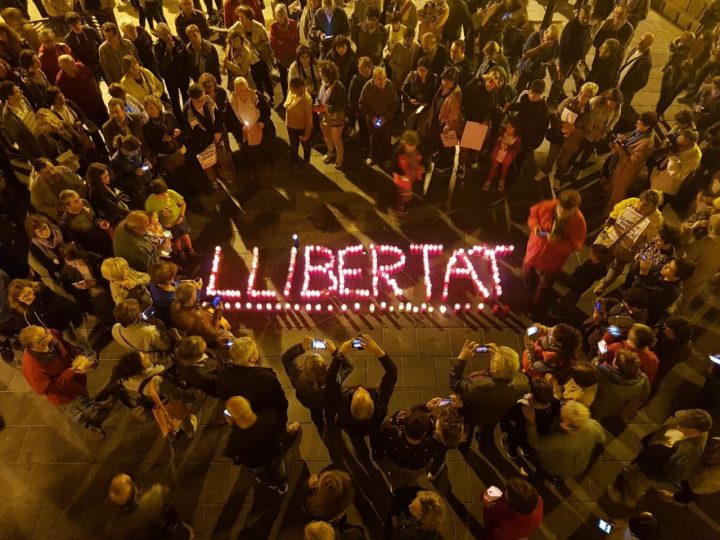 Catalonia is experiencing a political catastrophe with repercussions in all areas of society. Mariano Rajoy is preparing the ground to sow Article 155 based on a policy of lies.
The last few months have seen the utmost tension in Catalonia, and by proximity, in Spain and in neighbouring Europe, which is looking the other way while its empire falls.  The PP (ruling party of Mariano Rajoy) and its allies are preparing the ground for implementing Article 155.  Their politics of fear only leaves room to say: Enough is enough!  No more lies!  No more domination!  Stop impeding the right to free thought!  Stop controlling what is already beyond the control of repression.  Because the human species is one in evolution and now is an historic moment for moving forward, to not remain anchored in a past that no longer responds to the needs of people, or their human and spiritual development.  Enough already!
This evening (17th of October), more than 200,000 people demonstrated peacefully and silently with a sea of candles in the centre of Barcelona and in different Spanish cities to demand the release of the two recent political prisoners: Jordi Cuixart and Jordi Sanchez.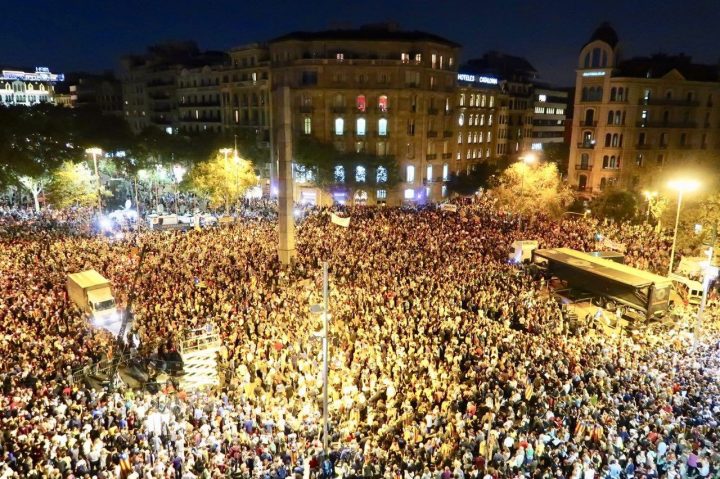 The government of Mariano Rajoy, supported by the Citizens Party and the Socialists, who are trying to take advantage of the situation as best they can, are making excuses and applying strategies to put fear in our minds.
They're lying about the educational model in Catalonia (Citizens and PP). They're lying about sedition cases. They're applying the law at their convenience.  The greatest swindlers in history, enriched by their privileged position in political office, or by royal kinship, are on the streets.  Their criminal corruption is leading to the silencing of those who have already mysteriously appeared dead, at the gates of trial.  Catalonia is a great way of distracting attention.  They've been distracting attention for years.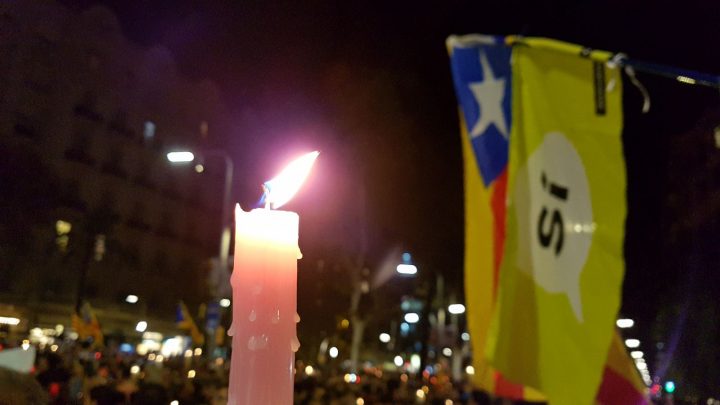 Arrests and imprisonment:
Jordi Cuixart and Jordi Sanchez were imprisoned on the evening of the 16th of October. Unconditional imprisonment without bail for alleged sedition.  Both peaceful representatives and activists of Omnium Cultural and the Catalan National Assembly respectively, pro-independence organizations, and they have pushed and spearheaded all the demonstrations in recent years in favour of independence, mobilizing millions of people, peacefully and with the purpose of defending a question of identity.
The head of the Mossos d'Escuadra, Josep Lluis Trapero, in charge of an armed body of 17,000 people, with recent international recognition for its efficiency, also charged, but been released on parole, without a passport and prohibited from leaving Spanish territory.
It is clear that the Mossos police force is the main target for central government to control if Article 155 is applied.
According to Judge Carmen Lamela, Cuixart and Sànchez were imprisoned for what they did on the 20th of September at the Economics Ministry.  And what did they do?  On that day, the Civil Guard appeared in 40 government ministries to search them and ended up arresting of 14 people considered participants in the "illegal" referendum on the 1st of October.  At that time, Sanchez and Cuixart were trying to mobilize people to Gran Vía in a protest action against what was happening. At no time did they carry out any act of violence or impede the work of the Civil Guard. This act of search and arrest was not only denounced in a demonstration in Catalonia, but on the same afternoon, Puerta del Sol in Madrid reacted with a demonstration in favour of "democratic freedoms and the right to decide".
What's the point of this incarceration?  To Deactivate Omnium and the ANC?  To ban demonstrations?
Lies in the education model:
The education sector has been blazing red since the Citizens party accused Catalonia of practicing "ideological indoctrination" on children at school in Congress and called for measures to monitor the work of teachers who could be fined.  The educational community, one of the most organized and active in Catalonia, has loudly denounced such statements.
With these accusations, another area of control is seen in the event that Article 155 is applied.
And tomorrow, where will the lies be directed?
Enough is enough!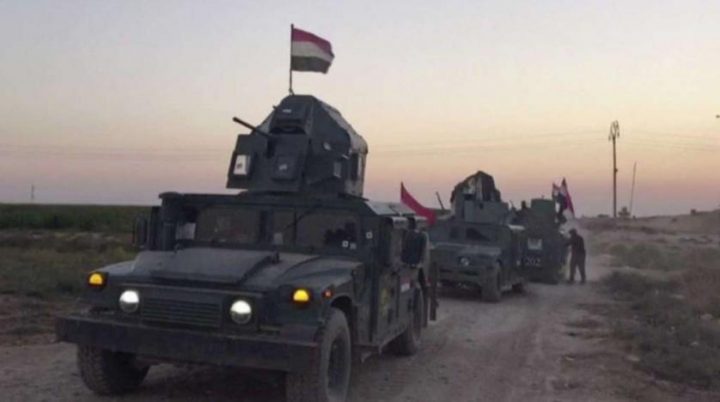 By Jordan Shilton
Iraqi Prime Minister Haider al-Abadi ordered an offensive by Iraqi army units and pro-government Shia militias Monday to capture the oil-rich city of Kirkuk and surrounding areas from the Kurdish Regional Government (KRG). The attack, which reportedly provoked clashes in some areas between Iraqi units and Peshmerga fighters, threatens not only to further destabilize Iraq, but could prove the trigger for a broader catastrophic conflict that could quickly engulf neighboring Syria, drawing in regional and imperialist powers.
The retaking of Kirkuk took place after Baghdad negotiated the voluntary withdrawal of Peshmerga forces aligned with the Patriotic Union of Kurdistan (PUK) faction, which is hostile to KRG president Masoud Barzani and opposed September's Kurdish independence referendum. The referendum, which returned a substantial majority in favor of independence, was condemned by the regional and imperialist powers, and denounced by Baghdad as unconstitutional.
Barzani declared the Iraqi advance to be an act of war and ordered the Peshmerga under his command to use all available resources to fight back. KRG officials accused the PUK of a "betrayal" for failing to resist the Iraqi advance.
The loss of Kirkuk will be a devastating setback to Barzani's independence plans. Control of the oil reserves from the area represented an important source of income for the KRG, which established a pipeline to Turkey to bypass Baghdad and sell oil on the world market.
While Peshmerga forces remained in control of oilfields outside Kirkuk Monday, Irbil reportedly had to halt oil supplies to Turkey as engineers failed to report to work. Eurasia Group estimated that of the 600,000 barrels a day shipped by the KRG to Turkey, 450,000 barrels would fall under the control of the Iraqi central government if it establishes a secure hold over Kirkuk and surrounding regions.
While US military figures and the corporate media sought to downplay the scale of the clashes Monday, the Iraqi army's advance will have explosive consequences and poses the danger of a renewed wave of sectarian bloodletting that could rapidly engulf the entire region. Both sides have not only been armed to the teeth and trained by the US and its imperialist allies over recent years, but are contesting areas which are of major economic and geostrategic significance. Added to this, the extremely fragile situation in Iraq and throughout the Middle East, as the US and European imperialist powers jostle to advance their interests and regional powers like Turkey, Iran, Israel and Saudi Arabia are drawn ever more closely into a complex web of alliances that are increasingly in flux, and the true extent of the danger posed to the region's long-suffering population becomes clear.
Kirkuk was a prize possession of the KRG. The oil-rich city and surrounding oilfields have been under Kurdish control since 2014, when Iraqi forces fled before the advance of ISIS. In last month's referendum, Barzani controversially included the ethnically diverse city in the area considered to be part of an independent state, hoping thereby to seize control of its oil wealth. Baghdad responded furiously, vowing to use the military to restore its control.
Primary responsibility for the ethnic and sectarian conflict lies with US imperialism and its allies, which have systematically encouraged Kurdish regional ambitions in northern Iraq since the illegal US-led invasion in 2003. At the same time, Washington helped establish a Shia-dominated puppet regime in Baghdad that conducted a brutal crackdown on Sunni areas of Iraq, while refusing to countenance any move by the Kurds towards independence.
Having destroyed Iraqi society, creating the political and social conditions within which regional and ethnic conflicts could assume such malignant forms, US imperialism is now hypocritically seeking to pose as a neutral arbiter between Baghdad and Irbil, appealing to both sides to show restraint. Its main goal in this is to prevent all-out civil war in Iraq, since this would cut across Washington's broader agenda in the Middle East of pushing back Iranian influence and consolidating an alliance with the Gulf states and Israel to secure US dominance over the energy-rich and strategically important region.
However, US actions are the most destabilizing factor. While backing both the KRG and Iraqi central government with financial and military resources, as well as personnel on the ground, Washington is relying chiefly on Kurdish allies in Syria to oust the Islamic State from its rapidly shrinking territory, and, much more significantly from the Washington's point of view, prevent forces loyal to Iran and the Syrian government of Bashar al-Assad from emerging in control of eastern Syria. This would facilitate Tehran's establishment of a land bridge to Damascus, Lebanon and the Mediterranean coast, a development which would be a major strategic blow to the US, and its major Middle East ally, Israel.
Though the Syrian Kurds are not on good terms with Barzani, instead aligning themselves with the Turkish Kurdish Workers Party (PKK), Ankara, Baghdad and Tehran all view the emergence of strengthened Kurdish autonomous areas in northern Syria and Iraq as intolerable. Turkey has once again over recent days sent troops into northern Syria to block the emergence of a contiguous Kurdish territory on its southern border, prompting sharp protests from the Syrian government that its sovereignty is being violated. Further escalating tensions in Syria, the Israeli Air Force carried out a strike on a missile battery near Damascus Monday morning, claiming it had fired at Israeli reconnaissance planes over Lebanon.
Ankara condemned Barzani's independence referendum and held talks with Iran about a possible military intervention. It has pledged to hand over border crossings between Turkey and the KRG to the Baghdad government. With a Turkish military base in northern Iraq not far from Mosul, Ankara could also be drawn into the fighting if it spreads.
A Turkish government statement praised the Iraqi offensive, claiming that it was necessary to drive out PKK forces which were allegedly being harbored by the KRG. It noted, in what amounted to a threat of a direct military invasion, that Ankara is "ready for any form of co-operation with the Iraqi government in order to end the PKK presence in Iraqi territory."
This follows the provocative declaration by Turkish President Recep Tayyip Erdogan in the wake of the Kurdish referendum that Irbil's actions could spark an "ethnic war."
The Iraqi offensive comes just days after US President Donald Trump vowed to blow up the 2015 nuclear accord with Tehran, unless the pact is renegotiated to meet Washington's demands. His announcement not only aggravated tensions between the US and Iran throughout the Middle East, with Washington's commitment to target the Iranian Revolutionary Guard Corps' (IRGC) operations in Syria, Yemen and elsewhere, but brought to light the widening rift between US imperialist policy and that of its European rivals.
Should the fighting in Iraq spread, Iran faces the immediate prospect of being dragged into the conflict. Substantial numbers of Iranian military personnel, including members of the Revolutionary Guards, have been embedded in the Iraqi military to strengthen it in its operations against ISIS, a fact which was reportedly important in preventing Trump from designating the IRGC as a "terrorist organization" in his Iran speech Friday.
In addition, the Shia militias which have joined the Iraqi army advance into Kirkuk are under Iranian influence. The Guardian reported that Qassem Suleimani, head of the IRGC's Quds force, helped direct the offensive.
Unconfirmed reports Monday indicated that ethnic strife has already begun. Kurdish commanders claimed that advancing Iraqi forces had burned villages south of Kirkuk. Large numbers of people were said to be fleeing the city, while the Kurdish governor of the region appealed to everyone with arms to resist Baghdad's advance.
The Iraqi government has asserted that the Shia militias or Popular Mobilization Units (PMU), who are notorious for anti-Sunni and anti-Kurdish attacks, have agreed not to enter Kirkuk itself, a multi-ethnic and multi-religious city including Arabs, Turkmens and Kurds. But already by Monday afternoon, there were reports of two senior PMU commanders entering the city to watch Iraqi flags being raised over government buildings.
Al-Abadi released a statement Monday proclaiming that the military operation sought to "protect the unity of the country" and urged Kurds not to resist.
An indication of the violence in store for the region is given by the fact that the Iraqi advance was led by elite forces from Baghdad's Counter-Terrorism Force, which led the murderous assault on Mosul that, in conjunction with US air strikes, laid waste to much of the city and claimed tens of thousands of civilian lives.
Originally published in WSWS.org
This post is also available in: Italian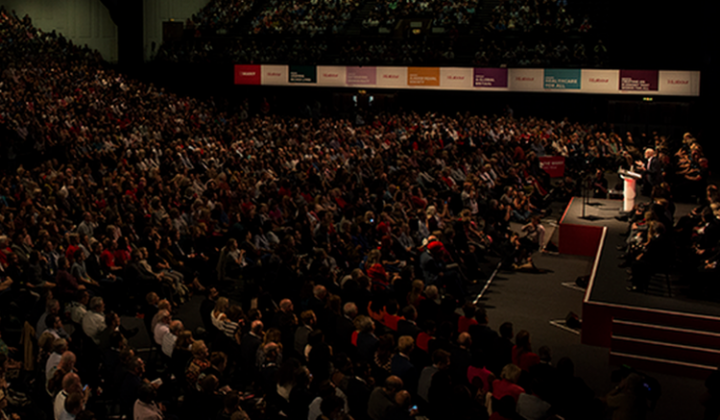 Jeremy Corbyn, Leader of the Labour Party, speaking at the Cooperative Party Conference last Saturday has touched many important topics about national and international politics. The complete text can be read here.
Here are some of the most significant passages of his speech.
"We need co-operative values at home and abroad" he said. "We live in a world riven by conflict, spurred on by ego and neo-imperial ambition. Never has the time been more important to restate our commitment to the UN Charter, the third clause of which states its aim 'To achieve international co-operation in solving international problems'.
With the problems facing us of nuclear proliferation, climate change, the global refugee crisis, the humanitarian crises in Syria, Yemen and of the Rohingya in Myanmar – a global vision driven by our co-operative principles is more necessary than ever. Whether its Donald Trump or Kim Jong-Un – macho posturing needs to give way to calm, rational co-operation. And across the world co-operatives play such a huge role as a spur to development, empowering women, bringing communities together. And today there are over a billion people worldwide who are members of co-operatives  and I am proud to say that I am one of them".
He then admitted that, as Philip Hammond said, Labour "is threatening to destroy the current economic model, a system which exploits the many for the profits of a few, that the Conservatives want to defend. They want to conserve the privilege of the few.
I am not going to sit back when their economic model is seeing:
–          homelessness double
–          four million children in poverty
–          over a million older people not getting the care they need
Their economic model is broken. It doesn't work for most people. Even the International Monetary Fund thinks inequality and low taxes for the richest are harming the economy" he added.
"When we talk about taking natural monopolies into public ownership we're not inspired by the centralised and remote models of the 1940s and 1950s. We're determined to create models of ownership that involve workers and consumers based on Co-operative principles, whether that's at community, regional or national level.
"I believe that we are entering a period of unprecedented opportunity for socialist politics and co-operative principles. New technology is empowering participation, new social movements today are horizontalist rather than hierarchical, networked rather than top-down. That's why when I ran to be Labour leader I said I wanted our party to be a movement. And today we are with well over half a million members who joined because they want to be involved and want to participate in our movement".
The top-down model of organisation, whether in politics, the media or in business, is being challenged and is breaking down.
The technology of the digital age should be empowering workers, enabling us to co-operate on a scale not possible before and yet too often it has enabled a more rapacious and exploitative form of capitalism to emerge.
Look at Uber, Deliveroo, and others. The platforms these companies use are the technologies of the future. But, too often, their business models depend not on technological advantage, but on establishing an effective monopoly in their market and using it to drive wages and conditions through the floor.
Digital platforms are opening up huge opportunities for horizontal, more democratic, forms of organisation to flourish.
Imagine an Uber run co-operatively by their drivers, collectively controlling their futures, agreeing their own pay and conditions, with profits shared or re-invested.
This new consensus will reward the real wealth creators – that means all of us. It will genuinely value people and communities – and invest in them. It will create an economy fit for the 21st Century with a state that's not afraid to act when something goes wrong but, more importantly, also proactive to make sure things work in the first place.
The biggest obstacle to this is not technological but ourselves. We must have the confidence and organisational skill to make it happen.
Co-operatives should be supported by government through access to finance, through legal changes to level the playing field for cooperatives in the market, and through a better government procurement policy, so that public money is being used to support companies that serve the public good.
To prevent just the few benefiting from the "rise of the robots", we consider higher minimum wages, a shorter working week, profit sharing schemes, or putting the ownership and control of the robots in the hands of those who work with them and come to rely on them.
We don't have all the answers yet, but are thinking radically about how we can shape the next thirty years to use the power of new technology to make our economy work for the many not the few.
We are inspiring millions.
We are a movement ready to take office and ready to shape our country for the future".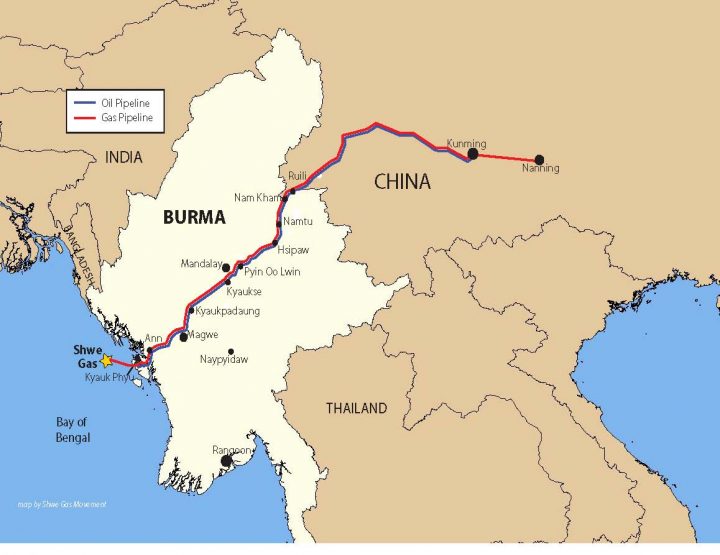 As the world's media continues focusing on the Rohingya crisis in Myanmar, its giant neighbour China maintains its aloofness while still fully using the fuel pipelines passing through the trouble-torn Arakan (also known as Rakhine) province of western Burma (former name of Myanmar).
The China-Myanmar gas & crude oil pipelines, connecting Kyaukphyu port of Rakhine – lately in the media for the gory clashes between majority Buddhists and Rohingya Muslim settlers – with the Kunming city in south-west China started operations in May 2017.
The pipeline is designed to shift crude oil from the Middle East and Africa through Myanmar with an aim to feed the world's second-biggest oil consumer nation. Now the Chinese authorities in Beijing no longer need to depend on troublesome cargo shipping through the South China Sea (around 5,000 km) for its crude oil imports for the China National Petroleum Corporation (CNPC) run refineries in Yunnan.
The 770 kilometre (480 mile) long China-Burma pipelines (inside Myanmar), owned and built by Beijing with a budget of USD 1.5 billion under its One Belt, One Road policy is expected to transfer around 22 million tons of crude oil annually (around 442,000 barrels a day). The pipeline is expected to shift nearly 6% of China's total imports (as per year 2016 record).
A joint venture of CNPC (with a 50.95% stake) and Myanmar Oil and Gas Enterprise (MOGE, 49.05%), the pipelines almost divide Myanmar.
The country in desperate need of financial supports can claim a road-right fee of US $13.81 million for both the pipelines annually along with a transit fee of $1 per ton of crude oil under a 30-year agreement. Moreover, Myanmar can take 2 million tons of crude oil annually from the line for its consumption.
The agreement between the two neighbouring countries to build the pipelines from the Bay of Bengal to China's Yunnan province was signed in 2009 and subsequently the works started the following year. The 793 km (493 mile) natural gas pipeline was already made operational by 2015 with the transmission capacity of 12 billion cubic meters annually from the Shwe offshore field.
The oil pipeline, parallel to it across Myanmar, was also planned to be started in the same year, but because of political differences between the two countries and public resistances its operation was delayed. The activists continue to claim that over 20,000 indigenous people were losing their livelihoods because of confiscation of arable lands for the project.
The early 2017 visit of Myanmar President Htin Kyaw to Beijing witnessed the signing of an operational agreement in the presence of Chinese President Xi Jinping on 10 April. The most trusted ally of Daw Aung Sun Suu Kyi, one who runs the democratically elected National League for Democracy (NLD) government as a de-facto chief, committed to make the oil pipeline operational at the earliest possible moment.
The strategic relationship between China and Myanmar lately emerges triumphant, but it may be noted that both have enjoyed a trusted diplomatic relationship since long back. Burma then a semi-democratic government in Yangon (formerly Rangoon) recognized the People's Republic of China in 1949 soon after the Chinese Communist Party led by Mao Zedong emerged victorious on all battle fronts. Later on both countries established a formal diplomatic relationship in 1950.
It was followed by the anti-Chinese uprising in 1967, when the agitating Burmese people targeted the Chinese embassy in Rangoon. The Communist Chinese government took a hard stand against the Burmese regime of General Ne Win. Later when the Southeast Asian country went under complete military rule, ties with Beijing had improved visibly by the eighties.
After the eighth of August 1988 (08-08-88) Burmese uprising that collapsed Ne Win's regime and paved the way for the military junta to rule the country, China became friendlier with Burma as the international community started isolating the General Than Swe led regime. The military dictators rejected the outcome of 1990 general elections, where Suu Kyi's NLD won a landslide victory and even put the Nobel peace laureate under house arrest.
Slowly Myanmar became more dependent on China and it continued till a quasi-democratic government took power at Naypyitaw (Myanmar's new capital) in 2011. The former Myanmar President Thein Sein, who took some strong decisions against China including the suspension of the Beijing-owned Myitsone hydropower project in Kachin province, tried to build closer ties with Europe and USA. The relationship survived with the initiative of Myanmar's State counsellor and foreign minister Suu Kyi again.
Meanwhile, oppositions to the project surfaced as the Myanmar-China Pipeline Watch Committee warned that oil spills could severely affect the land & coastal ecosystem harming the livelihood of thousands of Myanmar residents. The umbrella body of local community-based organizations urged the authorities to adopt efficient measures to prevent oil spills along the pipeline.
The rights body also raised voices for Burmese farmers, who handed over their arable lands to the project authority, but are yet to receive compensation. Both the pipelines are laid in parallel through the under-developed countryside and the affected villagers were assured adequate compensations by the Chinese authorities, but it has not turned into reality, added the forum.
Of course, the CNPC claimed that the project was materialized with an eye kept on environmental protection and land restoration. Moreover, emphasis was given to community development activities like the building of schools, hospitals, roads, bridges, power & water supply, telecommunication arrangements etc., for the benefit of affected families across Myanmar.
Earth Rights International (ERI), a nongovernmental & non-profit organization combining the power of law & people in defence of the environment & human rights expressed happiness that the Chinese investors had succeeded in operating the projects after some delays.
However it argued that 'there are still some major issues waiting to be solved, such as land compensation to communities, safety concerns, and ecological restoration at the project site'.
"The CNPC as one of the main investors should keep their commitment to health, safety, and the environment and solve these problems with the effective consultation with local communities," said Valentina Stackl, communications manager of USA based ERI while responding to Asia Sentinel's queries.
She also added that when Myanmar was under the military government, the affected communities had no choice but to remain silent even when their legal rights were seriously violated. After the election of the NLD, more and more communities have started to stand up for their rights, not just on projects with Chinese investors, but all potential delinquent investors, stated Valentina.
Lately, the justified demands for its own share of benefits has started to be heard when a public representative of Myanmar's Shan province came out to say that the benefit (in terms of annual revenue) of the pipelines should go to his provincial government too. Shan lawmaker Nang Kham Aye, while reacting to Myanmar minister Tun Naing's comment about the share of benefits out of the project, asserted that all stake holders should get their dues.
This post is also available in: Greek
By Ali Abunimah
Donald Trump's "America First" foreign policy was on full display Thursday when the State Department announced that the United States is withdrawing from UNESCO over the United Nations cultural body's supposed "anti-Israel bias."
Under President Barack Obama, the US had already cut funding to the agency because of a US law that restricts support to UN bodies that recognize Palestine as a state.
UNESCO head Irina Bokova expressed regret at the US decision.
Bokova has previously bent over backwards to appease Israel, including by echoing its false claims of anti-Israel bias at UNESCO.
The extent to which US leaders are willing to serve Israel is demonstrated by a simple thought experiment: it's impossible to imagine the US pulling out of any world body citing an "anti-Canadian," "anti-British" or an "anti-French" bias. Even though they are among the closest US allies, such a move would immediately subject the president to accusations from his virulently nationalistic base of putting foreign interests before American ones.
Yet President Trump is likely to hear much praise, and not only from the more right-wing segments of the American establishment.
In April, all 100 US Senators signed a letter endorsing the myth that the UN has an "anti-Israel agenda."
This means there is not likely to be much critical examination in such circles of the bogus claims of anti-Israel bias.
Israeli smears
In recent months, Israel and its supporters have falsely claimed that UNESCO resolutions have undermined Jewish connections to heritage sites in the occupied West Bank, including East Jerusalem.
A year ago, Israel attempted to have Jerusalem's Old City, the site of the al-Aqsa mosque compound, removed from UNESCO's list of endangered world heritage sites.
That effort came as groups that call for the destruction of the al-Aqsa mosque and its replacement with a Jewish temple intensified their activities, often with Israeli government funding and support.
The Israeli attempt came two weeks after UNESCO had voted to condemn the myriad well-documented ways Israel violates the rights of Palestinian and Muslim worshippers at al-Aqsa mosque and threatens the architectural integrity of the compound.
Israel falsely claimed that the vote denied a Jewish connection to the al-Aqsa mosque site that Jews call Temple Mount.
As a result of that vote, Israel launched a global smear campaign against UNESCO, even likening it to the Islamic State group, or ISIS.
Upholding international law
Some UN officials caved in to the Israeli bullying and distanced themselves from the resolution.
But in May, UNESCO passed a resolution that, in line with international law, called Israel's annexation of East Jerusalem "null and void" and demanded that Israel halt excavations and other works in the city.
Israel again launched a campaign of smears, with Prime Minister Benjamin Netanyahu terming the resolution "delusional" and "bizarre."
The only thing that UNESCO had done was to reaffirm what the UN Security Council had stated just months earlier: that Israel is the occupying power and must abide by international law.
Months later, Israel's ire was raised again when UNESCO passed two resolutions again upholding international law.
The resolutions recognized Hebron's Old City and Ibrahimi mosque as endangered Palestinian heritage sites.
Distorting history
Israel again went on a verbal rampage, claiming that UNESCO promotes "lies" and "fake history."
"This time they decided that the Tomb of the Patriarchs in Hebron is a Palestinian site, meaning not Jewish, and that it's in danger," Netanyahu claimed.
The Tomb of the Patriarchs is the name used by Israel for the Ibrahimi mosque, where an American Jewish settler massacred 29 Palestinians in 1994. The site is venerated by Muslims, Christians and Jews as the burial place of Abraham and other prophets.
What Netanyahu did – as Israeli officials often do – is conflate Jewish belief with Israeli control, as if a site cannot be both revered by Jews and located in Palestinian territory. There is, however, no contradiction between a site being Palestinian, on the one hand, and sacred to Muslims, Christians or Jews, on the other.
So what "anti-Israel bias" means in practice is failing to enthusiastically endorse Israel's distortions and lies aimed at legitimizing its illegal colonization and its attempts to erase any history in Palestine that does not bolster the Zionist colonial narrative.
The US withdrawal comes as UNESCO is set to elect Bokova's successor this week, a contest that Israeli media have painted as a sectarian battle between a Muslim frontrunner from Qatar and a Jewish candidate from France.
There is little reason to lament the departure of the US from UNESCO. What would be even better is if Israel follows it out too.
Ali Abunimah is Co-founder of The Electronic Intifada and author of The Battle for Justice in Palestine, now out from Haymarket Books. Also wrote One Country: A Bold-Proposal to End the Israeli-Palestinian Impasse. Opinions are mine alone.
Originally published in the Electronic Intifada
This post is also available in: Spanish, Italian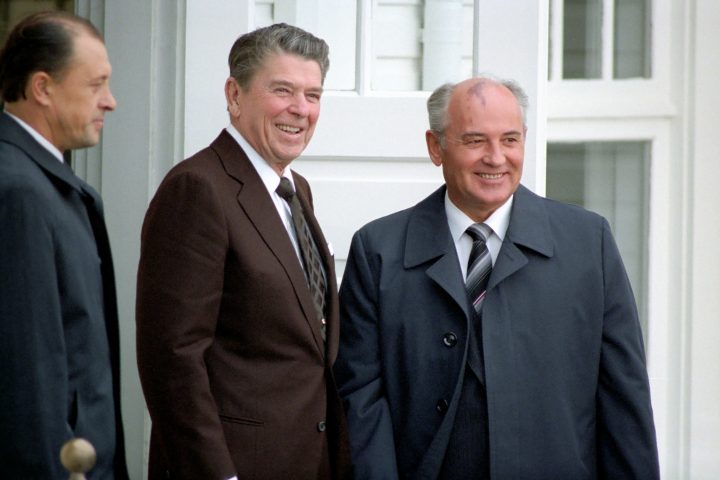 By Mikhail Gorbachev.  This letter to the leaders of the USA and Russia was originally published in the Washington Post.
This December will mark the 30th anniversary of the signing of the treaty between the Soviet Union and United States on the elimination of intermediate- and shorter-range missiles. This was the start of the process of radically cutting back nuclear arsenals, which was continued with the 1991 and 2010 strategic arms reduction treaties and the agreements reducing tactical nuclear weapons.
The scale of the process launched in 1987 is evidenced by the fact that, as Russia and the United States reported to the Non-Proliferation Treaty Review Conference in 2015, 80 percent of the nuclear weapons accumulated during the Cold War have been decommissioned and destroyed. Another important fact is that, despite the recent serious deterioration in bilateral relations, both sides have been complying with the strategic weapons agreements.
The Intermediate-Range Nuclear Forces (INF) Treaty, however, is now in jeopardy. It has proved to be the most vulnerable link in the system of limiting and reducing weapons of mass destruction. There have been calls on both sides for scrapping the agreement.
So what is happening, what is the problem, and what needs to be done?
Both sides have raised issues of compliance, accusing the other of violating or circumventing the treaty's key provisions. From the sidelines, lacking fuller information, it is difficult to evaluate those accusations. But one thing is clear: The problem has a political as well as a technical aspect. It is up to the political leaders to take action.
Therefore I am making an appeal to the presidents of Russia and the United States.
Relations between the two nations are in a severe crisis. A way out must be sought, and there is one well-tested means available for accomplishing this: a dialogue based on mutual respect.
It will not be easy to cut through the logjam of issues on both sides. But neither was our dialogue easy three decades ago. It had its critics and detractors, who tried to derail it.
In the final analysis, it was the political will of the two nations' leaders that proved decisive. And that is what's needed now. This is what our two countries' citizens and people everywhere expect from the presidents of Russia and the United States.
I call upon Russia and the United States to prepare and hold a full-scale summit on the entire range of issues. It is far from normal that the presidents of major nuclear powers meet merely "on the margins" of international gatherings. I hope that the process of preparing a proper summit is in the works even now.
I believe that the summit meeting should focus on the problems of reducing nuclear weapons and strengthening strategic stability. For should the system of nuclear arms control collapse, as may well happen if the INF Treaty is scrapped, the consequences, both direct and indirect, will be disastrous.
The closer that nuclear weapons are deployed to borders, the more dangerous they are: There is less time for a decision and greater risk of catastrophic error. And what will happen to the Nuclear Non-Proliferation Treaty if the nuclear arms race begins anew? I am afraid it will be ruined.
If, however, the INF Treaty is saved, it will send a powerful signal to the world that the two biggest nuclear powers are aware of their responsibility and take their obligations seriously. Everyone will breathe a sigh of relief, and relations between Russia and the United States will finally get off the ground again.
I am confident that preparing a joint presidential statement on the two nations' commitment to the INF Treaty is a realistic goal. Simultaneously, the technical issues could also be resolved; for this purpose, the joint control commission under the INF Treaty could resume its work. I am convinced that, with an impetus from the two presidents, the generals and diplomats would be able to reach agreement.
We are living in a troubled world. It is particularly disturbing that relations between the major nuclear powers, Russia and the United States, have become a serious source of tensions and a hostage to domestic politics. It is time to return to sanity. I am sure that even inveterate opponents of normalizing U.S.-Russian relations will not dare to object to the two presidents. These critics have no arguments on their side, for the very fact that the INF Treaty has been in effect for 30 years proves that it serves the security interests of our two countries and of the world.
In any undertaking, it is important to take the first step. In 1987, the first step in the difficult but vitally important process of ridding the world of nuclear weapons was the INF Treaty. Today, we face a dual challenge of preventing the collapse of the system of nuclear agreements and reversing the downward spiral in U.S.-Russian relations. It is time to take the first step.
This post is also available in: Greek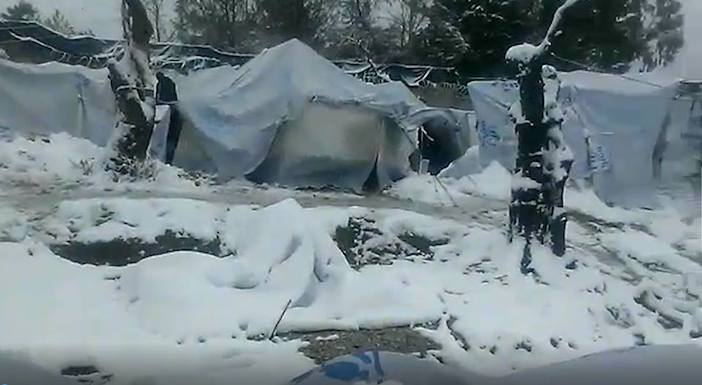 Solidarity groups and organizations call for urgent action as winter is coming for refugees in Greece.
Over 40 solidarity groups and organizations are calling for urgent action from the Greek local and national authorities to prevent more refugees from dying in the cold as winter sets in once again. They expect more groups and organizations to join them over the next days and weeks.
Several places woke up on Thursday 12 October to find their neighborhoods plastered with the emblematic picture of Moria camp on Lesvos, covered in snow last winter, while the collective has also launched a campaign on social media with the hashtag #opentheislands.
Six people who were seeking refuge and protection in Europe died in Moria last winter, their deaths linked to inhumane winter living conditions. Their families are still waiting for answers from the authorities as to how and why their relatives died, and for those who are responsible to be held accountable. Only last Sunday 8 October, a five-year-old Syrian girl died in Moria. The cause of death is yet unknown.
The collective of solidarity groups and organizations expresses their shock and outrage at the current situation in the islands as winter sets in. Approximately 5.000 people currently live in Moria camp, which has a capacity of around 2000. This includes the seriously ill, the disabled, pregnant women, many children including unaccompanied minors, and survivors of torture and other trauma. Many now live in woefully inadequate summer tents and have to sleep on the floor on thin sleeping mats or blankets. Likewise, the other Greek hotspot islands – Samos, Chios, Kos and Leros – are dramatically overcrowded, leaving 8.000 more asylum seekers without appropriate shelter. The so called hotspots are currently uninhabitable and to date a clear plan to prevent the tragedies of last winter from being repeated has not been released.
A refugee forced to stay in Moria camp reports about the conditions: "Living in Moria makes us all sick. In the morning you wake up in a cramped tent or container between other people. It smells disgustingly and I hate that I cannot wash myself properly. In winter it is freezing. Everything is soaked. When you wake up you cannot move your limbs. And you're covered in ashes. Last winter we burned paper and plastic to stay warm. It is as if we were not human beings."
The collective stresses that the current situation is not caused by the onset of winter or a sudden increase of arrivals. Rather, it is a direct result of the EU-Turkey Statement and EU asylum and migration policies of exclusion. These policies keep people trapped on the islands for prolonged periods of time, prevent people from ever reaching Europe, and prevent people who are eligible for relocation and family reunification from moving on to other countries in a reasonable time.
Everybody knows that winter is coming. 700 million Euros have been made available to the Greek authorities to manage the situation. As a collective, we want details as to how and where this money is being spent. We also urgently demand that the several relevant actors in the Greek government, at national and local level, assume and clearly communicate their responsibilities. They must then be held accountable for what will happen to refugees and migrants this winter in Greece. The ongoing practice of dodging blame and responsibility for the systematic violation of refugees' rights in the Greek hotspots is unacceptable and has to stop. It is the role of the prime minister to ensure that all levels of the government function and are held accountable. We call on Prime Minister Alexis Tsipras to clarify the responsibilities of different actors both locally and nationally, and to present a plan for winter.
Likewise, we condemn all the European governments who have created the EU-Turkey Statement and who put pressure on Greece to implement the EU-Turkey Statement, through the European Commission and other channels. The Statement priorities maintaining Fortress Europe over all else, trampling roughshod over international human rights law. All European governments share the responsibility for the human rights violations suffered by refugees in Greece today, for those deaths that have already occurred, for those which could follow this winter.
It is with great interest that we have taken notice of the various statements by UNHCR, municipalities, and RIC staff, sounding the alarm over the current situation in the Greek islands. But without action, these statements are empty. We need solutions and immediate action from all responsible actors, including UNHCR, whose mandate is to provide international protection and seek permanent solutions for problems faced by refugees.
We call on Prime Minister Alexis Tsipras to: clarify the responsibilities of different actors both locally and nationally, and to present a plan for winter.
We call on the Greek government, at local and national level, to:
Close the hotspots and decongest the islands by ending restrictions on the freedom of movement of asylum-seekers arriving on the Greek islands and provide them with adequate reception on the mainland outside of detention facilities.
In the meantime, provide appropriate, winter-proof shelter for refugees staying in camps throughout Greece.
Stop returning asylum-seekers to Turkey under the EU-Turkey deal, since they cannot fully access their right to apply for international protection in Turkey. Therefore, Turkey cannot be considered a "safe third country" or a "safe first country of asylum."
Examine all asylum claims on their merits in a full and fair asylum process with all procedural and substantial safeguards.
Stop arbitrary detention. Stop the current practice of generalized detention of asylum-seekers based on nationality with the intention of returning them to Turkey. Children must never be detained.
Ensure access to medical care (including mental health care) and legal aid for asylum-seekers.
We call on the European Commission to:
Revise the recommendations made in quarterly reports and joint actions plans, and remove recommendations to increase security forces and detention facilities for people seeking protection in the European Union.
Remove recommendations to legalize the detention of minors, as outlined in the recommendations of the European Commission on 7th of March 2017, as the detention of minors violates the rights of children.
Remove recommendations for limiting the number of appeal steps and for including vulnerable asylum applicants as well as those with family links in the EU under the EU-Turkey deal.
We call on the European Union Member States to:
End all returns to Greece from other European States of refugees and asylum seekers under EU Regulation No. 604/2013 (Dublin III), due to the inhumane conditions in Greece.
Increase the number of available relocation places by allowing access to the scheme for those who have arrived after the conclusion of the EU-Turkey deal, and swiftly match relocation requests in order to ensure that the minimum reception conditions to safeguard human dignity can be met, as required by EU Directive 2013/33/EU.
Expedite the Dublin III reunification of families, many of whom have been forcibly separated by war and persecution and have been waiting years to be reunited.
Cancel the inhuman EU-Turkey deal.
For more information, including press materials and the list of signatories so far, please visit: https://opentheislands.wordpress.com
The death penalty does little to deter crimes or serve victims, United Nations Secretary-General António Guterres said on the 10th of October, calling on all countries which have not forbidden the extreme practice to urgently stop executions.
"The death penalty has no place in the 21st century," underscored Mr. Guterres, speaking alongside Andrew Gilmour, Assistant Secretary-General for Human Rights, at an event at the UN Headquarters, in New York.
Welcoming that some 170 States around the world have either abolished the death penalty and put a moratorium on its use – most recently, Gambia and Madagascar – and that executions in 2016 were down 37 per cent compared in 2015, the UN chief, however, added that at present just four countries accounted for 87 per cent of all recorded executions.
He also expressed concern that the countries that continue executions are also failing to meet their international obligations, particular in relation to transparency and compliance with international human rights standards.
"Some governments conceal executions and enforce an elaborate system of secrecy to hide who is on death row, and why," noted Mr. Guterres, underscoring that lack of transparency showed a lack of respect for the human rights of those sentenced to death and to their families, as well as damaging administration of justice more generally.
Concluding his remarks, the Secretary-General urged all those States that have abolished the death penalty to lend their voice to the call on the leaders of those countries that retain it, "to establish an official moratorium, with a view to abolition as soon as possible."
Also today, the Office of the UN High Commissioner for Human Rights (OHCHR) also called on all countries to strengthen efforts to abolish the death penalty.
"We […] call on all States to ratify the Second Optional Protocol to the International Covenant on Civil and Political Rights," said Rupert Colville, a spokesperson for OHCHR, told journalists at a regular news briefing in Geneva.
The Second Optional Protocol to the International Covenant on Civil and Political Rights (ICCPR), now ratified by 85 States around the globe, requires its parties to abolish death penalty. It is the only universal international legal instrument that aims to end the practice.
"[OHCHR] stands ready to continue to support all efforts in this direction," he added.