You are currently browsing the daily archive for July 3, 2021.
03.07.2021 – Minnesota, US – Democracy Now!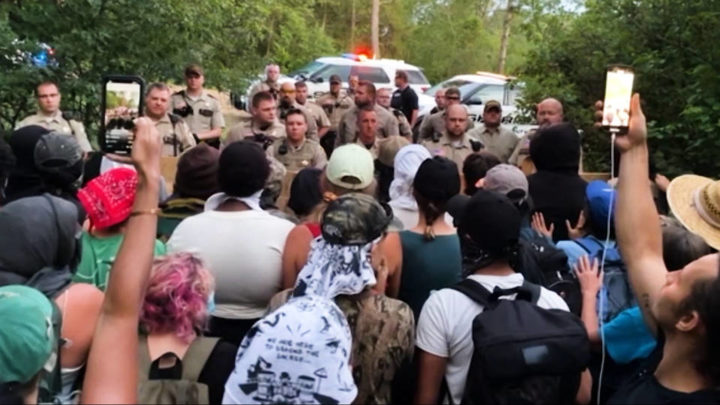 Resistance to construction of the Enbridge Line 3 tar sands pipeline continues in northern Minnesota, where more than a dozen water protectors this week locked themselves to construction vehicles at two worksites, and to the pipeline itself. Just last month, 179 people were arrested when thousands shut down an Enbridge pumping station for two days as part of the Treaty People Gathering. If completed, Line 3 would carry more than 750,000 barrels of Canadian tar sands oil a day across Indigenous land and fragile ecosystems. The pipeline has the backing of the Biden administration, and this week Indigenous leaders and climate justice activists blockaded access to the White House, calling on Biden to stop fossil fuel projects and invest in climate justice initiatives in his infrastructure plans. Indigenous lawyer and activist Tara Houska, founder of the Giniw Collective, describes the resistance to Line 3 as an "all-out ground fight" led by young people. "This, to me, is an extension of the fight that's happening all over Mother Earth, protecting the last beautiful places, protecting the sacred," Houska says.
AMY GOODMAN: This is Democracy Now!, democracynow.org, The War and Peace Report. I'm Amy Goodman.
Resistance to construction of the Enbridge Line 3 tar sands pipeline continued Thursday in northern Minnesota as more than a dozen water protectors locked themselves to construction vehicles at two worksites, and to the pipeline itself. Just last month, 179 people were arrested when thousands shut down an Enbridge pumping station for two days as part of the Treaty People Gathering. If completed, Line 3 would carry more than 750,000 barrels of Canadian tar sands oil a day across Indigenous land and fragile ecosystems.
This is a Line 3 water protector who locked themselves to a horizontal directional drill and were arrested on felony theft charges.
WATER PROTECTOR: Being charged with felony theft by a company that is actively stealing our clean water, our clean air and our livable future. The state and Enbridge want us to be afraid. They have the money. They have the manpower. They have the courts to do their bidding. They want to bully us into believing their narrative that what we're doing here is wrong. … If you think things can stay the way that they are or that oppressed peoples' responses to the daily onslaught of violence that is life in the so-called U.S. is too extreme, then you have made yourself an enemy of a just and habitable future.
AMY GOODMAN: This comes as dozens of Hubbard County sheriffs also barricaded the camp where water protectors are staying.
The Enbridge Line 3 tar sands pipeline has the backing of the Biden administration, and this week Indigenous leaders and climate justice activists blockaded access to the White House, calling on Biden to stop fossil fuel projects and invest in climate justice initiatives in his infrastructure plan.
Meanwhile, two men working on construction of Enbridge's Line 3 oil pipeline have been arrested in Minnesota as part of a sex trafficking sting operation.
For more, we go to Minnesota to speak with Tara Houska, Indigenous lawyer and activist, founder of the Giniw Collective. She's Ojibwe from Couchiching First Nation.
Tara, welcome back to Democracy Now! Just lay out the scope of this protest and what it is that you're protesting with Line 3, what it represents to you, and what you hope to accomplish.
TARA HOUSKA: Good morning, Amy. Thanks for having me back.
So, where we're at, basically, is a all-out ground fight, people giving everything they have to defend this beautiful place and to stand up for future generations. I have seen over 500 people now passing through the legal systems in Minnesota, over 500 arrests through the cold winter, through a pandemic. To put that in scope, there were 800 arrests — or, 800 people arrested out in Standing Rock. So that's where we're at, even though this resistance has not been 10,000 people.
It has been something where we've seen young people, especially, really stepping up to the plate — this is their futures on the line — seeing 20-year-olds crawling into pipes when it's zero degrees outside, literally risking their own safety to stand up for their own futures and for someone yet to come.
This, to me, is an extension of the fight that's happening all over Mother Earth, protecting the last beautiful places, protecting the sacred. As you were talking about at the beginning of the hour, climate crisis is ravaging Mother Earth. The decisions that we've made as humankind are coming back to us. And this fight is happening in the meantime for these places, while the decision makers are talking, while the policy change is being pushed, while you have President Biden talking about him being a — talking about being a climate president. Line 3, Trans Mountain pipeline, Oak Flat, all these other places that are fighting, the Fairy Creek blockades, it's happening all over Mother Earth that we are standing up and defending the sacred.
AMY GOODMAN: This is another water protector, speaking from close to where you are right now, from the Line 3 resistance site.
VICTOR PUERTAS: To start, like, drilling under rivers, you know, to touch a body of waters that are really important, there's an urgency to be here. … It is important to be here, to put our bodies on the frontlines, to walk there, like we always say, with no fear, but with, like, the certainty that what we're doing is right. This is a struggle for love. This is a struggle for life, for people.
AMY GOODMAN: So, if you can continue along the line of description that he's given? Also, who owns Line 3? What's it supposed to do?
TARA HOUSKA: Enbridge owns Line 3. Enbridge plans to send almost 915,000 barrels a day of tar sands from Alberta down through the headwaters of the Mississippi River to the shore of Lake Superior. It plans to continue the expansion of the fossil fuel industry, the emissions equivalent of 50 coal-fired plants and putting, just in this territory alone, over 800 wetlands, 200 water bodies, 22 rivers — that's what Enbridge seeks to contaminate with its tar sands.
It is billing it as a replacement project. It is not a replacement project. It's a brand-new pipeline and a brand-new route. They want a new route because they want a new corridor. There is no pipelines in the places that we're talking about. There is nothing there. It is just pristine ecosystems.
And that's what we're trying to protect. We are protecting the sacred. We are standing up for what's right. We have done so at enormous self-risk and enormous personal cost, but we do so because it is what's right. We are standing with the sacred, and we're willing to risk everything to do it.
AMY GOODMAN: You've been arrested. Can you describe that experience? And can you talk about the authorities and what they're doing, particularly dozens of Hubbard County sheriffs barricading the camp where water protectors are staying? But first describe your experience.
TARA HOUSKA: Yeah, I was arrested back in the springtime. So, myself and several other Native folks, including the one that spoke before, Victor, were in a sacred lodge, and we were directly in the middle of a worksite. We prayed. We sang. We shared prayers. And we were pulled out, and we were arrested. Police then chose to cut apart our lodge after we were arrested. I was put into a kennel. I was strip-searched. And when I was brought to Zoom court, they put us in belly chains. That's how they treated us for misdemeanor charges. My experience has been that of many, many other water protectors who have been arrested throughout this struggle.
And as far as the sheriffs showing up at our doorstep on Monday, I mean, yeah, we're talking about egregious violations of just basic property rights. They attempted to say that because there's a county — there's a little parcel of county land, 150 feet of it — with an easement on it held by Winona LaDuke, actually — that we don't have a right of access to it, that they've closed the county land, and we can't access our private parcel by vehicles any longer. We have to walk on foot. But then they sent in a riot line of police, and no one was leaving, no one was getting in. So, 12 people were arrested in our driveway on Monday.
AMY GOODMAN: And what do you say to President Biden? He has approved this pipeline. I mean, he put a stop almost immediately to the Keystone XL pipeline. But when it comes to another pipeline, that you were one of the leaders in protesting, Dakota Access pipeline in North Dakota, and Enbridge 3, he's still fully supporting them.
TARA HOUSKA: Yeah, and Dakota Access pipeline is running illegally right now at this very moment. And how many lives did that take? How many lives did that irrevocably change, and the human rights crisis that was the fight at Dakota — against Dakota Access pipeline on the ground, the dog attacks and so many other egregious human rights violations that occurred there? And yet that pipeline is still running, under a so-called climate president. The Biden administration has declined to intervene when it should, including in Line 3.
There is a very clear road and pathway towards intervention, which is reviewing — ordering a review of the water crossing permits issued under the Trump administration — all those wetlands I described, all those water bodies I described — to suspend this project and review those, so considering tribal culture resources, considering climate crisis and climate emissions that come from this project. Those have not been considered in the environmental impact statement that was done at the state level. That's what we're asking for. It's almost a playbook directly out of Dakota Access pipeline resistance, which is order the EIS, at least do the review. And there's no way it's going to pass the test.
AMY GOODMAN: And your comments, as you alluded to earlier, about the weather catastrophe this country and Canada, not to mention the rest of the world, like Russia, are experiencing right now? A town has been wiped off the face of the map in Canada — Lytton, Canada — created its own climate with the heat above 120 degrees Fahrenheit, leading to a fire that just engulfed this town.
TARA HOUSKA: Yeah. And so, here in Minnesota, we're experiencing extreme drought. The rivers and lakes are incredibly low. We're talking five feet low. And then you have pump trucks all over rivers, including the Mississippi River, pumping out what Enbridge now proposes — originally, their ask was for 500 million gallons — 540 million gallons of water, that they call "dewatering," where they pull it out temporarily and then try to put it back into the ecosystem, because it is such a wet area. They had to apply for a variance: 5 billion gallons of water. That's what they plan on pulling out of the wetlands in northern Minnesota, while we are in extreme drought. So there are pump trucks all over the rivers, all over the lakes, and they're pulling water out and loading into trucks and mixing drilling mud to drill under our rivers and expand the fossil fuel industry.
I've seen rice beds that are completely bone dry and bare, and seeing something like that and knowing what's happening around the globe, knowing that right here in Minnesota we set records almost every day of June because it is so hot. And here we are expanding the fossil fuel industry. Here is, you know, the mainstream society choosing to engage in self-destruction. That's what's happening, and it's happening in real time. And in the meantime, there are people who are pushing for something different, and we are risking everything to do it.
The original article can be found on our partner's website here
On this date in 1966 (July 3rd), Cornelis (Kees) Boeke died. (Born Sept. 25, 1884.) Dutch Mennonite turned Quaker (he married a Quaker). Pacifist. War tax resister. Educator. Author of "Cosmic View: The Universe in Forty Jumps" (1957). Married to Betty Cadbury. Kees and Betty spent most of their married lives in Bilthoven, near Utrecht, Netherlands. For a time they engaged in a personal experiment where they abstained from using money so as to avoid contributing financially to the state (and thus to the military). Both spent time in prison. One of their seven children was born while Betty was behind bars. The Dutch authorities finally auctioned off the Boeke estate in order to recover funds they claimed were owed. In 1991, Yad Vashem recognized Betty and Kees as "Righteous Among The Nations" for sheltering Jewish children during World War II. Kees was born in Alkmaar, Netherlands. Died in Abcoude, Netherlands.
QUAKER TESTIMONY: COMMUNITY
The Lord showed me, so that I did see clearly, that he did not dwell in these temples which men had commanded and set up, but in people's hearts … his people were his temple, and he dwelt in them. George Fox, 1647 I belong to a tradition that really emphasizes finding God in community, and in listening deeply within for the inner light; the inner teacher.Eileen Flanagan, 2019 We know ourselves as individuals but only because we live in community. Love, trust, fellowship, selflessness are all mediated to us through our interdependence. Just as we could not live physically without each other, we cannot live spiritually in isolation. We are infividually free but communally bound. We cannot act without affecting others and others cannot act without affecting us. We know ourselves as we are reflected in the faces, action and attitudes of each other.Janet Scott, 1980Sharing the Spirit of God within them underlay the deepest of all Quaker experiences, the unspoken awareness of the unification of the group by the Spirit in the silent Meeting, where the whole body, and not primarily its individuals, received power, wisdom, and joy. Hugh Barbour, 1963 Loving your enemy is manifest in putting your arms not around the man but around the social situation, to take power from those who misuse it at which point they can become human too. Bayard Rustin 1912-1987 Our collective decision-making process emphasizes seeking together to find unity in the will of God. We have less of the struggles for power and the compromises that characterize secular models of decision-making and that work against the building of community. Above all our commitment to living our lives and to conduct our meetings under divine guidance promotes unity. Carole Treadway, 2009 Community does not necessarily mean living face-to-face with others; rather, it means never losing the awareness that we are connected to each other. It is not about the presence of other people – it is about being fully open to the reality of relationship, whether or not we are alone.Parker Palmer, 2009 A dark and terrible side of this sense of community of interests is the fear of a horrible common destiny which in these days of atomic weapons darkens men's minds all around the globe. Emily Greene Balch, 1948 The mission of the church is not to enlarge its membership, not to bring outsiders to accept its terms, but simply to love the world in every possible way–to love the world as God did and does.Parker Palmer, 1981 Dietrich Bonhoeffer said that community is destroyed when we love our idea of community more than we love the people in it. Although Quakers have this hope of the Blessed Community, my own version of the perfect Quaker community never has, and never will, exist. In order to be part of the Quaker community, I have to kill my ideal Quaker community, working with the messy, imperfect bunch of people around me, accepting that I'm messy and imperfect too. In this way we can discover a shared vision of the Blessed Community, better than anything we could come up with individually. Jon Martin, 2020 Once I sat in meeting for worship absolutely certain that I had a message which needed to be shared. However, I felt no leading whatsoever that I was the one to give the message. I waited and waited, feeling I would burst from the tension, until a woman across the room got up and gave my message much better than I could ever have given it.Shirley Dodson, 1980In the stillness of quiet, if we listen, we can hear the whisper of the heart giving strength to weakness, courage to fear, hope to despair.Howard Thurman 1899-1981If one has been visited by a direct sense of inward presence, he is driven to tell everyone who will listen to him. Strange and unendurable irony – that Friends who speak so much about the Inward Light should so timidly hide their own light under a bushel! The time has come to preach the faith we have resolved to practice. If we have good news for our brothers, and I believe we do, let us shout it from the housetops! Let us learn to be publishers of truth about our faith as well as our social concerns.John Yungblut, 1974Vocal prayer, poured from a humble heart, frequently shifts a meeting from a heady level of discussion to the deeps of worship. Such prayers serve as an unintended rebuke to our shallowness and drive us deeper into worship, and commitment. They open the gates of devotion, adoration, submission, confession. They help to unite the group at the level at which real unity is sought. Thomas Kelly, 1893-1941A meal, however simple, is a moment of intersection. It is at once the most basic, the most fundamental, of our life's activities, maintaining the life of our bodies; shared with others it can be an occasion of joy and communion, uniting people deeply… Fasting and feasting are universal human responses, and any meal, shared with love, can be an agape.Elise M. Boulding, 2000Now Friends, who have denied the world's songs and singing, sing you in the Spirit and with grace, making melody in your hearts to the Lord. You that have denied the world's formal praying, pray always in the Spirit. You that have denied the world's giving thanks and their saying of grace and living out of it, do you in everything give thanks to the Lord through Jesus Christ. And you that have denied the world's praising God with their lips, while their hearts are far off, do you always praise the Lord night and day.George Fox, Letter 167At its best the Quaker method does not result in a compromise. A compromise is not likely to satisfy anyone completely. The objective of the Quaker method is to discover Truth which will satisfy everyone more fully than did any position previously held.Howard Brinton, 1952The Lord wants us to be as men and women, in our daily lives, showing forth the power of God, not through two ordinances or seven sacraments, but in a thousand sacraments, if I may so use the term: that so living in God, he will make His real presence known through each of us as we go about our daily duties. Our business, our social and political duties, will be so given up to Him, that He will make use of these things to be a reflection of Himself in us, as we do them according to His will. And as we do them according to His will we may feed on Him and find our meat and drink to be to do the work He gives us.RIchard H. Thomas, 1896 In our ministry we speak each in our own tongue. Even the words of those most clearly "in the Spirit" are culture-bound, limited by background and vocabulary. It is the Spirit, not the words, that touches our hearts and draws us together and upward.Irwin Abrams, 1987True worship may be experienced at any time in any place – alone on the hills or in the busy daily life – we may find God, in whom we live and move and have our being. But this individual experience is not sufficient, and in a meeting held in the Spirit there is a giving and receiving between its members, one helping another with or without words. So there may come a wider vision and a deeper experience. London Yearly Meeting, 1925 and 1994There is a reciprocal nature to our relationships in community, but the love of God takes us beyond exchange and contract to covenant and commitment. We care for those who need us, whether they are able to return the care or not. We care for the prisoners who have harmed us, for they also are beloved of God. We have compassion for those in power, even when we disagree with their actions, for we know they are human and carry within themselves the seed of love. We care for migrants who have left home and family to seek a new life in a strange place. We care for all we love and all we might come to love… Community is shelter, a safe place to grow, an arena for action, caring and love – and powered by and united in the Light. Faith and Practice, Intermountain Yearly Meeting, 2009 The Society of Friends can make its greatest contribution to community by continuing to be a religious society – I mean by centering on the practice of a corporate worship which opens itself to continuing revelation. Again, community is simply too difficult to be sustained by our social impulses. It can be sustained only as we return time and again to the religious experience of the unity of all life. To put it in the language of Friends, community happens as that of God in you responds to that of God in me. . . It is my joy in the silent meeting to seek with those who find different ways to express the inexpressible truths of religious experience. Words can divide us, but the silence can bring us together. Whatever kinds of community the world needs, it surely needs the kind that embraces human diversity. Parker Palmer, 1977In a truly gathered meeting restraint in one's utterances is often more releasing than are multiplied words. Words that hint at the wonder of God, but do not attempt to exhaust it, have an open-ended character. In the silences of our hearts the Holy Presence completes the unfinished words far more satisfyingly.Thomas Kelly, 1939 'The Gathered Meeting' When we are able to accept being accepted, able to receive the loving, listening presence of God both embodied in others and hidden in their hearts, we experience God as Love, resulting spontaneously in gratitude, praise and joy. I mean an upwelling of heart-breaking, heart-opening thankfulness and joy that such Love could be, that we could be in it, that it could be in us, that we are all in it together.Patricia Grady Loring, 1997Friends believe there is that of God in all people. To intentionally harm another—with our actions, our words, or our policies—is to separate ourselves from God. We are here to love one another and to be loved as God loves us, and as Jesus teaches. We are not whole without each other. New England Yearly Meeting, 6/14/2016 From 'A Prayer in response to the shootings at Pulse in Orlando.' Our life is love, and peace, and tenderness; and bearing one with another, and forgiving one another, and not laying accusations against another; but praying one for another and helping one another up with a tender hand.Isaac Penington, 1667Dwell in patience and in peace and love and unity one with another. And be subject in the Power, Life, and Wisdom to God and to one another. That in it you may be as a pleasant field to the Lord God, and as the lilies, the flowers, and the buds feeling the pleasant showers and streams of Life from the living God flowing upon you, whereby the presence and blessing of the Lord God Almighty amongst you all may be felt. George Fox, Letter 183- – – Which of these offerings most speaks to you? Can you add another?