You are currently browsing the daily archive for February 18, 2021.
18.02.2021 – Pressenza India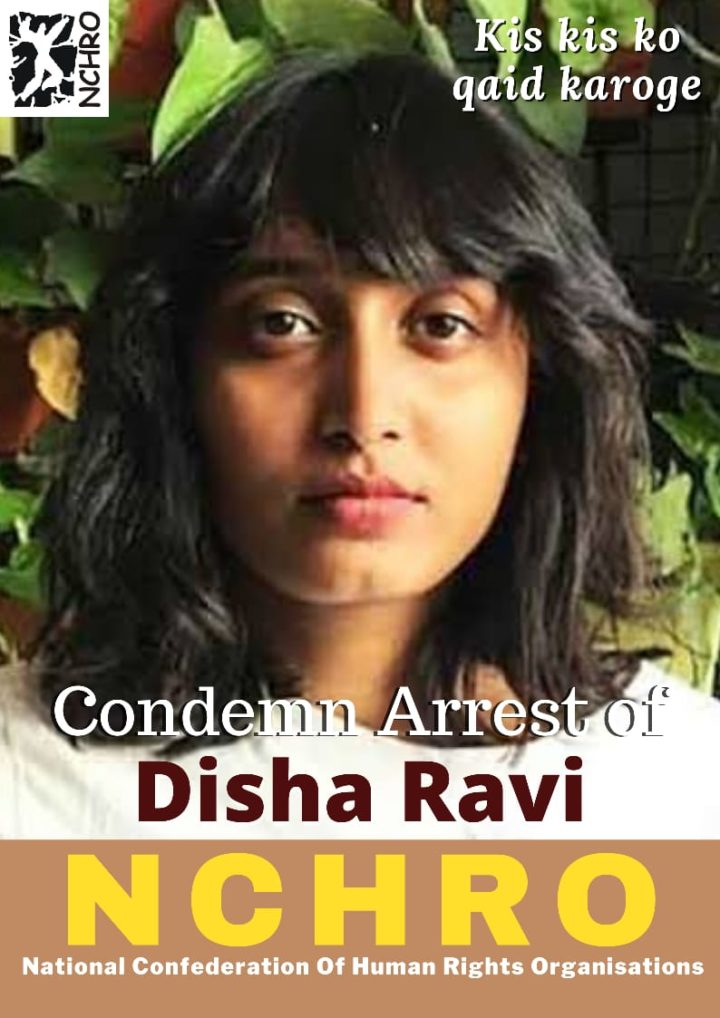 New Delhi: 16 Feb 2021. On February 13, 2021, the Delhi Police registered an FIR against Disha Ravi. Ravi has been a known climate activist and has supported the farmers' protest publicly. The Police claim that Ravi has used a "toolkit" supporting the farmers' protests. The toolkit allegedly had some links related to the Khalistani movement in India.
Along with Ravi, the police have also been interrogating another activist and lawyer, Nikita Jacob, in the same case. The police have said that Jacob has recently attended a Zoom meeting about the Khalistani movement.
Ravi has been charged with sedition, a crime that has its roots in colonial India. She was in Bangalore when the police got hold of her, and they flew her to Delhi afterward. After arrest, Delhi's Patiala House Court remanded Disha Ravi to five-day police remand even as her lawyers were not present in the court. Her legal team has reportedly said that they were not told which court she was being produced in.
The fact that a climate activist who has shown public support for the farmers' cause is being targeted by the government in this way speaks all the more about the insecurity of this government.
Arresting anyone and everyone who is standing for justice and booking them under draconian sections of the law has become an everyday tactic of the regime now. Ever since the farmers began their protest and gathered at the various borders of Delhi, all sorts of slanderous statements and lies have been spread, both by the government and the saffron media. Labeling their movements as that of the "Khalistanis" was one of such lies.
In the same vein, the government has been cracking down on everyone speaking and working for solidarity between farmers and workers, like Nodeep Kaur and Shiv Kumar. Sometimes the police charge that the people are instigating violence, as happened with the journalists recently charged with sedition for tweeting about the death of a man on January 26 in the wake of the violence that happened that day.
It is totally clear that anyone who is standing for the farmers' cause is being targeted by this government.
The National Confederation of Human Rights Organisations (NCHRO) condemns the arrest of Disha Ravi and the harassment of people like Nikita Jacob. The NCHRO stands with Disha Ravi and every other justice-loving person being attacked by this government.
Adv.Muhammad Yusuf
Secretary
NCHRO (National Confederation of Human Rights Organizations
18.02.2021 – US, United States – David Andersson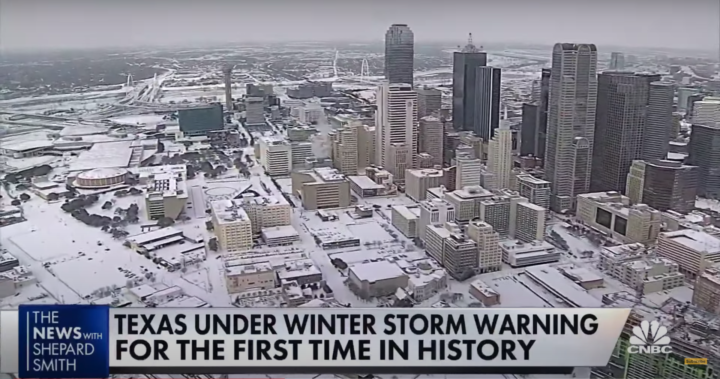 As millions of people in the South find themselves without power for a third day due to record-breaking winter storms, some have wondered why Texas isn't turning to other states for help.
To answer this, there are two important points to take in consideration, one about the electrical grid and other about climate change.
Let's start with the electrical grid. Texas, as opposed to the rest of the country, has its own electrical grid that is NOT connected to other states. 90% of the state's power supply is connected to a grid entirely within state lines. Texas has an independent grid because of its response to the 1935 Federal Power Act, which gave the federal government authority to regulate power companies engaged in interstate commerce. Texas power companies agreed not to sell power outside of Texas, which allowed them to avoid federal regulation. Now, almost 100 years later, nothing has changed. Libertarians and rightwing politicians have kept this absurd situation in place. Millions of people have been left in the dark and cold for days because of one federal legislation. It's really ironic that the state most identified with energy (oil production) is now without any electrical power. Can you imagine, in 2021, to be without electricity for 3 days? No power for your phone, TV, computer, refrigerator, boiler, heater, cable modem, wifi, tablet, stove, coffee machine, toaster, microwave, lights, washing machine, clock, dryer, speakers ….and the list goes on.
As Texas and other portions of the country shelter in place and brace for a second wave of winter storms, some are questioning what role climate change played on these extreme weather patterns across the country.
Chris Gloninger, a meteorologist with NBC10 Boston, explained that there was a definite connection.
"There are waves in the jet stream and because of climate change and the warmer air in the Arctic and the largely ice-free Arctic sea, those waves are able to go far south," said Gloninger. "So places like Alaska or Iceland, which today is in the low 40s, is warmer than places like Texas, Louisiana or Oklahoma. That's why we're seeing these extremes."
Today, Texas is faced with two old concepts of society that are absolutely obsolete. The first is of the individualist society that doesn't need any connection to or coordination with the Federal or International level, besides, the "normal" business transactions that apply to the oil market. This white-male egocentric individualism is dead and has no future. The second issue is to understand that climate change is real and needs to be taken into consideration. The state needs to adapt and modify its infrastructure in order to be as prepared and ready for climatic change (sea level, temperature, clean water, etc). It will have also to push the oil companies to become green energy companies. For this to happen, it will need a profound transformation of its political landscape. The political change needs to be as strong as the climate change itself. It is time to fire these political demagogues who have created this unimaginable situation, left a state powerless with millions in the dark (obscurantism) and cold (heartless).
I can't imagine what Texans are facing right now. but I definitely can imagine what they can do tomorrow to transform their lives and create a different future.
I knew it would happen, and knew I wouldn't like it, but I did it anyway. The third "it" above was start a Facebook group called "Quakers," about a month ago, after a previous one abruptly folded up: some internal hassle among the admins had spun out of control. I wasn't involved in the hassling,…

Biting the Bullet: Truth and Consequences — A Friendly Letter