You are currently browsing the daily archive for February 14, 2021.
14.02.2021 – Philippines – Pressenza IPA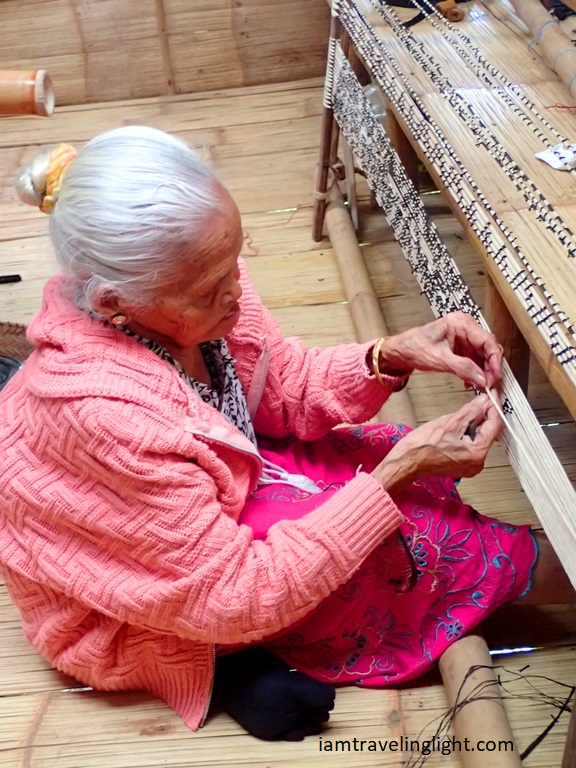 INDIGENOUS CULTURE/NARRATIVE
Narrative by Claire Madarang
I have always associated South Cotabato, a province in the Philippines with the serene Lake Sebu and the dreamweaving T'boli indigenous people and their masterpiece, the t'nalak. South Cotabato is in fact known as the "Land of the Dreamweavers."
However, there are other dreamweavers in South Cotabato and other parts of Mindanao, the Blaan indigenous people. I was able to meet Blaans for the first time in Sarangani, and I was happy to find out there was also a community in South Cotabato. The Blaans' indigenous cloth woven from dreams is the tabih, also made from abaca fibers like the t'nalak.
In Polomolok, South Cotabato, is where tabih master weaver and designer Yabing Masalon-Dulo lives. Fondly called Fu Yabing by family and relatives – "fu" is like "grandmother – she kept alive the tabih patterns taught to her by the elders and dreamed of her own patterns. She also passes on the art of tabih weaving to other Blaans in her community, and even in other communities. The Philippine government recognized her with the Gawad Manlilikha ng Bayan (GAMABA) award, or National Living Treasures award. It is the same distinction given to T'boli dreamweaver Lang Dulay, though, sadly, she already passed on.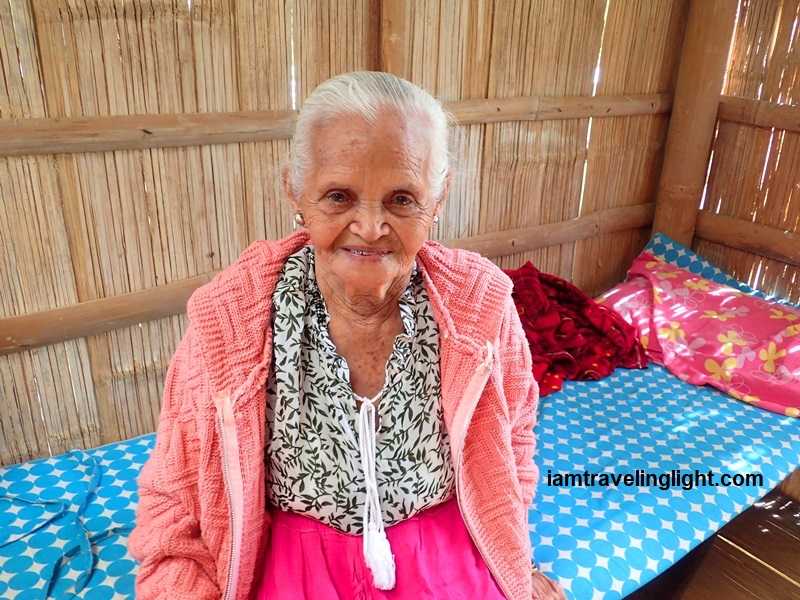 The cultural center of Fu Yabing in Polomolok is just a few houses away from her home. At the cultural center, you get to see finished tabih and other Blaans weaving gintlo at the loom. These gintlo are usually used for Blaans' skirts and scarves.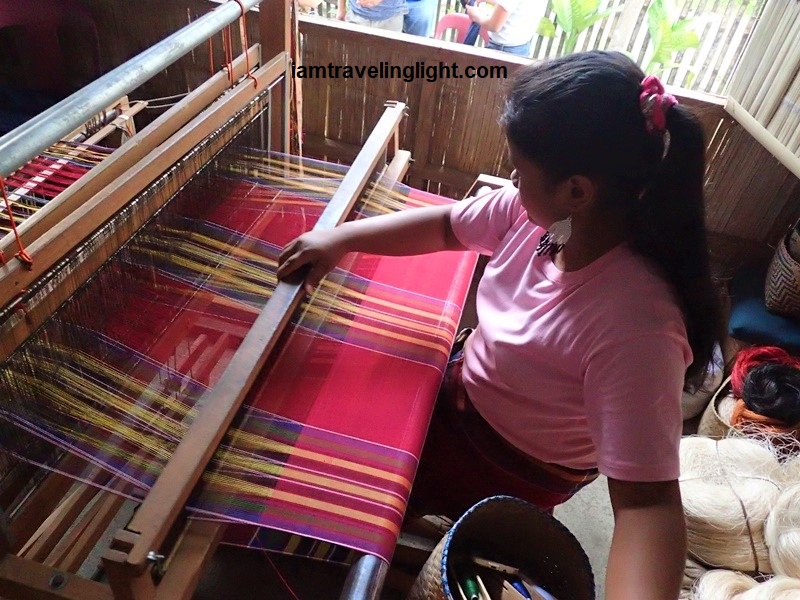 Our tour group was welcomed by a maral dance, which, according to Fu Yabing's grandson, Jao Dudez, is a happy dance in the Blaan community. We were also served sweet and filling native suman (sticky rice) and coffee.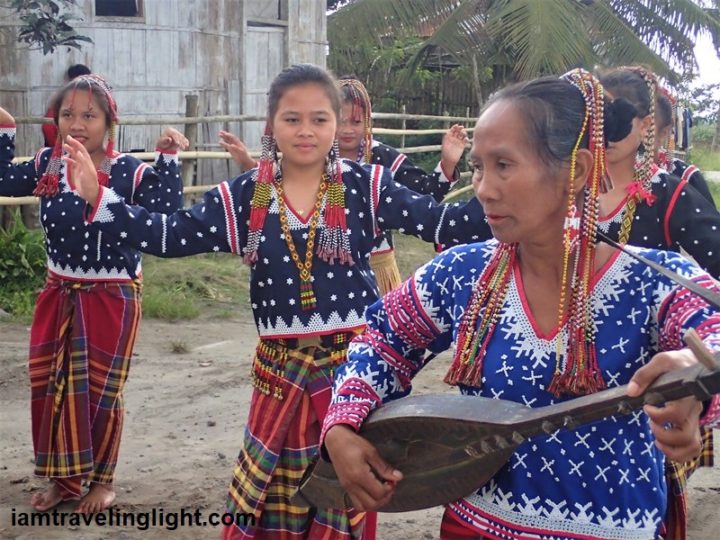 Jao told me that making tabih is a painstaking task, which usually takes two months after harvesting abaca. Once the abaca threads and dyes are prepared, weaving around four meters takes seven days.
From the cultural center, we walked for a few minutes to Fu Yabing's home. There we found her at work tying threads for the tabih's design. Though she does not weave now because of an accident over ten years ago, she still designs tabihs. Quite admirable, for someone over 90 years old.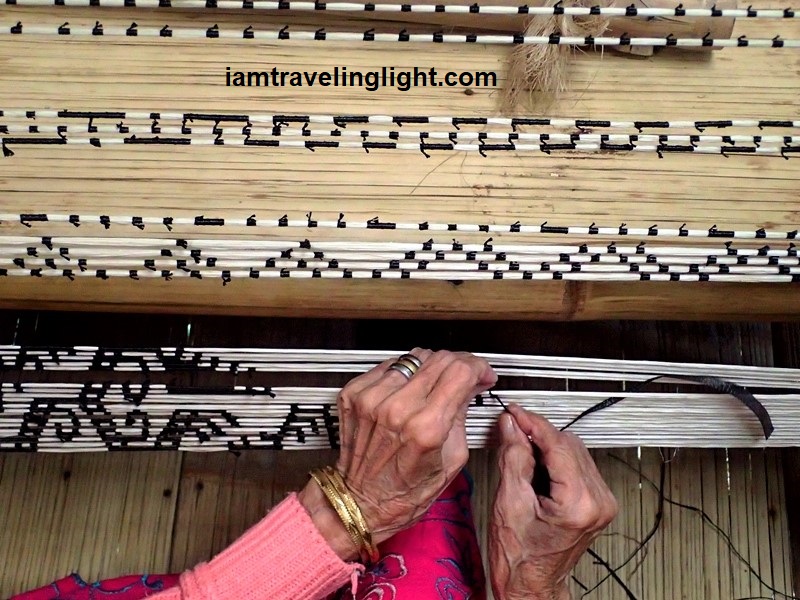 Also nearby Fu Yabing's home and cultural center is the Blaan Wellness and Tribal Village, where Blaan artists and leaders welcome visitors who want to experience interacting with the Blaan community and can even stay overnight in their hut homestays. They call it a "wellness village," because they serve healthy, delicious Blaan cuisine good for the body. They also offer Blaan traditional massage.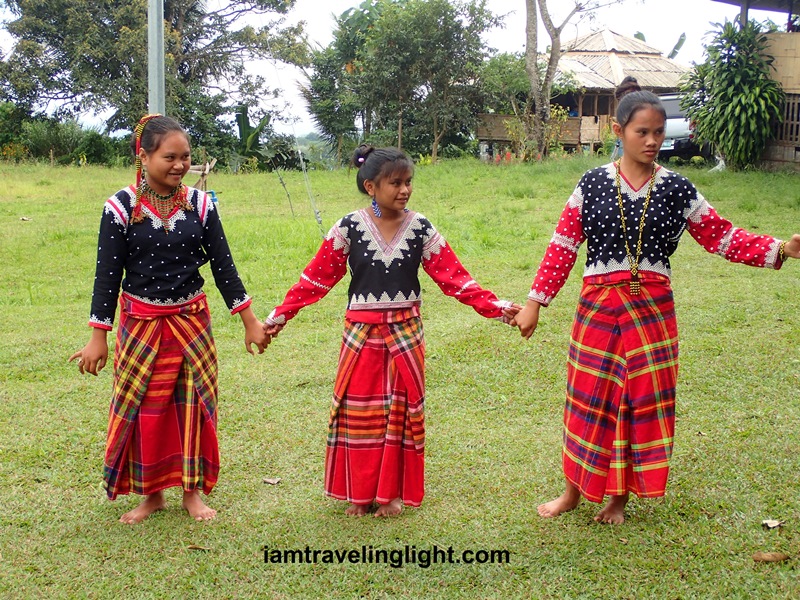 The Blaan way of life is a healthy way of life, one of their leaders said. With pride, he said there are 20 centenarians in their area.
Their welcome for our group was a pleasant – and for me, moving – surprise. My usual experience with indigenous peoples is they perform a welcome dance, which is already a privilege to witness. At the Blaan Wellness and Tribal Village, though, they included us in the dance and the welcome ritual.
They asked us to join hands with our pinkie fingers and to form a circle and then dance a simple dance. They chanted and sang in their language, and I felt an air of solemnity, of sacredness, envelop our group. Later, I learned this was a ritual of connecting for returning family and friends.
After circling for a bit, we went inside their hut, without breaking the connection of our pinkies. As each of us entered the door, we were blessed with fresh, sweet-smelling leaves in our faces. We were then asked to make an offering of a hard object, and the convenient one they suggested is coins. I later learned this was part of the ritual of welcoming back family members and friends in their home. The fragrant leaves were for cleansing. Still holding hands, we went to an elevated basket to drop our coins. Afterward, they made us sit and they danced for us.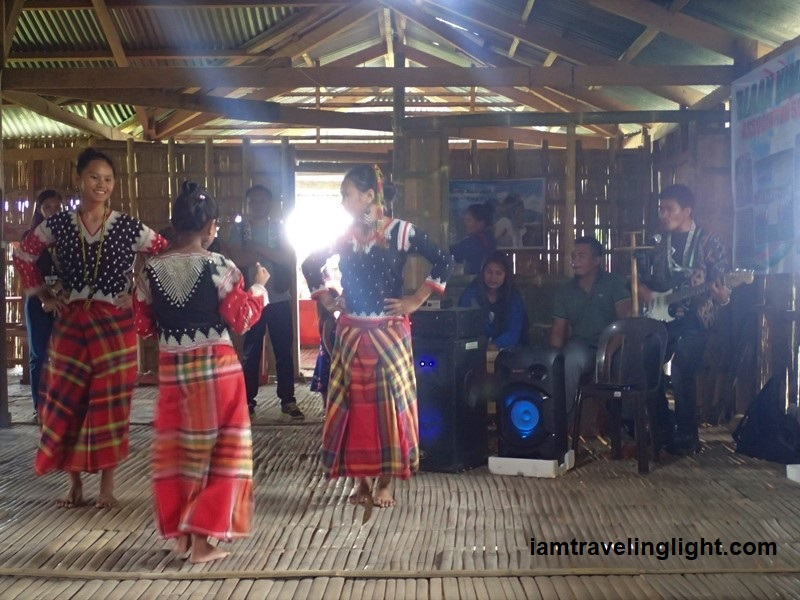 Because we only stayed for a short time, we were not able to feast on the Blaans' healthy and delicious offerings. We were able to eat rice cake, though, and taste their traditional drink, lumit. It tasted like fresh mountain water. They extract it from the bark of the lumit tree. It was an ingenious way to quench their thirst as they had a nine-year drought in the past.
Outside their main hut was sweeping, lush greenery, and a 40-year old balete tree. We took in the view. On clear days, they said we would be able to see Mt. Matutum. Their rooms for homestay all have a view of the greenery.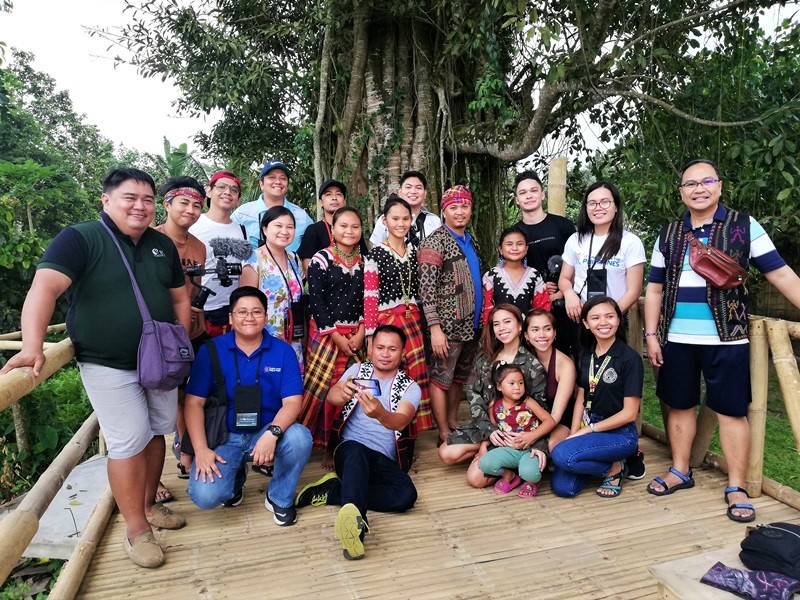 Though it was a brief experience at the Blaan Wellness and Tribal Village, it was a rich, and somehow immersive one. The ritual somehow took me inside their world, albeit briefly, instead of me just watching it.
Indeed, beyond Lake Sebu is the cultural gem of the Blaan heritage.
Footnote: Blaan Master weaver Fu Yabing Masalon Dulo passed away last January 26 at the age of105. This post is in honor of her contributions to keeping Filipino cultural heritage alive by passing on her knowledge, artistry, talent and passion as a dreamweaver to the new generations. Thanks to her mastery of the intricacies of ikat weaving, dyeing and embroidery, unique understanding of the intricate process involved, and vast knowledge on the species endemic to their community as well as her participation in raising awareness of this uniquely Filipino traditional art, elevated the Mabal Tabih tradition of the B'laan tribe to its rightful place in the cultural heritage of the Filipino.
About the author:
Claire Madarang is a writer/traveler for Travelling Light and was a Communications Officer at the ASEAN Center for Biodiversity
14.02.2021 – Seoul, Korea. – Bereket Alemayehu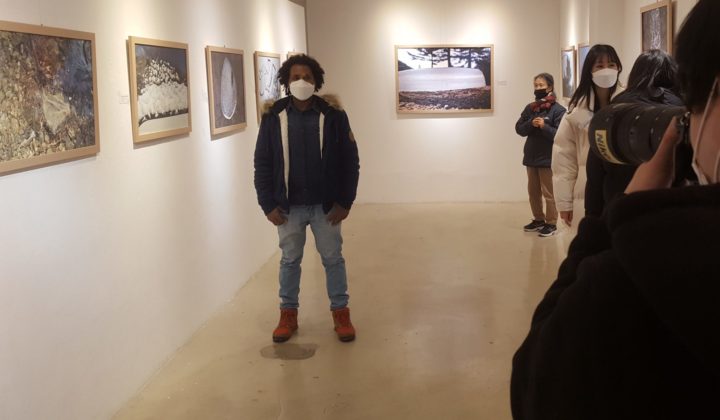 VISUAL ARTS
Exile Pattern is a collection of experimental art photos by photo patternist Bereket Alemayehu, a native Ethiopian who came to South Korea in 2014 and now resides in Seoul. The photographs, which were on exhibit at Urban Pluto Gallery, Seonyudo Seoul from February 2 to February 8, were taken during the 2016-18 winter months at Beyokje-dong and Chunjgu City in South Korea.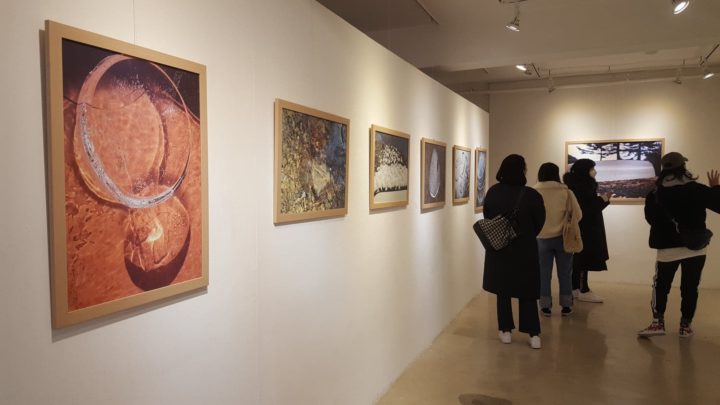 The artist says…
"Since I came to Korea in 2014, as a foreigner who was born and who grew up in a tropical country, I was badly affected by the winter weather. Nonetheless, 2016/18 winter was an amazing experience that I never thought I'd have in my life.
The winter months weren't only filled with extreme cold and gloomy days but with colorful touches as well. Actually, the winter had its own patterns, texture, and lights and attractions.
I was really lucky to have been there as a firsthand witness to observe the winter playing with light, air, water, trees and earth in all its varieties! Just for the sake of photography, I was privileged to experiment artistically with the unique elements in different times and places to capture the patterns.
Bereket Alemayehu is an Ethiopian Photo Patternist, social activist and writer based in South Korea. He used to work at a local NGO called Music Mayday Ethiopia, which provides a platform for talented young artists in music, dance, theater and drama, photography and video, painting and graphic design. His first photograph was published in 2007 for a newspaper which was published in the U.S. for the Ethiopian Diaspora. As an activist for social change, Bereket uses photo artworks and coffee diplomacy initiative in Korea. He was one of the international artists who participated in last year's exhibition "Coexistence: The discourse of Tradition and the Present: the Echoes of Foreigners' hosted by Soomyung Women's University Museum in Seoul. You can read more on the exhibition here: https://www.pressenza.com/2020/10/coexistence-the-discourse-of-tradition-and-the-present-the-echoes-of-foreigners/
You can visit the artist's website here: www.bereketphotos.com
HireChance
This art exhibition was brought to life by our Wadiz Funding Community. HireChance provides career development opportunities for refugees, powered by the sale of specialty coffee. Since launching on World Refugee Day 2020, HireChance has developed the 'Korean for Refugees" language program – the first online Korean language education program for refugees, and the Beredo Project – career development for the refugee art community through the funding and implementation of the Exile Pattern Exhibition. 20% of HireChance's revenue goes directly into their refugee career development projects.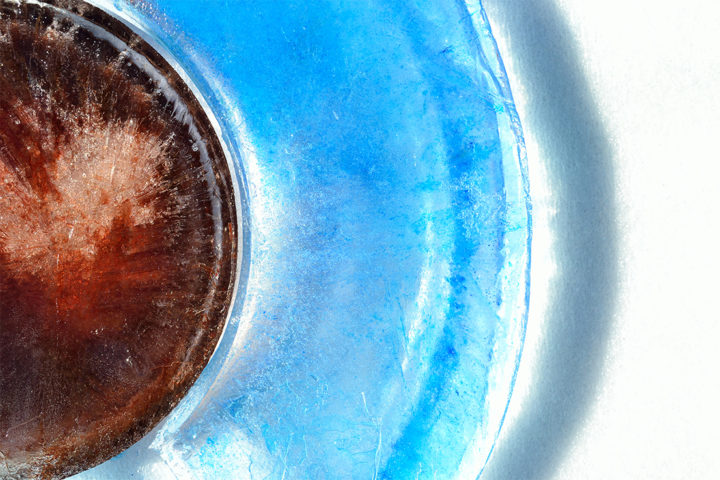 Note:
Pattern photography utilizes elements that are repeated. The repetition of lines, shapes, tones or color can create interesting images. There are photographers who use the pattern as the main subject of an image while others use it to enhance the overall composition and look of the photograph. Photographers can choose to emphasize or break the pattern to capture a great image.