You are currently browsing the daily archive for February 2, 2021.
02.02.2021 – Democracy Now!
This post is also available in: Italian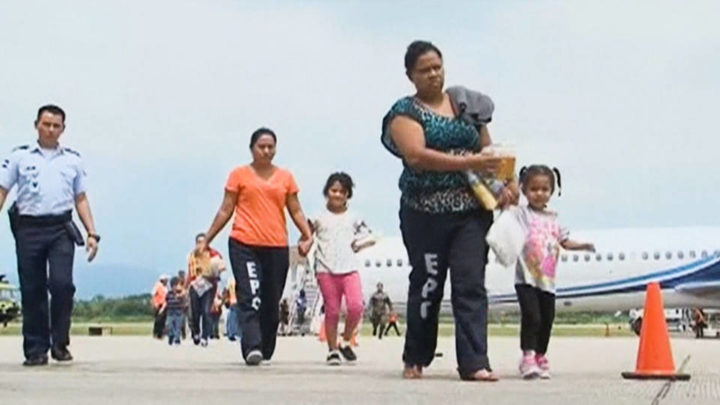 President Joe Biden is signing three executive orders on immigration today. The first establishes a task force that will aim to reunite hundreds of asylum-seeking families separated by the Trump administration. The two other orders will look into Trump's disruption of the asylum process, restore funding to Central American countries aimed at combating the root causes of why people flee, and review Trump's controversial "Remain in Mexico" program and other Trump-era policies that made it harder for immigrants to get permanent residency if they used public aid such as food stamps.
This comes as immigration advocates are condemning the deportation of hundreds of asylum seekers within the first few days of Biden's presidency — after a federal judge temporarily blocked Biden's 100-day moratorium on many removals. A U.S. deportation flight departed to Haiti Monday — the first day of Black History Month. The Guardian reports nearly two dozen African asylum seekers are scheduled for deportation as early as today.
02.02.2021 – Stop Killer Robots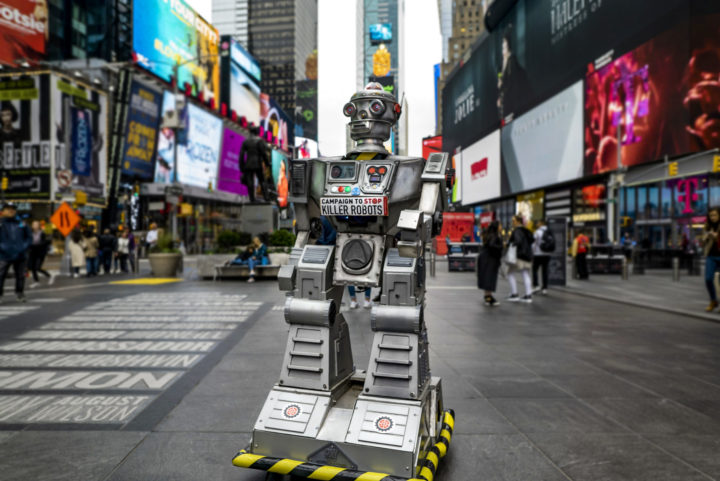 A new survey in 28 countries finds that more than three in five people oppose using lethal autonomous weapons systems, commonly called "killer robots." 62% of respondents said they oppose the use of lethal autonomous weapons systems, while 21% support such use and 17% said they were not sure.
Opposition was strong for both women (63%) and men (60%) although men are more likely to favor use of these weapons (26%) compared with women (16%). Opposition to killer robots was strong across generations and steadily increased with age, from 54% for those under 35 to 69% for ages 50 to 74.
The survey, conducted in December 2020 by the market research company Ipsos and commissioned by the Campaign to Stop Killer Robots, indicates that even with COVID-19 and economic uncertainty dominating headlines in 2020, public awareness of and sentiment against the development of killer robots remains steady and strong.
In response to these findings, Mary Wareham, coordinator of the Campaign to Stop Killer Robots, said:
"States must launch negotiations to create a new treaty to retain meaningful human control over the use of force. Public opposition to killer robots is strong, which raises expectations of bold political action to ban them."
Opposition to killer robots has increased since 2017
Opposition to killer robots increased in 13 of the 26 countries previously surveyed in 2018, with the biggest increases in Brazil (up 16% points from 2018), Israel (up 12%), Japan (11%), and South Africa (up 7%) followed by Australia and Sweden (both up 5%). This is the third Ipsos survey in six years to survey opposition to killer robots. The first survey conducted in 2017 found that only 56% of those surveyed opposed killer robots. By 2020, opposition increased to 62%.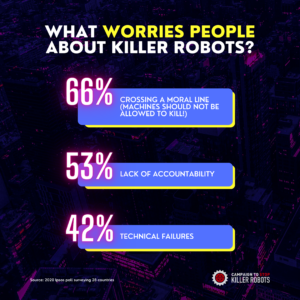 The 2020 Ipsos poll also asked those opposed to killer robots what concerned them the most. 66% answered that lethal autonomous weapons systems would "cross a moral line because machines should not be allowed to kill." More than half (53%) said killer robots would be "unaccountable" and there is opposition (42%) due to concerns that killer robots would be subject to technical failures.
Detailed results by country
The 2020 Ipsos poll surveyed nearly 19,000 people, using samples of 500 to 1,000 people in each of the 28 countries: Argentina, Australia, Belgium, Brazil, Canada, China, Colombia, France, Germany, Great Britain, Hungary, India, Israel, Italy, Japan, Mexico, Netherlands, Norway, Peru, Poland, Russia, South Africa, South Korea, Spain, Sweden, Switzerland, Turkey, and United States.
A majority of respondents in 26 countries opposed killer robots. The only countries where a majority of respondents did not oppose killer robots were France (47%) and India (36%).The strongest opposition was in Sweden (76%), Turkey (73%), Hungary (70%), Germany (68%), Norway (67%), and Mexico (66%).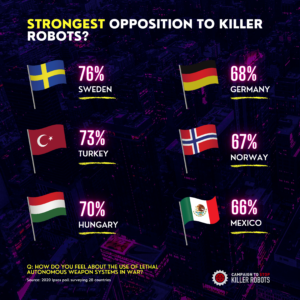 In 21 countries, 59% or more of respondents were opposed: Sweden (76%), Turkey (73%), Hungary (70%), Germany (68%), Norway (67%), Colombia (66%), Belgium (66%, Mexico (66%), Spain (66%), South Africa (66%), Peru (65%), Poland (65%), South Korea (65%), Australia (64%), Brazil (62%), Canada (60%), Switzerland (60%), Argentina (59%), Italy (59%), Japan (59%), and the Netherlands (59%).
Notably, a majority opposed killer robots in five countries most active in the development and testing of weapons systems with decreasing levels of human control: Russia (58%), UK (56%), US (55%), China (53%) and Israel (53%).
All countries surveyed by Ipsos have participated since 2014 in diplomatic meetings on concerns raised by lethal autonomous weapons systems. Those talks have been stalled since November 2020, when the Convention on Certain Conventional Weapons (CCW) failed to agree on its program of work in 2021.
"Public sentiment against fully autonomous weapons has not diminished," Wareham said. "Now's the time for strong preventive measures, not further diplomatic inaction."
The original article can be found on our partner's website here
02.02.2021 – EcoWaste Coalition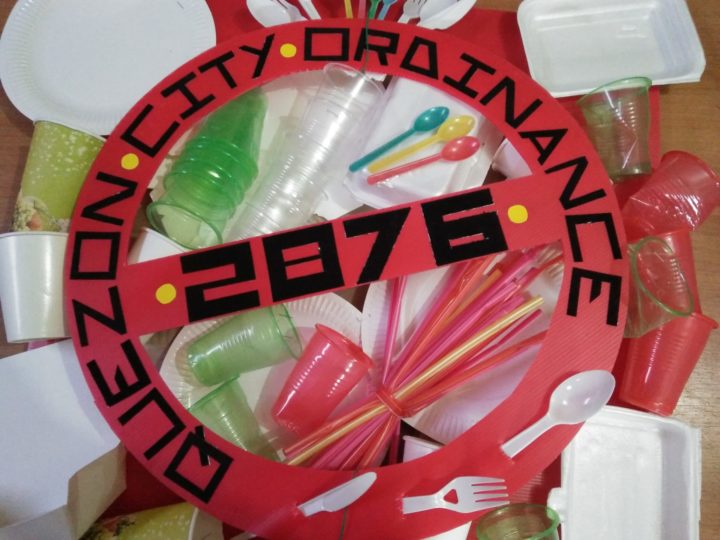 1 February 2021, Quezon City. The EcoWaste Coalition and Oceana Philippines urged the national government to roll out a long-overdue policy that could help the country leapfrog to a zero waste and toxic-free circular economy.
The groups specifically asked the National Solid Waste Management Commission (NSWMC), an inter-agency body under the Office of the President, to release the list of non-environmentally acceptable products (NEAP) for prohibition as required under Section 29 of R.A. 9003, or the Ecological Solid Waste Management Act. The commission should have prepared the said list one year after R.A. 9003 took effect in 2001.
The groups also pushed for the implementation of Section 30 of the same law, which should have illegalized the sale or conveyance of products placed, wrapped or packaged in non-environmentally acceptable packaging materials.
"After two decades, the NSWMC has yet to produce the list of NEAP for phase-out and eventual elimination," lamented Aileen Lucero, National Coordinator, EcoWaste Coalition. "It's time for the commission to work doubly hard in order to get a game-changing list out by this year to reduce both the volume and toxicity of our discards," she emphasized.
"The commission's inability to fast track the formulation of such list has badly affected the efforts of local government units, communities and households to achieve zero waste with the unrestrained production, distribution, consumption and disposal of products and packaging materials that are too difficult to recycle due to their chemical composition," she added.
Atty. Gloria Estenzo Ramos, Vice-President of Oceana Philippines, likewise scored the NSWMC for failing to prioritize the formulation of the NEAP list in the face of the country's ballooning waste production that is also contaminating the world's oceans.
"We strongly urge the NSWMC to draw up the long-overdue list of products that are 'unsafe in production, use, post-consumer use, or that produce or release harmful by-products when discarded,' with single-use plastics (SUPs) on top of the list," she said.
"The effect would be a tremendous reduction at the source of plastic pollution as production, use and trade of SUPs as a NEAP will be prohibited, with a hefty fine and other sanctions," she added.
The adoption of the NEAP list and its subsequent implementation, the EcoWaste Coalition and Oceana Philippine said, will spur investments in product redesigns and delivery systems that will ultimately reduce, if not eradicate, the use of toxic chemical additives and the generation of waste.
Aside from throw-away plastics such as plastic bags, bottles, sachets, straws, stirrers and other SUPs, the groups also insisted on the inclusion in the NEAP list of items containing "substances of concern" that can expose people and the ecosystems to such harmful chemicals.
As noted in the report "Plastic's Toxic Additives and the Circular Economy," published by multiple UN convention groups and other organizations, including the International Pollutants Elimination Network (IPEN), "while the general issue of pollution by plastics has received growing attention, there has so far been less attention given to the additives."
"Many of the additives are potentially toxic, and some meet the definition of being persistent organic pollutants (POPs)," the report said. "They pose a risk to the environment and to human health when they leach out of plastic debris."
"Additives are also problematic in recycling, and their use is a potential barrier to making progress towards a circular economy," the report concluded.
References:
https://www.lawphil.net/statutes/repacts/ra2001/ra_9003_2001.html
02.02.2021 – Los Angeles, USA. – Robert Hunziker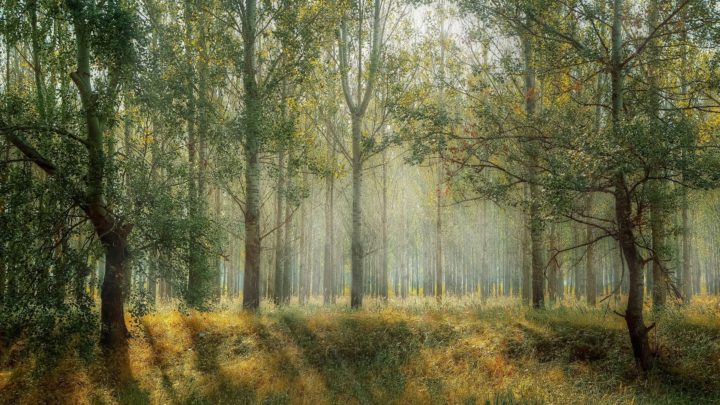 The rapid rise of Covid-19 has spawned a renaissance in socio-economic thinking about the best way to face the future, as mayors of cities throughout the world search for answers in the face of declining revenues while society demands more urgent help.
Eureka! Amsterdam, the Venice of the North, discovers doughnut economics. With a click of fingers, it abandons the major tenets of the neoliberal brand of capitalism's insatiable thirst for growth to infinity at any and all costs. This city where capitalism spawned via the Dutch East India Company first issuing shares in 1602 has turned agnostic on 400 years of embedded capitalism.
In the face of a virus that has turned the world into a state of reflection of how to best cope, new ideas bring new hope. After all, the virus has exposed the utter fragility, vast inequity, and incongruity of the engulfing neoliberal machine as conceived under the auspices of Reaganism/Thatcherism over four decades ago. Nowadays, its results are aptly summarized by the universally accepted epithet "The One Percent."
Meanwhile, Covid-19 has exposed the radical cockeyed dynamics of infinite growth at any and all costs with profits of billions, and even trillions, atop lopsided pyramids of a sick and hungry forlorn bourgeoisie, analogous to late 18th century France when thousands of aristocrats, holding onto their heads, fled the streets of Paris.
Suddenly, out of the blue, doughnut economics to the rescue, as it levels the playing field, dismantling the wobbly pyramid of growth at any and all costs in favor of learning how to "thrive" rather than grow, and grow, and grow a lot more until ecosystems that support life crumble.
The doughnut economy, in contrast to capitalism, takes its cue from nature. Trees grow to maturity and then thrive for years. Trees do not grow to the top of the sky. Similarly, doughnut economics respects the ecological ceiling by focusing on a reduction of ecological overshoot. It's a new pathway to a better way of life that blends with nature. At first blush, the Great Doughnut is so appealing that 25% of the world's economy already has it under consideration as a good substitute for capitalism's commodification of nature.
Today in central Amsterdam a shopper at a local grocery will find new price tags on potatoes, including 6c extra per kilo for the carbon footprint, 5c extra for the toil farming takes on the ecosystem and 4c extra as fair pay for workers. It's the "True-Price Initiative" creating awareness amongst buyers of true ecological costs of products essential to the city's official adoption, as of April 2020, of doughnut economics.
An all-important aspect of doughnut economics is attention to the needs of all citizens by building a strong interconnected social foundation. For example, with the onset of Covid-19, the city realized that thousands of residents did not have access to PCs needed to connect with society during a lockdown. Instead of dialing up a manufacturer to buy new PCs, the city collected old and broken laptops from residents, hired a company to refurbish, and distributed computers to needy citizens. That's a prime example of the Great Doughnut at work.
British economist Kate Raworth outlined the theory of doughnut economics in a 2012 paper followed by her 2017 book, Doughnut Economics (Chelsea Green Publishing). It defies traditional economics that she studied at the University of Oxford by focusing on a doughnut symbol of planetary boundaries and social boundaries that define safe and just space for humanity, along with healthy ecosystems, or to put it another way, living harmoniously with nature as opposed to neoliberalism's indifference and overuse.
According to Ms. Raworth, 20th-century economic thinking is not equipped to deal with the 21st-century reality of a planet on the edge of climate breakdown. Therefore, her theory establishes a "sweet spot" where citizens have everything needed for a good life while respecting the environmental ceiling, avoiding ecological overshoot, like excessive freshwater withdrawals, chemical pollution, and loss of biological diversity to mention only a few.
The doughnut economy is displayed in a visual circular schematic with a green inner circle, which represents a "regenerative and distributive economy that is a safe and just space for humanity" surrounding a list of items that, when in shortfall, need to enter the green doughnut's "social foundation," like housing, energy, water, health, income & work, etc. At the outer edge of the doughnut, an "ecological ceiling" lists "ecological overshoots" that threaten the social fabric.
As the world turns, with today's universality of entrenched capitalism, people in rich countries are living in an ecological overshoot while people in poor countries fall below the social foundation. Thus, both rich and poor are living outside of the regenerative and distributive economy found in the green inner circle of the Great Doughnut.
Amsterdam is working to bring its 872,000 residents into the sweet spot for a good quality of life without putting pressure on the planet beyond nature's normal rate of sustainability. It's the Amsterdam Doughnut Coalition as established by 400 locals and orgs within an intertwined network that runs programs at grassroots levels. Thus, the economy sprouts up from ground level rather than dictated from above in lofty boardrooms.
Of more than passing interest, doughnut economics is spreading throughout the world. Copenhagen's city council is following in Amsterdam's footsteps. Brussels is following and a city in New Zealand named Dunedin, as well as Nanaimo, British Columbia and Portland, Oregon preparing to roll out their own versions of the doughnut economy. Austin, Texas has the Great Doughnut under consideration.
A sizeable portion (25%) of the world's economy is already studying what Raworth recognized while studying at Oxford about old school economic supply/demand, efficiency, rationality, and infinite GDP growth but missing a key ingredient known as the web of life. Economists refer to the ecological web of life as an "externality." Is it really an externality? Such labeling removes the prime source of life from consideration in the fabric of economic development.
Raworth's theory does not provide for specific policies that must be adopted. That is up to stakeholders to decide on a local basis. In fact, setting benchmarks is the initial step to building a doughnut economy. As for Amsterdam, the city combines doughnut's goals within a circular economy that reduces, reuses, and recycles materials of consumer goods, building materials, and food products.
In Amsterdam "Policies aim to protect the environment and natural resources, reduce social exclusion and guarantee good living standards for all. Van Doorninck, the deputy mayor, says the doughnut was a revelation. 'I was brought up in Thatcher times, in Reagan times, with the idea that there's no alternative to our economic model,' she says. 'Reading the doughnut was like, Eureka! There is an alternative! Economics is a social science, not a natural one. It's invented by people, and it can be changed by people." (Source: Clara Nugent, Amsterdam Is Embracing a Radical New Economic Theory to Help Save the Environment, Could It Also Replace Capitalism? Time, January 22, 2021)
Of special interest, C40: A Mayors Agenda for a Green and Just Recovery intending to deliver an equitable and sustainable recovery from Covid-19. C40 consists of 96 cities around the world representing 25% of the global economy; it's a network of megacities. Significantly, C40 has asked Raworth to report on the progress of its doughnut members Amsterdam, Philadelphia, and Portland.
The Great Doughnut overtaking neoliberal capitalism is much more than a simple story. It's working! It's brilliant! Yet, the designation doughnut has a peculiar ring that foretells a name change, but maybe not. It's kinda cute.
A schematic of the doughnut economy follows: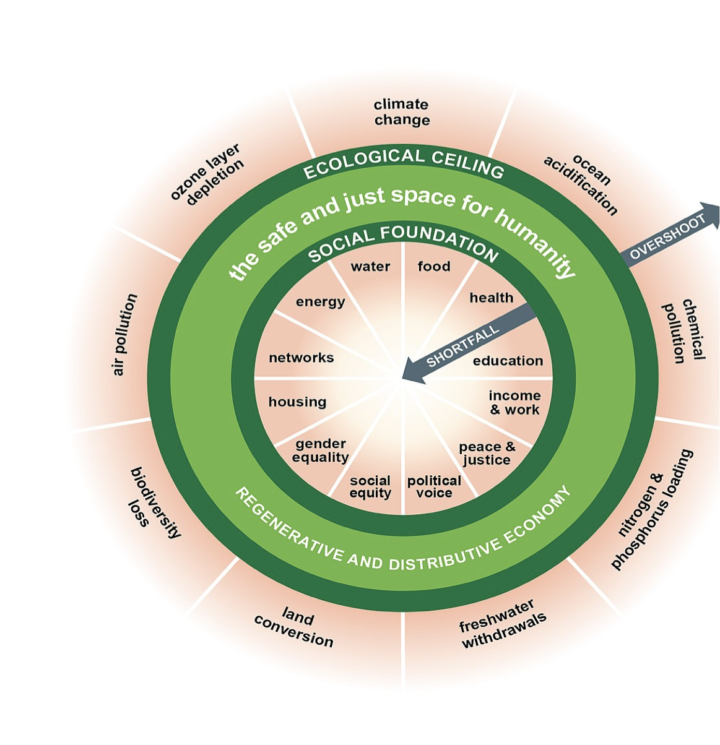 https://www.facebook.com/v3.0/plugins/like.php?action=like&app_id=&channel=https%3A%2F%2Fstaticxx.facebook.com%2Fx%2Fconnect%2Fxd_arbiter%2F%3Fversion%3D46%23cb%3Df1487435cbf9e44%26domain%3Dwww.pressenza.com%26origin%3Dhttps%253A%252F%252Fwww.pressenza.com%252Ff131b1c27e9d6fc%26relation%3Dparent.parent&container_width=0&href=https%3A%2F%2Fwww.pressenza.com%2F2021%2F02%2Fdoughnut-economics-boots-capitalism-out%2F&layout=button_count&locale=en_US&sdk=joey&share=false&show_faces=truehttps://www.facebook.com/v3.0/plugins/share_button.php?app_id=&channel=https%3A%2F%2Fstaticxx.facebook.com%2Fx%2Fconnect%2Fxd_arbiter%2F%3Fversion%3D46%23cb%3Df6255eac307a6c%26domain%3Dwww.pressenza.com%26origin%3Dhttps%253A%252F%252Fwww.pressenza.com%252Ff131b1c27e9d6fc%26relation%3Dparent.parent&container_width=0&href=https%3A%2F%2Fwww.pressenza.com%2F2021%2F02%2Fdoughnut-economics-boots-capitalism-out%2F&layout=button_count&locale=en_US&sdk=joeyhttps://platform.twitter.com/widgets/tweet_button.96fd96193cc66c3e11d4c5e4c7c7ec97.en.html#dnt=false&id=twitter-widget-0&lang=en&original_referer=https%3A%2F%2Fwww.pressenza.com%2F2021%2F02%2Fdoughnut-economics-boots-capitalism-out%2F&size=m&text=Doughnut%20Economics%20Boots%20Capitalism%20Out!&time=1612251545045&type=share&url=https%3A%2F%2Fwww.pressenza.com%2F2021%2F02%2Fdoughnut-economics-boots-capitalism-out%2Fhttps://apis.google.com/u/0/se/0/_/+1/fastbutton?usegapi=1&size=medium&origin=https%3A%2F%2Fwww.pressenza.com&url=https%3A%2F%2Fwww.pressenza.com%2F2021%2F02%2Fdoughnut-economics-boots-capitalism-out%2F&gsrc=3p&ic=1&jsh=m%3B%2F_%2Fscs%2Fapps-static%2F_%2Fjs%2Fk%3Doz.gapi.it.0CaZTE8dNSg.O%2Fam%3DwQE%2Fd%3D1%2Fct%3Dzgms%2Frs%3DAGLTcCO5Ih9mrs8zPI96rzcmq8czCtvlQQ%2Fm%3D__features__#_methods=onPlusOne%2C_ready%2C_close%2C_open%2C_resizeMe%2C_renderstart%2Concircled%2Cdrefresh%2Cerefresh%2Conload&id=I0_1612251537391&_gfid=I0_1612251537391&parent=https%3A%2F%2Fwww.pressenza.com&pfname=&rpctoken=19076961