You are currently browsing the daily archive for February 1, 2021.
Quaccheri e cristiani non evangelici senza chiesa
I risultati di oggi sono straordinari per il recente sitohttp://www.quaccheri.it. Si sfiorano le 1200 visualizzazioni alle ore 24.
Si è deciso di investire euro 96 annuali per monetizzare le visite e trarre autosostentamento dei 6 blog collegati
Se lo desideri puoi donare un euro al mese o una somma a tua discrezione per aiutare nella copertura di questi oneri imprevisti, dati dal successo di lettura.
Grazie amico degli Amici
01.02.2021 – Still I Rise
This post is also available in: Italian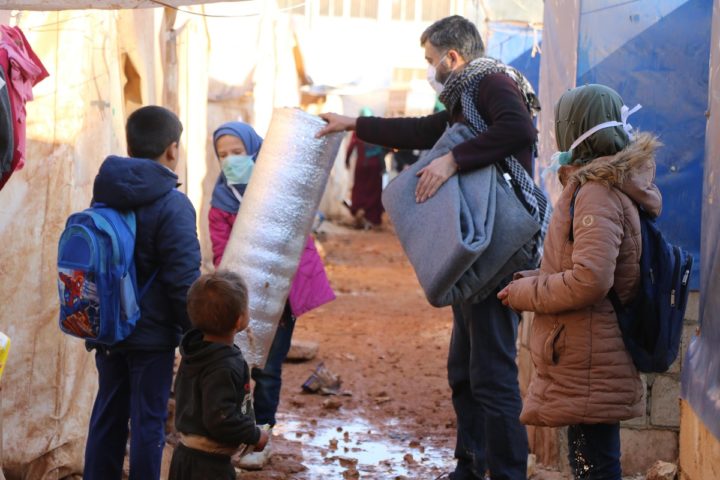 After the recent floods in North West Syria, Still I Rise chose to support its students at Ma'an educational center in Ad Dana through the distribution of tarps, blankets and waterproof mats. This is by far just a drop in the ocean, as the situation in North West Syria keeps deteriorating.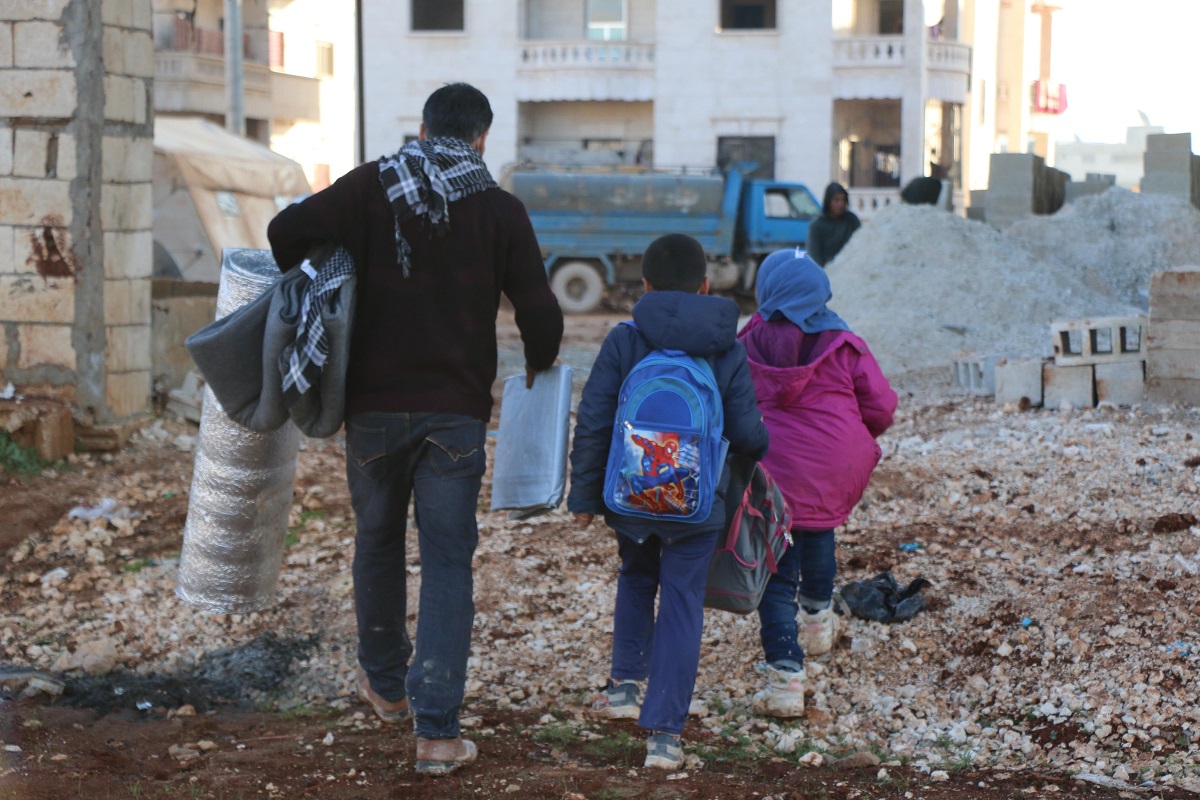 These floods affected more than 67,000 people residing in 196 IDP sites, causing one death and several injuries, as well as the complete destruction of over 3,760 tents and severe damage to more than 7,700.
«Syria is entering its 10th year of war, and there has been no improvement», says Abdulkafi Alhamdo, Syria Project Coordinator at Still I Rise. «People live in places that are not suitable for camps to be built on. Many of them live on agricultural land and whenever it rains their tents sink in the mud. Their basic right and need to be protected from cold, rain and snow is not respected. These families have been living like this for years and nothing has changed. Every winter we go through the same appeals, the same problems, the same suffering. Winter is a monster for people who live in such places. Last week data collected on the ground reported thousands of people affected by the floods but figures are highly unreported: the catastrophe happening right now in IDP camps in North West Syria is ten times worse. This suffering is so unimaginable that it cannot be told, cannot be counted, cannot be numbered. This can just be felt".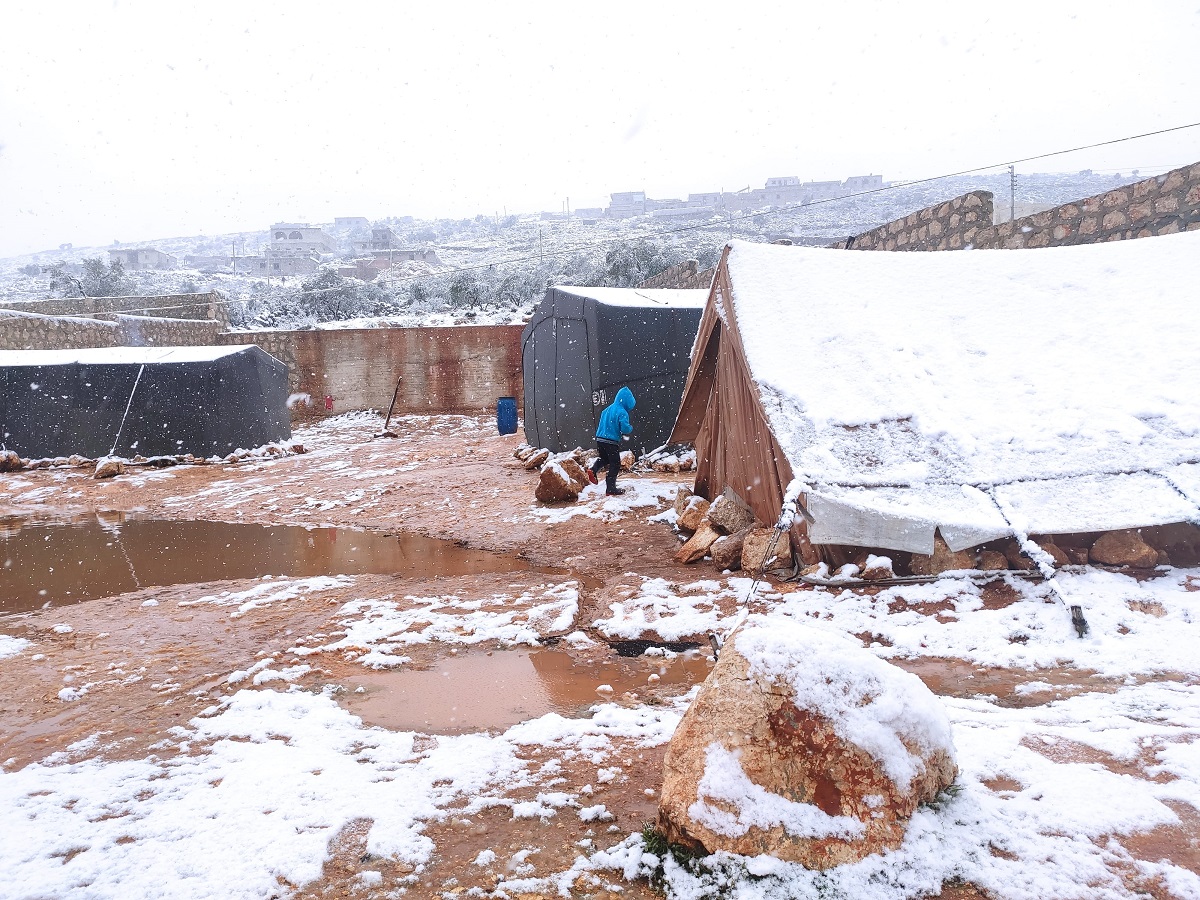 During the winter months, warmth is a rare luxury for the 2.7 million people (80% of whom are women and children) living in camps in North West Syria. The extreme weather conditions continue pushing people to move from one area to another, trying to find better living conditions, but often without any success.
Winter here brings extra challenges such as the constant need for fuel and heating, winter clothes and blankets, food, water, sanitation and hygiene products. Due to the lack of support, people resort to burning unsafe materials to cook and keep warm. This practice has sadly led to multiple fires and smoke inhalation: in December only, 17 fires were recorded which in turn affected 28 tents, causing one death and seven injuries.
Other than winter, this year the pandemic has brought yet another challenge to the population of North West Syria. According to a recent OCHA report, as of January 26, authorities confirmed almost 21,000 cases of COVID-19 while Coronavirus-related deaths have increased from 46 to 380 percent. Testing capacity is also very limited and some COVID-19 prevention programs are running out of funding, leaving hospitals struggling to provide the most basic health services. Moreover, lack of funding has left significant gaps in water and sanitation services for over 2.6 million people in the last 3 months, and the needs are expected to rise in the near future. In addition, hostilities don't stop in North West Syria: artillery shelling and bombs continue to affect communities there, with many civilian victims.
«The whole world has turned its eyes away from North West Syria, while people continue to suffer with no end in sight. 10-years-old children have seen nothing but war, displacement, poverty and suffering», says Giulia Cicoli, Advocacy Director at Still I Rise. «The only way to allow Syrians to live in dignity, freedom and security is a political solution to the conflict. We know this is an immense challenge in an extremely complicated context but still, a solution must be attempted. Millions of lives are at stake. Until then, the international community needs to step up humanitarian aid in the region immediately in order to meet at least the most basic needs so that people can have a better chance at survival».
For further information:
Vanessa Cappella
31.01.2021 – US, United States – Independent Media Institute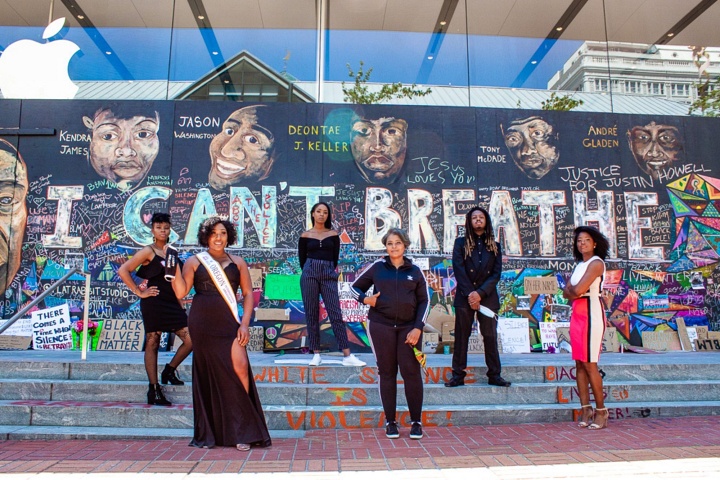 Portlanders have been protesting everyday since May. Community mutual aid 'blocs' support BIPOC activists with everything from groceries to haircuts to tattoos.
By April M. Short
At any given Black Lives Matter (BLM) event in Portland, you might encounter what looks like a farmers market stand, with woven baskets full of fresh veggies, fruits and flower cuttings. Look a little closer and you might come across an "Abolish the Police Lettuce Mix" or a fruit basket with a hand-painted sign that reads "billionaires are not essential." This is the PlantBloc booth, where everything is freely donated and given away by Portland's gardeners and plant lovers to support the movement against racism, and justice for BIPOC (Black, Indigenous, and People of Color) people.
PlantBloc operates only through volunteers and donations and does not accept any money. The mutual aid collective gathers donations through word-of-mouth and social media outreach on the PlantBloc Instagrampage.
Rae, a PlantBloc volunteer, says people have tried to donate money at events but removing it from the equation has created a special kind of exchange.
"One of the reasons that just feels good is that it's an energy exchange, it's not about money," she says. "It's about sharing resources and knowing that we have plenty of resources to share."
As soon as PlantBloc was up and running in August, Portlanders were ready with donations. Damanay Iqwé, a volunteer with the group's communications team, says PlantBloc was set up in just a couple of days, and as soon as they put out a call for donations, boxes after boxes of plants began to arrive. At their first event, they estimated that they redistributed at least 300 pounds of food, houseplants and flowers.
PlantBloc allocates its community donated garden herbs, veggies, fruit, tea, flowers and houseplants to support BIPOC neighbors and the BLM movement. Members of the group, with green thumbs, herbalism skills or experience with food justice, offer gardening tips, plant preparation advice and education—and the group also shares information about upcoming protest actions.
"It's become a beautiful association of people that are all working to educate the public on creating their own systems of food, rather than relying on the systems that aren't serving us," says Iqwé. "Gardening is a revolutionary thing. If you create your own food, you aren't dependent to get your food in the systems that aren't feeding us. [The existing systems] are giving us genetically modified food, they're giving us all kinds of stuff that we don't have control over. When you are a gardener and when you create your own food and your own medicines, you're able to have more control over [the whole process]."
Iqwé, a founding member of PlantBloc, says as a Black man in America getting involved with the BLM effort wasn't a choice so much as the necessary defense of his own life.
"I'm just here because my life matters," Iqwé says, noting that there is no official entity or charter for the BLM movement in Oregon. He says his first protest experience was in 2014 with Teresa Raiford, who is the founder of Don't Shoot Portland, following the police killing of Michael Brown in Ferguson, Missouri—which sparked some of the first worldwide BLM protests.
"I've been involved in trying to amplify my voice since then," he says. "Being involved is, to me, a necessity. What am I going to do? Sit on the sidelines? Any soft skill, any hard skill, any skill I can provide to this movement, to push it forward so that it can be proven, finally, that my life matters, I will lend—which is why I'm one of the people speaking to you now, in the communications group [for PlantBloc]."
Iqwé says, for him, the BLM movement was a long time coming. His relatives were some of the first Black people ever allowed to move into Oregon, as Oregon's racist Black exclusion laws long-prevented Black people from living in the state. Iqwé's great-grandparents were able to move to Oregon "because Henry Kaiser wanted to have poor laborers in a small town called Vanport." Vanport was "not well taken care of," and after a historic flood wiped out the entire city of Vanport in a single day in 1948, Iqwé says his ancestors escaped.
"That was the very first gentrification of Black people in Oregon," Iqwé says. "We're all using our skills to hopefully create a situation where my son doesn't have to fight through this [systemic racism]. My father fought through it, my grandfather fought through it, my great-grandfather fought through it. Now I'm fighting through it so that he [my son] doesn't have to."
PlantBloc has lent its mutual aid to causes outside of BLM protests—like distributing lung-supportive herbs and teas during the weeks when hazardous fire smoke choked Portland this summer—but their focus is on the ongoing movement against racism.
Rae, an avid gardener who grew up on a small farm of about three acres outside of Eugene, Oregon, complete with goats, chickens and some ducks, started to volunteer with PlantBloc because, she says, she wanted to put her privilege to use to support the BLM movement and make gardening more accessible—especially for BIPOC people in Portland.
"It took me a long time to realize the privilege I had in understanding where my food came from and being so connected to it," she says. Over time, she also came to realize how inaccessible many of the existing community garden spaces in Portland can be.

"Even for someone like myself, who's white and has some garden knowledge, those spaces require a lot of time, commitment, and resources, and they can be pretty uninviting," she says. "It's really magical to see how well people respond to the PlantBloc events."
She says she's involved with the movement because she believes that Black lives and Indigenous lives matter, and it's important to her to donate whatever skills she has to help make a change.
"As a woman, the rights I have, the privileges I have, are thanks to Black women," she says. "Black women have done so much for me, and [for me] to not be part of the BLM movement would be disrespectful. I'm just bringing what skills I have. I have a master's degree, I have an education. I'll bring a skilled analysis and wield what privileges I have—or I will go out and dig in the dirt for five hours in the rain. That's fine. I just want the world to change."
PlantBloc is among a series of "blocs" that developed out of the BLM movement in Portland to support people out in the streets protesting for long hours and to mobilize community engagement. Since George Floyd was killed by police officers in Minneapolis in May, Portlanders have been protesting, rain or shine, for justice for Black lives. Community members seeking to bolster the cause have donated their skills and supplies, and formed a series of supportive mutual aid groups or "blocs," which bring a range of offerings to the BLM protest events, and sometimes to vulnerable neighbors in need of help.
Among the more active blocs in Portland is Snack Bloc, which has been avidly spreading awareness and seeking involvement in the BLM movement in Portland and the surrounding region since 2017. They bring donated food and COVID-safe snacks to in-person protest events, and their social media channels help to spread the word about vigils held for victims of police violence, BLM protest events and rallies. Throughout the pandemic—and in response to the economic difficulties it has brought—Snack Bloc has also worked to connect people to supportive resources and social programs.
According to their website, their mission is "to support the resistance, one snack at a time… by providing food, supplies and camaraderie for BLM activists confronting neo-fascist actions in Portland."
In 2020, as their website explains, the group expanded its efforts to offer hands-on community care "to address the gaps created by our ineffective social service system… Our goal is to meet people where they are at and offer low-barrier, non-judgmental care, prioritizing BIPOC and unhoused folks from a place of abundance and relationship-building." Unlike PlantBloc, Snack Bloc accepts monetary donations.
After the lethal October police shooting of Kevin Peterson in Vancouver, Washington, which is just 15 miles from Portland across the Columbia River, Snack Bloc shared information about a vigil for Peterson, stating in an Instagram post:
"Rest in power Kevin, we'll be screaming your name. He was only 21. He had a daughter. He was a son. He had a family. He had friends. He is a man who is no longer with us."
In addition to directly supporting BLM actions, Snack Bloc has rallied against military drone testing in Portland and worked with various efforts to feed and provide emotional support to people in need, in collaboration with regional collectives and organizations like the Peacekeeper Society, located on the Yakama Nation Indian Reservation in Washington State, Don't Shoot Portland, Symbiosis Portland and others.
The list of blocs that Portlanders have formed to use their skills in support of mutual aid and BLM is long. There is a Beauty Bloc by hairstylists donating haircuts; there is a Care Bloc focused on aftercare and on the ground trauma recovery for protesters; there is a Grocery Bloc that brings groceries to vulnerable people during the pandemic and beyond; there is a Bread Bloc offering baked goods to people on the streets; a Blunt Bloc"keeping spirits high"; a Barista Bloc that has brought hand sanitizer and hot drinks to houseless communities; a Pet Bloc that connects mutual aid donations to help people struggling with pet care costs; Black Bloc Tattoo offering free tattoo designs to BIPOC community. The list goes on. These blocs are a show of solidarity and strength by Portlanders who have continued their concerted efforts to rally behind the BLM movement.
This article was produced by Local Peace Economy, a project of the Independent Media Institute.
---
April M. Short is an editor, journalist and documentary editor and producer. She is a writing fellow at Local Peace Economy, a project of the Independent Media Institute. Previously, she served as a managing editor at AlterNet as well as an award-winning senior staff writer for Santa Cruz, California's weekly newspaper. Her work has been published with the San Francisco Chronicle, In These Times, Salon and many others.
01.02.2021 – US, United States – Pressenza New York
The Founding Myth and Christian Nationalism Intersect
By Zoe Sullivan
"I contend that America is a religion…Our religious symbols are guns and dollar bills. We hold those symbols to be sacred," the Rev. Dr. Emma Jordan-Simmons told me on inauguration day. We were discussing the role religion played in the January 6th insurrection. Jordan-Simmons runs Fellowship of Reconciliation (FOR), which focuses on overcoming social injustice through interfaith efforts that embrace active non-violence.
"One does not have to be a Christian to be a white supremacist," she went on. "And I would dare say that those who were among that crowd on January 6th had a lot in common. And though you saw the flag, the Christian flag, and you saw the cross, there was a lot more for people to bond over. They'd have had everything to do with what it meant to be American and what it meant to be white."
The vision of the United States that the insurrectionists bonded over, Jordan-Simmons says, is based on a lie. It ignores the country's "birth defect:" the role of chattel slavery and indigenous genocide in the United States' development.
"We came here and found the wilds and cleared the land. And, you know, with our ingenuity in our hearts, work with the sweat of our brow, the work of our hands, we created, we built this shining star as example to the world," Jordan-Simmons recites.

"That is not what happened, but that is our national myth. And it is what's baked into our education."
Christian nationalism was on display on the 6th along with other trends, like QAnon and pro-gun extremists. Still, Jordan-Simmons' reading of United States exceptionalism, its existence a manifestation of divine favor, recognizes that this perspective conflates God and state in a way that contravenes the basic constitutional tenet of keeping the two separate. The insurrection, Jordan-Simmons imagines, with its commingling of patriotic and Christian fervor, "was our founding fathers' worst nightmare."
In 1936, as Hitler violated the terms of the Treaty of Versailles and pushed Germany toward a new war, James Waterman Wise warned that if fascism were to come to the United States, it would be: "wrapped up in the American flag and heralded as a plea for liberty and preservation of the constitution." The similarities between this prediction and the calls that have been made over the past year against mask wearing and the outcome of the election should be disturbing.
Christianity Today's Tish Harrison Warren wrote that responsibility for the January 6th coup attempt "must be in part laid at the feet of those evangelical leaders who ushered in and applauded Trump's presidency. It can also sadly be laid at the feet of the white American church more broadly."
Within military and police circles, there have also been signs for years. Reveal published an investigation into secret Facebook groups with police officers and members of the military in 2018. That investigation found rampant Islamophobia along with hate speech and racist memes.
The Military Religious Freedom Foundation (MRFF) has been warning about fundamentalist Christianity within the U.S. military for nearly two decades. The MRFF aims to ensure that all members of the United States Armed Forces are able to practice their religion freely, as outlined in the First Amendment. Michael "Mikey" Weinstein, who is Jewish, founded the MRFF after his son, Curtis, experienced antisemitism at the Air Force Academy in 2005.
Now, the MRFF boasts some 72,000 members by Weinstein's count. Most, he says, are Christians who are "tortured because they aren't Christian enough." That is, they don't subscribe to a more evangelical version of Christianity.
In the wake of the January 6th insurrection, Weinstein published a statement describing the spread of fundamentalist Christianity and Christian supremacy within the U.S. military as "shockingly systemic." Larry Brock, who was photographed in the Capitol carrying zip ties and wearing body armor, is an Air Force vet and an Air Force Academy graduate.
"[Fundamentalist Christianity] is ubiquitous. It is tied into the very DNA of America," Weinstein said in an interview. "We are dealing with a national security threat internally to our country every bit as bad as what we're facing externally with ISIS, Al Qaeda, you name it."
The aftermath of the insurrection suggests Weinstein is right. An analysis by NPR found that roughly 20 percent of those arrested for participating in the insurrection were former military.
Military Times also reported last year that episodes of white nationalism or ideologically-driven racism were increasing. According to a survey, more than a third of active-duty troops had witnessed such hate. That figure increased to half among service people of color.
The cost to Weinstein of standing up for religious freedom within the military has been an ongoing flood of hate mail, death threats and an attack on his home.
Weinstein points to Dominion Christianity and the Seven-Mountain Theory as central tenets of Christian nationalism. Sociologist Sara Diamond writes that some interpret Genesis 1:26 to signify "that Christians alone are Biblically mandated to occupy all secular institutions until Christ returns–and there is no consensus on when that might be."
Photo by Gilbert Mercier / CC. Pick-up truck with 2nd Amendment (gun right) stickers. The Punisher skull symbol is used by QAnon.
Brad Christerson, also a sociologist, argues that Independent Network Charismatic groups have played a particularly important role in theologically justifying rejecting the election results and, ultimately, building the movement that stormed the Capitol. These groups are not affiliated with a formal denomination and consequently face fewer constraints.
In an article published in The Conversation, Christerson writes:
INC beliefs are different from those of most traditional Christian groups, including those affiliated with official Pentecostal denominations. INC promotes a form of Christian nationalism the primary goal of which is not to build congregations or to convert individuals, but to bring heaven or God's intended perfect society to Earth by placing "kingdom-minded people" in powerful positions at the top of all sectors of society, the so-called "seven mountains of culture" comprising government, business, family, religion, media, education and arts/entertainment.
The January 6th insurrection is not the only time or place when Christianity and nationalism have merged. German philosopher Dorothee Solle coined the concept of "Christofascism" in 1970 as she attempted to understand both how churches enabled Nazism's rise and individuals' responsibility for that regime. Solle described "Christofascists" as antisemitic, racist and willing to use violence to achieve their ends.
Common characteristics of fascism include exaltation of the military, concentration of power in a single leader, disdain for liberal politics and culture as well as for parliamentary democracy. Arguably, these were all on display during the January 6th attack which saw not only an attempt to halt the electoral process, but also violence against journalists.
Imperialism is another characteristic of fascism, and the U.S. is exporting some of the values and beliefs that underpinned the insurrection. For example, Brazil's investigative outlet Ágência Pública revealed that Ralph Drollinger's Capitol Ministries placed conservative pastors in six Latin American capitols after Donald Trump took office. The organization aims to install 200 ministries in 200 global capitols, according to its website.
Right Wing Watch has highlighted Drollinger's writing that "the critical and preeminent duty of the Church in an institutionally separated society" is "to evangelize and disciple—to Christianize—the leaders of the State and its citizenry."
Capitol Ministries also offers pastoral guidance in at least 32 U.S. state houses. One of the organization's Bible Study sessions focuses on when the Bible justifies war. Another is entitled: Coming to Grips with the Religion of Environmentalism.
The growth of fundamentalist sects, however, represents a counterpoint to the bulk of the country, which is moving away from organized religion, according to Pew research. The Pew Research Center published a report in mid-January stating that the number people who identify as having no religious affiliation has been growing while those who identify as Christians has been decreasing. The Center's most recent poll found that 63 percent of adults in the U.S. identify as Christians compared to 77 percent in 2009. Those identifying as having no religious affiliation has increased to 28 percent from 17 percent.
Jordan-Simmons, however, contends that Pew focuses on mainstream religious beliefs and misses important phenomena, such as Independent Network Charismatic groups.
Instead of ostracizing those who hold Christian-nationalist or white-supremacist beliefs, though, Jordan-Simmons says that white folks "need to go home" and listen to their family and neighbors. She compares the work of connecting with those in one's own sphere of being ordained into a ministry because of the challenges involved.
"This is not about logic and charts and graphs," Jordan-Simmons said. "This really is about how we figure out how to enter into different kinds of relationships with people who are dealing with different facts."
Fellowship for Reconciliation has some support systems for those wishing to embark on this "ministry." Before the pandemic, FOR began working with a group called The People's Supper, which offers a guidebook for multi-racial communities looking to work towards healing. Jordan-Simmons also pointed to the Presbyterian Peace Fellowship as an example of what a denomination could do to work towards social justice and to include people with different perspectives.
"It's not the end-all; it's not a silver bullet, but it is a beginning," says Jordan-Simmons.
Article first published by Testing Ground
The original article can be found on our partner's website here