You are currently browsing the daily archive for January 10, 2021.
10.01.2021 – International Peace Bureau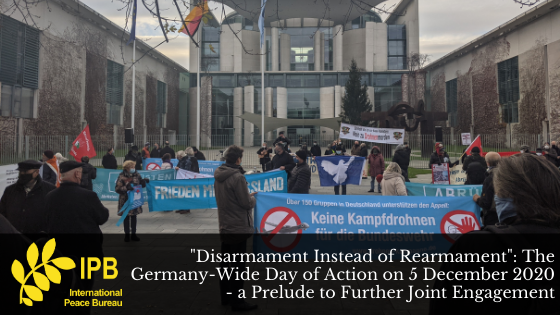 "Disarmament Instead of Rearmament": The Germany-Wide Day of Action on 5 December 2020 – a Prelude to Further Joint Engagement
With more than 100 events and several thousand participants, the day of action and protest organized by the Abrüsten statt Aufrüsten campaign (Disarm instead of Rearm) was a great success, despite the difficult conditions created by Covid-19.
Peace initiatives all over the country were joined by trade unions and – in a new showing of solidarity— environmental organizations who made this day theirs and, full of ideas and imagination, took to the streets for peace and disarmament while keeping with the nation-wide Corona-related restrictions. Human chains, rallies, vigils, public events, signature campaigns, and information stands characterised the more than 100 actions.
Signatures calling for "disarmament instead of rearmament" were collected prior to and during the day of action, reaching over 180,000 signatures to date.
The media response before and during the day of action, including in Switzerland and France, was certainly positive. It has also contributed to bringing the issue of disarmament back into the public eye.
This day of action encourages further activities and actions in Germany and beyond.
In Germany, the movement hopes to get involved in the federal elections in 2021. This election will be challenging and demands for peace, détente and disarmament must be prominent in the discussion. Peace and disarmament should become an election campaign issue and influence the election decision. Together with activists and committed people, we hope to develop an action-oriented campaign and agree on it together at an action conference in the spring of 2021.
Nevertheless, we are only at the beginning: in this confrontational world situation, peace does not yet have the status in society that it should have in view of the current acute political situation; disarmament is not yet central in the consciousness of the people of our country, and it is not an election-deciding issue. The interdependence of peace, social issues, and environmentalism, especially climate justice, is still not sufficiently understood. The Abrüsten statt Aufrüsten campaign will continue to make disarmament a social hegemonic challenge through diverse actions and thus decisively strengthen the peace movement.
The extended working committee of the campaign offers us a good basis for this. The members of the working committee are Peter Brandt (Neue Entspannungspolitik Jetzt!) | Reiner Braun (International Peace Bureau) | Barbara Dieckmann (former President of Welthungerhilfe) | Thomas Fischer (DGB) | Philipp Ingenleuf (Netzwerk Friedenskooperative) | Christoph von Lieven (Greenpeace) | Michael Müller (Naturfreunde, former State Secretary) | Willi van Ooyen (Peace Bureau) | Michael Müller (Peace Foundation, former President of Welthungerhilfe) | Michael Müller (Peace Foundation, former State Secretary of the German Federation of Trade Unions). ) | Willi van Ooyen (Federal Committee Peace Council) | Miriam Rapior (BUNDjugend, Fridays for Futures) | Ulrich Schneider (Managing Director Der Paritätische Wohlfahrtsverband) | Ludwig Weigel (Deutscher Bundesjugendring) | Uwe Wötzel (ver.di) | Thomas Würdinger (IG Metall) | Olaf Zimmermann (Deutscher Kulturrat).
Allocating nearly 50 billion Euro to the defence budget is unjustifiable; new weapon systems are being procured and the militarisation of society continues to grow. We know that war does not solve any problem: armament does not create true security or a sustainable environment. Given the global pandemic that currently threatens everyone's security regardless of nationality or military might, "Health instead of armament" has been a core call across nearly all actions.
In a speech in Berlin, the Chair of the German Trade Union Confederation (DGB) Reiner Hoffmann elaborated:
"…we have ample reason to demand a change of course. The NATO goal that all allies should spend two per cent of their GDP on rearmament is still not off the table. For Germany, this would mean that its defence budget would increase to around 80 billion euros.
This must not be allowed to happen under any circumstances! That is why we must now stand up to all those who, after the election of Joe Biden as the new US President, are loudly demanding that the two-percent target be met. Across all parties, we are currently hearing the argument that this is a key to repairing the transatlantic relationship.
What nonsense! Much more urgent is the question of how we can talk to each other after the return of the US to the Paris climate agreement. Talking about how the new US administration and the Europeans can cooperate more closely in the fight against climate change.
Arms build-up and the force of arms do not solve problems. On the contrary! We should especially remember this this year. It is 75 years since the Second World War ended and the world was liberated from fascism."
The Managing Director of the social welfare association "Paritätischer Wohlfahrtsverband" Ulrich Schneider underlined his organization's new commitment to peace with the words "in the future always with us".
5 December 2021 was a start – we will continue together.
Reiner Braun, Executive Director of the International Peace Bureau (IPB) is a member of the working committee of Abrüsten statt Aufrüsten.
More information on the actions, speeches, pictures and impressions www.abruesten.jetzt.
10.01.2021 – Madrid, Kingdome of Spain – Juana Pérez Montero
This post is also available in: Spanish, French, Italian, Portuguese, Catalan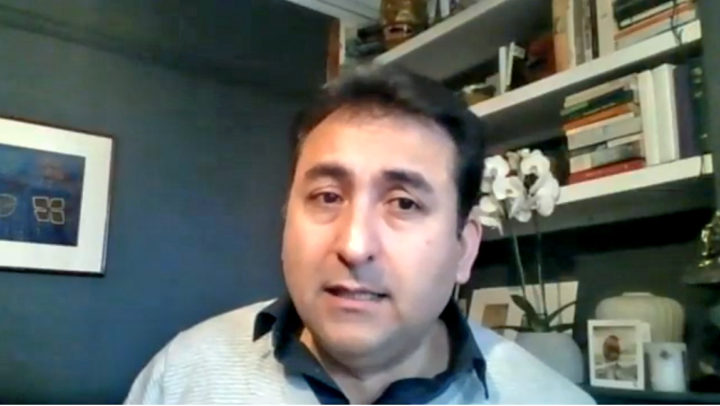 "We must celebrate the sentence … but with great caution,". In this interview, Fidel Narvaez, former consul of Ecuador in London tells us about the resolution that denies the extradition of Julian Assange to the United States.
"Behind the sentence, there has been great social pressure and it is a whitewashing of the image of the British judicial system," he says later.
"Journalistic work has been criminalized …"
Video editing: Ángel Martín / Transcription: Alicia Blanco
Interview transcript
Pressenza. – Good morning. We are with Fidel Narváez, former consul of Ecuador in London. Thank you very much for giving us your attention.
Fidel Narváez. – A pleasure, a privilege and I am at your service.
P-– Monday, January 4, the British justice issued a verdict refusing the extradition of Julian Assange to the United States. Could you analyze the terms of this verdict?
FN. – It seems to me that it is important to understand that this is a sentence in the first instance. A battle has been won because extradition has been denied. That is a victory, but the match is not over. That sentence will be appealed and we will have new developments.
The most important thing is the end result: extradition was denied. It is something to celebrate. It is a somewhat unexpected sentence, given the judicial abuse that we have witnessed for many years and especially in this very extradition process. The reason is purely humanitarian. That is to say: of all the motivations, all of them very strong and very well supported by the defense, the only one that the judge has accepted is the one that refers to the very deteriorated state of health of Julian Assange as a result of his persecution, of his confinement, the psychological torture to which he has been subjected, and the high risk of suicide he would have if he is extradited, especially in the oppressive conditions that exist in the United States for cases of national security or espionage.
So that must be celebrated, certainly, but I think it must be celebrated with great caution. Why? Because the other motivations that should have stopped that sentence have basically been endorsed by the judge. That is: the criminalization of purely journalistic activity. If we save Julian Assange from this extradition, the risk remains intact for the rest of journalists who in the future dare to make publications similar to those that Julian Assange has made. This is revealing war crimes, crimes against humanity.
P– Do you think there are other underlying reasons that can justify this sentence? Do you think British justice – or in this case the judge responsible for this sentence – care so much about the status of Julian Assange?
FN. – I think it's the least important thing to them, to be honest, but behind this, there is a whole social pressure that was finally built around the cause of Julian Assange. Because the case of Julian Assange yesterday is not the same as the case of Julian Assange two years ago when he was expelled from the embassy of Ecuador.
Because from that time on, the persecution has proven to be so crude, and so disproportionate. Thus, many prestigious human rights organizations known worldwide, journalists' unions around the world and even the most prestigious media which at the time have had a confrontational relationship with Julian Assange and Wikileaks already in unison, realized the danger that the extradition of Julian Assange represents for journalism, journalists, and have actively opposed this extradition. I'm talking about Amnesty International, I'm talking about Human Wright Watch, I'm talking about Reporters Without Borders. So it seems to me that with yesterday's sentence, the judge endorses the persecutory political arguments about the defendant but decides not to extradite him for humanitarian reasons. Basically what she is doing is a facelift of the British judicial system and saying "this is what we are going to appeal in the future for anyone who dares to do the same ". But in this particular case, we are good, humanitarian, and we are going to save the life of this man for whom everyone is advocating.
Those who have broken international law are not the ones who were being tried.
Q.- As you say, the sentence sets a very strong precedent that calls into question freedom of the press. But also an international law has already been violated from the moment the British police are allowed to enter the embassy Ecuador… that is, the lack of respect for international law and international agreements both by the government of Lenin Moreno and by the British government. And that has not been questioned in the sentence either …
FN. – Of course, of course. This is a political case, and in this political case, those who have been tried and prosecuted are not those who have committed the crimes. I am referring specifically to the government of the United States and the British government itself in the illegal wars, crimes that were exposed by Julian Assange in Wikileaks. The one who has been prosecuted is the one who dared to reveal them, expose those crimes and confront those criminals. So you are seeing a political case there.
Those who have broken international law are not the ones on trial. So it is obvious that the judge is not going to condemn in her sentence the attitude of the Ecuadorian government that harassed, put in solitary confinement, isolated, psychologically tortured Julian Assange in his last year. I mean the government of Mr. Lenin Moreno. And later, breaking international conventions, he handed over a political refugee to his persecutors, opened the doors of an embassy for a foreign force to invade and kidnap a journalist, a political refugee.
On the contrary, the judge has even cited President Moreno in the sentence, trying to justify the reasons Julian Assange was expelled from the embassy and trying to justify the espionage to which he, his lawyers, his visits, were exposed to. So yes, it is a very negative precedent in many ways, but above all, because it criminalizes journalistic activity.
Julian is the most important political prisoner in the West
P- And what do you think will happen in the next few days and in the future?
FN – Well, this continues. There will be an appeal from the persecutors. I trust that the higher instance of British justice will ratify the judge's decision to deny this extradition. And, we will reach the end of this dark tunnel, which has already been too long, too tortuous, and whose objective has been to set a precedent that is already established.
The precedent has already been set. They don't need to lock up Julian Assange for life to scare journalists. They already have. Because they have persecuted him for 10 years, they have defamed him, they have destroyed his reputation and they have inflicted serious, serious psychological damage on him that is probably irreversible.
P. – And physical, I understand right?
FN. – Exactly.
P. – And you, who have lived with him for years, how are you living it personally?
FN. – Well, I am very, very committed to this case, to this cause, for various reasons, including personal ones. Julian has become a personal friend during all this time. But he is a person that I began to support before he was my friend because I believe in the causes that he defends. I share it, and because also, as a representative of my country in his moment, I was very comfortable and proud that my country sheltered and promoted these causes. So this is personal, it is political, it is a matter of principle. And I live it intensely, yes, with great concern for his future, for the precedent that has been set yesterday, but also with optimism because in any case, it has been a victory, a well-deserved battle for him and his legal team. Of course.
P.-It was quite unthinkable, I think the sentence was surprising. Or were you not so surprised …?
FN. – Well, it was possible, I confess. Because although for so many years we had already seen so much abuse, so much neglect and so much contempt for the rule of law, for justice as such, the extradition hearings that were intense, long, highly litigated, gave a forceful demonstration in my opinion, a proof that it is political persecution and that there are no grounds, none, to criminalize the actions of Julian and Wikileaks.
So for me, despite having lost hope along the way after seeing such a demonstration by the defense, it seemed to me that perhaps the British legal system couldn't g any further. And in good time the judge, even for insufficient reasons, which is only for the humanitarian issue, only for the health issue, which means that if it were not for that, they would have already extradited him. Even if that is why she gave the decision, it seems fair to me and I thought it was also possible. So yes, surprised, but not entirely.
P. – Very good. Do you want to add something else?
FN. – Well, simply that this case is still open, that the end of that tunnel has not been reached, that there are appeal instances, which we hope will allow Julian Assange to defend himself in freedom. He is a political prisoner. He is the most important prisoner in the West, the most important political prisoner in the West because he is not serving a sentence, he has no charges against him, he owes nothing to justice and they continue to keep him in prison.
It is time for him to enjoy, after so long, what all of us want for everyone, which is freedom.
P .- Thank you very much, hopefully, we will meet to talk about the freedom of Julian Assange.
FN. – So be it. Thank you very much.