You are currently browsing the daily archive for January 2, 2021.
Come sapete siamo contrari al otto per mille religioso e ogni anno al fine di non pagare i domini dei nostri blog cambiamo nome: è in scadenza ecumenici.it e da ora è attivo http://www.ecumenici.site, totalmente gratuito. Passato da Pretestante a quacchero cristiano, non liberale.
Abbiamo raggiunto in venti anni 125.800 persone con un solo blog;
http://www.quaccheri.it si sta dimostrando velocissimo nel numero di lettori in soli 5 anni. Arriverà a superare di certo quello storico. che da protestante è diventato degli Amici solo cristiani. Completamente slegato da Londra.
Grazie a tutti Voi per i successi e un buon anno di letture con
http://www.quaccheri.it con 36.807 lettori al 2/01/2021
http://www.ecumenics.eu in sola lingua inglese per lettori USA con 15.861 lettori
http://www.lessicocristiano.it con 11.803 lettori cimentatasi col greco biblico
http://www.quaccherimedioolona.it per la storia dell'antifascismo varesino con con 12.664 lettori prevalentemente varesini
oltre a quello personale che per scelta religiosa non pubblicizzo ma contiene solo gli altri siti religiosi.
Più di 77.000 lettori è un bel primo traguardo senza un euro in tasca!
01.01.2021 – Deutsche Welle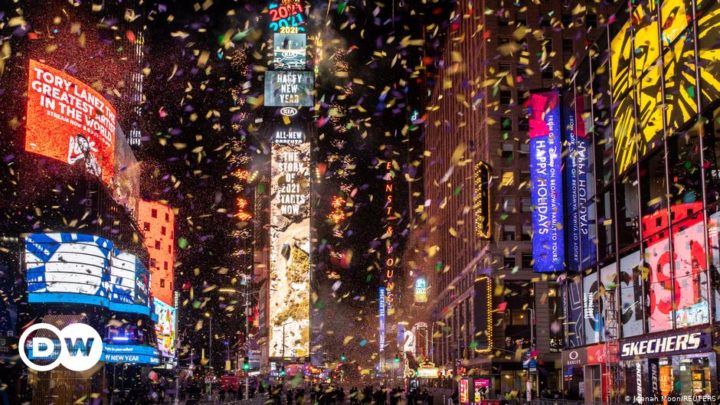 Nations around the world have said goodbye and good riddance to 2020. The festivities were toned down as millions stayed at home due to COVID, but the new year still carries high hopes. Follow our live ticker.
Most NYE celebrations were watched from home, if they weren't canceled
Millions are in lockdown as recent waves of COVID infections continue to take their toll
Many were eager to see the back of 2020, a year in which COVID-19 killed over 1.8 million people
All updates in Coordinated Universal Time (UTC)
The original article can be found on our partner's website herehttps://www.facebook.com/v3.0/plugins/like.php?action=like&app_id=&channel=https%3A%2F%2Fstaticxx.facebook.com%2Fx%2Fconnect%2Fxd_arbiter%2F%3Fversion%3D46%23cb%3Dfc115754b47994%26domain%3Dwww.pressenza.com%26origin%3Dhttps%253A%252F%252Fwww.pressenza.com%252Ff11ccd6fb2df04%26relation%3Dparent.parent&container_width=0&href=https%3A%2F%2Fwww.pressenza.com%2F2021%2F01%2Fnew-year-2021-around-the-world-as-it-happened%2F&layout=button_count&locale=en_US&sdk=joey&share=false&show_faces=truehttps://www.facebook.com/v3.0/plugins/share_button.php?app_id=&channel=https%3A%2F%2Fstaticxx.facebook.com%2Fx%2Fconnect%2Fxd_arbiter%2F%3Fversion%3D46%23cb%3Df14ccb15f09d4ec%26domain%3Dwww.pressenza.com%26origin%3Dhttps%253A%252F%252Fwww.pressenza.com%252Ff11ccd6fb2df04%26relation%3Dparent.parent&container_width=0&href=https%3A%2F%2Fwww.pressenza.com%2F2021%2F01%2Fnew-year-2021-around-the-world-as-it-happened%2F&layout=button_count&locale=en_US&sdk=joeyhttps://platform.twitter.com/widgets/tweet_button.96fd96193cc66c3e11d4c5e4c7c7ec97.en.html#dnt=false&id=twitter-widget-0&lang=en&original_referer=https%3A%2F%2Fwww.pressenza.com%2F2021%2F01%2Fnew-year-2021-around-the-world-as-it-happened%2F&size=m&text=New%20Year%202021%20around%20the%20world%20%E2%80%94%20As%20it%20happened&time=1609576803420&type=share&url=https%3A%2F%2Fwww.pressenza.com%2F2021%2F01%2Fnew-year-2021-around-the-world-as-it-happened%2Fhttps://apis.google.com/se/0/_/+1/fastbutton?usegapi=1&size=medium&origin=https%3A%2F%2Fwww.pressenza.com&url=https%3A%2F%2Fwww.pressenza.com%2F2021%2F01%2Fnew-year-2021-around-the-world-as-it-happened%2F&gsrc=3p&ic=1&jsh=m%3B%2F_%2Fscs%2Fapps-static%2F_%2Fjs%2Fk%3Doz.gapi.it.o4X8zhfi1Kg.O%2Fam%3DwQE%2Fd%3D1%2Fct%3Dzgms%2Frs%3DAGLTcCPDov-aNJ9_tAuwHHtlliJMlYnW0w%2Fm%3D__features__#_methods=onPlusOne%2C_ready%2C_close%2C_open%2C_resizeMe%2C_renderstart%2Concircled%2Cdrefresh%2Cerefresh%2Conload&id=I0_1609576801881&_gfid=I0_1609576801881&parent=https%3A%2F%2Fwww.pressenza.com&pfname=&rpctoken=11220598