You are currently browsing the monthly archive for August 2020.
31.08.2020 – The Conversation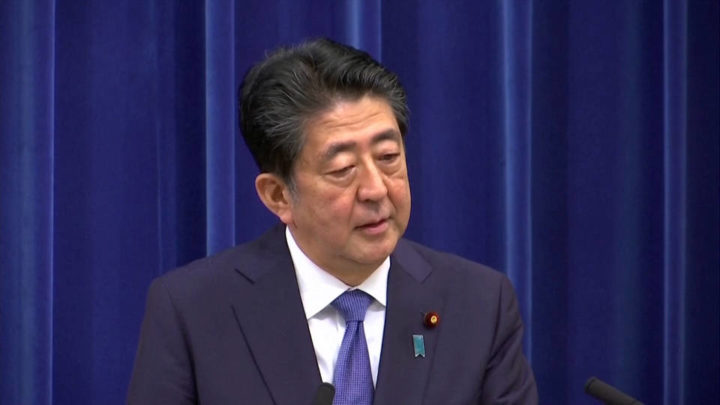 Japanese Prime Minister Shinzo Abe ended weeks of speculation about the state of his health by announcing his surprise resignation today.
The 65-year-old Abe was finally forced to concede to the ulcerative colitis intestinal disease that had brought his first brief term in office to an end in 2007.
After being treated with a new course of medication, Abe made a remarkable political comeback in 2012. He regained the leadership of the conservative Liberal Democratic Party (LDP), and led it back into government, three years after it was knocked out of power.
Abe easily defeated the weak and disorganised opposition parties in the 2014 and 2017 elections, and in 2018 secured an unprecedented third three-year term as LDP president, with his supporters speculating he could lead for yet another.
Partial successes in the economy, defence
Abe kept up this political success based around his core economic policy, prominently marketed as "Abenomics". This comprised the three "arrows" of record stimulus spending, quantitative easing (printing money to buy assets), and attempts at deregulation.
Abenomics was partially successful at restoring mild economic growth, but this started to wane after consumption tax hikes last October. The country then slipped into recession with the coronavirus pandemic.
In foreign policy, the nationalistic Abe reinterpreted Japan's pacifist constitution, passing bills in the Diet in 2015 to allow collective self-defence with its US ally — despite a lack of public support and large student-led demonstrations.
Accompanied by a sharp increase in defence spending, Abe's long-held desire to change the constitution to allow even more assertive use of the Japanese Self-Defence Forces was left unfulfilled. In 2019 Upper House elections, the LDP and its coalition partners lost the two-thirds majority required to allow any constitutional referendum.
Despite this setback, the lack of a strong challenger within the LDP — as well as the failure of the opposition parties to pose any credible threat — allowed Abe eventually to become the longest-serving prime minister in Japanese history.
Deeper relations with regional states
Abe energetically pursued foreign affairs throughout his tenure, maintaining the key US alliance through presidents Barack Obama to Donald Trump.
He sought greater Japanese participation in regional security by promoting a "free and open Indo-Pacific" region, and in doing so, deepened Japan's strategic relations with India, ASEAN and Australia.
Abe managed largely stable relations with China, Japan's largest trading partner, but territorial disputes with Beijing, as well as with Russia and South Korea, also went unresolved. Relations with South Korea, in particular, reached a low point over their wartime and colonial history.
Abe nevertheless built on his image as a senior world leader, culminating in hosting the G20 summit in Osaka last year.
The original article can be found on our partner's website here
Quaker Religious Thought extends a heartfelt thank you to David Johns, who is stepping down from the advisory council after decades of service. Currently the president of Ferrum College, Johns previously taught at Wilmington College and Earlham School of Religion. Johns writes, "Without a doubt, my relationship with the journal has been an important part […]

Thank you, David Johns — Quaker Religious Thought and Quaker Theological Discussion Group
30.08.2020 – The Ecologist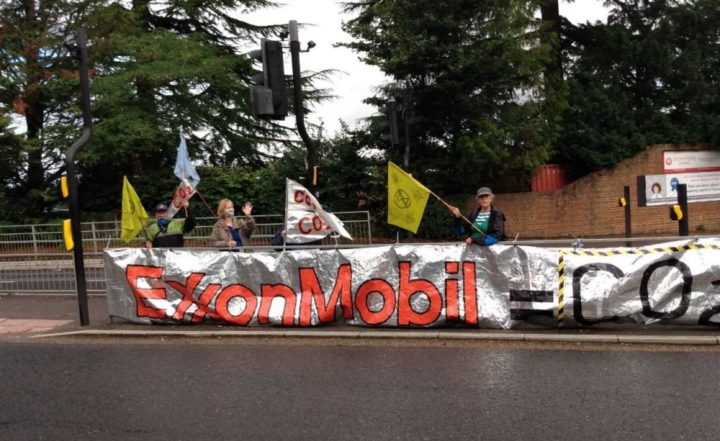 Eco-activists demonstrate outside ExxonMobil's HQ to demand end to oil production and greenwashing.
Extinction Rebellion is today protesting outside ExxonMobil's UK Headquarters in Leatherhead to demand the oil company halts a major $96bn plan to open new oil and gas fields.
The protestors accuse the oil company of trying to cloak its continuing drive for greater oil and gas production behind a "greenwashing" campaign.
ExxonMobil plans to invest $167bn in new oil and gas fields over the next 10 years despite the escalating climate crisis. This compares to just $9bn spent by the oil giant since the year 2000 on developing or deploying low carbon technology.
Reckless
Kirsty Ankiewicz, a graphic designer living in Epsom, said: "For the sake of my children and yours, companies like ExxonMobil cannot be allowed to destroy what is left of our beautiful planet."
Marion Tucker, 65, a retired business analyst from Woking, added: "ExxonMobil has knowingly been exploiting and destroying the planet contributing directly towards the climate emergency and mass extinction of species for decades, this cannot be allowed to continue."
Another rebel, John Gee, 45, a horticulturalist from Leatherhead, said "Climate change is already making it harder for farmers to produce food. It's time Exxon shareholders realised they can't eat money.
"The world is changing and growing numbers of people want urgent action on the climate and ecological emergency."
Extinction Rebellion protestors are calling on the company to stop its reckless and continuing investment in new oil and gas fields, refocus the business and invest in the clean energy sector.
Science
Demonstrators hung banners and placards on the company's gates along with "Climate Crime Scene" warning tape and delivered a letter via a security guard addressed to Exxon's board which calls for ExxonMobil to "do the right thing".
The protestors also hung huge banners on the nearby M25 footbridge and along the A24.
Extinction Rebellion groups across the country are placing banners on motorway and major road bridges today to announce Rebellion protests planned to take place in Parliament Square starting on 1st September.
This latest XR national uprising – dubbed Rebel for Life – will see two weeks of mass civil disobedience in London and across the UK as rebels demand MPs and the government back the Climate and Ecological Emergency Bill and set up a National Citizens' Assembly.
Sarah Clayton, 67, Epsom resident and mother, concluded: "Exxon has been one of the main opponents of action on climate for decades. It is a tragedy for the future of life on earth that oil companies have for so long not only ignored the science, but done all they can to boost sales of fossil fuels."
This Author
Brendan Montague is editor of The Ecologist. This article is based on a press release from Extinction Rebellion.
The original article can be found on our partner's website here
28.08.2020 – The Conversation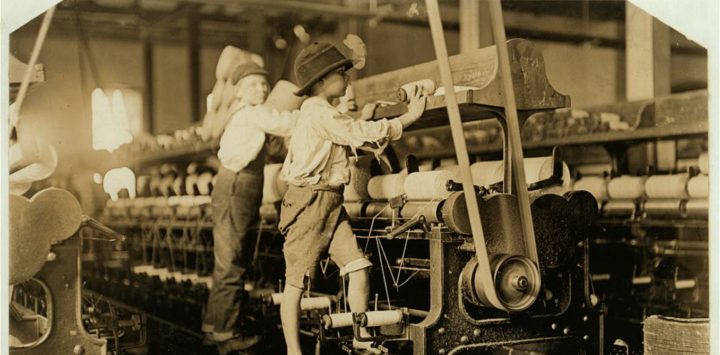 Today, U.S. laws and regulations bar kids under the age of 14 from working in most industries. Children under 17 may not work more than three hours on school days, for example.
Ever wonder where these rules came from?
While studying this issue for more than a decade, I've learned that very few Americans thought there was anything wrong with child labor before the Civil War. Most kids under age 15 worked up to 14 hours a day, either alongside their parents or for an employer – unless they were rich. In that case, other children worked for their families.
Enslaved children typically began working alongside their mothers in the fields at a very young age. They also did housework, hauled water and took care of animals. Not only were these enslaved people unpaid "child laborers"; the law cast them as property subject to the threat of sale.
After emancipation, the question of whether to outlaw child labor was hotly contested for more than 80 years. Northern reformers who sought abolition squared off against their Southern opponents.
Early laws only regulated child labor
As I explain in my new book on the topic, it took the Great Depression to reserve full-time employment for adults.
After the Civil War officially ended child slavery, most Americans still did not think there was anything wrong with children earning their keep, as long as working kids could get at least a rudimentary education. While some states such as Massachusetts had child labor laws on the books, those measures only regulated employment. Children could be limited to working as many as 10 hours daily.
By the 1870s, unions condemned child labor on the basis that overly young workers competed for jobs, making it harder for adults to obtain higher pay and better conditions – not due to concerns about the well-being of kids.
The government first gathered data on child labor, which was defined at the time as the gainful employment of children under the age of 15, in 1870. That year's census counted 750,000 employed children – 1 in 8 American kids. It was a low estimate that excluded children working for their families.
The 1900 census found that more than 1 in 5 children worked. Reformers believed the real rate was even higher.
Lax Southern regulations
Some companies, meanwhile, were moving production to Southern states like North Carolina, South Carolina, Georgia and Alabama to take advantage of their lax regulations. Cotton milling quickly became one of the nation's most child-labor-intensive industries, along with coal mining.
By 1900, a quarter of the South's nearly 100,000 textile workers were under 16. Northern reformers were calling for change. They objected not because they considered child labor a form of child abuse but rather because these little workers were white.
The image of pale, shrunken-faced, debilitated poor white boys and girls in Southern textile mills was sensationalized in the North as "white child slavery." Once the issue became a national obsession, activists formed the National Child Labor Committee in 1904 to "change the public conscience" on this issue.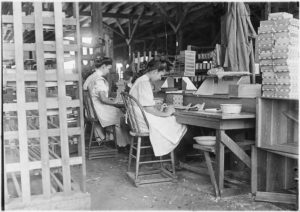 Little girls and boys often worked long days in factories, alongside adults. Lewis Hine/Department of Commerce and Labor's Children's Bureau
A culture war
Southern industrialists resisted regulations, insisting that they were uplifting poor whites. They denounced child labor reform as "aggressive Northern interference."
Despite Southern opposition, reformers argued that state-level regulations were rife with loopholes and difficult to enforce. In 23 states, for instance, there was no official way to determine children's ages. Additionally, many states allowed poor children to work out of "necessity."
The committee first pushed to outlaw child labor in 1906 on the grounds that it weakened the white race and, therefore, interfered with U.S. plans for global dominance.
Named after Sen. Albert Beveridge of Indiana, the Beveridge bill sought to use the commerce clause of the U.S. Constitution to ban the interstate shipment of products made by child labor. Southern opponents defeated it.
In 1913, the minister Owen Lovejoy brought new religious allies to the committee, which by then focused on the sinfulness of child labor in America.
In 1916, they got Congress to pass the the first federal child labor law. Like the Beveridge bill, the new law prohibited shipping products made with child labor across state lines.
However, a North Carolina mill worker, Roland Dagenhart, challenged the measure in court on the grounds that it violated his right to have his sons employed. The case wound up before the Supreme Court, which ruled in Dagenhart's favor in 1918.
Reformers would try again, this time using the federal taxing power to tax the products of child labor, but the Supreme Court would strike down that law – also challenged in court by a Southern mill worker – as unconstitutional in 1922.
The showdown came in the 1920s. Fed up with the Supreme Court for repeatedly overturning child labor laws, Northern reformers tried to amend the U.S. Constitution. Prohibition had recently secured the 18th Amendment, and women had just gained suffrage through the 19th Amendment.
Many observers wrongly predicted that a child labor Amendment would become the 20th amendment.
U.S. culture was changing at the time. Americans were beginning to consider adolescence as a separate developmental stage between childhood and adulthood. Likewise, the education of children through high school was gradually becoming mandatory.
Small farmhands
And yet those expectations didn't materialize, due to a rural backlash.
Back then, most family farms relied on their own children's labor. Many other children were hired as farmhands or "helpers" in seasonal agriculture. A 1922 study of seasonal demand for farm labor in Virginia, Maryland and New Jersey found that three-fifths of white children and nearly three-fourths of black children were working before the age of 10.
Southern industrialists seized the moment, warning thousands of farm families of a government takeover of their farms. A collective uprising against a child labor constitutional amendment became yet another culture war, this time between rural and urban communities.
Reformers panicked, buying radio spots and distributing pamphlets backing off the notion that they wanted to interfere with family farms. The movement to pass a child labor amendment fizzled by 1925.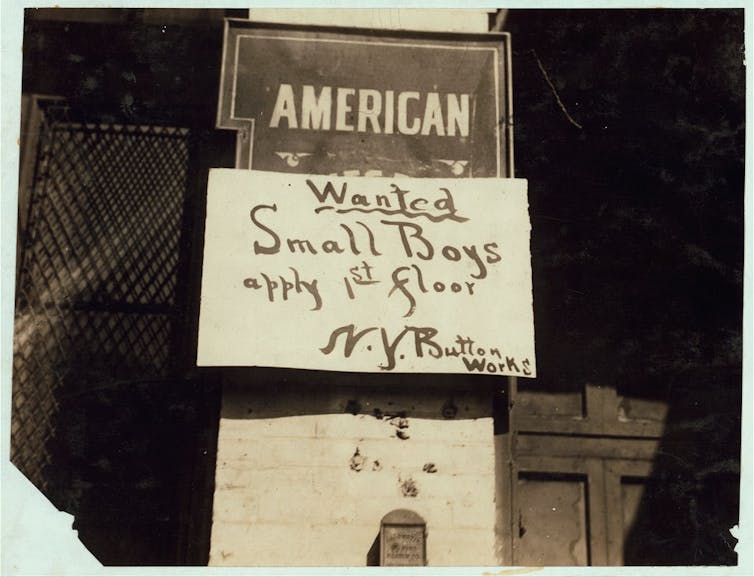 Labor markets
It took the Great Depression to resolve the debate over child labor.
Both Southerners and Northerners embraced an argument that union organizers had been making for decades and agreed that all available jobs in the nation should go to adult workers rather than children.
Subsequently, President Franklin D. Roosevelt's New Deal included the first federal child labor law not to be overturned by the Supreme Court. This 1938 law included provisions banning child labor under age 14 in most industries while exempting "children under 16 employed in agriculture" and "children working for their parents" in most occupations.
Today, FDR's measure is still the basis of child labor laws in America. It was a major victory, to be sure. But its limitations reflect the mixed legacy of the movement to abolish child labor.
The original article can be found on our partner's website here
28.08.2020 – CGTN China Global Television Network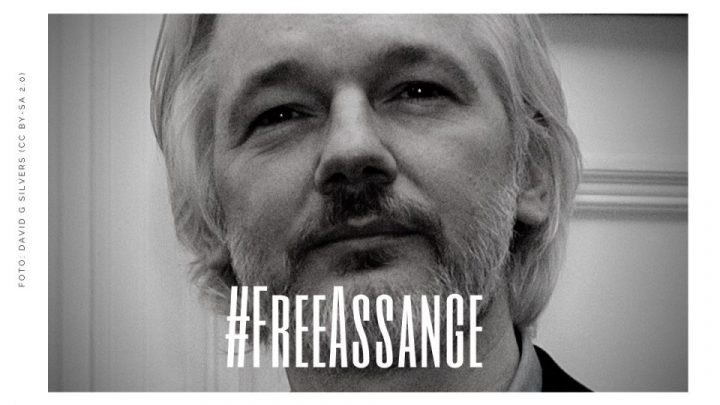 Swedish prosecutors said on Tuesday that they will not proceed with the investigation into a rape allegation made against Julian Assange in 2010. Prosecutors claim that the accusations made by the plaintiff against Assange were 'credible' but that too much time has passed since the incident took place in 2010.
Deputy Chief Prosecutor Eva-Marie Persson told reporters that the victims memories of the incident had faded over the past decade. Persson said: "After conducting a comprehensive assessment of what has emerged during the course of the preliminary investigation I then make the assessment that the evidence is not strong enough to form the basis for filing an indictment."
She added: "I want to stress that the plaintiff has given a credible and reliable account (of events). Her statement is clear, long and detailed."
A Swedish woman had accused Assange of raping her after she attended a Wikileaks conference in August 2010. Assange has repeatedly denied the accusation.
Assange has been held in a British prison since April when he was forced out of London's Ecuadorian embassy. He was ordered to serve 50 weeks in jail for breaching bail conditions when he took refuge at the embassy in 2012 after Sweden charged him with rape and sexual assault.
Read more: Why Assange's extradition to the U.S. won't happen any time soon
Police were allowed to enter the embassy after seven years because the whistleblower was accused of meddling in the country's foreign affairs and breaching the residency rules of the embassy.
Before these charges were dropped, the UK government had faced the complicated decision of which country to deport the whistleblower to as both Sweden and the United States had made extradition requests.
The United States accused the 48-year-old of violating espionage law and conspiracy to hack government computers. Assange will face a hearing in February on whether the UK will extradite him to the United States.Source(s): AFP ,Reuters
The original article can be found on our partner's website here
25.08.2020 – Pressenza New York
This post is also available in: Italian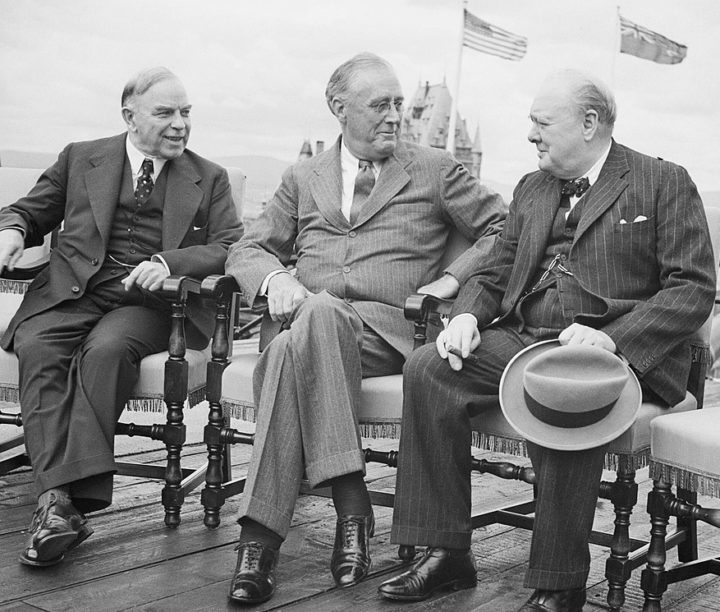 August 19 was the anniversary of the signing of the historic Quebec Agreement by President Roosevelt and Prime Minister Churchill in Quebec City in 1943 for the joint development of the atom bomb by the U.S., the United Kingdom and Canada.
By Anton Wagner
Canadians and the world should not forget that it was Liberal Prime Minister Mackenzie King who opened the atomic Pandora's box. King literally let the nuclear genie escape from Canadian uranium, with dire consequences threatening the very existence of human civilization.
In June of 1942, Malcolm MacDonald, the British High Commissioner in Canada, informed him about the British atom bomb project, codenamed "Tube Alloys." The first country to possess a military weapon of this kind would win the war, the Prime Minister was told.
Only a month later, a secret order in Council allocated $75,500,000 in 2020 dollars for the Canadian government to buy sufficient Eldorado stock to take effective control of the company and its uranium mine in Port Radium in the Northwest Territories.
Because of a possible Nazi invasion of England, King also agreed in August that a British scientific team could establish an atomic facility at the University of Montreal to develop a nuclear reactor. The British ordered tons of uranium ore from Eldorado and, at the direction of the Minister of Munitions and Supply, C.D. Howe, obtained heavy water from the Consolidated Mining and Smelting company in Trail, B.C. to moderate a nuclear reaction.
The joint development of the atom bomb was one of the main items of discussion when King hosted Winston Churchill and President Roosevelt in Quebec City for the first Quebec Conference in August of 1943. Sir John Anderson, a member of Churchill's War Cabinet in charge of the British atom bomb project, drafted the Quebec agreement for Churchill's and Roosevelt's signatures that—in Mackenzie King's words—"made Canada also a party to the development."
The accord for U.S.-U.K. co-operation in the development of the atom bomb, signed on August 19, 1943, provided for the complete interchange of information and ideas on all sections of the project between members of the Combined Policy Committee of which C.D. Howe, King's most powerful minister, was the Canadian member.
In January of 1944, the Canadian government nationalized Eldorado and converted the company into a Crown Corporation to secure Canadian uranium for the Manhattan Project. Eldorado's refinery in Port Hope, Ontario, was the only refinery in North America capable of refining the uranium ore from the Belgian Congo, the bulk of which (along with Canadian uranium) was used in the manufacture of the Hiroshima and Nagasaki atom bombs.
In April of 1944, King's Cabinet War Committee allocated $71 million in 2020 dollars for the construction of a heavy water pilot nuclear reactor in Chalk River, Ontario, as a joint American-British-Canadian project.
When he first heard that the Americans had dropped the atom bomb on Hiroshima on August 6, 1945—instantly killing over 70,000—King wrote in his diary, "We now see what might have come to the British race had German scientists won the race [to develop the atom bomb]. It is fortunate that the use of the bomb should have been upon the Japanese rather than upon the white races of Europe."
After Igor Gouzenko, the cipher clerk in the Russian embassy in Ottawa, defected to Canada, King believed he had received a mission from God to reveal the secret Soviet aim for world conquest, a "Russian intrigue against the Christian world."
Canada would be forced to seek protection under the American nuclear umbrella. "The atomic bomb has changed everything," King concluded. "It has made the North of Canada the vulnerable area of attack of this continent." "If war ever comes between Russia and any part of the British Commonwealth and the United States," he wrote, "this country would be the battlefield and everything we value here would be obliterated."
King and newly-elected British Prime Minister Clement Attlee arrived in Washington in November of 1945 to discuss the atom bomb and atomic energy with President Truman.
Truman suggested that Vannevar Bush, head of the U.S. Office of Scientific Research and Development, Sir John Anderson and the Canadian ambassador to Washington, Lester Pearson, draft another agreement regarding the control over atomic energy and the atom bomb under the auspices of the United Nations.
But this agreement between Truman, Clement Attlee and Mackenzie King did not reach fruition. Alarmed by Gouzenko's spy revelations and the discovery that the Russians had penetrated the Manhattan Project with scientists betraying atom bomb secrets, the U.S. Congress passed the Atomic Energy Act of 1946, signed by President Truman on August 1, 1946. It established the civilian United States Atomic Energy Commission to control nuclear weapon development and nuclear power management and prohibited the sharing of nuclear information with other countries.
King saw photographs of the atomic bombing of Hiroshima and Nagasaki at the Air Ministry in London in 1946. He recorded that "the pictures were appalling. It was a terrible business to look at."
Yet the following year, Winston Churchill confided to King that the Americans would not allow the Russians to "communize" Western Europe. If they attempted to extend their political boundaries, the Americans would let the Russians understand that "their cities would be bombed within a certain number of days…for a year past, the pattern had been worked out and the plans for the destruction of cities in Russia were under way."
The Soviet Union exploded its own atom bomb in 1949, averting such a U.S. nuclear blitz in which, using Canadian uranium, over thirty million Russians would have been killed.
Mackenzie King believed the universe functioned according to eternal spiritual and moral laws. These included those of karma, "the Hindu doctrine of our paying ourselves for all the evil we have done and receiving our reward to the extent that we, ourselves, have given 'help to others.'" This was a doctrine in which he believed "absolutely."
If King is right, Canada bears a special responsibility to be in the forefront of the global movement to eliminate the very nuclear weapons Canada helped to create. Past culpability conveys present responsibility.
We need to restore this lost historical memory so that we can evaluate the present with full knowledge of our past. Canada has a moral obligation to ratify the UN Treaty on the Prohibition of Nuclear Weapons.
---
Anton Wagner is a member of the Hiroshima Nagasaki Day Coalition in Toronto. His brief "Canada and the Atom Bomb," submitted by Hiroshima survivor Setsuko Thurlow to Prime Minister Trudeau, is posted on the web
27.08.2020 – US, United States – Pressenza New York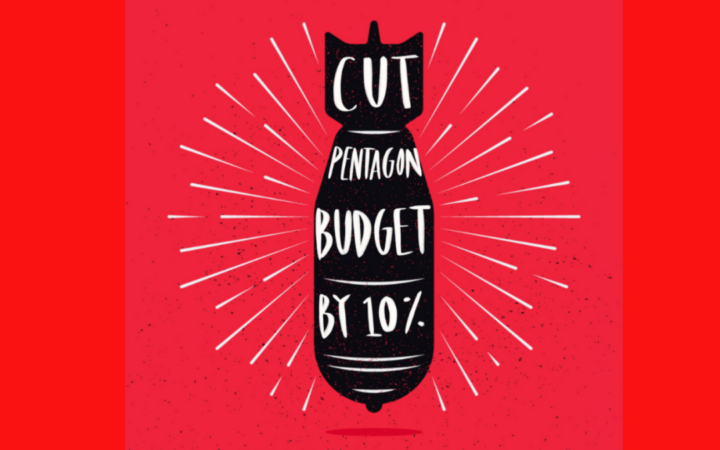 By Deseri Tsepetis
Your favorite local businesses are reopening. Maybe even the local restaurant you've been ordering takeout from is finally allowing you to sit down and have your favorite meal. Americans have been impacted greatly by Covid-19, and the fight is not over. Whether you agree that the economy should be reopening up or not, there's a big question of where the money to survive will come from. Whether you're a small business or one of the many families who lost an income because of this pandemic, there's a question of whether another stimulus check is going to arrive. With the government spending $2 trillion on the last stimulus check, there's questions on how to pay for that, let alone another package. Here's an easy solution: cut the Pentagon budget.
This pandemic has only exacerbated the issue many Americans were already facing. Support for these families and small business is dire to the United States going. The first stimulus package was completely necessary, but most Americans aren't out of the hole yet. More than 130,000 Americans have died in this global pandemic so far, most Americans would agree that is the most immediate threat we are facing right now as a nation.
Our nation's budget is supposed to reflect our nation's priorities, what does the current budget say about protecting our citizens from the pandemic? According to Brown University's Costs of War project, the United States has spent $6.4 trillion on wars since 2001. The U.S spends more on its military than the next seven countries combined, yet this year's budget request included 741 billion dollars in Pentagon spending. This is an enormous number, and money that could have been used to help Americans. The defense budget has also been long considered opaque and has consistently failed any independent audits. The Overseas Contingency Operation continues to operate as a slush fund and both sides of the aisle argue it needs to be ended. It originally was included solely as a padding for the Iraq and Afghanistan Wars and now is being used as a pocketbook for the Pentagon. This year alone the administration requested 69 billion dollars in OCO funding .
This year's National Defense Authorization Act was recently voted on in the House and the Senate. The NDAA essentially dictates Department of Defense spending for the 2021 fiscal year. Senator Sanders (VT) proposed an amendment that calls for 10% cuts to the budget. An equivalent bill was introduced in the House by Representatives Pocan, Lee and Jayapal. This is an incredibly important time to address wasteful Pentagon spending when our nation needs these funds the most. Our nation's budget reflects our nation's priorities. A government's job is to protect its people and right now, our government is failing to do that, if the government wanted to protect Americans it'd put money towards the pandemic not defense. As more and more Americans are getting sick from covid-19, now is not the time to be freely throwing money around. Americans need to call their representatives to ask why they did not support the amendment introduced by Pocan, Lee, and Jayapal to cut the spending by 10% or call them to thank them for supporting it. As well as call their Senators offices to thank them for supporting Sen. Sanders amendment or ask them why they didn't support it. This should and can be a bipartisan effort to free up funds to help support Americans during an unprecedented crisis.
---
Deseri Tsepetis, Long Island Organizer and Programs Associate – Peace Action New York State/Long Island Alliance for Peaceful Alternativeshttps://www.facebook.com/v3.0/plugins/like.php?action=like&app_id=&channel=https%3A%2F%2Fstaticxx.facebook.com%2Fx%2Fconnect%2Fxd_arbiter%2F%3Fversion%3D46%23cb%3Df1890f93ecf964c%26domain%3Dwww.pressenza.com%26origin%3Dhttps%253A%252F%252Fwww.pressenza.com%252Ff8a4b1b1ae9a1c%26relation%3Dparent.parent&container_width=0&href=https%3A%2F%2Fwww.pressenza.com%2F2020%2F08%2Fcut-u-s-military-budget-in-order-to-afford-another-stimulus-package%2F&layout=button_count&locale=en_US&sdk=joey&share=false&show_faces=truehttps://www.facebook.com/v3.0/plugins/share_button.php?app_id=&channel=https%3A%2F%2Fstaticxx.facebook.com%2Fx%2Fconnect%2Fxd_arbiter%2F%3Fversion%3D46%23cb%3Df34d947bc97ad04%26domain%3Dwww.pressenza.com%26origin%3Dhttps%253A%252F%252Fwww.pressenza.com%252Ff8a4b1b1ae9a1c%26relation%3Dparent.parent&container_width=0&href=https%3A%2F%2Fwww.pressenza.com%2F2020%2F08%2Fcut-u-s-military-budget-in-order-to-afford-another-stimulus-package%2F&layout=button_count&locale=en_US&sdk=joeyhttps://platform.twitter.com/widgets/tweet_button.3c5aa8e2a38bbbee4b6d88e6846fc657.en.html#dnt=false&id=twitter-widget-0&lang=en&original_referer=https%3A%2F%2Fwww.pressenza.com%2F2020%2F08%2Fcut-u-s-military-budget-in-order-to-afford-another-stimulus-package%2F&size=m&text=Cut%20U.S.%20Military%20Budget%20in%20Order%20to%20Afford%20Another%20Stimulus%20Package&time=1598497783139&type=share&url=https%3A%2F%2Fwww.pressenza.com%2F2020%2F08%2Fcut-u-s-military-budget-in-order-to-afford-another-stimulus-package%2Fhttps://apis.google.com/u/0/se/0/_/+1/fastbutton?usegapi=1&size=medium&origin=https%3A%2F%2Fwww.pressenza.com&url=https%3A%2F%2Fwww.pressenza.com%2F2020%2F08%2Fcut-u-s-military-budget-in-order-to-afford-another-stimulus-package%2F&gsrc=3p&ic=1&jsh=m%3B%2F_%2Fscs%2Fapps-static%2F_%2Fjs%2Fk%3Doz.gapi.it.d6cUWTBlWws.O%2Fam%3DwQE%2Fd%3D1%2Fct%3Dzgms%2Frs%3DAGLTcCMdYsUaKuQZMCD-PfLqZuRyqgdkFg%2Fm%3D__features__#_methods=onPlusOne%2C_ready%2C_close%2C_open%2C_resizeMe%2C_renderstart%2Concircled%2Cdrefresh%2Cerefresh%2Conload&id=I0_1598497777785&_gfid=I0_1598497777785&parent=https%3A%2F%2Fwww.pressenza.com&pfname=&rpctoken=18905090
25.08.2020 – Democracy Now!
This post is also available in: Italian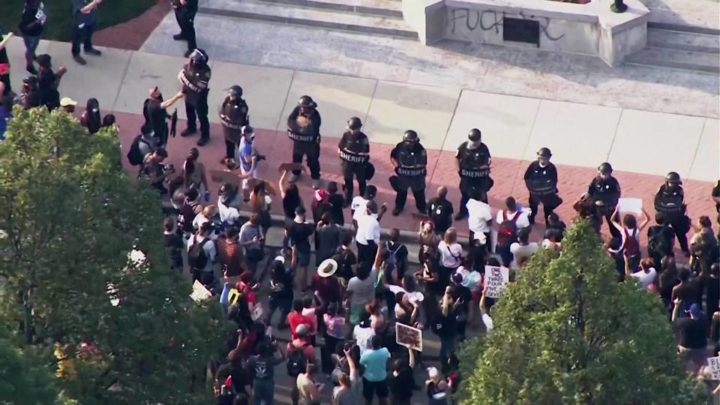 Wisconsin Governor Tony Evers called in the National Guard Monday as protests continued in Kenosha for a second night following the police shooting on Sunday of Jacob Blake, an unarmed 29-year-old Black man.
An officer shot Blake seven times in the back as he was getting into a car. His three children — ages 3, 5 and 8 — witnessed the shooting. Blake was reportedly trying to break up a fight between two women before the shooting, but the police have not explained why they went after him. He remained hospitalized in serious but stable condition Monday. Protesters defied a curfew Monday night as police used tear gas on crowds. Protests also took place across the country, including here in New York City.
Governor Tony Evers and Lieutenant Governor Mandela Barnes called state lawmakers into a special session to take up legislation on police brutality that was introduced earlier in the year. This is Lieutenant Governor Mandela Barnes.
Lt. Gov. Mandela Barnes: "This was not an accident. This wasn't bad police work. This felt like some sort of vendetta being taken out on a member of our community. The officer's daily actions attempted to take a person's life in broad daylight. And like many of you, the video is etched into my mind, like so many other past videos that are just like it. It was a video that I would have rather not had to have watched. But the irony isn't lost on me. That is, Jacob Blake was actually trying to deescalate a situation in his community, but the responding officer didn't feel the need to do the same."
24.08.2020 – World Beyond War
This post is also available in: Italian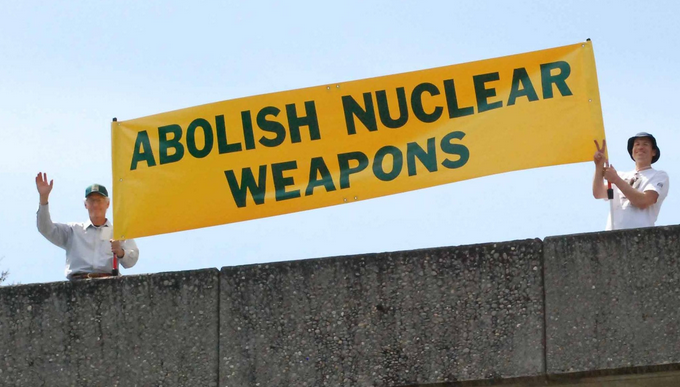 Target: The presidents, prime ministers, and legislatures of China, France, India, Israel, North Korea, Pakistan, Russia, the United Kingdom, and the United States
This is an appeal from the people of the world to nine nuclear governments to each commit to a nuclear policy of no first strike, not ever, not for any reason; and to sign and ratify the Treaty on the Prohibition of Nuclear Weapons, and to collectively agree to immediately begin disarming on a schedule to completely eliminate all nuclear weapons from the earth no later than August 6, 2045.
"This is the greatest moral crisis of our time: governments are prepared to unleash a nuclear war which would end civilization as we know it and could kill over seven billion people." —Daniel Ellsberg, Pentagon Papers whistleblower, and endorser of this appeal.
This petition has the support of the Russian analytical agency "Strategic Stability"; the German organizations Friedensspirale, Coop Anti-War Cafe Berlin, Aktion Freiheit statt Angst; the Australian organization Refugee Action Collective Gold Coast; the Canadian organization Canadian Council on Food Safety and Health; the UK organization Uniting for Peace; the Italian organization Comitato No Guerra No NATO; the U.S. organizations Global Network Against Weapons & Nuclear Power in Space, RootsAction.org, Peaceworkers, Code Pink: Women for Peace, Grassroots Coalition for Environmental and Economic Justice, Pax Christ Illinois, On Earth Peace, Peace Justice Sustainability Now, Minnesota Peace Project, Ground Zero Center for Nonviolent Action, U.S. Peace Council, Chicago Veterans For Peace, Monterey Peace and Justice Center, Environmentalists Against War, World BEYOND War-Central Florida Chapter, Veterans for Peace-The Villages # 136, Choose Life Abort War Podcast For Peace, World BEYOND War- California Chapter; and the global organizations WILPF – Women's International League for Peace & Freedom, International Organization for the Elimination of All Forms of Racial Discrimination, Pressenza, World BEYOND War.
---
To: The presidents, prime ministers, and legislatures of China, France, India, Israel, North Korea, Pakistan, Russia, the United Kingdom, and the United States
From: [Your Name]
We, the people of good will, of all walks of life, living on all continents and professing different creeds and religions, direct your attention to the threat of an all-out nuclear war that can erupt very easily either due to deliberate actions of any nuclear-weapons state or because of unintentional, human, technical or other mistake.
We are witnessing that the threshold for the use nuclear weapons in a limited or on large-scale attacks recently has been dramatically lowered, bringing the entire world to the brink of a nuclear Armageddon.
Many high-ranking military and civilian officials, politicians and experts are openly talking about the possibility of using nuclear weapons in a first strike attack against any nation under many pretexts with low-yield or high-yield nuclear charges.
The United States in fact has withdrawn from a number of rather well-known and useful nuclear arms control treaties and accords for dubious reasons and illogical explanations.
Nuclear arms delivery vehicles are becoming more sophisticated, faster and more precise. They have been combined into a dangerous combination of arms embracing strategic and tactical nuclear weapons with missile defense assets and conventional capabilities, and with a possibility to place strike weapons in space, including missile defense systems and anti-satellite weapons.
Many military exercises that earlier have been conducted with the use of conventional weapons, gradually are being transformed into drills using mock nuclear weapons.
Nuclear arms experts calculate that during an initial massive nuclear attack, at least 34 million people will immediately perish and 57 million people will receive multiple injuries and wounds that will cause horrible pain, suffering, radiation sickness and death. Additionally, various kinds of infrastructure, flora and fauna, nuclear power plants, water resources – including potable water and hydropower dams – will be heavily damaged or destroyed completely by huge firestorms, vast nuclear contamination, powerful explosions, and earthquakes.
But that is just the immediate impact. The nuclear winter that would be created by even a limited nuclear war would threaten all of humanity with starvation and other mortal threats.
We who have voluntarily signed this appeal urge you, as the leaders of all nine nuclear nations, to take the following actions in 2020:
First, as an initial step leading to comprehensive and irreversible nuclear disarmament on a global scale, to pledge not to use and denounce any kind of nuclear weapon use in a first strike against any nation at any time.
Second, to sign and ratify the international Treaty on the Prohibition of Nuclear Weapons with the subsequent commitment specified in the next item.
Third, to commit to irreversibly dismantling all nuclear weapons by no later than August 6, 2045 or earlier – by all nine nuclear weapon states, in carefully calibrated stages and through well-developed and mutually acceptable mechanisms of inspections, provided that all nuclear-weapon states will follow this pattern simultaneously and honestly.
22.08.2020 – Global Voices Online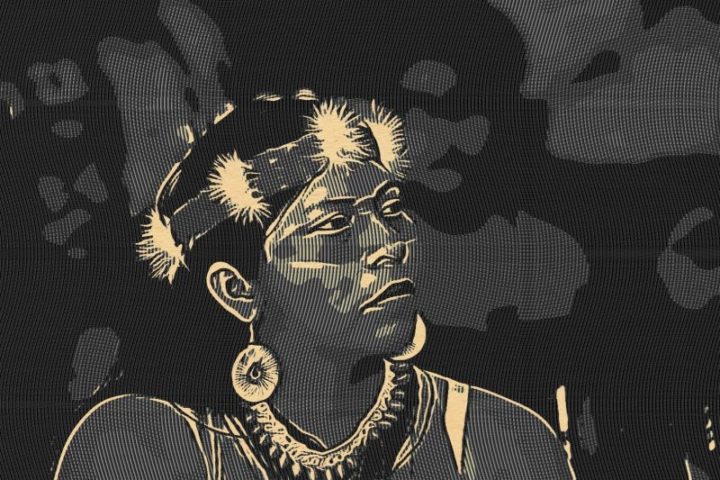 Data helps the public understand where help is most
Indigenous Amazonian populations in Ecuador can now see how COVID-19 is affecting their communities through a platform designed and updated by the NGO Confederation of Indigenous Nationalities of the Ecuadorian Amazon (Confeniae).
Before the launch of this platform in July 2020, there was no official information that was publicly available about COVID-19's spread among Ecuador's 11 Amazonian peoples. These communities are particularly vulnerable to the virus because of limited access to public services and basic necessities, including healthcare and potable water.
According to Andrés Tapia, Confeniae's communications director, there were repeated calls for disaggregated data to be made available during press briefings and speeches from government leaders in order to understand the impact of the virus on indigenous Amazonian populations. However, when faced with what they felt was an ineffective government response to those demands, Confeniae created its own COVID-19 tracker. The NGO helps facilitate testing with the help of universities, and receives case numbers from different sources such as indigenous communities and government institutions.
The aim of Confeniae's project is to allocate services and deliver aid to communities most affected by the virus. According to Confeniae, there are now almost 2000 cases, with the highest case concentration among the Kiwchua, Shuar and Waorani communities.
Global Voices author Carlos Flores spoke with Tapia through Zoom about the hard work that goes into data collection for the COVID-19 dashboard.
Carlos Flores (CF): Tell us about this COVID-19 tracking initiative in Ecuador's Amazonian communities.
Andrés Tapia (AT): We designed this tool after seeing that the government failed to provide official information. For the first few months of the pandemic, there was practically no formal information about the impact that COVID-19 could have in indigenous areas. Seeing this gap, we began the task of organizing all the COVID-19 records into a database. At first, the [data] emerged from alerts in each territory, afterwards it was confirmed by implementing rapid tests, and later on, a majority confirmed through PCR tests which we did with several universities. We began publishing this data twice a week as an infographic. [Then] we saw that disaggregated data was required for each territory and nationality. This is where the idea of creating this dashboard came from.
CF: Is there still a lack of disaggregated data on COVID-19 and Amazonian communities that the government should be providing?
AT: The Ministry of Public Health shares disaggregated data with us that is of a more internal nature, but they are still not presenting it as official public information. The ministry's data is therefore still not being broadcast officially. The only thing that is really being seen [with respect to data] is what we are providing. However, we are also receiving information from inside several of the [ministry's] health districts. This is also part of the dashboard.
CF: What will people find when they go onto the website you've created?
AT: We created this platform along with Amazon Watch, the ALDEA Foundation and the Institute of Geography at the Universidad San Francisco de Quito. But it's worth mentioning that this data comes from the tests we carried out in collaboration with the Universidad de las Américas, the Universidad de San Francisco as well as various health districts. This tool is available in both Spanish and English and also has an application version for cell phones. The data is disaggregated for each area, in other words, for each [Amazonian] province and each nationality. You can see how many positive, suspected, and negative cases there are, how many people have recovered and how many people have died from COVID-19, how many have symptoms, how many tests have been carried out and the date on which they were completed. There is also a map showing the number of cases for each area [of the six Amazonian provinces] and for each nationality.
CF: Could you give us some technical details about the platform and how you make the data feed?
AT: Well, it is built on ArcGIS, a geospatial and geo-referenced platform. My colleagues, who are geographers, could explain the technical part to you. I work as a biologist and have been the one organizing the data, this is perhaps the most difficult part […] We receive the results from the universities we work with and this is what we feed into the Excel database, from our database as Confeniae. This information is uploaded onto the ArcGIS platform tool and our webpage is automatically updated to the "Monitoreo Covid" (Covid Tracking) tab. This is what we publish two or three times a week on Facebook, Twitter and all other platforms that we have […] We then see the number of reports there. It also shows you the percentage increase in cases during the two or three days between reports. We have seen a daily growth of between 5% and 7%. However, we have [also] seen, for example, that the number of cases increased by 50% during July. We started with 1200 cases and we are now almost at 2000 at the beginning of August.
CF: What do you intend to do with the collected data?
AT: First, the idea is that the data enables us to make the right decisions about the social welfare of affected families. In other words, with positive data we can say that it is necessary to help these families with food rations, among other things. But it also shows the government that this should be the type of aid, in other words, there is an area with an 80% infection rate and therefore it needs immediate attention. Data will always give us an argument, a technical basis to support public health actions.
CF: So, some decisions have now been made on this matter, not by the government but as a community. You have started taking action with this data.
AT: That's right. We have been working continuously to provide social and humanitarian aid for our communities according to the results, of course. There has actually been a very poor response on the part of the government. While we have been able to coordinate with doctors from the Ministry of Health in health districts to take tests, in terms of government policies like this, in humanitarian aid, it has been really quite poor.
Written by Carlos Flores
The original article can be found on our partner's website here