You are currently browsing the monthly archive for March 2020.
This post is also available in: Italian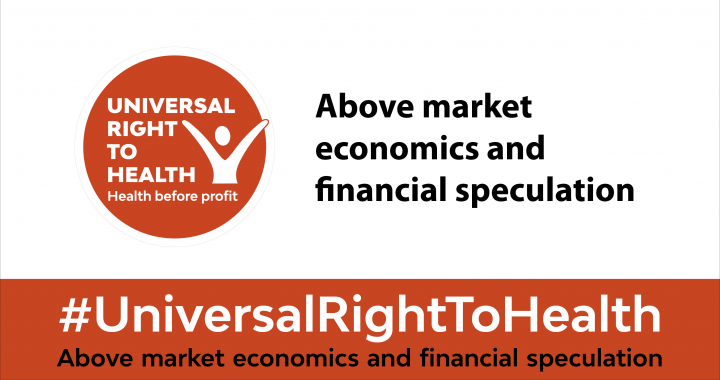 From different parts of the world, a number of humanists have reflected on the present moment and prepared this declaration and campaign which Pressenza is happy to endorse.
---
Health is a universal right.
Above market economics and financial speculation.
With this appeal we are responding to the responsibility that we have been called upon to accept. We will use all our strength to overcome the coronavirus emergency. And we will do so as best we can by staying at home, continuing to do our work, where necessary, and helping those in need in every way we can. We will be responsible and try to convince those around us to do the same.
We will continue to be responsible, even when this situation is behind us, when we will have to pay the price for the catastrophe that will affect millions of people – beyond the loss of so many affected people in inhuman conditions – with extremely serious consequences for healthcare and the economy.
But we also demand that you, our representatives, those to whom we have delegated very important decisions and to whom we are also entrusting our lives and those of our loved ones, assume your responsibility as well.
We are not naive and we know perfectly well that we are not just experiencing an accident, but instead paying the price for completely wrong priorities and unacceptable choices.
People's health, scientific research and life itself have been subordinated to other things: the market, financial choices and respect for economic parameters that have nothing to do with the well-being of the community.
This virus didn't create the contradictions we're experiencing, it just helped us to see them. Today, the consequences are plain for all to see. It is clear that the mechanisms that have regulated our society so far do not guarantee our well-being and even threaten our survival.
The difficulties, the lack of coordination, the slowness and indecision with which our governments have responded to this emergency have shown us clearly how much their hands are tied by the markets, the financial system and the blackmail of the global economy. To tell us that this is inevitable is to admit that there is no longer any point to our democracy. And this is unacceptable, immoral and counter to human evolution. We demand that our governments represent the interests of the people and not the markets.
We recognize the mistakes we've made. We naively thought that by following certain economic prescriptions, by submitting to economic blackmail, we would save ourselves from the situation into which millions of people have been put in so-called "developing" countries. But today, faced with this crisis, faced with the threat of new wars, new possible pandemics and ecological disaster, we realize that none of us can feel safe unless the well-being of all is guaranteed, just as we realize that there are no longer separate peoples but only one large human family.
The solidarity that is being shown, the mutual aid between individuals, between regions, between States, shows the direction in which we must move.
We will no longer be manipulated by hate campaigns that only serve to divide us.
None of us is isolated, none of us is expendable and no one can save themselves alone.
The progress of a few ends up being progress for no one.
We ask all our countries' governments to immediately:
– make every effort to overcome this crisis, giving it absolute logistical and economic priority until the danger has passed. Human life is the most important value.
– adequately and permanently strengthen public health facilities and adapt them to our real needs. Their functioning should no longer be measured in terms of productivity but in terms of their capacity to improve public health and prevention. This strengthening should also cover research and staff training.
– provide massive, appropriate and non-repayable grants to support individuals, families and productive enterprises that will be greatly damaged by this emergency. These funds must in no way be compensated for by new cuts to public spending, but must be raised from the wealth that has been concentrated in the hands of a few individuals, banks and hedge funds in recent decades. For example, by taxing speculative investments and taxing the income of large companies that currently do not pay taxes in the countries where they operate. It is urgently necessary to cut other budget items such as those related to military spending, especially missions abroad and the purchase of new supplies and equipment.
– create an international emergency fund managed by the UN in order to support the most economically fragile countries (such as sub-Saharan Africa), where this pandemic risks having the most devastating consequences. This aid must in no way be converted into new debt.
As for us, we will no longer be simply passive spectators.
We have felt the need to come together and to listen to what's in the depths of our hearts. We have rediscovered what is essential in life and we will make it the foundation of our existence. We will change our priorities and cultivate our best aspirations. We are many, of all generations and cultures, and our strength will be such that it will no longer be possible to ignore us.
"We are at the end of a dark period in history and nothing will ever be the same as before.  Little by little, a new day will dawn. Cultures will begin to understand one another; peoples will experience a growing yearning for progress for all, understanding that progress for the few ends up being progress for no one. Yes, there will be peace, and out of necessity it will be understood that the outline of a Universal Human Nation is beginning to appear." – Silo, 2004
Humanists for the #UniversalRightToHealth
To endorse the campaign and for more information: salutedirittouniversale@gmail.com
This post is also available in: German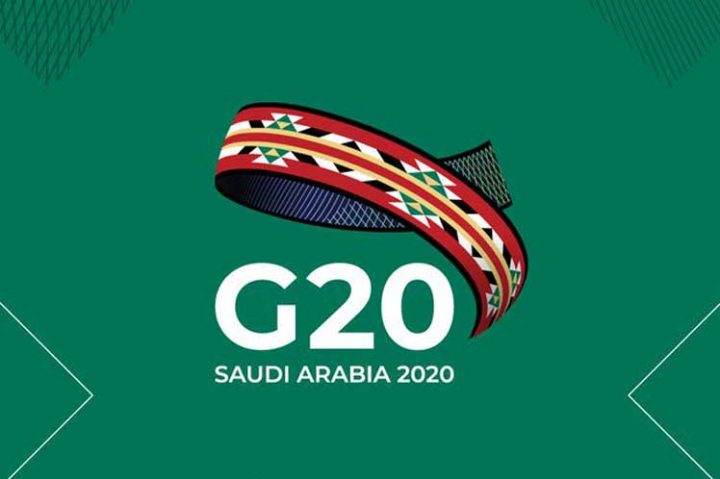 IPB is calling for a dramatic reduction of military spending in favour of healthcare and meeting social needs
The world's oldest peace NGO, the Nobel Prize-winning IPB has called on G20 world leaders who are gathering via virtual means this coming week to send a message of peace and solidarity to the world as they address the global health emergency.
This is a time to open a new page in global relations to put geopolitical tensions to one side, to end proxy wars, for a ceasefire in those many conflicts around the world all of which stand to hamper a global solidarity effort.
We have to lift the shadow of war and military brinkmanship which has blighted global cooperation in recent years and work to ensure that a spirit of peace and solidarity prevails.
The IPB has long drawn the world's attention to the increasing velocity of the global arms race.
Our communities are paying a high price for an arms race that has diverted resources from the basic health and welfare needs of the people.
We are all paying a heavy price for failed leadership and misplaced market-driven practices that have weakened our means to address this emergency, which has hit the weakest hardest.
Healthcare Stress
We are now seeing the consequences of underinvesting in healthcare infrastructure, hospitals, and staff.
Hospitals are overburdened, nurses are exhausted, materials are scarce, and life and death decisions are made on who can and cannot have access to the scarce number of ventilators available. Doctors and nurses are handicapped by the irresponsibility of past political and economic decision making.
All over the world, health systems are reaching the limits of their strength and heroic front-line staff are under massive pressure.
The coronavirus emergency shows what a weakened state our societies find themselves in to protect the people: a world driven by financialization, shareholder value and austerity have weakened our ability to defend the common good and placed human life in danger on a global scale.
Employees fearful of job and income loss are tempted to go to work sick. Older people are vulnerable and need help. The virus hits the weakest hardest.
Privatization, austerity measures, the neoliberal system have brought the local, regional and national health services to the brink of collapse.
In the last two decades the number of doctors working in the healthcare system has been reduced by a third in Western European countries.
In Italy, the healthcare budget has been cut by 37 billion euros in recent years.
The WHO warns that we are facing a shortage of 18 million healthcare workers by 2030.
Municipalities urgently need support in order to increase numbers of available staff. And now these policies are taking their toll, especially where hospitals have been closed on a massive scale in recent years (or privatized for the benefit of the rich), and in some (particularly rural) regions this has restricted basic care.
We can already draw lessons for the future:
Health is a human right for the young and old, for all people in all parts in the world.
Healthcare and nursing care must never be slashed or subordinated in the pursuit of profit through privatization.
The importance of decent work for all healthcare staff and continued investment in their education and training.
Time for a Global Social Contract
As each hour passes, the full scale of the crisis becomes clearer.
This week the ILO reported on the labour market consequences:
A potential loss of 25 million jobs, which is more than those lost during the 2008 financial crisis.
Working poverty is expected to increase significantly, where up to 35 million additional people could be impacted.
Income losses for workers could reach 3.4 trillion dollars.
We support the efforts of the trade union movement globally, regionally and nationally, in their call for a new social contract.
We support their call for economic measures and resources to protect jobs, incomes, public services, and the welfare of people.
This requires a commitment from the business community to keep people in work and the support they are promised to receive from their governments must be conditional on their adhering to the social contract for job security and incomes.
G20: Priority to Disarmament
The world spends 1.8 trillion dollars on military expenditure every year and is scheduled to spend 1 trillion dollars on new nuclear weapons in the next 20 years.
World military exercises cost more than 1 billion dollars each year, and arms production and arms exports are on the increase in the world's leading economies.
The G20 cannot sweep these facts under the carpet. Military spending is 50 per cent higher today than at the end of the Cold War. It stands at a staggering 1,8 trillion US dollars a year, while NATO is demanding further increases from its members.
The G20 are responsible for 82 per cent of global military spending, account for almost all arms exports, and hold 98 per cent of the world's nuclear bombs on their collective territory. The G20 is a shared platform that brings together the interests of the main players in the global arms race.
In addition, billions are spent on military research, money which would be better invested in health and human needs and research to help the fight against global climate change.
Militarization is the wrong path for the world to take; it fuels tensions and raises the potential for war and conflict and aggravates already heightened nuclear tensions.
Even so, the policy architecture that was put in place to control nuclear expansion and disarmament is ignored or even weakened.
The Bulletin of the Atomic Scientists' 2020 Doomsday Clock published in February stood at 100 seconds to midnight – the closest it has been to midnight in its 70-year history – and this global pandemic has pushed the second hand even closer.
World leaders must put disarmament and peace back in the center of policy making.
Global leaders have to develop a new agenda for disarmament and that includes the banning of nuclear weapons. We call once again for governments to sign on to the TPNW.
Without it, we are handicapping our fight against future health pandemics, to eradicate poverty, hunger, to provide education and healthcare for all, as well as the realization of the SDG 2030 goals.
Disarmament is one of the keys to the great transformation of our economies, to ensure that human beings and not profit are most valued; economies in which ecological challenges – above all the crisis of climate change – will be solved and global social justice will be pursued.
With disarmament the implementation of the SDGs, a global social contract, and a new global green peace deal, we can address the challenges of the coronavirus pandemic.
We know from the history of our own organization and many of our member organizations that in such crises, democracy must be defended above all else, and it must be defended against increasingly authoritarian states.
We are calling for a culture of peace. A peaceful path means that we need a global strategy, a global social contract, and global cooperation to ensure planet-wide support for people. This will be the human solidarity of the 21st century – for and with the people.
IPB is willing and able to work on establishing this peaceful path – in collaboration with partners all over the world.
That is why we say that an initiative from the G20 to move away from a culture of militarization towards a culture of peace is both urgent and necessary.
This post is also available in: German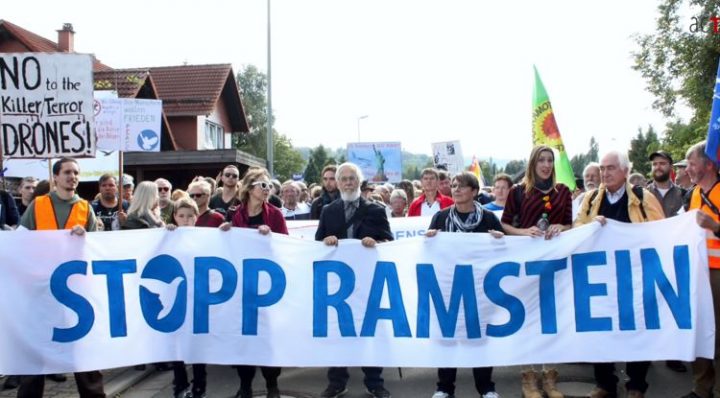 The Stop Air Base Ramstein campaign week from July 5th to the 12th has been canceled as all events in the Rhineland-Palatinate, and thus in Kaiserslautern and Ramstein-Miesenbach, are canceled at least until July 10th, 2020. Instead, the Ramstein protest will come to Berlin from the 25th to the 27th of September 2020.
Knowing that there is certainly no exception for peace activists and the responsibility for our health and all of our fellow citizens with whom we want to be in contact, the coordination committee of the "Stop Air Base Ramstein" campaign decided on the 17th of March, 2020 to cancel the Stop Air Base Ramstein campaign week, which was planned for the beginning of July.
Aware of the implications of this decision, in the year in which the armed drone was procured for the Bundeswehr (German Armed Forces), from the Defender 2020 military exercise and the further confrontation and rearmament policy, the coordination committee does not wish to take people's health lightly or carelessly. This decision has certainly not been taken lightly.
But in every crisis lies an opportunity!
The peace movement wants to use this situation to concentrate all its energy and determination in preparing for the protests in Berlin in September. The "Stop Ramstein Protests 2020 Berlin" are to take place from the 25th to the 27th of September and, with power and determination, bring the protests to Berlin – to the politicians – and confront them with their demands.
Seize the opportunity together and with solidarity!
No to combat drones! Close Ramstein Air Base! Terminate the so-called troop deployment agreement! For this and for peace in a just and sustainable world, we will meet in Berlin from the 25th to the 27th of September.
Translation from German by D. Ryan Haskill
This post is also available in: Italian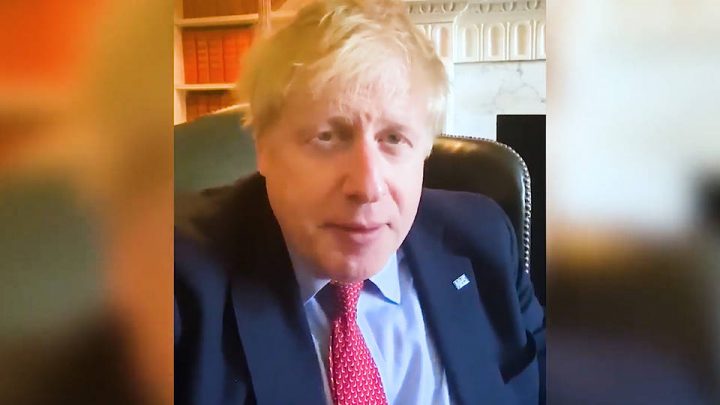 In Britain, Prime Minister Boris Johnson announced in a video posted on Twitter today he's tested positive for COVID 19 and will work from home in self-isolation.
And Ireland will nationalize its entire healthcare system for the duration of the pandemic. This is Irish Health Minister Simon Harris. "Patients with this virus will be treated for free, and they'll be treated as part of a single, national hospital service. As the taoiseach outlined, today I received government approval that for the duration of this crisis, the state will take control of all private hospital facilities and manage all of the resources for the common benefit of all of our people. There can be no room for public versus private when it comes to pandemic."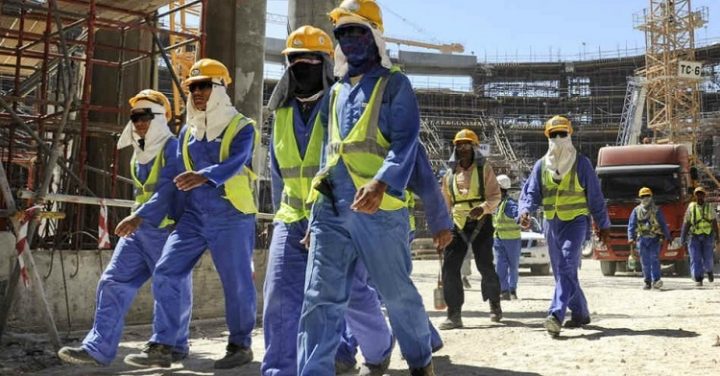 "The Canada emergency response benefit provides $2,000 per month for the next four months for workers who lose their income as a result of COVID-19," said Prime minister Justin Trudeau. (Global and Mail)
Almost one million Canadians joined the unemployment line last week and two new surveys show the economic pain is just beginning. The pandemic-induced shutdown of the economy has resulted in job loss or reduced work hours for 44% of Canadian households, the Angus Reid Institute said Wednesday. Most of those who are out of work say their employers aren't offering any emergency support. (Bloomberg)
This week, other business closures have once again put millions of workers out of work and income. Today the Canadian government announces that Canadians who have lost their jobs, those who are ill, quarantined or caring for a person with COVID 19, and parents who have to stop working to care for children will also be eligible for the UDP.
"We recognize that there are people who are facing difficulties [right now], that there are people who stopped working almost two weeks ago. We're going to do everything we can to help them with access to credit, with other measures," said the Prime Minister.
Prime Minister Justin Trudeau says Ottawa will provide workers affected by the COVID-19 pandemic with $2,000 a month for the next four months to help them pay their rent and groceries. Mr. Trudeau told his daily news conference that the government is aware of the uncertainty facing the country and has merged two public assistance measures into a single program to make it easier for people to apply and receive money. (Globe and Mail)
The new benefit combines the $10-billion emergency-care benefit and the $5-billion emergency-support benefit that were announced last week. (Global and Mail)
When I saw that Canadian Yearly Meeting (CYM) had posted a notice on Tuesday March 17, that its 2020 Annual Session, set for August 7-15 in Winnipeg, has been cancelled I thought it was the first such cancellation of this virus crisis season. Wrong! Within a few hours I found that it was in fact…
via Cancelled: Canadian Yearly Meeting Is The FOURTH to Go. More to Follow? — A Friendly Letter
The email below is going out today to a Friends General Conference mailing list. It deserves wider notice: Dear Friends After several meetings with a number of committee clerks, staff, and Gathering volunteers, it has become clear that we cannot safely hold the in-person FGC Gathering this year in the wake of the coronavirus pandemic.…
via The Big One: FGC 2020 Gathering Canceled — A Friendly Letter
Puts a lump in my throat. The Dixie Chicks were among the most unexpected, unlikely and unforgettable heroes of the bloody GWB/Iraq years. Their documentary movie of that ordeal, "Shut Up & Sing" (this clip can help you see why it's worth the $3.99 to stream it) still makes me cry; I showed it to…
via The Dixie Chicks Are Back, and the Head Gaslighter is in their sights — A Friendly Letter
---
Russia's Defense Ministry announced over the weekend that starting Sunday the military will deploy medical help to hard-hit Italy, the coronavirus epicenter in Europe which has seen its death toll take record jumps in the past days, now approaching 5,000 killed from the disease.
The Kremlin said the emergency aid was initiated on orders from President Vladimir Putin after he spoke with Italian Prime Minister Giuseppe Conte on Saturday, and will include eight mobile brigades of military medics and special disinfection vehicles.
The operation will see Russia's top military specialists in virology and epidemics deploy to the hardest hit regions of Italy. The doctors and specialized equipment is being flown on nine Il-76 aircraft from an airfield outside Moscow.
"A group of some 100 people is ready for the flight, which consists of leading specialists of the Russian Defense Ministry in the field of virology and epidemiology, who have major international experience in fighting against the epidemic along with modern equipment for diagnosing and carrying out disinfection efforts," the ministry said.
Russia currently has only 306 confirmed cases and one death, most concentrated in Moscow.
The country is also said to be well-stocked with necessary equipment which has been in short supply in some places in the West, such as ventilators.
Italy recorded its biggest jump in deaths yet throughout the crisis — at 800 in a single 24-hour period — on Saturday.