You are currently browsing the monthly archive for January 2020.
This post is also available in: Italian
We are deeply disturbed by what clearly goes way beyond the realm of an 'unfortunate oversight'. Our planet is literally burning and some of the police and government seem desperate to silence the fire alarm.
We need to find out who knew what and when. But more importantly, we need to know why. Why are they trying to silence a peaceful, nonviolent movement of people who are trying to make sure the world's children have a future?
It is hard to process how supporters and members of Extinction Rebellion, and those that just care about people, wildlife and planet, will feel when they understand that some people within organizations like NHS England and Ofsted knew about this and said nothing. [1] Considering the 'greening of the NHS' that was in the news at the weekend, this potentially represents a breaking of trust on a visceral level. [2]
We don't want to be delivering this message, that the climate is burning and we are facing ecological breakdown. But it must be heard for the future of humanity. This othering and stigmatization of those that care and are trying desperately to bring people together to face the emergency is just divisive and misguided. Now is not the time for an us-versus-them mentality, we should not let fear make our decisions for us.
Rather, we need to be thinking about restorative practices that allow us to see the human in the people we share this island and world with, to help us develop resilient and caring communities where conflict and tensions can be managed by repairing harm and building trust.
We are already seeing big changes in awareness. By valuing peace, truth, community and justice, we can find courage as we face this emergency together.
Rob Cooper, former Police Chief Superintendent and member of Extinction Rebellion, said: "The worrying aspect about these revelations is that nobody inside the police or at the Home Office thought to question the guidance that included Extinction Rebellion alongside extremist groups, when it was first produced, or when it was subsequently circulated. It is worrying that it seems to have slipped through the scrutiny net, without any critical analysis."
"If I cannot have confidence in this Government to look out for the future of my 6 year old granddaughter, then I cannot have confidence in them at all, full stop. What else is there that matters more than the future of our children and grandchildren?"
List of places: Home Office, the Department for Education, NHS England, the Ministry of Defence, HM Prison Service, Probation Service and Ofsted, as well as 20 local authorities, five police forces and Counter Terrorism Policing headquarters (CTPHQ) in London.
[1] https://www.theguardian.com/environment/2020/jan/27/terror-police-list-extinction-rebellion-shared-across-government
[2] https://www.england.nhs.uk/greenernhs/2020/01/greener-nhs-campaign-to-tackle-climate-health-emergency/ / https://www.google.co.uk/amp/s/www.bbc.co.uk/news/amp/uk-51235786
In a major ruling, the U.N. International Court of Justice at The Hague has ordered Burma to "take all measures within its power" to protect Rohingya Muslims from genocide. The court issued the ruling Thursday, calling the 600,000 Rohingya remaining in Burma, also known as Myanmar, "extremely vulnerable" to military violence. The court ordered Burma to report regularly to the tribunal about its progress. The ruling is a sharp rebuke of Burma's de facto leader Aung San Suu Kyi, who last month asked the court to drop the genocide case against Burma. Suu Kyi is a Nobel Peace Prize winner who spent over a decade fighting against the Burmese military that she is now defending. For more on the ICJ ruling, we speak with Reed Brody, counsel and spokesperson for Human Rights Watch. "This is the most important court in the world intervening in one of the worst mass atrocity situations of our time while the atrocities are still happening," says Brody. "It doesn't really get more significant than that."
AMY GOODMAN: This is Democracy Now! In a major ruling, the U.N. International Court of Justice at The Hague has ordered Burma to "take all measures within its power" to protect Rohingya Muslims from genocide. The court issued the ruling Thursday, calling the 600,000 Rohingya remaining in Burma, also known as Myanmar, quote, "extremely vulnerable" to military violence. The court ordered Burma to report regularly to the tribunal about its progress.
The ruling is a sharp rebuke of Burma's de facto leader Aung San Suu Kyi, who last month asked the court to drop the genocide case against Burma. Aung San Suu Kyi is a Nobel Prize laureate. She spent over a decade fighting against the Burmese military, was imprisoned by them. She's now defending them.
Gambia brought the genocide case to the International Court, accusing Burma of trying to, quote, "destroy the Rohingya as a group, in whole or in part, by the use of mass murder, rape and other forms of sexual violence." The Burmese military killed and raped thousands of Rohingya and forced more than 700,000 to flee into neighboring Bangladesh in a brutal army crackdown in 2017.
This is Rohingya refugee Enamul Hassan reacting to the court's ruling from Bangladesh.
ENAMUL HASSAN: [translated] For a long time the government of Myanmar tortured our Rohingya people. They tortured too much, raped our mothers and sisters, killed our men. After a long time, Gambia filed the case on behalf of the Rohingya people in the ICJ court. By the grace of Allah, we got a rule on behalf of the Rohingya people. And for that, we are very grateful to the Gambian government. Now we wait to go back to our country with our rights.
AMY GOODMAN: Well, for more, we go to Alicante, Spain, where we're joined by Reed Brody, counsel for Human Rights Watch, via Democracy Now! video stream.
Reed, can you talk about the significance of the ruling of the International Court of Justice?
REED BRODY: Well, you know, this is the most important court in the world intervening in one of the worst atrocity — mass atrocity situations of our time, while the atrocities are still happening. So, it doesn't really get more significant than that. As you mentioned, there are 700,000 Rohingyas who have been displaced into Bangladesh. There are hundreds of thousands in camps in Myanmar. Now, their situation obviously doesn't just change overnight. But as a young Rohingyan poet said, "My brothers and sisters, the door to justice has opened today." So I think, you know, this is a huge decision. And as you said, it's a huge rebuke to Aung San Suu Kyi and to the military in Burma.
AMY GOODMAN: Can you explain Aung San Suu Kyi's position? I mean, she is a Nobel peace laureate. She has long now defended the Burmese military in its genocide against the people, the Rohingya Muslims, and actually went to The Hague to testify on the military's behalf — the military which imprisoned her and she fought against for decades.
REED BRODY: Well, obviously, she has thrown her lot in with the military. And I think she's showing domestic public opinion that she hates the Rohingya as much as, you know, many others do. I mean, let's remember that this is one of the most hated, persecuted minorities in the world. And I was reminded by this decision of the genocide conviction in Guatemala against Ríos Montt, in which the highland Mayan Indians, among the most marginalized people in the Americas — not as marginalized as the Rohingya — you know, were recognized as a group, and their rights were protected as victims of genocide. And I think the same thing is happening today. Aung San Suu Kyi never mentioned, and the government of Myanmar, in their response to yesterday's ruling, never uses even the word "Rohingya." But the court, the International Court of Justice, the highest court in the world, said the Rohingya are a group, and they're entitled to protection from genocide. I think that's — you know, that's a major moment, not just for the Rohingya, but for international justice.
AMY GOODMAN: Now, what is the enforcement mechanism? I mean, this court, the International Court of Justice, a part of the U.N., what does this mean?
REED BRODY: Well, theoretically, the decisions are binding, and they're transmitted to the Security Council. Now, we know that the Security Council, China has a veto, and so the Security Council will not enforce the judgment. But the court did — first of all, the court established a reporting requirement. It said every — it said the first — in four months, the government of Burma has to account for what it's doing, and then every six months thereafter. So it's almost like a court supervision of what's going on. The General Assembly can take it up. The Human Rights Council in Geneva can take it up. I think whether Myanmar applies this decision is going very much to depend on the international pressure that will come. I mean, they were told not to destroy evidence. Well, we can see, and we have seen in the past, through aerial photos, where they're destroying evidence. So, this is going to be — you know, it's obviously going to take a lot, but there is an enforcement possibility and a mechanism that's going to depend on international pressure.
AMY GOODMAN: And can you talk about Gambia bringing this case, the speed with which the ICJ ruled? And what about other cases in the world where so many have died — for example, in Syria, what's happening with the Uyghurs in China? Have any of these cases been brought, or even what U.S. is doing in the Middle East and in the Iraq War, etc., in the killing of Qassem Soleimani?
REED BRODY: Well, of course, you know, in terms of Gambia, I have to say, as you know, I work in Gambia, and I work closely with the attorney general there. And Gambia took this case actually on behalf of the Organization of Islamic Cooperation to protect the Moslems, Rohingya. And the attorney general of the Gambia happened to have been a prosecutor of the Rwandan genocide, and he felt that he was seeing the same thing happen, and he took the lead. And he has a wonderful back story that really legitimizes this very rare instance of South-South solidarity, Gambia, little Gambia, sticking up for a minority all the way across the world.
It's interesting that you mention China and the Uyghurs, because when — the OIC, the Organization of Islamic Cooperation, which should be standing up, as well, for the minority in China; instead, because of China's not only military might, but also China has the unprecedented campaign by China to silence international critics — it was the topic, actually, of Human Rights Watch's world report last week. The OIC, Muslim countries in the world, actually adopted a statement praising China for how they care for the Muslim minority. So, in many ways, this is a question of political balance of power. In this case, Burma's power is not the same internationally as China's.
The case of Syria, you know, again, there's a veto with Russia. Syria has not ratified these conventions. And Russia can veto, and China can veto, any accountability mechanism at that level. Now, there are a lot of cases around the world where individual countries, in France, Germany and other places, have arrested and are prosecuting people, Syrian officials who have engaged in repression. But, of course, it's not the same as going to the state and going to the top.
AMY GOODMAN: We want to thank you so much for being with us, Reed Brody, counsel for Human Rights Watch.
Tom Solomon, University of Liverpool for The Conversation
The World Health Organization's decision to not declare the novel coronavirus outbreak in China a public health emergency of international concern, or PHEIC, will surprise many. The number of reported cases and deaths is doubling every couple of days, and patients have now been reported from many Asian countries, as well as the Middle East, Europe, Australia and the US.
You might wonder how bad things have to get before this is deemed to be a global public health emergency. But such declarations by the WHO are not taken lightly, as Tedros Adhanom Ghebreyesus, director general of the World Health Organization (WHO) explained in the press conference.
The concept of the WHO declaring global public health emergencies first arose after the 2003 Sars coronavirus outbreak. As with the current outbreak, it started in a live animal market where the spread of infected excrement to humans allowed the virus to cross the species barrier. But unlike the current situation, the Sars epidemic was growing for many months in China before authorities admitted they had a problem. By the time the Sars outbreak was brought under control, there were over 8,000 cases and 700 deaths in 37 countries.
---
Read more:
Coronavirus does not look like a 'black swan' event – here are some reasons to be cautiously optimistic

---
The WHO decided that declaring a PHEIC, introduced as part of the 2005 International Health Regulations, would help manage these situations.
Previously, under legislation that was 150 years old, cholera, plague and yellow fever were contained by quarantine and embargoes at a country's borders. The 2005 legal framework focuses on containing an outbreak at its source, with an emphasis on preparedness. It requires countries to maintain necessary "core capacities", such as the ability to diagnose infections and isolate infected patients. And rather than only being able to report specific known diseases, they can report unusual public health patterns, for example an unexpected increase in patients with severe respiratory symptoms.
A PHEIC is declared when there is "an extraordinary event which is determined … to constitute a public health risk to other states through the international spread of disease". Such a declaration raises levels of international support, enhances diplomatic efforts and security, and makes more money available to support response teams.
The reason for caution is that declaring a global public health emergency can unnecessarily affect trade and tourism and imply that a country cannot control the disease on its own. But given the Chinese response of quarantining 41 million people in 13 cities, this hardly seems like a consideration here.
To date, there have been five such public health emergencies declared by WHO: the 2009 H1N1 "swine flu" pandemic, a 2014 declaration following the resurgence of wild poliovirus, the 2014 West African Ebola epidemic, the Zika emergency of 2015-16, and, after much deliberation, the 2018-19 outbreak of Ebola in Kivu.
As Tedros emphasised, even without the declaration of a PHEIC, there is already a coordinated international health response to the current coronavirus outbreak. And in some ways, this looks like a model public health response with concerted action underway. The Chinese have been quick to report the outbreak in Wuhan and share all the information they have.
This early release of data has allowed modellers to predict that the total number infected is already probably in the thousands. Scientists in China rapidly sequenced the new virus to determine its genetic make-up. Their immediate publication of this information allowed others around the world to develop their own diagnostic tests.
The Chinese authorities' quarantine moves underscore their determination to do everything they can to control the spread. Though whether it is possible to isolate so many people and whether at this stage it will help control the epidemic is uncertain.
In the UK and other countries, passengers on flights coming directly from Wuhan have been undergoing health screening and being given information about what to do if they feel unwell. Such flights have now stopped, but these measures may need to be extended to flights from other parts of China.
Unanswered questions
Several questions, however, remain unanswered, some of which will be key to the WHO's further deliberations on a PHEIC declaration over the next few weeks.
It is clear that human-to-human transmission is happening – the infection has spread from patients to healthcare workers and other close contacts. What is not yet clear is how infectious the virus is. How much ongoing transmission will there be from the second patient to third, fourth and fifth contacts? And can people spread the virus before they even have symptoms?
Scientists use the term Ro to describe how easily a virus spreads, and the higher it is, the greater the chance of the outbreak spreading further and more quickly. The disease severity is also important. As of January 26, 56 (2.8%) of 2,014 confirmed cases have died. For Sars coronavirus the case fatality rate was nearly 10%.
If the new coronavirus spreads rapidly but has a low case fatality rate, there will be less concern.
Chinese scientists are conducting tests to determine which of the animals in the "wet market" in Wuhan might have been the source. There will also be questions about whether regulations to keep humans safe were being followed. After the 2003 outbreak, temporary rules were imposed to stop the sale of exotic animals, such as civet cats, which transmit Sars coronavirus. But wet markets, which are usually crowded spaces selling live poultry and other animals, are popular with shoppers in Asia.
About 600 people die in the UK every year from flu alone, and around the world there are hundreds of thousands of deaths. So while the emergence of a new virus will always cause alarm, the current response of public health officials and scientists in China and around the world, which incorporates everything we have learnt since Sars, should reassure the public, regardless of whether or not the WHO eventually declare this a global public health emergency.

Tom Solomon, Director of the National Institute for Health Research (NIHR) Health Protection Research Unit in Emerging and Zoonotic Infections, and Professor of Neurology, Institute of Infection and Global Health, University of Liverpool
This article is republished from The Conversation under a Creative Commons license. Read the original article.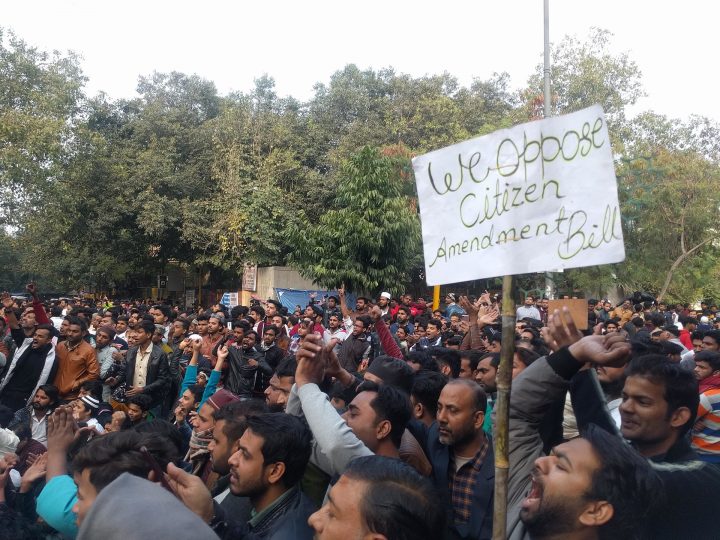 Women are leading the resistance against the unconstitutional Citizenship Amendment Act.
Police say climate groups such as Extinction Rebellion are a 'threat'. They'd have done the same for the suffragettes and Martin Luther King
It's not an "error" or an "accident", as the police now claim. It's a pattern. First, the Guardian revealed that counter-terrorism police in south-east England have listed Extinction Rebellion (XR) and the youth climate strikes as forms of "ideological extremism". Then teachers and officials around the country reported that they had been told, in briefings by the anti-radicalisation Prevent programme, to look out for people expressing support for XR and Greenpeace.
Then the Guardian found a Counter Terrorism Policing guide to the signs and symbols used by various groups. Alongside terrorists and violent extremist organisations, the guide listed Greenpeace, XR, People for the Ethical Treatment of Animals, CND, the Socialist party, Stop the War and other peaceful green and left organisations. Then the newspaper discovered that City of London police had listed XR as a "key threat" in its counter-terrorism assessment.
There's a long history in the UK of attempts to associate peaceful protest with extremism or terrorism. In 2008, for example, the Association of Chief Police Officers (Acpo) produced a list of "domestic extremists". Among them was Dr Peter Harbour, a retired physicist and university lecturer, who had committed the cardinal sin of marching and petitioning against an attempt by the energy company npower (then RWE npower) to drain a beautiful local lake and fill it with pulverised fly ash. Acpo sought to smear peace campaigners, Greenpeace and Climate Camp with the same charge.
The police have always protected established power against those who challenge it, regardless of the nature of that challenge. And they have long sought to criminalise peaceful dissent. Part of the reason is ideological: illiberal and undemocratic attitudes infest policing in this country. Part of it is empire-building: if police units can convince the government and the media of imminent threats that only they can contain, they can argue for more funding.
But there's another reason, which is arguably even more dangerous: the nexus of state and corporate power. All over the world, corporate lobbyists seek to brand opponents of their industries as extremists and terrorists, and some governments and police forces are prepared to listen. A recent article in the Intercept seeks to discover why the US Justice Department and the FBI had put much more effort into chasing mythical "ecoterrorists" than pursuing real, far-right terrorism. A former official explained, "You don't have a bunch of companies coming forward saying 'I wish you'd do something about these rightwing extremists'." By contrast, there is constant corporate pressure to "do something" about environmental campaigners and animal rights activists.
We feel this pressure in the UK. In July, the lobby group Policy Exchange published a report claiming that XR is led by dangerous "extremists". Policy Exchange is an opaque organisation that refuses to disclose its donors. But an investigation by Vice magazine revealed it has received funding from the power company Drax, the trade association Energy UK and the gas companies E.ON and Cadent.
One of the two authors of the Policy Exchange report, Richard Walton, is a former police commander. A report by the Independent Police Complaints Commission said he would have had a misconduct case to answer had he not retired. The case concerned allegations about his role in the spying by undercover police on the family of the murdered black teenager Stephen Lawrence. The purpose of the spying operation, according to one of the police officers involved, was to seek "disinformation" and "dirt" on the family, and stop their campaign for justice "in its tracks."
The home secretary, Priti Patel, has defended the inclusion of XR on the police list of extremist ideologies. But it seems to me that people like Patel and Walton pose much greater threats to the nation, the state and our welfare than any green campaigners. Before she became an MP, Patel worked for the company Weber Shandwick, as a lobbyist for British American Tobacco (BAT). One of her tasks was to campaign against the EU tobacco control directive, whose purpose was to protect public health. A BAT memo complained that the Weber Shandwick team as a whole "does not actually feel comfortable or happy working for BAT". But it was pleased to note that two of its members "seem quite relaxed working with us". One of them was Patel.
In her previous government role, as secretary of state for international development, Patel held unauthorised and undisclosed meetings with Israeli officials, after which she broached the possibility of her department channelling British aid money through the Israeli army, in the occupied Golan Heights. After she was not candid with the prime minister, Theresa May, about further undisclosed meetings, she was forced to resign. But she was reinstated, in a far more powerful role, by Boris Johnson.
It is hard to think of any successful campaign for democracy, justice or human rights that would not now be classed by police forces and the government as an extremist ideology. Without extremists such as Emmeline Pankhurst, who maintained that "the argument of the broken window pane is the most valuable argument in modern politics", Patel would not be an MP. Only men with a certain amount of property would be permitted to vote. There would be no access to justice, no rights for workers, no defence against hunger and destitution, no weekends.
In his Letter from Birmingham Jail, Martin Luther King Jr, subjected to smears very similar to those now directed against XR and other environmental groups, noted: "The question is not whether we will be extremists, but what kind of extremists we will be. Will we be extremists for hate or for love? Will we be extremists for the preservation of injustice or for the extension of justice?"
Good citizens cannot meekly accept the death of the living planet. If seeking to defend life on Earth defines us as extremists, we have no choice but to own the label. We are extremists for the extension of justice and the perpetuation of life.
• George Monbiot is a Guardian columnist
Reprinted with kind permission from the author 
This post is also available in: Italian
This 'who's who' poster listing of groups in the UK that the police are telling people to 'Run Hide Tell' on is totally bonkers. Unfortunately it is not surprising. [1] See Poster here.
The guidance document makes it clear that not all the signs and symbols are of counterterrorism interest. However, if that's the case, why include them in a counterterrorism document? Anyone who interacts with Greenpeace or UK Uncut is technically a terrorist anyway, according to this document…
This is nothing short of pointing a finger at anyone that thinks differently to 'business as usual' – which is taking humanity to its grave – and lumping them all together. The chilling effect is to leave people feeling under scrutiny, watched and pressurised, feeling othered, ashamed or afraid to be open about the things they care about such as the environment and the world around us. In the past few months we've seen cases of people being banned from political conferences, asked to keep quiet at work and investigated by employers for speaking out against company policy and taking days off to go on strike.
This labeling of ordinary people – grandparents, doctors, pregnant mothers, bus drivers, rabbis and more – concerned about the environment is deeply concerning and puts them at risk at a time when society needs to come together and face the climate and ecological emergency.
Paul Stephens, Former Detective Sergeant in the Metropolitan Police for 34 years working in people safeguarding, said:  "The police need to be very careful right now. They are acting in ways that influence people politically publishing literature that can deter young people from protesting peacefully to save their own lives!"
George Ferguson CBE – former elected Mayor of Bristol and past President RIBA, said: "It makes my blood boil to see Extinction Rebellion, Greenpeace and other vital climate campaigns being listed together with genuinely hateful extremist organisations. This is outrageous misuse of the Prevent legislation and an assault on our democracy and deeply misleading to schools and young people."
[1] https://rebellion.earth/wp/wp-content/uploads/2020/01/Counter-terrorism-poster.pdf / https://www.theguardian.com/uk-news/2020/jan/17/greenpeace-included-with-neo-nazis-on-uk-counter-terror-list