You are currently browsing the monthly archive for August 2019.
Ross Douthat, a very conservative Catholic, is persistently the most interesting of The NY Times's stable of right wing columnists. For me that's because he frequently articulates perspectives that resonate to my experience, even if most of his desired remedies sound predictably retrograde. 904 altre parole
Vi auguro una buona estate. Mi è utile un periodo di riposo e di ricerca attiva di un lavoro.
Maurizio.
SETTING SUN
With each
Setting sun
I can see
What God has done
David Herr
Quote for week 133 from Praying for Justice. "We are called to play the Good Samaritan on life's roadside; but that will only be an initial act. One day the whole Jericho Road must be transformed so that men and women will not be beaten and robbed as they make their journey through life." Martin Luther King, Jr.
Reading for August 3 from Praying for Justice. "In Your righteousness, rescue me and deliver me; turn Your ear to me and save me." Psalm 71: 2
Co-Written by Meena Miriam Yust and Arshad M. Khan
The practice of recycling has everything to commend it:  On a finite planet, it conserves resources; it is meretricious allowing us, as it does, to pin a mental merit badge on our chests as we ready the assigned recycling bin once a week; and it is an activity that is all good.  We are saving the planet, albeit in a small way, from some of the excesses of the developed world.  And when everyone does their share, the impact has to be unavoidably significant.  Right.  Or, does it?
If we examine what we recycle, that is paper, glass, metal cans and plastic, the junk mail and other paper discarded is the most copious but plastic is close.  Almost all of it used to go to the developed world's great recycling bin in the east … China.  It absorbed some 95 percent of EU recyclable waste and 70 percent from the US.  But China began to grow its own domestic garbage with the growth of its economy.  The consequences have not been unexpected.  China announced a new policy in 2018, named inexplicably National Sword, banning the import of most recyclables, particularly plastics and contaminated materials.
Since then China's import of such recyclables has fallen 99 percent.  Needless to say, metals and glass are not as seriously affected.  For the American recycling industry, it has been a major earthquake.  First, about 25 percent of recyclables are contaminated and not recyclable.  Then there are plastic bags.  Not only are these, too, not recyclable but they tend to jam up sorting machinery.
The sorting of waste sent to China had been taken over by families in port side communities.  It became their livelihood, retrieving whatever fetched a price and dumping the rest.  Piling up in ad hoc landfills, it washed down waterways into the ocean.  They were not the only culprits.  Thus we have had the phenomenon of whales being washed up dead, starved because stomachs were full of plastic — 88 pounds densely packed in the stomach of one found in the Philippines and 50 pounds inside another in Sardinia.  China's ban on waste imports has been followed by Malaysia and Vietnam.  In March of this year, India joined them.
As the outlets for their waste disappear and as most of the plastics are not recycled, self-reliance has been forced upon developed countries.  All to the good for the environment, because it will also curtail the use of plastics out of necessity.  The truth is only a fraction of plastic waste is recyclable, generally the white transparent bottles of which some are preferred.  Most ends up in landfills.  A 2017 study in  Science Advances determined that 90% of plastics ever produced are still in the environment.  Yet in the past six decades an estimated 8 billion tons have been produced.  Moreover, the usage trend is upwards and in 2014 some 311 million tons were produced worldwide.
There is though a small movement to restore reusable bottles, and a company called Loop Industries may be on the right track. Their founders announced at the World Economic Forum in 2019 that they aim to return to the milkman model, reusing bottles for everything from edibles to shampoo and detergent. Loop has partnered with Nestle, Proctor & Gamble, PepsiCo, and other large companies.  Perhaps, if we all return to the milk bottle model of the 1950s  — refilling containers to be used again — there may be greater hope for the planet.  The good news is, some towns and states have already banned single-use plastic bottles.
Another intriguing possibility is to use the millions of tons of crustacean shells discarded.  Scientists are now able to extract chitin and chitosan from shrimp and lobster shells.  Still in the research stage, the process has to be made industrially feasible, and there are also problems with hazardous waste as it uses potent chemicals like sodium hydroxide.  Biodegradable chitin and chitosan can be used as plastic substitutes to make surfboards and anti-microbial food packaging.  Scotland-based CuanTec has developed a bacterial method that has eliminated 95 percent of the sodium hydroxide and also cut energy use by a third as the bacteria do all the work.  They use shells from the langoustines common in northern Europe, and have already signed a contract with the large UK supermarket chain Waitrose to supply flexible film for packaging fish.  The film's antibacterial properties extend fish shelf life by three days.
An unexpected and more insidious source of plastic pollution is synthetic clothing.  Researchers have determined that acrylic clothing may release more than 700,000 plastic fibers in a single wash.  Polyester releases about 500,000 fibers, and a poly-cotton blend releases about 137,000.  These fibers end up in the water we drink and the fish we eat.  Making matters worse is the presence of microplastic at depths up to the 1000 meters, investigated by Choy et al in the deep waters of Monterey Bay using a remotely operated vehicle (ROV).  The ROV collected the samples at ten different depths.  Maximum pollution was found, surprisingly, not at the surface but from 200 to 600 meters below.  They also collected red crabs and found plastics in the gastrointestinal tract.  Giant "sinkers," the particle filtering mucous houses used for feeding by larvaceans and discarded after use, were collected at depths ranging from 251 to 2967 meters to overlap and extend the range of the research.  All contained microplastics.   Clearly, ridding the oceans of plastic pollution is an almost unsurmountable problem.
Japanese manufacturers have come up with a washing machine filter to catch microfibers, which may provide some aid if more widely distributed.  Yet we still do not know the efficacy of such devices.  Curbing the problem at the source is still the most sensible if we wish to sustain the planet.  It is up to us.
Returning to the cheap, convenient and  therefore ubiquitous plastic bags, there is hope for now there are several different types:  the most common are conventional plastic bags, then there are compostable bags designed to be recycled in industrial composters, biodegradable bags, and two types of oxo-biodegradable bags.  The latter degrade in open landscapes or on water surfaces like oceans.  None degrade too well in landfills.  There is, however,  another problem with compostable biodegradales:  to repel water and oil these have in them perfluoroalkyl and polyfluoroalkyl substances in which an hydrogen atom has been replaced by fluorine.  Known as PFAS, these persistent chemicals leach out of the plastic and remain in the compost to be absorbed by plants and later by humans to accumulate in their bodies.
However, it's back to landfills for the non-recyclables.  In 2015, the US alone produced 34.5 million tons (or 13 percent of total municipal solid waste) of plastic waste from which a small fraction (9 percent or 3.1 million tons) was recycled, 5.4 million tons was incinerated with energy recovery and about 26 million tons ended up in landfills.  Burning reduces volume by 87 percent.  However, open burning produces pollutants including dangerous dioxins, so safe combustion requires a contained environment.
Unless there is a change, the plastic problem appears likely to keep growing.  In 1950, the world produced only about 2 million tons compared to over 300 million tons in present times.  The UN has taken a first step by adding plastic waste to the Basel agreement on hazardous waste — 187 countries have signed up, the US under the Trump administration remains an exception.
Engineering institutions have become aware of the problem and are educating their young members.  As reported in their July 2019 issue of IET Member News, the British electrical engineering professional body has two competitions sponsored by Greenpeace and Greenseas.  For the Greenpeace prize, teams have to come up with methods, technologies and alternative delivery systems to reduce plastic packaging in supermarkets.  And the Greenseas challenge requires competitors to develop a robotic machine to clear beaches of plastic cigarette stubs.  The machine has to be large enough to collect a reasonable amount and painted brightly to attract attention and inform the public of the problem.  Then there is OceanX Group, headed by a young engineer, that is developing automated monitoring and cleanup technology to remove plastic from waterways and better to detect sources.  It employs artificial intelligence including drones.
The inescapable upshot of all of this is a need for education.  Sorting recyclables initially and disposing non-recyclable material into the curbside waste bin could save energy later, and many man-hours.  Changes in the kind of plastic material produced may also help.  For instance, just reducing the coloring used in plastic bottles eases recycling as these additives are expensive to remove.  Also tax incentives for manufacturers can only aid recycling efforts.  However, the now evident danger to the food chain begs including the cost of safe disposal (like controlled combustion for example) in the price of items.  Above all, the total amount of plastic generated can no longer keep increasing; it has to be reduced.
---
Meena Miriam Yust is an attorney based in Chicago, IL with a special interest in the environment.
Dr. Arshad M Khan (http://ofthisandthat.org/index.html) is a former Professor based in the U.S. whose comments over several decades have appeared in a wide-ranging array of print and internet media. His work has been quoted in the U.S. Congress and published in the Congressional Record.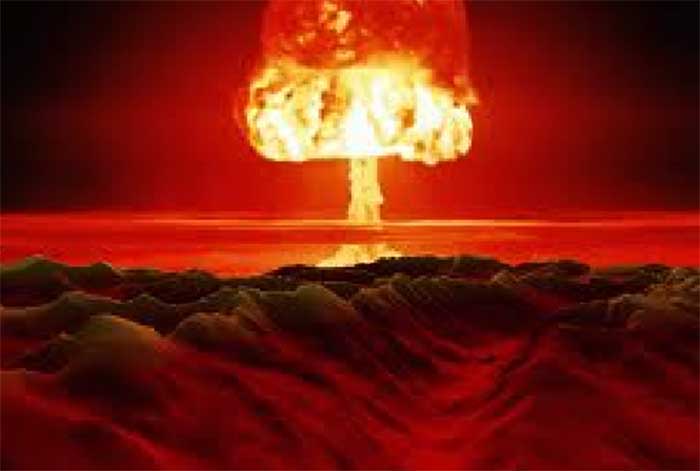 By Bill Van Auken
Washington formally scrapped the Intermediate-range Nuclear Forces (INF) Treaty Friday, bringing the world a major step closer to nuclear war.
The treaty, signed over 30 years ago by US President Ronald Reagan and Soviet leader Mikhail Gorbachev, banned a whole class of weapons that had placed the world on a hair trigger for a nuclear conflict. Both countries agreed to end all use and production of ground-launched ballistic and cruise missiles with ranges of 500 to 5,500 kilometers (310 to 3,417 miles).
CNN reported that the Pentagon will test within weeks a new cruise missile designed for ranges previously banned by the INF accord. The US military has reportedly been working on the weapon for the last two years.
An unnamed US official told the television news network that Washington aims to deploy the weapon in areas of Europe where it could overpower Russian air defense systems and strike "the country's ports, military bases or critical infrastructure."
Short and medium-range surface-to-surface missiles, including the Pershing II and the MGM Lance were deployed by the United States in Western Europe in the early 1980s, while the Soviet Union had deployed SS-20 mobile missile launchers in the western USSR. These weapons had the capability of striking most major cities in Western Europe and the Soviet Union within minutes. The threat of a nuclear conflict on the continent triggered mass demonstrations against the US missile deployment, particularly in West Germany.
The abrogation of the agreement is bound up with Washington's turn toward "great power conflict" with Russia and China, in which US imperialism is seeking to leverage its military power as a means of containing Russia and countering the economic rise of China and its challenge to US global hegemony.
US Secretary of State Mike Pompeo issued the formal announcement of the US repudiation of the treaty, placing the full blame for its demise on Russia, even as it was the US that has ripped up the agreement. "Russia failed to return to full and verified compliance through the destruction of its noncompliant missile system," he said.
Moscow has repeatedly denied this claim, insisting that its SSC-8 ground launched cruise missile that Washington says is out of compliance with the treaty is not in violation. While it has invited the US and other powers as well as foreign journalists to inspect the weapons system, Washington has rebuffed all appeals for negotiations, issuing ultimatums to Russia that it knows will not be accepted.
Russia, meanwhile has insisted that the US is out of compliance with the accord, having deployed missile defense systems in Poland and Romania that are equipped with launchers identical to those used by US warships that are capable of firing medium-range Tomahawk cruise missiles. It has also charged that the US deployment of armed drones on the continent is a further violation of the accord.
The US government's determination to upend the treaty and its restrictions on the development of medium-range missiles is aimed not just at escalating its military siege against Russia, but more fundamentally at preparing for "great power" conflict with China.
In response to the US encirclement of China and the deployment of massive naval and air power in the Pacific region as part of the "pivot to Asia" begun under the Obama administration, Beijing, which is not a signatory of the INF treaty, developed its own medium range missiles.
The Pentagon wants to answer this development by deploying offensive missile systems of its own in the region aimed at China's major cities. It is no accident that the termination of the treaty prohibiting such a deployment coincides with the sharp escalation of US trade war measures against China
While the decision to abrogate the treaty was announced by the Trump administration last February, the formal repudiation of the accord provoked condemnations from both Moscow and Beijing.
"On the famous symbolic clock that shows the time left until nuclear conflict, we have unfortunately passed yet another minute towards midnight," Russia's Deputy Foreign Minister Sergei Ryabkov said in an English-language interview with RT. He added that "even though President Trump is saying that there is no point in an arms race and investment in military equipment, this will continue."
Chinese Foreign Ministry spokesperson Hua Chunying, meanwhile said that "China opposes such actions," adding, "We call on the United States to abide by its obligations."
She went on to accuse Washington of seeking "superiority in strategic weaponry" and warning that this would "seriously affect stability and undermine the global balance of power," threatening "security in many regions."
While most Western European governments and NATO echoed Washington's claims that Russia was responsible for the treaty's demise, there were nonetheless expressions of concern. German Foreign Minister Maas stated that "With the end of the INF treaty, Europe is losing part of its security." He added, "I am convinced that today we must again succeed in agreeing [to] rules on disarmament and arms control in order to prevent a new nuclear arms race."
Belgian Foreign Minister Didier Reynders, meanwhile, wrote on Twitter: "I regret the ending of the INF Treaty, which has served our security for over 30 years. Belgium reaffirms its commitment to nuclear arms control and disarmament and calls upon the US and Russia to conduct a constructive dialogue and agree on stabilizing measures."
Belgium, along with the Netherlands, Germany, Italy and Turkey, is one of the countries where US nuclear bombs are deployed.
None of Washington's Western European allies have given any indication that they are prepared to accept the deployment of medium-range missiles on their territory. Moscow has made clear that any such missile installations would immediately become targets.
Behind the statements about the abrogation of the INF Treaty undermining Europe's security, lies a turn toward the escalation by the major European powers, and in particular Germany, of remilitarization independently of the US.
The ripping up of the INF Treaty is widely expected to be followed by the ending of the even more significant New START (Strategic Arms Reduction Treaty) agreement, which if not renewed, will expire in 2021. The pact caps the number of deployed strategic nuclear warheads by both Russia and the US to 1,550 and places similar limits on the two countries' number of intercontinental ballistic missiles.
Trump has described the pact as "one of several bad deals negotiated by the Obama administration," while his national security adviser, John Bolton, has been telling the media that it will likely not be renewed. This would mean that there would be no remaining treaties restricting the buildup toward nuclear war.
The Pentagon is openly preparing for such a conflict. A "joint doctrine" on nuclear operations briefly posted on the internet in mid-June states that: "nuclear weapons could create conditions for decisive results and the restoration of strategic stability. Specifically, the use of nuclear weapons will fundamentally change the scope of a battle and develop situations that call for commanders to win."
The Pentagon is working to develop an arsenal of "usable", low-yield "tactical" nuclear weapons to be utilized to turn the tide of battle in confrontations with US imperialism's "great power" rivals. The underlying and highly unlikely scenario is that such weapons can be used without provoking a full-scale nuclear exchange putting an end to life on the planet.
The immense dangers posed by the Trump administration's abrogation of the INF Treaty and the significant step closer to nuclear war provoked no response from its ostensible political rival, the Democratic Party.
Having voted overwhelmingly in both the House and Senate for a record $738 billion US military budget, the Democrats are fully committed to the march toward a nuclear conflagration. Neither House Speaker Nancy Pelosi, who negotiated the budget deal with the Trump White House, nor Senate minority leader Chuck Schumer said anything about the scrapping of the INF treaty. For his part, Democratic presidential front-runner Joe Biden tweeted that the US "must lead the free world" along with anti-Chinese comments. Similarly, Elizabeth Warren kept silent about the treaty's abrogation while tweeting that the US has "to get tough on China", while Bernie Sanders said nothing.
There is clearly no antiwar faction within the US ruling establishment, nor any interest on the part of the Democrats or the corporate media in alerting the American people to the growing threat of a global nuclear conflagration.
This threat can be answered only through the construction of a new mass antiwar movement based on the struggle for the unification of the international working class in the struggle against capitalism.
Originally published by WSWS.org