You are currently browsing the daily archive for February 6, 2019.
Quakers from Chelmsford, Oxford, Hastings, Cambridge and London are outside Chelmsford Crown Court today to support Brighton Quaker Lyndsay Burtonshaw and the other members of the #Stansted15, who will shortly be sentenced for preventing an immigration deportation flight.
As a Sanctuary Meeting, Chelmsford Quakers are working to create a culture of welcome in Britain, end deportations and detention, and challenge racism in all its forms.
Over the past six months they have also been looking after the Stansted defendants with hot drinks, food, accommodation, and upholding them in their prayers.
Find out about becoming a Sanctuary Meeting here: www.quaker.org.uk/migration+42 Cumentos26 Cumpartziduras8080
Maurizio BenazziM'agradatCummentaCumpartziPrus de Importu
Cummentos
Iscríe unu cumméntu…Ammustra totu sos 2 cummentos
14 oras ·
We uphold the #Stansted15 as they receive their sentences today.
From the Friend (3.01.2019): 'One member of the group [said] "We are guilty of nothing more than intervening to prevent harm." According to the protestors, who gathered information about the deportees from the Home Office under the Freedom of Information Act, two of the people have been identified by the government as survivors of trafficking. Out of the sixty people due to be deported on the plane in March 2017, eleven were still in the country by 9 October 2018. At least one person had been granted the right to remain and ten of the eleven had ongoing asylum claims, as of 28 September 2018.'
thefriend.org/article/stansted-protestors-full-of-hopequaker.org.ukQuaker solidarity with the Stansted 15 human rights activists4 Cumentos62 Cumpartziduras117117
Maurizio BenazziM'agradatCummentaCumpartziPrus de Importu
Cummentos
Iscríe unu cumméntu…Ammustra totu sos 4 cummentosCàstia TotuEventos imbenientesFre9Why conflict? Why violence? Lifting the lid on the originsSàb 18:00 UTCCàusasFre11People's Trial of the Home Office & the Hostile EnvironmentLun 12:00 UTC · Home Office · London, United KingdomTeatru · 513 peopleFre16Spring Gathering MeetingSàb 09:30 UTC · Friends' Meeting House, Manchester · Manchester, United Kingdom48 persones interessadasBìde totuFotografiasCàstia TotuVìdeosRethinking Security national conference 20189What is Holocaust Memorial Day?7014A Quaker WWII conscientious objector speaks263Càstia TotuGrupos
Sanctuary Everywhere: planning and sharingGrupu serradu89 membrosBìde totu sos grupposCàstia àteru
SILENT MEDITATION
Silent meditation
Helps me understand
God in my life
And what God has planned
David Herr
05.02.2019 – Craig Murray
We are frequently told that people in Venezuela have no food, clothing or toilet paper, and that popular discontent with the left wing government is driven by real hunger. There are elements of truth in this story, though the causes of economic dislocation are far more complex than the media would have us believe.
But I ask you to look at this photo of supporters of CIA poster-boy, the West's puppet unelected "President" Juan Guaidó, taken at a Guaidó rally in Caracas two days ago and published yesterday in security services house journal The Guardian. Please take a really close look at the photo. Blow it up as big as you can. Scan individual people in the crowd, one by one.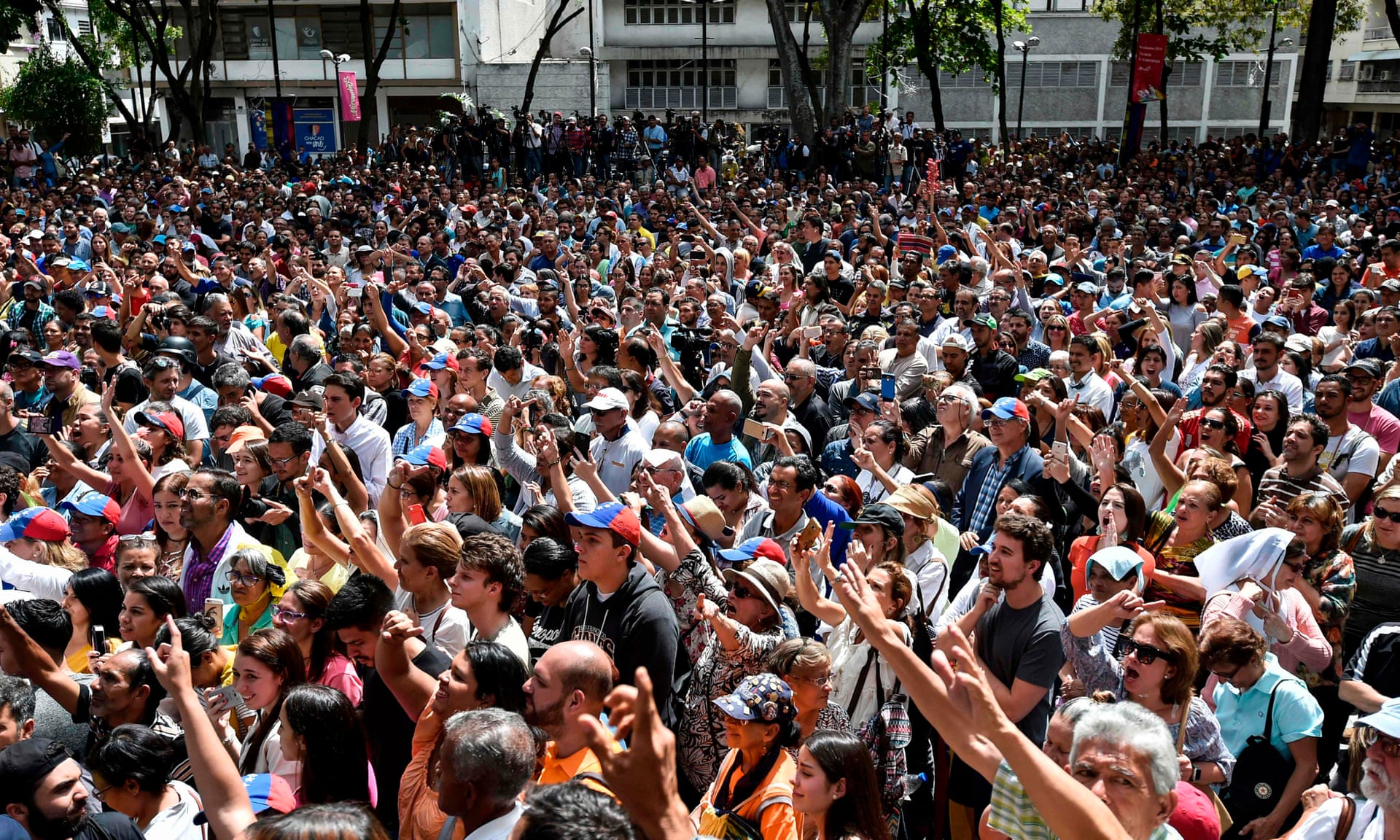 These are not the poor and most certainly not the starving. As it chances I have a great deal of life experience working amongst seriously deprived, hungry and despairing people. I know the gaunt face of want and the desperate glance of need. Look at these Guaidó supporters, one by one by one. This designer spectacled, well-coiffed, elegantly dressed, sleekly jowled group does not know hunger. This group does not know want. This is a proper right wing gathering, a gathering of the nicely off section of society. This is a group of those who have corruptly been siphoning Venezuela's great wealth for decades and who want to make sure the gravy train flows properly in their direction again. It is, in short, a group of exactly the kind of people you would expect to support a CIA coup.
Those manicured hands raised in the air will never throw rocks, or get involved in violence unless against a peasant strapped to a chair for them. It is not this crowd which will suffer as public disorder is manipulated and directed by the CIA. These wealthy ones are immune, just as Davos serves as nothing but an annual reminder of how very poorly God aims avalanches.
There is real suffering in Venezuela. The CIA is working hard to stoke violence, and the genuine poor will soon start to die, both in those egged on to riot and in the security services. But do not get taken in by the complete nonsense that this is a popular, democratic revolution. It is not. It is yet another barefaced CIA regime change coup.
UPDATE Such wisdom as this blog finds is often crowd-source, and with thanks to a commenter below here is some useful information from Jill Stein.
Ohio Yearly Meeting of the Religious Society of Friends (Conservative) is a Quaker fellowship of nine local congregations (which we call "Meetings"). "Conservative" indicates that we stay close to the Christian Truth and Life upon which the Religious Society of Friends was founded in the mid 17thCentury. We gather together in stillness to wait expectantly on God.
We have experienced that "Christ has come to teach His people Himself." We Friends are to be that people. It is our purpose, individually and corporately, in worship as in every moment of life, to listen to and to obey that Teacher. We do not have a paid pastor or minister as other churches do. Instead we practice the priesthood of all believers, acknowledging that God can speak and will speak to anyone at any time. When someone feels as if he or she has been given something (a message, hymn, prayer, or Scripture) to share with the rest gathered, that person is simply to stand and, without pretense, share what has been given by our Lord to share. In this unique gathering, God instructs us to follow His son, Jesus.
It is our hope that those seeking God might be encouraged and ministered to by what one finds on this site. Please see the section "Our Faith" to get a better sense of how our lives and our Meetings are impacted by the amazing power of Christ within. We invite you to come in with us and experience the love of God."
Please feel free to contact us as we look forward to hearing from you and connecting with you. A personal relationship and experience is much more powerful than simply reading about it. Won't you come to Jesus who has said, "Come to me, all who are weary and burdened, and I will give you rest. Take my yoke upon you and learn from me, for I am gentle and humble in heart, and you will find rest for your souls. for my yoke is easy and my burden is light." (Matthew 11:28-30, NIV)?