You are currently browsing the monthly archive for November 2018.
29.11.2018 – Pressenza London
HEIDI CHOW29 November 2018
Big Pharma is hurting the NHS [UK National Health Service] at its core – here's what we need to do, if we're bold enough.
Warnings of price hikes, supply problems and stockpiling under a no-deal Brexit has pushed medicines into the media spotlight of late – and no wonder. Yet the problems of accessing essential medicines go beyond whether or not a Brexit deal is reached. Many vital medicines are already not getting through.
Last week NHS England published its spending on medicines for the past year which amounted to a staggering £20 billion. That's an 11 percent increase from the previous year and a 55 percent hike since 2010. For anyone following news about the NHS, that £20 billion figure may seem familiar as it's the same amount the government announced it would be injecting into the NHS in the recent autumn budget. Yet even with this financial boost, the drugs bill is still rising faster than the NHS funding to pay for it.
One major reason for this is the price inflation of essential drugs. The extortionate prices being charged by big pharmaceutical companies are a financial drain on an already squeezed NHS budget. Yet at the same time, patients are being denied access to other effective drugs, even though they exist, because their price tag is just too high for the NHS.
Dunise is a Scottish breast cancer patient, working with campaign group Just Treatment. She has not been able to access breast cancer drug, pertuzumab (Perjeta) in Scotland because it is too expensive. Her story is not unique, but with the NHS rejecting or rationing drugs because of price, it is becoming more widespread. After years of negotiations with the government, drug manufacturer Vertex is still not offering an affordable price for its breakthrough Cystic Fibrosis drug leaving patients unable to access an effective life-changing treatment.
This financial burden is only going to increase as the first wave of new advanced cancer treatments called CAR-Ts – that reprogram the body's own immune cells to attack malignant cells – are priced in the region of several hundred thousand pounds. The U.S. list price for Yescarta (CAR-T cell therapy for untreatable forms of blood cancer) is $373,000. The UK price is confidential but the therapy was rejected by NICE, the body which decides whether the NHS can afford a drug, in August.
High drug prices hit patients the hardest and hurt the NHS at its very core. Though we treasure the principle of public healthcare for all, free at the point of use, this is undermined by our system of privatised medicines. We have to question what is going wrong.
Big pharmaceutical companies defend high prices by claiming that they need to recoup their huge research and development (R&D) costs, but often there is little transparency around these costs. Many of the big pharmaceutical companies are spending while others are spending more on marketing than on R&D. Also much of the early stage, riskier research that leads to breakthroughs is publicly funded. Some estimates say that between one-third and two-thirds of all global spend on R&D comes from the public.
So what can be done about this? We need to move away from the current business model that prioritises short-term shareholder value and relies on financialised practices such as share buy-backs. It's a corporate-driven model where decisions are made based on profit and financial returns not on public health need and patient access. This model does not treat health as a human right and is not delivering the health innovation that we need and even when it does, it's at prices that governments can't afford.
Instead, as we explored in a recent report with University College London, STOPAIDS and Just Treatment, we need bold reforms to re-orientate the whole model so that the public have greater democratic control over our pharmaceutical system and where the incentives are radically changed. Right now, the industry is incentivised to develop new drugs by high prices. This could be changed so that innovators are rewarded with upfront innovation inducement prizes rather than patent-based monopolies. The prizes would include stipulations that the technology would be freely licenced to enable different manufacturers to compete and bring prices down.
The public sector makes significant contributions to R&D but publicly-funded breakthroughs often get licensed to private companies, which then set high prices and extract excessive profits. Taxpayers pay twice, first for the research and then in high prices. In 2016,the NHS spent £1 billion on drugs in 2016 where public money had funded their research and development, and yesterday's figures show this has risen to £1.3 billion. In order to ensure public returns from public investment, conditions should be attached to public funding. These conditions should stipulate that drugs based on publicly-funded research should be affordable and accessible.
Something that the UK government could do today would be to issue crown use licenses on drugs whose prohibitive pricing creates patient access problems. This allows other companies to produce such drugs and enables lower prices. The right to do this is enshrined in a WTO global agreement on intellectual property and so the UK government should use all tools available to push for patient access on vital medicines.
Extra money going into the NHS (itself subject to review if no Brexit deal is reached) will provide some much-needed breathing space to a cash-starved NHS, but not if the money is siphoned off to big drug companies through charging extortionate prices. Doing nothing is not an option. The financial cost to the NHS is unsustainable and the human cost of denying access to medicines is inexcusable. It shouldn't take the shock of Brexit for politicians to act.
Heidi Chow is pharmaceuticals campaigner at Global Justice Now.
29.11.2018 – Leopoldo Salmaso
This post is also available in: Italian
The official declaration by Federica Mogherini, head of the EU diplomacy, is known.
The facts behind those statements are less clear.
The interpretation probably most close to the factual reality is offered by Ansbert Ngurumo in Sauti Kubwa, Nov 2, 2018:
"…TANZANIA President has ordered the Head of EU Delegation to Tanzania, Roeland van De Geer, to leave the country within 24 hours… Van de Geer has been a strong and steady critic of Tanzania's repressive tendencies. The EU delegation, which he leads has consistently spoken out against actions amounting to gross violations of human rights and Tanzania's international commitments… The ambassador has been a trusted ally of many critical dissenting voices of democratic actors in the country. It is an open secret that his office has hosted uncountable meetings with political actors, activists, journalists, religious leaders and even frustrated government officials".
Paradoxically, the drop that broke the camel's back, according to Ngurumo, was "the response by the EU missions on recent homophobic campaign orchestrated by a Dar es Salaam demagogic regional commissioner", from which the government had immediately disassociated with official note.
After that, even the 'boisterous' regional commissioner asked human-rights defenders and people from countries where homosexuality was legal, to "understand, that we as a nation have our own laws, Constitution and norms. In Dar es Salaam being gay is not a right. It is a criminal offence".
Paradoxically, homophobia is the only subject on which all African populations agree and on which, in any case, Tanzania had so far kept a low profile, while in other countries such as neighbouring Uganda homosexuality is subject to death penalty.
Paradoxically, the West has no title to force entire populations and their leaders to sudden 'cultural leaps'.
Paradoxically, in the highly advanced US and EU, lawyers are engaged on a daily basis in asserting the civil rights of people who show a sexual orientation different from what is defined as 'normal' in the Gaussian distribution curve.
Paradoxically, the WHO has stopped classifying homosexuality as a disease only in the latest (11th) edition of its ICD (International Classification of Diseases), dated 18 June 2018.
This is the second article in a series on Tanzania.
The first one can be foud here.
27.11.2018 – Democracy Now!
This post is also available in: Italian
In Tijuana, Mexico, U.S. border patrol officers fired tear gas Sunday into a crowd of desperate Central American asylum seekers as they tried to push their way through the heavily militarized border with the United States. Among those attacked were mothers and small children, who were left gagging and screaming as tear gas spread. Mexican federal police officers in riot gear moved in and arrested dozens of the migrants; Mexico's government says they'll be deported to Central America. The group had broken away from a peaceful protest of thousands of migrants demanding entry to the U.S. where they hoped to win asylum. The migrants are from Honduras, Guatemala and El Salvador, and are fleeing widespread violence, poverty and mass unemployment. This is 37-year-old Honduran asylum seeker Saúl Hernández.
Saúl Hernández: "My message to the United States president is not to scare people, because he's showing Mexico that he has the military power. He's also frightening Mexico. Please remove your troops."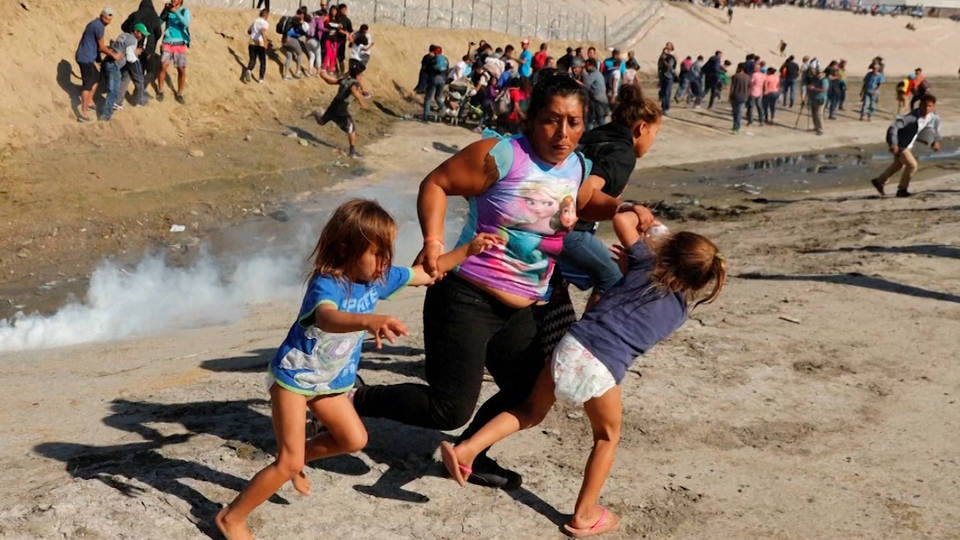 In response, the Trump administration temporarily closed the San Ysidro border crossing, one of the busiest ports of entry in the world, with more than 90,000 people crossing each day. Meanwhile, the administration of Mexican President-elect Andrés Manuel López Obrador denied it had made any deal with the Trump administration to force asylum seekers to remain in Mexico while their U.S. asylum claims are processed. The denial contradicts tweets by President Trump and a report in the Washington Post on Saturday.
On Monday, Trump tweeted "Mexico should move the flag waving Migrants, many of whom are stone cold criminals, back to their countries. Do it by plane, do it by bus, do it anyway you want, but they are NOT coming into the U.S.A. We will close the Border permanently if need be. Congress, fund the WALL!"
Mexico has asked the U.S. to investigate the use of tear gas on children. Speaking from Mississippi Monday, Trump defended the tear gassing for a second time and placed the blame on parents of migrant children, suggesting that some people with children aren't guardians but so-called "grabbers" who simply use the children to gain asylum.
26.11.2018 – Budapest, Hungary – Lorenzo Molinari
In Budapest, a conference and workshops on the topic of unconditional basic income, organised by UBIE and its partners in Hungary, took place on the weekend of 23-25 November.
At the conference on Friday 25th, experts, politicians and specialists spoke about their ideas, suggestions and experiences. After each round of discussion the audience could ask questions or share their comments. (Detailed programme in English can be found here).
At the workshops on Saturday and Sunday the 24th and 25th, the idea and feasibility of a European Citizens' Initiative were further developed, as well as possible strategies for the upcoming European elections in May 2019.
Five scenarios were discussed for a European Citizens' Initiative:
Unconditional basic income: an unconditional basic income (UBI) is an income which is granted unconditionally to all members of a political community on an individual basis without proof of need and without obligation to work. Unlike many other existing minimum income schemes in European countries, UBI would universal, individual, unconditional and high enough to ensure an existence that preserves personal dignity and enables individual active participation in society.
Eurodividend: The Eurodividend would be a cash payment, of for example 200 Euro per month on average, to every EU resident. This payment would be free of consideration, so there would be no obligation to work, and it would be made without proof of need. The main difference between the Eurodividend and an unconditional basic income is that the amount of the dividend would not be sufficient to secure one's livelihood.
A "compromise solution": the EU should pay each EU resident a basic income, measured by the subsistence level of the poorest country in Europe. According to statistics, this is Bulgaria, the amount would be about 135 euros per month, which would then be supplemented by each state accordingly to reach the respective subsistence level.
Pilot projects: the EU should carry out pilot projects with the unconditional basic income in order to collect more data.
EU child benefit: which would, in principle, be a Eurodividend for persons under 18 years of age.
The final decision on the proposal to be presented as a Citizens' Initiative to the EU Commission will be taken at the next general assembly in Brussels in spring 2019.
24.11.2018 – Anna Polo
This post is also available in: Spanish, Italian
Migration policy, civil disobedience and tangible gestures of solidarity. We talk to Maso Notarianni, a journalist, director of Italian association ARCI and member of Mediterranea Saving Humans.
How did the launch of the Mediterranea Saving Humans project come about?
The idea has been in many people's heads for a long time. The expulsion of NGOs from the Mediterranean gave us the impetus to firm up our reaction of civil disobedience to Italian and European policies towards migration and the criminalisation of solidarity. At the beginning of spring we started looking at the feasibility of the project and during the summer we went to work, and bought and modified a tug boat, called the Mar Ionio. Our launch took place at the start of October. The project brings together many disparate groups that have decided to work together. Our promoters are ARCI; Bologna's Ya Basta association; the online magazine I Diavoli; Rome's Esc social centre; the social enterprise Multivolti based in Palermo; the NGO Seawatch and the Don Gallo Community in Genoa. I'd also like to add that without the help of Erasmo Palazzotto, Nicola Fratoianni, Rossella Muroni, Alessandro Metz and Nichi Vendola, who acted as guarantors on the loan from Banca Etica, the project would never have got off the ground.
How has the project developed?
Many other groups have joined our initial promoters. These include parishes, cultural groups, social centres, artists, writers, and individuals. Mediterranea is a network that is open to everyone. To take part and suggest initiatives, all you need to do is either go on our site or our Facebook page and leave a message. We've created an amazing network of support linking those who are at sea with those on land. We've also formed a highly-skilled group of skippers who take part in our missions as volunteers alongside activists.
In all of our missions, we have at least one support boat that accompanies the Mar Jonio. On board, besides the crew and medical staff, we also have journalists, who are crucial in helping our mission of monitoring, witnessing and reporting on the situation. We also work with the Proactiva Open Arms and Seawatch boats.
You have taken part in two missions and will shortly set out on your third. What has the experience taught you?
It has taught me a lot. Navigating for days in the Mediterranean really brings home the absurdity of Italian and European policies towards migration. Above all, you experience first hand how awful it is to be at sea in a dinghy or small boat. It gives you even greater energy to raise awareness of this madness. The experience creates very strong bonds between those who share it.
What happened during the missions you took part in?
On my first mission, we came across a small boat heading towards Lampedusa. We drew up alongside and asked if they needed help, but they told us that they had two engines, stocks of food and water and that they preferred to continue.
We picked up many alerts which oblige the nearest craft to help those in difficulty. Unfortunately, we often came to the conclusion that the alerts were false and designed to send us where we were not needed. We also found that rather than sound a general alarm, only the Libyans were alerted so that they could go and round up the castaways. This takes place despite the International Maritime Organisation not recognising Libyan ports as safe.
I'd also like to add an important fact: Europe has given Turkey six billion euro to block refugees and Italy is funding the Libyan Coast Guard and groups who are, in effect, bandits, to build prison camps. The project to open humanitarian corridors by the Community of Sant'Egidio with the Federation of Evangelical Churches and the board of the Waldensian Church raised 250 million euro and brought a thousand people to Italy, guaranteeing them shelter for a year. With the millions given to Turkey and Libya we could have guaranteed safe and human conditions for at least 240,000 people. Like the closing down of SPRAR, the choices the West is making – without forgetting what Trump is doing in the U.S. – seem to me a clear demonstration of a lack of any desire to solve the problem. Instead, it seems more important to increase tension, fear and mistrust towards migrants.
Earlier, you mentioned the extraordinary levels of solidarity that you have encountered. Can you tell us more about what you have done so far and your future projects?
We really didn't expect so many disparate groups to get involved, from parish church groups to social centres. We are now seeing two or three initiatives a day raising awareness of our project and raising funds all over Italy. People organise everything and call us and we go wherever we are invited. Another initiative by Michela Murgia with the same aim has seen a group of actors, writers and singers tour the country with a play called "La via di terra." We're aiming to continue lots more local events such as this. Our invitation to everyone is clear: "Come on board Mediterranea Saving Humans."
Translation from Italian by Malcolm Gilmour
23.11.2018 – Right Livelihood Award Foundation
The Laureates of the 2018 Right Livelihood Award, widely known as the 'Alternative Nobel Prize', will receive their prizes at today's Award presentation in Stockholm, Sweden. Regrettably, the three Saudi Laureates are prevented from attending due to lengthy prison sentences for their work promoting justice and equality.
Ole von Uexkull, Executive Director of the Right Livelihood Award Foundation, said:
"The Laureates' trailblazing work for accountability, democracy and the regeneration of degraded land gives tremendous hope and deserves the world's highest attention. At a time of alarming environmental decline and failing political leadership, they show the way forward into a very different future."
Thelma Aldana (Guatemala) & Iván Velásquez (Colombia) received this year's Honorary Award "for their innovative work in exposing abuse of power and prosecuting corruption, thus rebuilding people's trust in public institutions".
Thelma Aldana commented: "Guatemala was organised to enrich powerful actors, and that is what we have begun to defeat. Today it is known in Guatemala that, no matter who you are, justice can operate under the rule of law, as a key factor to strengthen the emerging democracy."
Iván Velásquez said: "Corruption is a crime against humanity and human dignity. The fight against it is the fight for a dignified life for all people and especially those who are marginalised."
The three cash awards go to the following Laureates:
Saudi human rights defenders Abdullah al-Hamid, Waleed Abu al-Khair & Mohammad Fahad al-Qahtani received the Award "for their visionary and courageous efforts, guided by universal human rights principles, to reform the totalitarian political system in Saudi Arabia."
The imprisoned Saudi human rights defenders will be represented by family members of al-Qahtani and the Saudi human rights advocate Yahya Assiri. The Right Livelihood Award Foundation and Amnesty International Sweden are calling on Saudi Arabia to not only release the three Laureates, who had acted through peaceful means, but also to stop harassing and killing human rights defenders and activists.
Representing the Laureates, Yahya Assiri said: "al-Hamid, al-Qahtani and Abu al-Kheer are not only enhancing human rights, but they inspire and encourage many others to follow in their footsteps. If Saudi Arabia is interested in genuine reforms, as the regime is claiming, these courageous reformists should be celebrated as heroes in their home country instead of spending years after years in prison."
The Burkinese farmer Yacouba Sawadogo, who is known as known as "the man who stopped the desert", is recognised by the Award jury "for turning barren land into forest and demonstrating how farmers can regenerate their soil with innovative use of indigenous and local knowledge."
Sawadogo stressed the vital importance of community action, stating: "Humans are the first ones responsible for the deterioration of environment, the ones wronging nature as we are all witnessing it. Everyone has to work for a better environment."
Australian agronomist Tony Rinaudo, known as the "forest maker", receives the Award "for demonstrating on a large scale how drylands can be greened at minimal cost, improving the livelihoods of millions of people".
Rinaudo, pioneer of Farmer Managed Natural Regeneration, said: "Farmer Managed Natural Regeneration is embarrassingly simple and being adopted by millions of the world's poorest farmers, because they see the benefits: increased food and fodder production and increased income generation. One of the greatest benefits is unseen – the restoration of hope."
The three cash awards are worth SEK 1 Million (EUR 96,000) each and will be used to support the Laureates' successful work. The prize money is not for personal use.
The 39th Right Livelihood Award Presentation will take place today at 19.30-20.10 (CET) in the Vasa Museum in Stockholm, home to the world's only preserved 17th century ship and the most visited museum in Scandinavia. The entire presentation, which involves a wide range of performances, will be live-streamed on rightlivelihoodaward.org. Members of the media interested in receiving a live broadcast are encouraged to contact the Right Livelihood Award Foundation. The celebration will continue throughout the evening with a dinner and acceptance speeches.
About the Right Livelihood Award Foundation
Established in 1980, the Right Livelihood Award Foundation honours and supports courageous people and organisations offering visionary and exemplary solutions to the root causes of global problems. The Swedish Foundation sees its role as being the megaphone and shield for the Laureates, and provides them with long-term support. It seeks to help protect those Award recipients whose life and liberty are in danger. The Foundation has Special Consultative Status with the UN Economic and Social Council.
The Right Livelihood Award is annually presented to four Laureates. Unlike most other international prizes, it has no categories. The Award recognises that, in striving to meet the human challenges of today's world, the most inspiring and remarkable work often defies any standard classification. In total there are now 174 Laureates from 70 countries.
The Award Week
The 2018 Right Livelihood Award programme covers a full week of events and high-level meetings in Sweden, Switzerland and Germany. Some of them are listed below, more information can be found in the event section on our website.
Stockholm23 Nov – 19.30-20.10 (CET) Award presentation at the Vasa Museum. The event is live-streamed on the Foundation's website, live signal is provided to interested media. The Award presentation is followed by a dinner and Laureates' acceptance speeches.

Geneva
26 Nov – Meeting with the UN Deputy High Commissioner for Human Rights, Ms Kate Gilmore.
26 Nov – 18.30-20.00 (CET) Celebration of the 2018 Right Livelihood Award Laureates at Maison de la Paix, organised in partnership with The Graduate Institute of International and Development Studies. Open to the public, register here.

Berlin
27 Nov – Roundtable meeting in the German Bundestag organised by the Right Livelihood Awards' German parliamentary support group.
28 Nov – The Swedish Embassy in Berlin is hosting a large event for invited guests at 'Felleshuset'.

Zurich
28 Nov – 11th Right Livelihood Award Lecture with Tony Rinaudo, University of Zurich. Open to the public, register online.
22.11.2018 – Budapest, Hungary – Sandro Gobetti
This post is also available in: Spanish, Italian
With the European Elections of May 2019 on the horizon, the Unconditional Basic Income Europe Network is bringing together ideas for a new European social contract that binds countries and citizens in solidarity, while preserving individual freedom and dignity. With the inputs and thoughts of academics, campaigners and active politicians, the network will explore how the idea of a Universal Basic Income could transform the European Union and which steps can take us closer to the realisation of that idea.
Therefore, the First Hungarian Unconditional Basic Income Association (FNA-Egyesület), the Progressive Hungary Foundation (MMAA) and Unconditional Basic Income Europe have organised a public conference: "Basic Income in the 2019 European Elections" on the 23rd November 2018, Budapest at the Institute of Political History / Politikatörténeti Intézet (Alkotmány u. 2, 1054 Budapest)
21.11.2018 – IDN InDepthNews
By Lisa Vives, Global Information Network
NEW YORK (IDN) – "I love you, that's why I beat you." So ends a poem by the Ghanaian writer Mariska Araba Taylor-Darko about a violent spouse and an abused woman who lays the blame of the daily beating on herself.
The poem, A Beating for Love, takes special significance, particularly as this year's UN theme for the International Day for the Elimination of Violence against Women (November 25) and the 16 Days of Activism Against Gender-Based Violence (November 25-December 10) – "Orange the World: #HearMeToo" – aims to support women and girls around the world.
In fact in the era of the Me Too movement, the words of former UN Secretary Ban Ki-moon still call out: "There is one universal truth, applicable to all countries, cultures and communities: violence against women is never acceptable, never excusable, never tolerable."
Violence against women and girls, one of the most widespread, persistent and devastating human rights violations in our world today, remains largely unreported due to the impunity, silence, stigma and shame surrounding it, says the UN on its webpage "end violence day". The reality of domestic violence is a plague that affects millions of women, often trapped in a toxic environment they cannot escape.
According to the United Nations Statistics Division, intimate partner violence accounts for the majority of women's experience of abuse.
Sub-Saharan Africa regions record the highest prevalence of domestic violence, where 65.6 percent of women who have ever been in a relationship experienced abuse by their partner – the global average is 26.4 percent.
Similarly, in the U.S., around 4.5 million women say they've been threatened by an intimate partner with a gun and 45 percent of women who are murdered are killed by intimate partners, according to Everytown for Gun Safety.
In fact, the U.S., Syria, Somalia, and Yemen are among the 10 most dangerous in the world for women, the Thomas Reuters Foundation disclosed. Others are Pakistan, the Democratic Republic of Congo, Nigeria, Saudi Arabia, India, and Afghanistan.
As of this year, 41 African countries had ratified the 'Protocol to the African Charter on Human and People's Rights on the Rights of Women in Africa', adopted in 2003. Yet Clarence Mwombeki from Door of Hope for Women and Youth Tanzania, addressing the recent NGO Forum in Banjul, pointed out that African women continue suffering despite the protocol in place for almost 15 years.
Gladness Munuo from the Crisis Resolving Centre in Tanzania added: "Women and girls continue to face discrimination in marriages, inheritance, access to property and the highest level of sexual and gender-based violence."
Meanwhile, a federal Violence Against Women Act in the U.S. is set to expire on December 7, 2018. Will the Senate act in time to see it renewed? [IDN-InDepthNews – 20 November 2018]
Photo: Gladness Munuo addressing a meeting.
IDN is flagship agency of the International Press Syndicate.
facebook.com/IDN.GoingDeeper – twitter.com/InDepthNews
The original article can be found on our partner's website here
21.11.2018 – US, United States – Countercurrents
By Trévon Austin
A report released by the Watson Institute of International & Public Affairs at Brown University indicates the total sum spent on the "war on terror" is much larger than previously suggested. Professor Neta C. Crawford, the author of the study, revealed that the US government is set to spend nearly $6 trillion on post-9/11 wars by the end of the 2019 fiscal year.
In March, the Department of Defense (DoD) released a report stating the military had spent $1.5 trillion on the wars. However, the Brown University report notes the DoD's numbers were a conservative estimate that also failed to take into account spending across other federal departments. The new estimate not only includes expenditures from the Department of Homeland Security (DHS), budget increases, and medical costs for veterans, but also interest on money borrowed to pay for the wars.
Including indirect war spending, the total amount of spending allocated since 2001 will be $4.6 trillion by the end of 2019. The report also estimates the government will be obligated to spend around $1 trillion for the future care of post 9/11 veterans until 2059. The total sum amounts to a staggering $5.993 trillion.
The study warns that continuing the multitude of US war and interventions for another four years would cost an additional $808 billion, even if the United States were to stop such actions by 2023. The accumulated costs would likely exceed the estimated $6.7 trillion because the number of veterans will continue to grow as long as the US continues military operations.
With no end in sight, the fiscal and human cost of US wars of aggression will continue to climb. A particular concern introduced in the latest study was the US government's reliance on deficit spending and borrowing to fund war. In 2011 it was calculated that war appropriations, if capped at $1.5 trillion, would accrue $7.9 trillion in interest. War spending has substantially increased since the estimate, and more debt accumulated, so this would only be a conservative estimate.
The larger $5.9 trillion estimate over three times more than the Pentagon claimed has been spent out of war-related appropriations since 9/11. The DoD estimated $1.7 trillion would be spent by the end of the 2018 fiscal year, but this lower estimate only contains a portion of all war-related budgeting and spending.
The spending allocated by Congress is not included in the Pentagon's estimate. Congress passes budgets that increase spending on other war-related areas, particularly "overseas contingency operations (OCO)." OCO spending directly supports the American empire's global military operations. Along with the DoD, Congress has allocated over $2 trillion in OCO spending since 2001.
In addition to the unfathomable sums of money spent, the study estimates 370,000 lives lost from direct combat with many times more lost due to indirect consequences such as malnutrition, damaged infrastructure, and environmental degradation. Approximately 200,000 innocent civilians have been killed as well. Professor Crawford personally notes even these estimates are limited with many more likely killed due to US imperialism.
Crawford remarks, "Congress' attitude almost seems to be that the Pentagon deserves whatever funding they ask for, no matter the cost, and regardless of whether or not this spending is efficient or wise."
The number of veterans from the "war on terror" is also set to increase significantly. The Department of Veteran Affairs estimates the number of veterans will rise to 4.3 million by 2039. Many will return from combat severely injured or suffering mental illness, increasing the fiscal and societal toll.
The wars in the Middle East have created the largest humanitarian crisis since World War II with over 10 million refugees forced to flee their countries. Combined with the obscene amount of money spent, the wars waged by Washington and its allies highlight the crisis of capitalism. The ruling classes see no way forward other than war, but it means ruin for working people and society as a whole.
Originally published by WSWS.org
The original article can be found on our partner's website here
19.11.2018 – Pressenza Muenchen
"The more we do together, the less time we have to fight each other," says Bernard Weber the initiator of the 7 Symbols of Peace campaign. It's a campaign designed to unite the world in a collective voice that says our planet must be a peaceful, shared community. To spread the message, Weber is levering his own digital platform for a global vote to elect the seven symbols that best signify peace.
When it comes to the things that symbolize peace, Weber would like to see some lateral thinking. "Take tourism," he says. "It brings people together and promotes economic growth. That's a real-world example of people doing things together instead of fighting each other."
Tourism is one of the world's largest industries, he points out, with a global economic contribution (direct and indirect) of more than seven trillion US dollars. It involves transport, accommodation, hospitality and sight-seeing and emerging countries are increasingly reaping the economic benefits of the industry.
"What's the most popular air route in the world?" Weber asks. Some might answer New York to Paris. Others would guess Beijing to Shanghai. In fact, it's the domestic flight between Seoul and Jeju, the South Korean island that was elected one of the New 7 Wonders of Nature in 2011. Last year, almost 65,000 flights made the trip between Seoul and Jeju. Most of the tourism is domestic but there's been a significant rise in Chinese visitors due to Jeju's visa-free entry requirements.
In a region overshadowed by the threat of nuclear conflict, Weber sees the coming together of peoples in pursuit of happiness as one of the great positive stories of our time. Yes, he is aware of the dangers of what's called "overtourism", but he's always urged the custodians of the sites that have been elected as members of the New 7 Wonders canon to preserve their heritages and foster sustainable tourism.
"We need to turn up the volume of the voice of the people so that the powerful can hear that we want peace," says Weber, an admirer of the idealism that launched the Campaign for Nuclear Disarmament (CND) in the 1950s in Britain. On 6 June, the CND symbol, one of the most famous international symbols of peace, visited Manchester as part of its 60th-anniversary tour across the UK and Bernard Weber marked the occasion by presenting a colourful flower version of the symbol to the organizers in the English city.
Achieving peace, he believes, will require "a dramatic shift from investment in the armament/war industry into what we can call the Peace Industry," he says. "For this, we must nominate and elect symbols of examples of leaders, artists, writers, singers, animals, plants, places…. that have made their contribution to foster Peace."
Peace cannot be achieved by any one person or group, but the 7 Symbols of Peace campaign is providing a digital platform for everyone who wants to add their voice, and symbol, to the debate.
Bernard Weber is the founder of the New7Wonders worldwide movement for empowering people to participate in global democracy. More than 600 million votes have been cast in the three New7Wonders elections to date.
7 Symbols of Peace: https://7symbolsofpeace.com/
New 7 Wonders of Nature: https://nature.new7wonders.com/wonders/
CND: https://cnduk.org/