You are currently browsing the monthly archive for December 2017.
This post is also available in: Spanish, Italian, Greek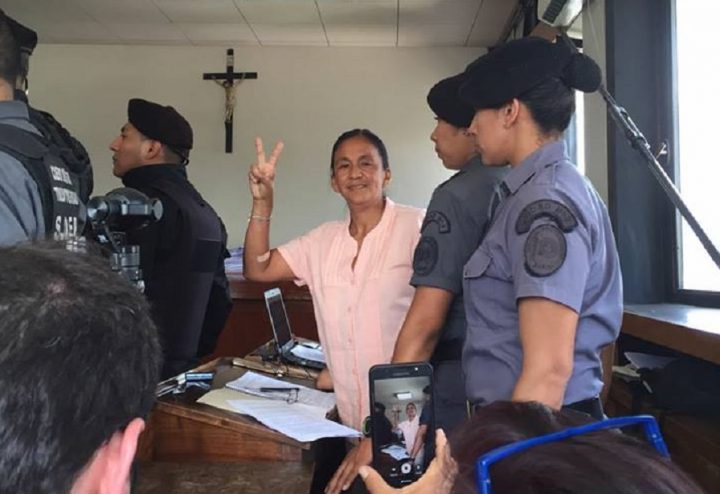 One day after the Supreme Court of Argentina agreed to the ruling by the Inter-American Court of Human Rights, which demanded that the Argentinean justice and the national government provide, as a minimum, the house arrest of Milagro Sala in order to preserve her physical integrity, the Federal Court No. 2 of Jujuy acquitted the Tupac Amaru leader.
"Despite the years in which I have been harassed in this case, it has been shown that I am really innocent," Sala said while being removed from the hearing by the Prison Service of the province of Jujuy, in northern Argentina.
For the past 692 days, Sala has been arbitrarily detained and cases have been created and complaints filed against her, in a staggered manner, in order to prolong the effects of pre-trial detention.
The lawyer for the social leader, Elizabeth Gómez Alcorta explained that "the judges acquitted Sala based on the principle of doubt, that's all we know. We will have to see if the prosecuting parties appeal." The defence of the leader of the Tupac Amaru Neighbourhood Organization is completed by lawyers Paula Alvarez Carreras and Luis Paz.
"There are moments when the obvious lies are broken, the fakes are exposed and the curtain falls and there is no more room to dictate a sentence," added Gómez Alcorta about the lack of consistency of the case, made more than three years ago by the son of the now-governor Gerardo Morales.
"The Court made it known to the judges that they must comply immediately and fully with the Human Rights Court's ruling, and this means that there is no longer any margin, there is no excuse to keep Milagro in prison for one more minute," she said, explaining that the IACHR also ordered that the sentence be served in her habitual residence in the Cuyaya neighborhood and not in the El Carmen building, where she stayed for a few weeks and that was unfit for human habitation.
"We are going to eliminate and destroy every accusation against Milagro. Today it has been demonstrated that the armed forces of the Executive Branch have limits," said Sala Luis Paz's lawyer. Gómez Alcorta, for her part, celebrated that "Milagro Sala will spend Christmas at home with her family.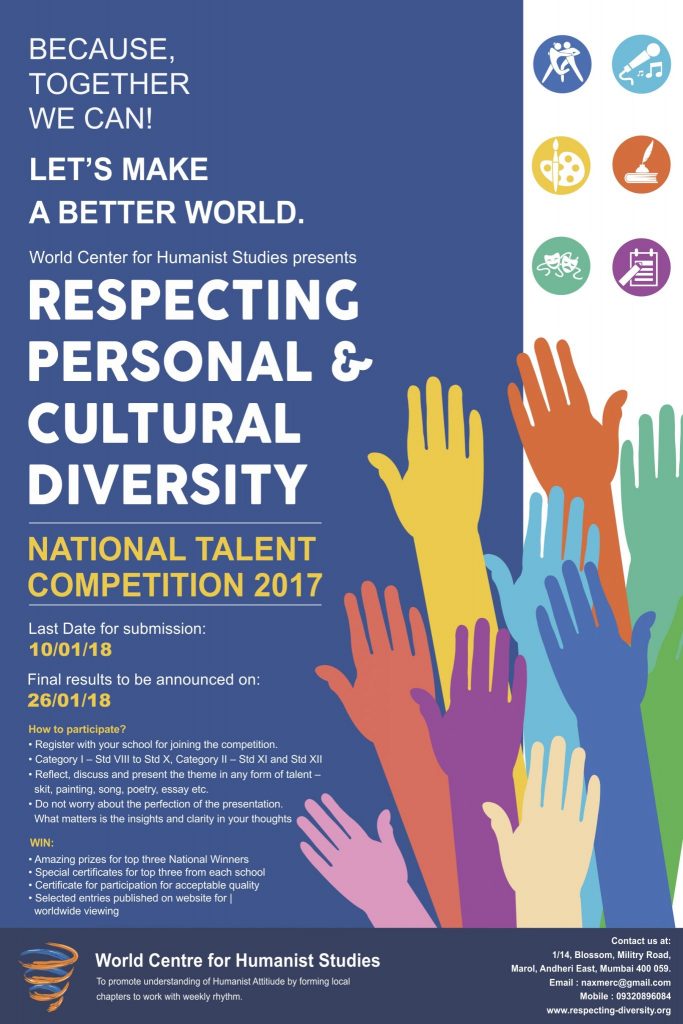 How do we deal with the diversity? When we do not respect diversity, we tend to claim that 'ours' is superior to 'theirs'. This stand fosters division among us and promotes bitterness. Each country, each culture, each family and even each individual is unique. 
We can choose to view diversity in this way:
My country is better than yours
My culture is better than yours
My family is better than yours
I am better than you.
Or we can choose a view that respects human diversity:
I am proud of my country and I respect your country
I am proud of my culture and I respect your culture
I am proud of my family and I respect your family
I am proud of myself and I respect you.
The World Center for Humanist Studies, Mumbai Chapter, is organizing a National Talent Competition that is open to all schools. This year, the theme is Respecting Personal and Cultural Diversity. The objective is to sensitize young minds about the importance of respecting personal and cultural diversity for a more harmonious society. Each one is different in some way or other. When we do not respect diversity, we end up claiming that 'we' are superior then 'them'. This creates walls and promotes bitterness. We need to reinforce the appreciation of diversity and respect for all human beings.
The National Talent Competition is open to all schools for students from STD VIII to STD X in India or students from STD XI to STD XII, irrespective of nationality. Students can create a group of 2 to 5 members, pick a subject and present their thoughts, insights, and point of view in a skit, painting, song, poem, essay, video, powerpoint presentation etc, harnessing their talents and creativity to express their reflections and thoughts on the theme. Participants can choose one of the following topics: Recognizing Diversity, Equality of Opportunity, Social Inclusion, Conflict Resolution, Non-Discrimination; and, can use any language.
To participate, simply register your school for the competition and upload entries on the competition website. There will be prizes for the top three national winners and special certificates for the top three from each school. Certificates for all entries with acceptable quality will also be given and selected entries with be published on the website for worldwide access. The last date for submission is 10th January 2018. To register and for more details, go to the website: http://www.respecting-diversity.org/
For the last three years, The World Center for Humanist Studies, Mumbai chapter has been organizing such competitions to promote sensitivity towards the humanist attitude. A large number of schools had participated from all over India.
In 2015, it launched an Essay Competition on the theme Violence and Me. Highlights can be found at: https://violenceandme.org/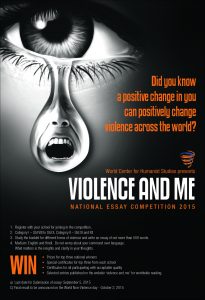 For 2016, a Skit Competition was held on the theme The Human Being as a Central Value. Selected entries can be viewed at http://human-inhuman.org/about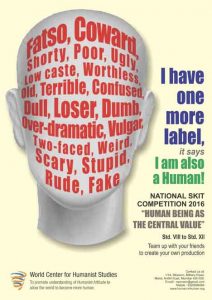 The World Center for Humanist Studies is an organism of the Humanist Movement, which is based on the current of thought known as New Humanism or Universalist Humanism. This current can be found expressed in Silo´s works and in those of diverse authors who are inspired by it. This Movement, which also implies a sentiment and a way of life, takes shape in multiple fields of human endeavor, giving rise to diverse organisms and action fronts. All of them are applied to their specific fields of activity with a common aim: to Humanize the Earth, thereby contributing to freedom and happiness in human beings. These organisms have in common the methodology of Active Nonviolence and the proposal for personal change as a function of social transformation.
The organism, World Center for Humanist Studies, was founded in the First World Humanist Forum in Moscow in October 1993. The Indian chapter's mission is to promote studies of this humanist attitude, inspired by the Humanist Movement which is driven globally by millions of men and women, volunteers who are concerned with building a better and more humane world. A world where the human being is the central value (and not profit and power as it is now) with dignity and growth opportunities in life for everyone and not just a few.
For more details, feel free to contact Parimal Merchant at merchantpr@gmail.com.
Or visit:  http://www.respecting-diversity.org/
https://www.facebook.com/WCHSMumbai/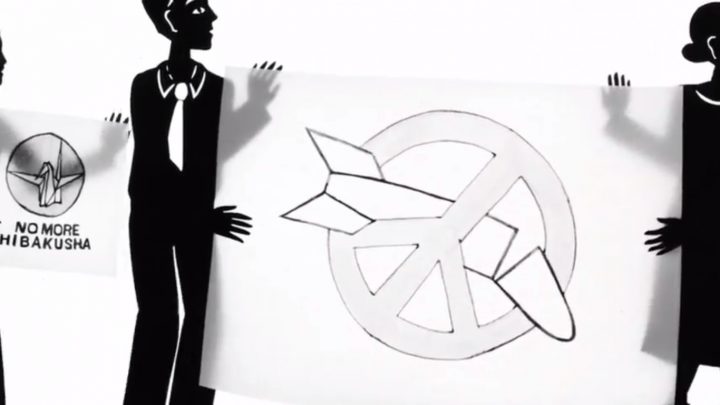 As a 13-year-old schoolgirl in 1945, Setsuko Thurlow survived the atomic bombing of Hiroshima.
A beautifully animated short film, If You Love This Planet brings to life Hiroshima survivor Setsuko Thurlow's passionate call to action, on the day that the Treaty on the Prohibition of Nuclear Weapons was adopted at the United Nations – 7 July 2017.
The video was produced by Kathleen Sullivan and animated by Amber Cooper-Davies, with music by Sam Sadigursky.
This post is also available in: Spanish, Portuguese, Greek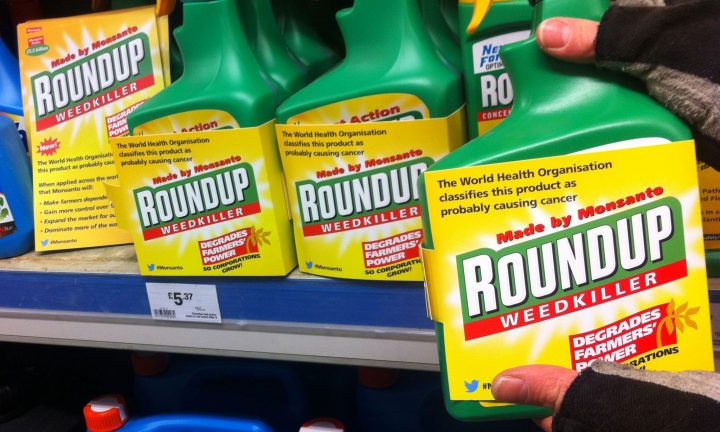 By Erik Edman for DiEM25
As we predicted right after the European Parliament voted not to renew glyphosate's licence in Europe, the European Member States have now ignored all democratic voices and have decided to renew the licence of the potential carcinogenic herbicide.
This decision does not only ignore the precautionary principle and a score of scientific studies indicating that glyphosate is probably carcinogenic; it is a direct show of contempt towards citizens and their sadly flawed European democratic tools. The European Citizens Initiative (ECI) which, provided a million signatures are gathered, allows Europeans to mandate the European Commission with a topic on which to initiate debate, is an infamously unusable format, with the vast majority of such initiatives being scrapped. However, in this case over 1.3 million signatures were collected by the ECI "Stop Glyphosate"; a historic victory for civil society and citizen activism, which regardless was unceremoniously ignored by European governments.
Of course, this decision also exposes the European Parliament, an institution filled with many passionate and principled individuals, for what it really is: the European Union's astronomically expensive public relations stunt. Power, as the member states have reminded us, rests ultimately with our bickering, inward-looking governments and the powerful lobbyists who have their ear.
But this sad failure for democracy is also a timely reminder on the lead-up to the European Elections of 2019: our democratic structures are woefully inadequate for representing European citizens. That was never what they were designed to do. So, instead of being appeased with scraps that only aesthetically improve the established way of conducting politics, while ensuring minimal disruption to those in power, it is time we demand that these European institutions become answerable directly to us. Come 2019, this is what DiEM25 will demand, loud and clear, across the entire continent.
Erik Edman is DiEM25's Internal Communications Coordinator.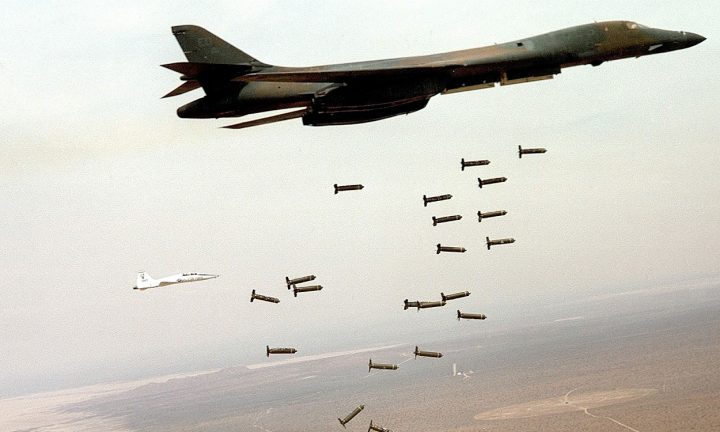 Four Japanese banks and insurance companies have stopped certain investments in producers making cluster bombs, according to reports today in several Japanese media outlets (in Japanese): Mainichi Newspaper, TV Asahi, Jiji Tsushin, Asahi Newspaper, and Tokyo Newspaper
The reports say the financial institutions are responding to public outrage generated by the launch of the PAX report 'Worldwide Investments in Cluster Munitions' in Tokyo in May 2017. The study's Hall of Shame showed that these four Japanese financial institutions had major investments in cluster bomb producers. These investments have now reportedly been withdrawn.
A welcome move
"We welcome this humanitarian decision and we hope other Japanese and South Korean financial institutions will also stop their investment in cluster munition producers right now," said Mr. Toshi Shimizu of the Japanese Campaign to Ban Landmines (JCBL). The JCBL has played a key role in raising awareness among the Japanese public about the catastrophic humanitarian consequences caused by cluster bombs and in the campaign to end all investments in cluster bomb producers by Japanese financial institutions.
Maaike Beenes, program officer at PAX who co-launched the report in Tokyo, is also excited about the news. "The new policy that these Japanese financial institutions announced is a big step forward. We are glad that these banks and insurers have now decided to listen to the public's concerns and change their policy regarding these banned weapons. These policies should now be expanded to cover all financial relations with cluster munition producers."
Inhumane
Mitsubishi UFJ Financial Group issued a statement saying "Starting December 2017, in light of the inhumane nature of cluster bombs, the [Bank of Tokyo-Mitsubishi UFJ] and the [Trust Banking Corporation] prohibit the provision of credit to any company that manufactures cluster bombs, regardless of whether the purpose of the credit is related to cluster bomb manufacturing or not."
Cluster munitions cannot distinguish between a civilian or a military target. Anyone within the strike area of a cluster bomb is likely to be injured or killed, and when cluster munitions are used in populated areas, civilians always fall victim. For example, over 80% of casualties caused by cluster munitions in Yemen were civilians. The inhumane nature of cluster munitions are the reason they have been banned by most countries through the 2008 Convention on Cluster Munitions (CCM). However, financial institutions still invest in companies that produce cluster bombs. These investments contribute to the continued production of these weapons.
Government can do more
While welcoming this news, PAX calls on the Japanese government to take its responsibility and start playing a leading role in ending investments in cluster bomb producers. The publication earlier this year of the Japanese Government Pension Fund's shareholdings showed that the fund is still heavily invested in cluster bomb producers. As a government pension fund from a country that has joined the international ban on cluster bombs, GPIF should end these investments. In addition, Japan needs to adopt national legislation prohibiting such investments altogether and should work towards increasing the universalisation of the CCM in its own region: although Japan itself joined the CCM already in 2008, its neighbours China and South Korea remain outside of the treaty, and continue to produce and stockpile cluster munitions.
With the report 'Worldwide Investments in Cluster Munitions', PAX and the CMC aim to name and shame those financial institutions that invest in producers of cluster munitions. The full 2017 update of the report 'Worldwide Investments in Cluster Munitions, a shared responsibility' can be downloaded here.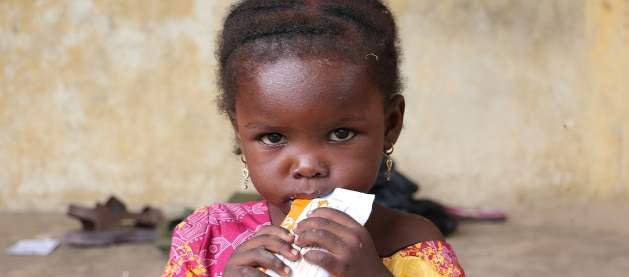 By Baher Kamal
Believe it or not, the way to eradicate hunger from the face of the Earth is as feasible as it is handy. In fact, the current loss and waste of one-third of all food produced for human consumption would be just enough to feed the nearly one billion people who go to bed hungry every single night.
Here, the figures are self-explanatory: as much as 1.3 billion tons per year of food is lost or wasted throughout the supply chain, from initial agricultural production down to final household consumption, according to the UN.
Moreover, it is not just about losing or wasting food—it also implies a waste of resources used in production such as land, water, energy and inputs, increasing the greenhouse gas emissions.
"Up to one third of all food is spoiled or squandered before it is consumed by people. It is an excess in an age where almost a billion people go hungry," adds the UN Food and Agriculture Organization (FAO).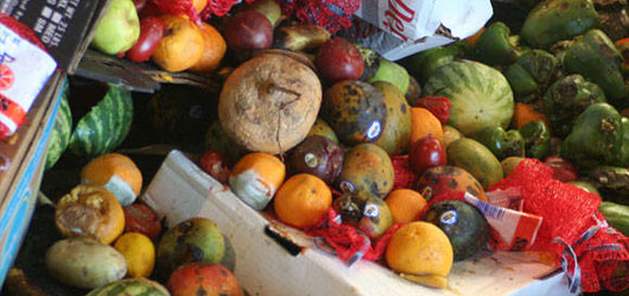 But… What Is Food Loss and Food Waste?
Food loss and food waste refer to the decrease of food in subsequent stages of the food supply chain intended for human consumption. Food is lost or wasted throughout the supply chain, from initial production down to final household consumption, explains FAO.
The decrease may be accidental or intentional, it adds, but ultimately leads to less food available for all. Food that gets spilled or spoilt before it reaches its final product or retail stage is called food loss, it adds. This may be due to problems in harvesting, storage, packing, transport, infrastructure or market /price mechanisms, as well as institutional and legal frameworks.
Harvested bananas that fall off a truck, for instance, are considered food loss, according to FAO. Food that is fit for human consumption but is not consumed because it is or left to spoil or discarded by retailers or consumers is called food waste.
Key facts on food loss and waste you should know! 
• Roughly one third of the food produced in the world for human consumption every year — approximately 1.3 billion tonnes — gets lost or wasted.
• Food losses and waste amounts to roughly US$ 680 billion in industrialised countries and US$ 310 billion in developing countries.
• Industrialised and developing countries dissipate roughly the same quantities of food — respectively 670 and 630 million tonnes.
• Fruits and vegetables, plus roots and tubers have the highest wastage rates of any food.
• Global quantitative food losses and waste per year are roughly 30% for cereals, 40-50% for root crops, fruits and vegetables, 20% for oil seeds, meat and dairy plus 35% for fish.
• Every year, consumers in rich countries waste almost as much food (222 million tonnes) as the entire net food production of sub-Saharan Africa (230 million tonnes).
• The amount of food lost or wasted every year is equivalent to more than half of the world's annual cereals crop (2.3 billion tonnes in 2009/2010).
• Per capita waste by consumers is between 95-115 kg a year in Europe and North America, while consumers in sub-Saharan Africa, south and south-eastern Asia, each throw away only 6-11 kg a year.
SOURCE: FAO
This may be because of rigid or misunderstood date marking rules, improper storage, buying or cooking practices. A carton of brown-spotted bananas thrown away by a shop, for instance, is considered food waste, says the UN agency.
Where Is Food Lost and Wasted?
Significantly, the World Resources Institute (WRI) explains that food loss and waste occurs more 'near the fork' in developed regions and more 'near the farm' in developing regions.
In the case of the European Union member countries, for instance, recent estimates of European food waste levels (FUSIONS, 2016) reveal that 70 per cent of the European bloc of 27 states, food waste arises in the household, food service and retail sectors, with production and processing sectors contributing the remaining 30 per cent.
Such high rates led the EU member states to commit to meeting the Sustainable Development Goals (SDG), adopted in September 2015, including a target to halve per capita food waste at the retail and consumer level by 2030, and reduce food losses along the food production and supply chains.
Meanwhile, in the United States, food waste is estimated at between 30-40 per cent of the food supply.
This estimate, based on estimates from USDA's Economic Research Service of 31 per cent food loss at the retail and consumer levels, according to the Office of the Chief Economist, United States Department of Agriculture.
This amount of waste, adds the Office of the Chief Economist in US, has far-reaching impacts on food security, resource conservation and climate change:
Wholesome food that could have helped feed families in need is sent to landfills.
The land, water, labor, energy and other inputs used in producing, processing, transporting, preparing, storing, and disposing of discarded food are pulled away from uses that may have been more beneficial to society – and generate impacts on the environment that may endanger the long-run health of the planet.
Food waste, which is the single largest component going into municipal landfills,quickly generates methane, helping to make landfills the third largest source of methane in the United States.
On September 16, 2015, the first-ever national food loss and waste goal in the United States was launched, calling for a 50-percent reduction by 2030.
What to Do?
Back to the global level, the UN specialised agency reminds that hunger is still one of the most urgent development challenges, yet the world is producing more than enough food.
The FAO-led SAVE FOOD: Global Initiative on Food Loss and Waste Reduction is partnering with international organisations, the private sector and civil society to enable food systems to reduce food loss and waste in both the developing and the industrialised world.
Governments, research institutions, producers, distributors, retailers and consumers all have different ideas about the problem – the solutions – and the ability to change. What are they waiting for?