You are currently browsing the daily archive for June 3, 2017.
Oddkin's Thoughts
What's the greatest gift of the Spirit? It depends who you ask.
For some people, speaking in tongues seems to be the greatest spiritual gift. Some even go so far as to teach that speaking in a previously unknown tongue is the "initial evidence" that a person has received the Holy Spirit – and that those who do not have this "evidence" aren't really Christians.
Others tout faith healing as the greatest gift, glorying in how many people they have seen healed from pain or illness as a result of healing prayer (usually accompanied by the laying on of hands).
Still others emphasize other gifts such as prophecy or discernment of spirits, listing these as true signs of spiritual maturity.
For Saint Paul, the greatest spiritual gift is love.
"If I speak in the tongues of mortals and of angels, but do not have love, I am a…
View original post 419 more words
Free Gas For Your Think Tank (A blog to jog your mind and unclog your heart . . .)
I'm continually mystified–amazed, astonished, and awed by the living, resurrected Jesus. To encounter the awesome wonder of the risen Jesus is forever life-changing! To close your heart to Christ is not "self-protection." It's self-deception!
Jesus fills my heart with both empathy and ecstasy. To perceive the presence & reality of Jesus is to be overcome with astonishment. I'm continually overwhelmed & undone by the majesty, splendor & grandeur of Jesus. Sensing the magnificence of Jesus releases dazzling brilliance in my soul. Behold the Lamb of God! Why settle for just hearing talks & singing songs about Him?
Without personal & direct revelation of Jesus, all we have is words about Him. If you let your heart be touched & led by Jesus, you'll step into a whole new life. Jesus shines in the Bible like a light in a window. If you look, you will see Him.
If Christ is…
View original post 414 more words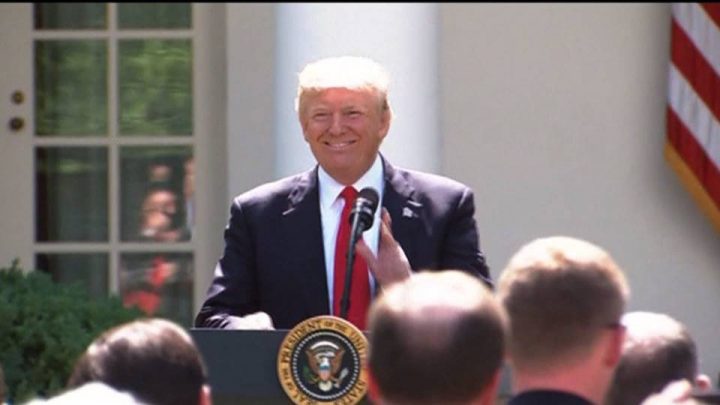 President Donald Trump announced Thursday he will withdraw the United States from the landmark Paris climate accord that was signed by nearly 200 nations in 2015 and heralded as a rare moment of international collaboration to avert imminent climate disaster. Trump spoke in the White House Rose Garden, surrounded by supporters.
President Donald Trump: "In order to fulfill my solemn duty to protect America and its citizens, the United States will withdraw from the Paris climate accord—thank you—but begin negotiations to re-enter either the Paris accord or an, really, entirely new transaction on terms that are fair to the United States, its businesses, its workers, its people, its taxpayers."
Trump's decision drew swift condemnation from climate activists and heads of state in every corner of the globe. A spokesperson for the United Nations secretary-general called it a "major disappointment." France joined Germany and Italy in issuing a joint statement expressing "regret" and rejecting Trump's claim he would renegotiate the Paris accord. India and China joined European leaders in pledging to uphold their end of the deal. Back in the United States, former Secretary of State John Kerry, who led the U.S. into the Paris deal, said President Trump could have simply reduced U.S. pledges to reduce carbon emissions, which are voluntary under the Paris Agreement.
John Kerry: "No country is required by this agreement to do anything except what that country decided to do for itself. So Donald Trump is not telling the truth to the American people when he says, 'We have this huge burden that's been imposed on us by other nations.' No, we agreed to what we would do. We designed it. It's voluntary. And the president of the Unites States could have simply changed that without walking away from the whole agreement."
The former president of Ireland, Mary Robinson, said Trump's decision had turned the United States into "a rogue state." We'll have more on President Trump's move to withdraw from the Paris accord after headlines.