You are currently browsing the monthly archive for April 2017.
This post is also available in: Italian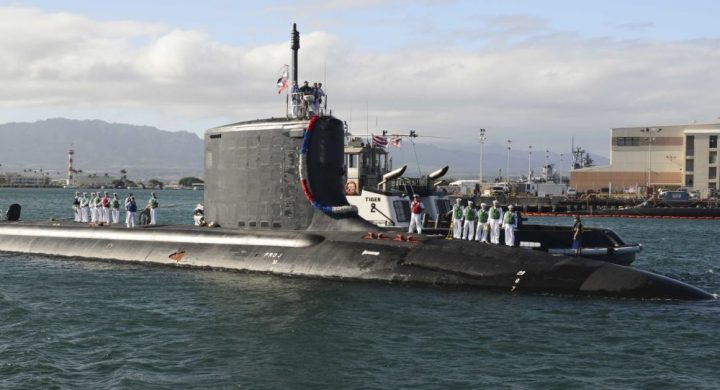 For years a dozen Italian seaports have been decrying the risks they run as bases for nuclear powered or nuclear armed U.S. warships (submarines, aircraft carriers):  Augusta, Brindisi, Cagliari, Castellammare di Stabia, Gaeta, La Maddalena, La Spezia, Livorno, Napoli, Taranto, Trieste, Venezia.
Movements have grown up denouncing the use of these Italian port facilities by nuclear vessels.   The activists demand, for example, that their local administrators reveal their emergency and evacuation plans in case of an accident.   This means knowing the technical/operational aspects of the nuclear device or plant, its precise location and the exact nature of the accident – information vital for taking the proper measures but, at the same time, information that military authorities are loathe to give and, indeed, may consider top secret.
I do not intend to treat this issue any further here and invite the reader to see Massimo Zucchetti's analysis of the problem in his article "Stop nuclear-powered naval units in Italian ports: from examining external emergency plans a simple conclusion", in Invisible Evil, Increasingly Visible, Scientists Against War, Odradek, pp. 253-58, 2005.
But I do wish to remind the reader that military nuclear reactors present enormously greater risks than civil nuclear plants: naval reactors develop an enormous amount of power in a relatively tiny enclosure; they run on highly enriched uranium; they are cooled by pressurized water or liquid metal; they operate, not on UO2, but on a uranium-zinc or uranium-aluminum alloy; the shell containing them must be able to stand enormous pressures; lastly, they offer very limited possibilities of adjustment to changing circumstances.
It is useful, in this respect, to investigate how nuclear accidents actually occur on U.S. naval vessels.  One such study is Hans Kristensen's analysis of declassified military documents: see "Declassified: U.S. nuclear weapons at sea", February 3, 2016, https://fas.org/blogs/security/2016/02/nuclear-weapons-at-sea/).  The study shows how much we have to learn from history – about the past but, at the same time, about our future.  Naval vessels really do collide, or catch fire, or sink; it is only a question of time before something like that happens.  This is why storing nuclear weapons on ships is so risky.
Dozens of nuclear bombs have ended up on the sea floor because they were in ships, submarines or aircraft that went down.  Here are some examples.
On May 7, 1968, the nuclear attack submarine Scorpion, after leaving the port of Naples for a mission in the Mediterranean Sea, sank at 644 kilometers off the Azores with, on board, 99 seamen, two nuclear torpedoes, and a nuclear propulsion reactor.  No more is known because the incident is classified as secret.
In January, 1968, a hydrogen bomb was lost off the coast of Palomares in Spain.
In August, 1968, the U.S. submarine Von Steuben, carrying 16 Polaris missiles and 48 nuclear warheads, struck a towing cable at 64 kilometers off the Spanish coast; when it surfaced, it hit the tanker Sealady and was variously damaged.
In 1969, a fire broke our on the aircraft carrier Enterprise off the coast of Pearl Harbor, causing explosions and almost sinking the ship.
In November, 1970, a submarine tender caught fire in the submarine port of Holy Loch, in Scotland,  with two nuclear submarines docked alongside.  All three vessels were loaded with nuclear warheads and missiles.
On November 22, 1975, during nighttime exercises, a collision took place at 112 kilometers East of Sicily between the aircraft carrier John F. Kennedy and the cruiser Belknap; the latter caught fire and burned for two and a half hours.  The blaze was finally extinguished when it had spread to just a few meters from the nuclear storage area.
In addition, there have been numerous accidents between U.S. and Soviet warships, both carrying nuclear weapons, during the Cold War.
We can exclude the incident that almost occurred during the Cuban missile crisis of 1962, when a Soviet B-59 nuclear submarine was about to fire a nuclear torpedo to sink one of the U.S. warships that were dropping depth charges on it – the incident never occurred because the Russian second in command, Archipov, opposed the action.
In May of 1974, two nuclear attack submarines, one American and the other Soviet, both carrying nuclear warheads, collided almost head-on near the naval base of Petropavlovsk on the Kamchatka peninsula.
In November of that year, after leaving the Holy Loch base in Scotland, the submarine James Madison, carrying nuclear ballistic missiles, collided with a Soviet nuclear attack submarine in the North Sea.
In 1976, a Soviet nuclear submarine, which had been hunted down in the Atlantic Ocean and then in the Mediterranean Sea for 10 straight days, surfaced near the frigate Voge, which was probably carrying nuclear anti-submarine missiles, and collided with it.
In 1988, in the Soviet territorial waters of the Black Sea, two Soviet frigates collided with the cruiser Yorktown and the destroyer Caron.
Besides the collision incidents, there have been serious diplomatic incidents involving nuclear armed and/or propelled vessels, all through the Cold War.  Several U.S. allies refused the peacetime presence of nuclear weapons within their territorial limits, due to the refusal of American authorities to confirm or deny the presence of nuclear weapons on their ships.  Another contributing factor were the (at times) violent protests by activists.  This was particularly true in New Zealand which, in 1984, denied visits to its ports by nuclear armed and/or propelled vessels, but also in Denmark and Sweden.  All this led many U.S. officials to wonder if the problems created by seaborne nuclear weapons were greater than the advantages they offered.
Even after the denuclearization of the U.S. surface and underwater fleet between 1991 and 1992,  nuclear ballistic missile submarines (SSBN) continued to have accidents, including collisions with other ships.  In 1993, for example, the SSBN Maryland remained stranded at Port Canaveral in Florida.  In March of 1998, the SSBN Kentucky, while conducting surface operations at 200 kilometers off the coast of Long Island, New York, was rammed by the attack submarine San Juan.
It is likely that most of the incidents involving nuclear ballistic missile submarines escape public attention and scrutiny.
But just imagine what would happen if, in the port of Genova, a U.S. nuclear warship ever did what the container ship Jolly Nero did on May 7, 2013.  While maneuvering to leave the port, the Jolly Nero rammed into and overturned the control tower, killing nine of the staff inside and wounding four!
This post is also available in: Italian
By Baher Kamal
Urgent action is needed to save the lives of people facing famine in North Eastern Nigeria, Somalia, South Sudan and Yemen, the UN leading food and agriculture agency's chief on April 28 warned. "If nothing is done, some 20 million people could starve to death in the next six months."

"Famine does not just kill people, it contributes to social instability and also perpetuates a cycle of poverty and aid dependency that endures for decades," the UN Food and Agriculture Organization (FAO) the Director-General Jose Graziano da Silva added.
At a media briefing ahead of the conclusive session of the this UN specialised agency's executive arm—the FAO Council, he launched a new appeal for voluntary contributions, that are "of vital importance to FAO, now more than ever."
"I will be always committed to finding more savings and promoting more efficiency, as I have done over the last five years. But I have already cut to the bone. There is no more fat left."
On this, Graziano da Silva emphasised the need to work with everyone on the basis of the 2030 agenda for sustainable development –"Leaving No One Behind", in order to save all the affected people.
He also announced that agreement will be signed among FAO and the other two Rome-based UN agencies: the International Fund for Agriculture (IFAD) and the World Food Programme (WFP) on how to tackle the current famine in those 4 countries– Nigeria, Somalia, South Sudan and Yemen.
The FAO Council, which has met in FAO-headquarters in Rome on 24 – 28 April, convenes between sessions of the main Conference to provide advice and oversight related to programmatic and budgetary matters.
The Council's 49 elected members have been briefed on the extent of the hunger crises, and the steps required to preventing catastrophe.
Making Funds Go Further
The organisation's executive body has also approved FAO's Programme of Work and Budget 2018-2019, which prioritises areas where FAO can deliver the greatest impact to member countries to achieve the Sustainable Development Goals, including climate change mitigation and adaptation, sustainable agriculture production, water scarcity management, and building the resilience of poor family farmers.
Food and agriculture are central to the sustainable development agenda, and FAO's work is projected to contribute to the achievement of 40 targets across 15 of the 17 goals.
Ahead of the FAO Council's meeting, Graziano da Silva had on 25 April stated in Geneva that a combination of food assistance and food production assistance is the only way to avoid famine in conflict-ridden Yemen where two-thirds of the population –17 million people– are suffering from severe food insecurity.
"As the conflict continues, food security and nutrition will also continue to deteriorate," he stressed in his address to a United Nations High-Level Pledging conference for Yemen organised in Geneva and co-hosted by the governments of Switzerland and Sweden.
"To put these figures into perspective, we are talking about the double of Switzerland's population being unable to meet their basic daily food needs."
He stressed how livelihoods support, especially for agriculture and fishing, must be an integral part of the international community's response to the crisis in Yemen.

Over 17 Million Yemenis, Acutely Food Insecure
More than 17 million people around Yemen's rugged landscape are acutely food insecure, and the figure is likely to increase as the on-going conflict continues to erode the ability to grow, import, distribute and pay for food, Graziano da Silva wrote on IPS.
"More than 7 million people are on the verge of famine, while the rest are marginally meeting the minimum day-to-day nutritional needs thanks to external humanitarian and livelihoods support. Large-scale famine is a real risk that will cast an awful shadow for generations to come."
According to Graziano da Silva, only a political solution can end the suffering in Yemen, as there can be no food security without peace. And the longer the delay to draft an adequately funded recovery plan, the more expensive the burden will be in terms of resources and human livelihood.
In 2016, agriculture production in Yemen and the area under cultivation shrank by 38 per cent due to the lack of inputs and investments. Livestock production fell by 35 per cent.
"Agricultural assistance in a humanitarian crisis can no longer be an afterthought," the FAO Director-General said. "We need to seize every opportunity to support communities in Yemen to continue producing food, even under difficult circumstances."
In Geneva, Graziano da Silva met Yemen's Prime Minister Ahmed Obaid Bin Daghr, for talks on FAO's support to the country to deliver emergency livelihood assistance and kick-start food production, especially when resources pledged to tackle the crisis are concretely made available.
The Geneva pledging conference on April 25 mobilised half of the 2,1 billion dollars urgently required to rescue the starving Yemeni population.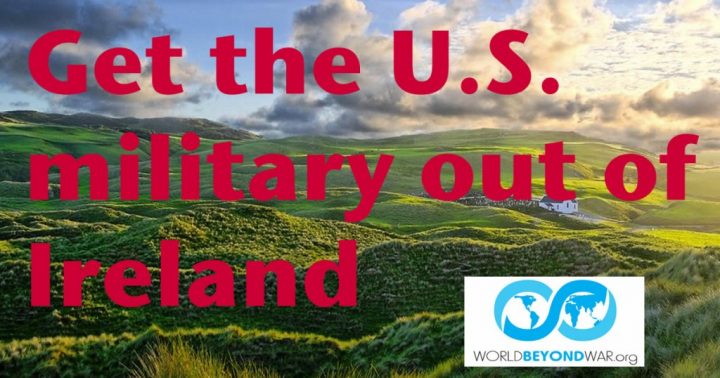 This article originally appeared on the pages of World Beyond War with the title "Hey Ireland, Your Ambassador Just Told Me You'll Do Anything Trump Wants".
Dear brothers and sisters of Ireland, your ambassador to the United States Anne Anderson spoke at the University of Virginia Tuesday afternoon.
After consulting one of your fine citizens named Barry Sweeney, I asked her this: "Since the U.S. government assures the Irish government that all U.S. military aircraft being refueled at Shannon are not on military operations and are not carrying weapons or munitions, and since the Irish government insists on this in order to comply with Ireland's traditional policy of neutrality, why does the Irish department of transportation almost daily approve civilian aircraft on contract to the U.S. military to carry armed U.S. troops on military operations, weapons, and munitions through Shannon Airport in clear breach of international laws on neutrality?"
Ambassador Anderson replied that the U.S. government at the "highest levels" had informed Ireland that it was in compliance with the law, and Ireland accepted that.
So, the highest level of the U.S. government says that black is white, and Ireland says "Whatever you say, master." I'm sorry, my friends, but with all due respect, my dog has a better relationship with me than you have with the United States.
We once had a former president named Richard Nixon who maintained that if a president does something it isn't illegal. Apparently, Anderson takes a Nixonian view of the Trump regime.
Now, I understand that most of you may disagree with Anderson's position, but she made very clear that she doesn't give a rat's rear what you think. During the course of her remarks she suggested that the ongoing French election and other recent elections were — thank goodness! — "containing the tide of populism." You, my brothers and sisters, are the populace. Are you properly contained?
I asked Anderson a follow up question. She had spoken in support of amnesty or some sort of better treatment for undocumented Irish immigrants in the United States. I asked her whether she realized that hatred of immigrants in the United States is fueled by all the warmaking, in which Shannon Airport and Ireland are complicit. I got a blank stare.
So I asked her whether Ireland couldn't help us out by being a model of peace. I got a look like she believed I just might have escaped from an asylum. She announced that she would be moving onto the next questioner. I'm sure John F. Kennedy, to whom she had devoted 90% of her remarks, would likewise have dodged such an inappropriate question.
Of course, Anderson had not mentioned Shannon Airport in her opening remarks at all, except to note that Saint JFK had taken off from there never to return. She took no pride in the Irish role in the endless wars that are ravaging the Middle East and threatening the earth. She preferred to pass over the whole subject in silence. But when asked about it, she simply said that anything the U.S. says is legal is legal, and left it at that.
Have y'all heard some of the things that Donald Trump says are legal? If not, you're in for a real treat.
Those of us outside Ireland, and in particular those of us in the United States, have a pressing and urgent responsibility to lend all the support we can to our brothers and sisters in Ireland who are resisting U.S. wars.
Despite Ireland's officially neutral status and its claim to have not gone to war since its founding in 1922, Ireland allowed the United States to use Shannon Airport during the Gulf War and, as part of the so-called coalition of the willing, during the wars that began in 2001. Between 2002 and the present date, over 2.5 million U.S. troops have passed through Shannon Airport, along with many weapons, and CIA airplanes used to transfer prisoners to places of torture. Casement Aerodrome has also been used. And, despite not being a member of NATO, Ireland has sent troops to participate in the illegal war on Afghanistan.
Under Hague Convention V in force since 1910, and to which the United States has been a party from the start, and which under Article VI of the U.S. Constitution is part of the supreme law of the United States, "Belligerents are forbidden to move troops or convoys of either munitions of war or supplies across the territory of a neutral Power." Under the United Nations Convention Against Torture, to which both the United States and Ireland are parties, and which has been incorporated into very selectively enforced felonies in the U.S. Code since before George W. Bush left Texas for Washington, D.C., any complicity in torture must be investigated and prosecuted. Under both the U.N. Charter and the Kellogg-Briand Pact, to both of which the United States and Ireland have been parties since their creation, the war in Afghanistan and all the other U.S. wars since 2001 have been illegal.
The people of Ireland have a strong tradition of resisting imperialism, dating back even before the 1916 revolution of which last year was the centenary, and they aspire to representative or democratic government. In a 2007 poll, by 58% to 19% they opposed allowing the U.S. military to use Shannon Airport. In a 2013 poll, over 75% supported neutrality. In 2011, a new government of Ireland announced that it would support neutrality, but it did not. Instead it has continued to allow the U.S. military to keep planes and personnel at Shannon Airport, and to bring troops and weapons through on a regular basis, including over 20,000 troops already this year.
The United States military has no need for Shannon Airport. Its planes could reach other destinations without running out of fuel. One of the purposes of regularly using Shannon Airport, perhaps the main purpose, is very likely simply to keep Ireland within the coalition of the killing. On U.S. television, announcers thank "the troops" for watching this or that major sporting event from 175 countries. The U.S. military and its profiteers would hardly notice if that number dropped to 174, but their goal, perhaps their main purpose and driving objective, is to increase that number to 200. Total global dominance is the explicitly stated objective of the U.S. military. Once a nation is added to the list, all steps will be taken, by the State Department, by the military, by the CIA, and by any possible collaborators, to keep that nation on the list. The United States government fears an Ireland free of U.S. militarism more than we probably can imagine. The global peace movement should desire it more than we probably do, including for the example it would set to Scotland, Wales, England, and the rest of the world.
How do we, outside of Ireland, know anything at all about what the U.S. military does in Ireland? We certainly don't learn it from the U.S. government or U.S. journalism. And the Irish government takes no active steps to reveal what it knows, which is likely not everything. We know what we know because of brave and dedicated peace activists in Ireland, representing majority opinion, upholding the rule of law, exercising creative nonviolence, and working through numerous organizations, most prominently Shannonwatch.org. These heroes have pried loose information, elected and lobbied members of the Irish legislature, entered the grounds of Shannon Airport to ask question and draw attention and face criminal prosecution for the cause of peace. If not for them, citizens of the United States — a nation that literally bombs other countries in the name of democracy — would have no idea what was happening whatsoever. Even now, most people in the United States have no idea. We have to help tell them. Even U.S. supporters of war don't support a mandatory draft, at least not until they themselves are too old to qualify. Many should be willing to oppose forcing Ireland to take part in wars it wants no part in.
If U.S. military transport continues to make use of Shannon Airport, a disaster will inevitably occur there. Of course the moral disaster of participating in the mass killing of people in Afghanistan, Iraq, Syria, etc., is ongoing. The cultural disaster of insidiously creating the impression that war is normal is underway. The financial cost to Ireland, the environmental and noise pollution, the heightened "security" that erodes civil liberties: all of those things are part of the package, along with the racism that finds a target in the refugees fleeing the wars. But if Shannon Airport survives routine U.S. military use without a major accident, spill, explosion, crash, or mass-killing, it will be the first. The U.S. military has poisoned and polluted some of the most beautiful spots in the United States and around the world. The unsurpassed beauty of Ireland is not immune.
And then there is the blowback. By participating in counterproductive wars that generate international terrorism, Ireland makes itself a target. When Spain became a target it pulled out of the war on Iraq, making itself safer. When Britain and France became targets, they doubled down on their own participation in terrorism-too-large-to-carry-that-name, generating more blowback and deepening the vicious cycle of violence. Which path would Ireland choose? We cannot know. But we do know that it would be wisest for Ireland to pull out of its criminal participation in the barbaric institution of war before the war comes home.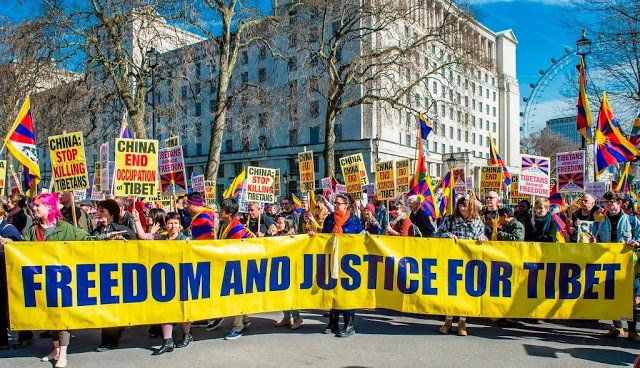 By Denise Nanni and Milena Rampoldi, ProMosaik. In the following interview with Sam of the organization Free Tibet struggling for the rights of Tibetan people and for their dignity as a free people. They denounce the Chinese oppressive regime at a national and international level. We would like to thank Sam for his detailed answers and the wonderful photos he sent us.
How was Free Tibet founded?
Free Tibet was formed in late 1987 (it is our 30th anniversary this year) in the aftermath of a huge uprising in Tibet that year when dozens of protesters were killed by the Chinese military. The organisation was created in the UK following a groundswell of global support against the harsh Chinese military occupation.
The 1987 uprising escalated as Tibetans reacted to a series of increasingly heavy-handed actions by the Chinese authorities. It was only the imposition of martial law across the whole of Tibet which finally brought the protests to an end in early 1989 – just a few months before demonstrations in Tiananmen Square in Beijing were harshly and infamously suppressed.
The 1987 protests were the strongest show of defiance to the Chinese occupation since the March 10th 1959 Uprising when 100,000 Tibetans – including the Dalai Lama – were forced to flee their homeland.
Since Free Tibet's formation, it has continued to expose China's atrocities in Tibet – a nation with a history of hundreds of years of independent, sovereign rule – as well as campaigning for international recognition of Tibetans' right to freedom.
How responsive have the public been to your campaigns?
Every campaign resonates with global communities in different ways. Tibet's rich and threatened spiritual history, its awe-inspiring landscape which now faces multiple challenges and the ongoing violation of human rights have all motivated people to take action for this region of the world.
In July 2016 Chinese authorities unleashed an army of earth-movers on the iconic Tibetan Buddhist monastery at Larung Gar. Within weeks hundreds of homes lay flattened and thousands of monks, nuns and students were forcibly evicted. So deep was the pain that three resident nuns took their own lives.
Once news of this blatant attack on peoples' homes and lives reached the outside world the response was immediate: Free Tibet joined fellow campaign organisations in telling the world about Larung Gar and helped demonstrate that mass action can bring about change.
A global Day of Action in October 2016 saw people take to the streets in at least 20 cities worldwide including Buenos Aires, Delhi, New York, Paris, Tokyo, Vancouver and London.
Free Tibet did not shy away from highlighting Larung Gar's symbolism as a centre of resistance to the Chinese state and hundreds of people wrote to their Ministers of Foreign Affairs and local Chinese embassies.
Nearly two thousand people contacted the European Union about the pointless destruction of the monastery prompting Federica Mogherini, EU Minister for Foreign Affairs and Security Policy, to demand an immediate halt to the demolitions. Press coverage was secured in the New York Times, The Times, the BBC and Reuters news agency among other media outlets.
The demolitions were halted over the winter and recent news from Larung Gar has revealed that, while the situation remains critical, the number of people required to be evicted and the number of homes scheduled for demolition have both been reduced.
Larung Gar is just one example of the on-going litany of abuse taking place within Tibet, yet it demonstrates that when the public make noise, even authoritarian regimes take note.
How can the apparent silence around the severe violations of human rights that China commits be explained?
There are, of course, many reasons why China's actions in Tibet elicit little condemnation from global leaders. The key issue, as so often in life, unfortunately, tends to be money.
China routinely pressures other national governments when they speak out on Tibet. With significant and valuable trade deals with virtually every nation on Earth, China is not averse to flexing its economic muscle. In 2016 the Chinese authorities tightened their grip on the governments of Slovakia and Mongolia following visits by the Dalai Lama to both states (though neither of these trips were political or involved any official government meetings). The subsequent trade threats that both nations faced prompted their governments to apologise and commit not to host the Tibetan spiritual leader again.
The UK government needs to speak out more and its strong trade links with China have too often taken priority over human rights concerns, with little public condemnation of Beijing's abuses in Tibet. Britain's decision to leave the EU could worsen this situation.
In the past the UK has done some good work to raise human rights issues in Tibet through the EU's External Action Service – by issuing joint statements through the EU the UK has been shielded from direct Chinese criticism. However, once the UK leaves the European bloc it will have to develop a stronger approach to speaking out for human rights in Tibet – the need it now faces to sign new trade accords in its own right, with countries such as China, make it difficult to imagine how that will happen.
China is also increasingly aware of the role of 'soft power' and has launched multiple initiatives, such as the network of Confucius Institutes which facilitate the teaching of Mandarin, among other topics, worldwide. Chinese students themselves are also a lucrative market for western universities and China's growing cultural reach – through film and increasingly tourism – also plays a role in the normalisation of China's power structures.
China continues to make it incredibly difficult to get information out of Tibet and it remains to this day one of the most closed places on Earth. It is estimated that tens of thousands of Chinese police and security personnel have been deployed across the whole of Tibet to create an extensive and intrusive surveillance state while Tibetans' freedom to travel both within and outside Tibet is heavily-controlled. Communications with the outside world are also extensively monitored while the UN, diplomats and human rights organisations are prevented from visiting.
That said, the Tibetan people – and their unique culture and way of life – have survived years of Chinese oppression, including the rampant devastation wrought by the Cultural Revolution in the 1960s, and they remain a tenacious and patient people. Free Tibet and its sister organisation Tibet Watch work alongside the Tibetan community – worldwide – to highlight the repressive regime while reminding politicians it is their responsibility to demand the investigation of abuse.
In what ways do you advocate for Tibetan freedom at the national and international level?
Free Tibet is a global organisation with supporters worldwide and the actions it spearheads, and supports, are as diverse as the supporters themselves. Campaigning strategies include, among others, street protests, political lobbying, petitioning for the release of political prisoners and a strong online presence designed to keep the Tibetan issue in the spotlight.
Free Tibet maintains important relationships with political leaders worldwide and regularly provides evidence of human rights abuses to the United Nations, for example. Pressure is also maintained on Chinese leaders with regards to their policies in Tibet and individual Tibetan political prisoners. Free Tibet tackles economic challenges as well and runs targeted campaigns that confront corporations seeking to profit from the occupation.
China uses its economic weight to silence discussion of Tibet on the world stage and propaganda to prevent individuals from learning the truth. Free Tibet counters this by pressuring world leaders and exposing the reality about Tibet, driving international support for Tibetans' tireless and peaceful struggle for freedom.
What can people across the globe do in order to effectively support the Tibet issue?
For some people wearing a t-shirt is their way of keeping the issue alive, for others it is a financial contribution, for others still it is the thrill of waving a banner at a protest. The Free Tibet website (https://freetibet.org/take-action) lists all the existing campaigns which enable Tibet supporters to push back against the environmental damage, imprisonment of protesters and the systematic attacks on Tibet's culture and religion. There are many ways to support the Tibetan cause and ensure that the ongoing oppression of Tibet's people is kept in the spotlight.
What we cannot do is stay silent. Inside Tibet, Tibetans continue to give everything they have to resist the Chinese occupation, despite the heavy personal price that comes with defiance. They have been beaten, separated from their families, imprisoned and tortured for protecting their beliefs and their country. Such acts of defiance and courage in one of the most closed and suffocating environments in the world demand the attention of our governments and our media.
The tenacity and endurance of the Tibetan people should inspire us all. Similar to many struggles throughout history, Tibetans do not walk a straight road, yet they have never stopped and neither must we. To campaign on Tibet is to walk alongside some of the bravest people on the planet and once you begin this walk you will never look back.
By Baher Kamal
It all happened on the very same day—4 April. That day, indigenous peoples were simultaneously characterised as fundamental allies in the world's war on hunger and poverty, while being declared as collective victims of a "tsunami" of imprisonments in Australia. See what happened.

Australia must reduce the "astounding" rates of imprisonment for indigenous peoples and step up the fight against racism, on 4 April warned Victoria Tauli-Corpuz, the United Nations Special Rapporteur on the rights of indigenous peoples.
"It is alarming that, while the country has adopted numerous policies to address the socio-economic disadvantage of Aboriginal peoples and those from the Torres Strait Islands, it has failed to respect their rights to self-determination and to full and effective participation in society," she added at the end of an official visit to Australia.
Tauli-Corpuz said that the Australian government policies have failed to deliver on targets in the areas of "health, education and employment and have led to a growing number of people being jailed, and have resulted in an increasing number of children being removed from their homes in Aboriginal and Torres Strait Islander communities."
Astounding Figures
"High rates of incarceration were described to me as a "tsunami" affecting indigenous peoples. It is a major human rights concern. The figures are simply astounding. While Aboriginal and Torres Strait Islanders make up only 3 per cent of the total population, they constitute 27 per cent of the prison population, and much more in some prisons," she stressed.
"I visited Cleveland Youth Detention Centre in Townsville, Queensland, where Aboriginal and Torres Strait Islander children constitute 95 per cent of the children detained. Many have been going from out-of-home care into detention," Tauli-Corpuz said, adding that aboriginal children are seven times more likely than non-Indigenous children to be in contact with the child protection system or to be subject to abuse or neglect.
"… I urge Australia to increase the age of criminal responsibility. Children should be detained only as a last resort… These children are essentially being punished for being poor and in most cases, prison will only aggravate the cycle of violence, poverty and crime. I found meeting young children, some only 12 years old, in detention the most disturbing element of my visit."
The UN expert expressed criticism of the government programme known as the Indigenous Advancement Strategy, which was initiated in 2014 and involved a large budget cut in funding for support programmes. "The implementation of the strategy has been bureaucratic, rigid and has wasted considerable resources on administration."
Tauli-Corpuz called on the government to forge a new relationship with the national representative body for indigenous peoples, the National Congress of Australia's First People, and restore their funding.
She also expressed concern that the government would not meet targets to close the gap in areas such as "life expectancy, infant mortality, education and employment," and called for a comprehensive approach including specific targets for the "reduction of detention rates, child removal and violence against women."
Fundamental Allies
That very same day–4 April, the head of the United Nations body specialised in the areas of food and agriculture, was welcoming in Rome a group of indigenous youth representatives from the indigenous peoples' seven socio-cultural regions of the world.
In his address to the Global Indigenous Youth Caucus meeting in the Italian capital (5-7 April), Graziano da Silva, director general of the UN Food and Agriculture Organization (FAO), said that indigenous peoples are "fundamental allies" in the fight against hunger, food insecurity and poverty "because of their wealth of ancestral knowledge and good practices."
In a world in which climate change brings new challenges and uncertainties, we cannot eliminate hunger without the participation of youth, said da Silva, noting that "they must participate in these issues that will affect their children and their children's children. Let's work together and do it right now."
The Sustainable Development Goals provide an opportunity for countries, indigenous organisations and the United Nations to work together to make an impact starting now through to 2030, he added, while reminding that since the creation of its Indigenous Peoples team in 2014, FAO is strengthening its work with indigenous organisations based on a double approach:
"On the one hand, we consider indigenous peoples as fundamental allies in the fight against hunger, food insecurity and poverty because of their wealth of ancestral knowledge and good practices.
"On the other hand, "we are aware that the lack of recognition of their rights in the management of natural resources and the marginalization they suffer places them in a vulnerable position. I speak above all of your ancestral rights to land tenure."
Traditional Indigenous Knowledge
Da Silva referred to the indigenous food systems, noting that traditional indigenous knowledge and the diversity of their food systems can provide solutions for healthy diets, and many areas such as nutrition, climate change or ecosystem management.
Working with indigenous women's leadership schools, he added, has enabled fellow indigenous women to gain access to training on rights, food security and other areas of interest such as the use of local seeds, voluntary guidelines on land tenure, guides on artisanal fisheries, etc.
The Rome meeting of the Global Indigenous Youth Caucus coincided with the celebration of the tenth anniversary of the United Nations Declaration on the Right of Indigenous Peoples.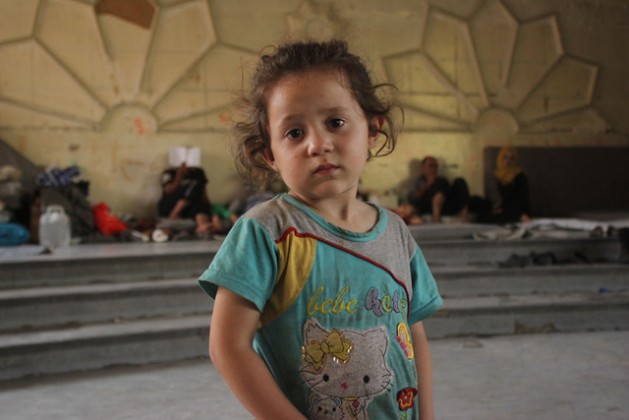 By Baher Kamal for IPS.
A perfect storm has engulfed the Middle East, and continues to threaten international peace and security.

Hardly anyone could sum up the Middle East explosive situation in so few, blunt words as just did Nickolay Mladenov, the UN Special Coordinator for the Middle East Peace Process.
Reporting to the UN Security Council on the "dire situation across the Middle East region, marked by the largest refugee crisis since the Second World War, fractured societies, proliferation of non-State actors and unbelievable human suffering," Mladenov reiterated the need for a surge in diplomacy for peace to ease the suffering of innocent civilians.
The UN Special Coordinator also warned that "the question of Palestine remained a 'potent symbol' and a 'rallying cry', one that is easily misappropriated and exploited by extremist groups."
"Let us not forget that behind the images of savagery [there] are the millions [struggling] every day not only for their own survival but for the true humane essence of their cultures and societies," he told the Security Council on 20 April 2017 .
"Today, a perfect storm has engulfed the Middle East, and continues to threaten international peace and security," he said, noting that divisions within the region have opened the doors to foreign intervention and manipulation, breeding instability and sectarian strife.
"Ending the occupation and realising a two-state solution will not solve all the region's problems, but as long as the conflict persists, it will continue to feed them."
Mladenov also informed the 15-member Security Council of sporadic violence that continued to claim lives and reported on Israel's approval of the establishment of new settlements and declaration of "State land" in the occupied Palestinian territory.
On the Palestinian side, he noted multiple worrying developments that are "further cementing" the Gaza-West Bank divide and dangerously increasing the risk of escalation.
Turning to the wider region, Mladenov briefed the Security Council members on the on-going crisis in Syria that continues to be a "massive burden" for other countries and called on the international community to do more to stand in solidarity with Syria's neighbours.
"Strong, Loud Alarm"
"The statement that Mr. Mladenov has just made should sound a strong, loud alarm," a retired Arab diplomat told IPS on condition of anonymity.
"We should always have in mind that the United Nations envoys and special coordinators used to be extremely careful when choosing their wording, in particular when it comes to reporting to the UN Security Council. This is why his words should be taken really seriously," the diplomat emphasised.
According to this well-informed source, several Middle East analysts and even regional political leaders "harbour mixed feeling and even confusion about what some consider as "errant" foreign policy of the current US administration." "What is anyway clear is that a new Middle East is now "under construction". Such a process will not be an easy one, in view of the growing trend to embark on a new cold war between the US and Russia," the diplomat concluded.
Further in his briefing, the UN Special Coordinator spoke of the situation in Lebanon, Iraq and Yemen as well as of "social exclusion and marginalisation that tend to provide fertile ground for the rise of violent extremism."
Recalling UN Secretary-General António Guterres' call for a "surge in diplomacy for peace", Mladenov urged UN Member States, especially through a united Security Council, to assume "the leading role in resolving the crisis."
"Multilateral approaches and cooperation are necessary to address interlinked conflicts, cross-border humanitarian impacts and violent extremism."
"Grave Danger"
Just one week earlier, the UN Special Envoy for Syria, Staffan de Mistura, told the UN Security Council in the wake of yet another dire turn in the Syrian crisis, that the United States and the Russian Federation "must find a way to work together to stabilise the situation and support the political process."
In his briefing on 12 April, de Mistura added that the previous week's reported chemical weapons attack, the subsequent air strikes by the US and intensified fighting on the ground have put the fragile peace process in "grave danger."
"This is a time for clear-thinking, strategy, imagination, cooperation," said de Mistura.
"We must all resolve that the time has come where the intra-Syrian talks move beyond preparatory discussions and into the real heart of the matter, across all four baskets, to secure a meaningful negotiated transition package," he added.
Prior to the reported chemical attack in the Khan Shaykhun area of Idlib, modest but incremental progress was made, the UN envoy noted, highlighting that though there were no breakthroughs, there were also no breakdowns. The most recent round of talks, facilitated by the UN in Geneva, wrapped up three weeks ago.
However, the reported attack and subsequent events have placed the country between two paths: one leading towards more death, destruction and regional and international divisions; and the other of real de-escalation and ceasefire, added de Mistura.
The UN Special Envoy reiterated that there are no military solutions to the strife in the war-ravaged country.
"You have heard it countless times, but I will say it again: there can only be a political solution to this bloody conflict […] regardless of what some say or believe," he expressed, noting that this is what Syrians from all walks of life also say and something that the Security Council had agreed upon.
"So, let us use this moment of crisis – and it is a moment of crisis – as a watershed and an opportunity perhaps for a new level of seriousness in the search for a political solution."