You are currently browsing the monthly archive for March 2017.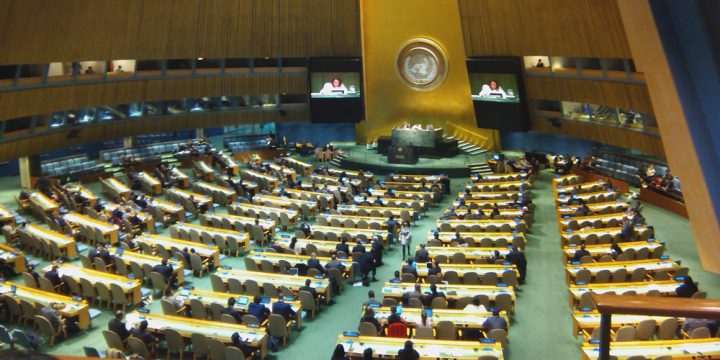 By Richard Falk
Donald Trump has articulated clearly, if somewhat vaguely and incoherently, his anti-globalist, anti-UN approach on foreign policy.
For instance, in late February he told a right-wing audience at the Conservative Political Action Conference that "there is no such thing as a global anthem, a global currency, or a global flag. This is the United States that I am representing. I am not representing the globe."
A similar sentiment was expressed to Congress a few days later in a tone of voice and choice of words praised by media wonks as 'presidential.' On this occasion Trump said, "[m]y job is not to represent the world. My job is to represent the United States of America."
Such rhetoric coming from a normal American leader would probably be interpreted as an expression of geopolitical humility, implicitly rejecting the standard insistence on American exceptionalism, exemplified in recent times by the project to create and maintain the first global state in human history.
This potentially self-limiting language might even be understood as renouncing earlier claims to assert American global leadership as the keystone of world order.
George W. Bush in 2002 gave this bold leadership claim a sharp edge when he insisted that only the US model of market-based constitutionalism was a legitimate form of governance for sovereign states in the 21st century.
Or even more grandiosely, in the spirit of Michael Mandelbaum and Thomas Friedman, that the United States as a consequence of its martial strength, technological prowess, democratic values and institutions, and skills of leadership provides the world with the benevolent reality of virtual 'world government.'
Let's face it, Donald Trump is not a normal political leader, nor is he someone disposed to embrace humility in any form, so we should take his pledge to represent American interests while leaving the world to fend for itself with many grains of salt, especially if we consider the specifics of the Trump worldview.
What Trump seems to be offering is maximum disengagement from international and global arrangements designed to institutionalize cooperation among sovereign states, and that is where the UN figures in Trump's unfolding game plan.
Even before being sworn in as president Trump engaged in UN-bashing on behalf of, and in concert with the Israeli Prime Minister, Netanyahu. His dismissive comment contained in a tweet is rather revealing: "The UN has great potential, but right now it is just a club for people to get together, talk, and have a good time. So sad!"
Of course, we are not told what Trump thinks might bring into being this 'great potential' of the UN. Also not surprisingly, the tweet was provoked by Security Resolution 2334, adopted December 23rd by a 14-0 vote, which sharply criticized Israeli settlement expansion as unlawful and as creating a major obstacles to establishing peace with the Palestinians.
The Obama presidency was sharply criticized by Trump and others, including many Democrats, for allowing passage of this resolution at the UN by failing to do what it had consistently done for the prior eight years, shield Israel from often fully deserved, and long overdue, UN censure by casting a veto.
It seems that Trump, a bipartisan consensus in Congress, and the new US Representative at the UN, Nikki Haley evaluate the usefulness of the UN through an 'Israel first' optic, that is, the significance of UN is actually reduced to its attitude toward Israel, which is viewed through Israeli eyes, and is unmindful toward the wide spectrum of UN activities and contributions to human wellbeing.
It must be acknowledged that the Obama presidency did only slightly better when it comes to both the UN and Israel.
True, Barack Obama in his annual addresses to the General Assembly affirmed the importance and contributions of the UN by concrete reference to achievements, and used these occasions to set forth his vision of a better world that included a major role for the UN.
Also, Obama recognized the importance of the UN in dealing with the challenge of climate change, and joined with China to ensure a multilateralist triumph under UN auspices by having the 194 assembled government successfully conclude the 2015 Paris Agreement on Climate Change.
However, when it came to war/peace issues such as drone warfare, threats of war directed at Iran, modernization of nuclear weapons, and the defense of Israel, the Obama Administration flexed its geopolitical muscles with disdain for the constraining limits imposed by international law and international morality. In this core respect, Trump's approach, while blunter and oblivious to the etiquette of global diplomacy, appears to maintain fundamental continuity with the Obama approach.
With respect to defending Israel even when it faces responsible criticism, I can report from my own experience while serving as UN Special Rapporteur on Occupied Palestine, that the defense of Israel's unlawful behavior within the UN during the Obama years was unconditional, and deeply irresponsible toward respect for international legal obligations, especially in relation to upholding international humanitarian law and norms governing recourse to non-defensive force.
American chief representatives at the UN, Susan Rice and Samantha Power, both called for my dismissal from my unpaid post in vitriolic language without ever confronting the substance of my criticisms of Israel's murderous periodic attacks on Gaza, its excessive use of force in sustaining the occupation, its expansion of unlawful settlements, and its discriminatory administration of the West Bank and East Jerusalem.
I mention this personal experience to underscore the willingness of the Obama presidency to go all in with Israel despite the awkward fact that Obama was being harshly attacked in Israel, including by government leasers, and hence also in the US. Obama was being wrongly accused of being unfriendly to Israel as compared to earlier American presidents. Israel has high expectations that Trump will sway with the wind from Tel Aviv.
More to the point, Trump's view of foreign policy at this stage appears to be a primitive mixture of state-centrism, militarism, nationalism, overall what had qualified until World War I as realpolitik.
There was back then no UN, few international institutions, no international law prohibition on aggressive war, no Nuremberg Principles imposing criminal accountability on political and military leaders, no tradition of protection for international human rights, and no affirmation of the inalienable right of all peoples to self-determination.
It was a Eurocentric state system that combined the interaction of sovereign states in the West with colonial rule extended directly and indirectly to most of Asia, Africa, and Latin America. Of course, now the colonial system has formally collapsed, China, Russia, and India have risen, Europe has declined, nuclear weapons continue to shadow human existence, and the specter of global warming dangles a sword of Damocles over the human condition.
Trump seeks to restore a simpler world with his raucous rally cries of 'America First.'
This is to be accomplished by carrying out a series of promises: to renegotiate trade arrangements, build walls, crush terrorism, terrorize undocumented immigrants, liberate police from accountability, bar Muslim immigration, and develop the world's most feared nuclear arsenal.
It is not a pretty picture, but also it involves a reckless disregard of the fragility of our interconnected and networked world order that mandates a globalizing framework for common problem-solving rather that a retreat to a glorious past that never was.
Of course, it would be misleading to leave the impression that the Trump worldview is bereft of any constructive thoughts about how to engage with the world.
Trump's controversial connections with Putin and Russia impart a contradictory impression: what is favorable is an evident interest in exploring prospects for a cooperative relationship, which goes against the grain of the American national security establishment, including several Republican heavyweights, which seemed likely in an expected Clinton presidency to be readying the country for a dangerous plunge into a second cold war.
It would be ignited with reckless bravado by confronting Russia along its borders; in contrast, what is dubious about the Trump overtures to the Kremlin are the backdoor dealings with Russian officials during the presidential campaign and subsequently, reinforced by the 'golden shower' innuendo and unresolved concerns that Trump's withheld tax returns might reveal awkward information about indebtedness or business dealings or both.
Whether Trump is going to abandon this effort to smooth things with Moscow under this pressure from the US intelligence and security bureaucracy will be a defining feature of whether his foreign policy gets early stuck in the Washington swamp, or risks the governmentally unsettling effects of discontinuity with the past.
There are some cynical interpretations of Trump's opening to Russia as primarily intended to set the stage for intensified confrontations with China.
If this view is even partially correct it could easily generate a cold war of its own, although with new alignments. It might quickly lead to hot battlefield incidents that could further escalate, giving rise to renewed fears of nuclear war.
Trump occasionally expresses an appreciation of international cooperation for mutual benefit with other states, as well as recognizing the benefits of keeping traditional alliances (NATO, Japan, South Korea) alive and threatening those countries that menace the global or regional status quo (North Korea).
What is totally absent is any acknowledgement of global challenges that cannot be met by states acting on their own or cooperatively through bilateral arrangements.
It is here where the erasure of the UN from political consciousness is so troublesome substantively as well as symbolically.
To some degree this erasure preceded Trump and is widespread. It has not been challenged as yet by even the Sanders' end of the political spectrum in the US. I found it telling that Obama made no reference to the UN in his Chicago farewell speech, which can be most accurately understood as a more positive and polite version of Trump's 'America First' engagement with the world.
Even better, on an abstract level, Trump expressed some sentiments that if concretized could overcome some of the forebodings being voiced here.
In his speech to Congress on February 28th Trump said "[w]e want harmony and stability, not war and conflict. We want peace wherever peace can be found." He went on to point out that "America is friends today with former enemies. Some of our closest allies, decades ago, fought on the opposite sides of these World Wars. This history should give us all faith in the possibilities for a better world."
If this outlook ever comes to inform the actual policies of the Trump presidency it would give grounds for hope, but as of now, any such hopes are mere indulgences of wishful thinking, and as such, diversions from the one true progressive imperative of this historic moment – political resistance to Trumpism in all its manifestations.
Dark lines of policy have also been set forth by Trump.
The angry defiance of his Inaugural Address, the belligerence toward China, threats toward North Korea, exterminist language in references to 'radical Islamic' extremism and ISIS.
Trump's belligerence toward the world is reinforced by lauding military virtues and militarism, by appointing generals and civilian advisors to top positions, and by boosting the military budget at a time when the United States already spends almost as much on its military machine as is the total of military expenditures by all other countries, and has only a string of political defeats to show for it.
These contrasting Trump imaginaries create an atmosphere of foreboding and uncertainty. Such a future can unfold in contradictory ways. At present, the forebodings clearly outweigh the hopes.
Although Trump speaks of fixing the decaying infrastructure of the United States and not wasting trillions on futile wars, especially in the Middle East, his inclinations so far suggest continuity in such brutal war theaters as Syria, Yemen, and Libya.
We have reached a stage of human development where future prospects are tied to finding institutional mechanisms that can serve human and global interests in addition to national interests, whether pursued singly or in aggregate.
In this central respect, Trump's ardent embrace of American nationalism is an anachronistic dead end.
What I find particularly discouraging about the present bipartisan political mood is its near total erasure of the United Nations and international law.
These earlier efforts to modify and ameliorate international anarchy have virtually disappeared from the political horizons of American leaders.
This reflects a loss of the kind of idealism that earlier energized the political imagination of those who spoke for the United States ever since the American Revolution.
There was admittedly always much hypocrisy and self-deception attached to this rhetoric, which conveniently overlooked American geopolitical ambitions, slavery, and devastation visited on native Americans.
It also overlooked imperial maneuvers in the Western Hemisphere and the ideologically driven foreign policy of the Cold War era that brought death, destruction, and despair to many distant lands, while keeping a dying European colonialism alive for many years by deferring to the warped logic of the Cold War.
Finally, I believe that the agenda of resistance to Trumpism includes a defense of the United Nations, and what its Charter proposes for the peoples of the world.
We need a greatly empowered UN, not an erased UN.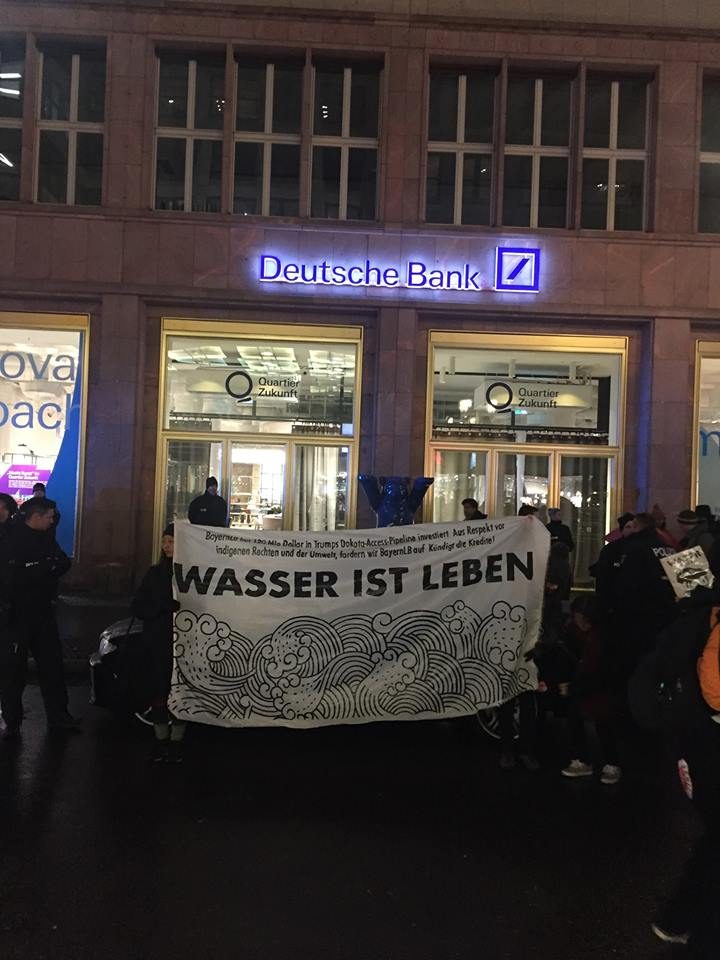 Tell Deutsche Bank to divest from the Dakota Access Pipeline! Deutsche Bank has granted Sunoco Logistics Partner L.P. $100,000,000.00 in revolving credit and Energy Transfer Equity, L.P. $61,437,500.00 in revolving credit. Deutsche Bank is also a 3% stakeholder in Energy Transfer Partners, L.P. These are companies that are directly financing the Dakota Access Pipeline, implicating Deutsche Bank in explicit environmental racism and violation of treaty rights. #WaterIsLife #WasseristLeben #DivestDAPL
This is an all day ONLINE protest event.
HOW DOES AN ONLINE PROTEST WORK?
On March 30th, we'll send messages to Deutsche Bank via Twitter, Facebook, email, etc. In addition to Deutsche Bank, we join Italy and Spain targeting the Italian bank Intesa Sanpaolo (https://www.facebook.com/events/231071110700375/) and the Spanish bank BBVA (https://www.facebook.com/events/1866308153645326/). We want to jam them with messages to divest! Take 5 minutes on Thursday, March 30 to demand that Deutsche Bank divests!
SUGGESTED MESSAGES for TWITTER:
@DeutscheBank! #EnvironmentalRacism and #TreatyViolations are not good investments. #DivestDAPL #NoDAPL
Hey @DeutscheBank! The world is watching and wants you to #DivestDAPL. Don't invest your money in a massive human rights violation!
@DeutscheBank claims to be not invested in #DAPL but is invested in 3 companies that directly finance DAPL #DivestDAPL
@DeutscheBank are you removing your investment in #DAPL? I don't want my money paying for fossil fuels! #NoDAPL #DivestDAPL
SUGGESTED MESSAGES for FACEBOOK / LINKEDIN / EMAIL:
I would like you to divest from the companies directly funding the Dakota Access Pipeline: Sunoco Logistics Partner L.P., Energy Transfer Equity, L.P., and Energy Transfer Partners, L.P. Don't invest your money in environmental racism and massive human rights violations! Invest in Native sovereignty and environmental justice. Follow ING and Bayern LB's examples, divest now. #divestDAPL #NoDAPL #WaterIsLife
SOCIAL MEDIA CONTACTS FOR DEUTSCHE BANK:
• Twitter: twitter.com/DeutscheBank
• Facebook: facebook.com/DeutscheBankAG
• LinkedIn: linkedin.com/company/deutsche-bank
• Website: deutsche-bank.de
WANT TO DO MORE?
If you bank with Deutsche Bank you're also encouraged to close your account on March 30th and/or ask your friends and family to consider divesting. If you do divest on the 30th, please take a picture of yourself with an #IDivested sign in front of your Deutsche Bank branch, sharing that image on social media using the hashtags: #NoDAPL #DivestDAPL #IDivested #DeutscheBankDivest
This post is also available in: Italian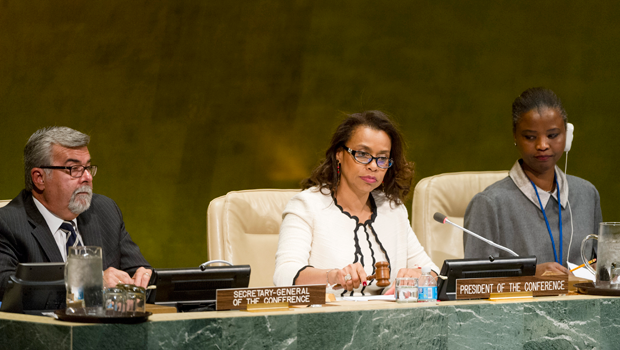 By Ray Acheson.
Applause broke out at the beginning of the day when the President of the conference to negotiate a treaty banning nuclear weapons, Ambassador Elayne Whyte of Costa Rica, opened the proceedings. Applause also broke out at the end of the day when she declared the first meeting over. Clearly, diplomats and activists alike are excited about this treaty.
They should be. As Ambassador Patricia O'Brien of Ireland said in her remarks, this "is a pivotal point in our international relations, a time to take stock and
honour the testimony of the past, to decide what sort of present we wish to live in and what sort of legacy we wish to leave for future generations." She noted, "We are not just writing a new and complementary treaty here, we are taking the opportunity to write a new history and in so doing to create a new, more stable, more secure and more equal future for all."
This is the crux of the ban treaty. It is being negotiated on the basis of courage and hope, rather than fear and inequality. It is an act of states and civil society coming together to stand up to power and violence and say, enough, we are going to craft a different world, whether you like it or not.
Day one of the negotiations could not have gone better. Many delegations issued eloquent explanations of their belief in and hopes for this treaty. Several outlined in detail (in many cases for the first time) what they see as the preferred scope of the treaty in terms of prohibitions, shedding more light than ever on the possibilities for this instrument. The vast majority of countries clearly want a strong, comprehensive prohibition treaty that covers a wide range of nuclear weapon-related activities and that carves out space for future negotiations on nuclear disarmament and related verification measures.
That space is a sign to nuclear-armed states that we have faith in this treaty. That we believe that it will be effective in its normative, legal, political, economic, and social transformation of the nuclear world order and that will help compel them to eliminate their genocidal weapons.
Most of us—whether diplomats, activists, academics—have had to live in the space created for us by the nuclear-armed states that have decided they have the power and authority to determine when and where they will eliminate nuclear weapons. So far their obligations and commitments have amounted to naught, and now one of the states with the biggest arsenals is reconsidering whether it even thinks disarmament is a "realistic objective" that it will continue even as a rhetorical commitment. Yet these states have controlled the narrative and even much of the scholarship for so long that most of the world believes they have the right and legitimacy to do so.
But they don't.
On Monday morning, a representative of the Trump regime stood outside of the General Assembly Hall to belittle the participants negotiating this treaty. The US ambassador to the United Nations, which is supposed to be the number one venue for multilateralism and the pursuit of cooperative peace and security, denounced the negotiations and suggested that the states pursuing this treaty must not have the security of their own citizens in mind.
Of course, the opposite is true. This treaty, and the pursuit of nuclear disarmament more broadly, is all about trying to protect civilians from harm. The vast majority of governments recognise that nuclear weapons are a risk to human beings and the environment everywhere. Nuclear weapons "are not useful deterrents," said Ambassador Walton Webson of Antigua and Barbuda on behalf of the Caribbean Community. Rather, they "cultivate a state of insecurity and false defensiveness that only increases the chances of proliferation with devastating impact on all of us." Thus prohibiting nuclear weapons, Alfredo Labbe of Chile said, is a "liberating initiative," freeing us from the nuclear threat rather than being a threat to nuclear-armed states. States that have acquired nuclear weapons, he argued, are "captives in the Faustian trap of nuclear deterrence;" this is a way to help them out.
Certainly it is a better idea to try to help them out now then to wait until nuclear weapons are detonated, either by accident or design. As Austria's Ambassador Alexander Marschik stated, waiting for a nuclear disaster is not a strategy. We must prohibit nuclear weapons now.
Over the past few years, those advocating for a ban on nuclear weapons have been told we are unrealistic or that we don't understand the "security dimensions" of nuclear weapons. Echoes of this played out in the sit-in attended by some of the nuclear-armed states outside the conference room on Monday morning. But we are neither unrealistic nor ignorant of security dimensions. We just have a different perspective—a perspective that is rooted in what Ambassador Mr. Amr Aboulatta of Egypt described as "collective security as opposed to selective security."
We also understand how change happens. It happens "when this discomfort of doing something new becomes less than keeping things the same," as Ambassador O'Brien said. A nuclear weapon ban treaty is already making nuclear-armed and nuclear-reliant states increasingly uncomfortable. The process of developing this treaty, and as well as its adoption and entry into force, will have a transformative effect on nuclear weapon policies and practices. It is only a matter of time.
This post is also available in: Spanish, German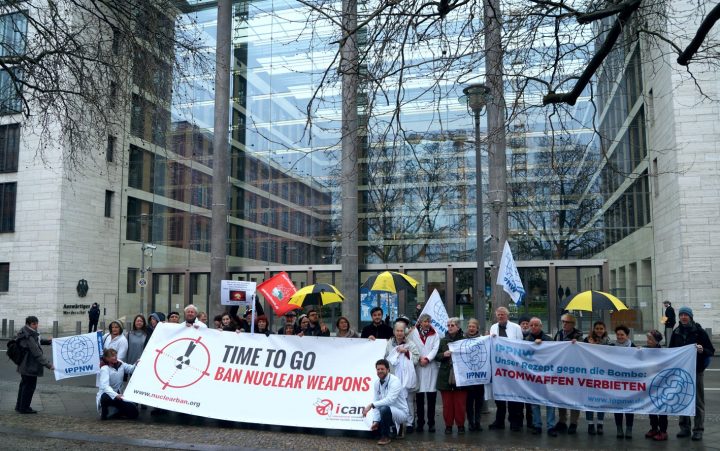 This week several demonstrations have taken place in four NATO-member European countries where US nuclear weapons are deployed.  The demonstrators demand that their governments get rid of them and call for them to be banned.
ICAN activists have organised protests in Germany, Holland, Belgium and Italy under the slogan "Time to go – Ban Nuclear Weapons" in order to draw attention to the negotiations to ban nuclear weapons that will start in the UN on Monday.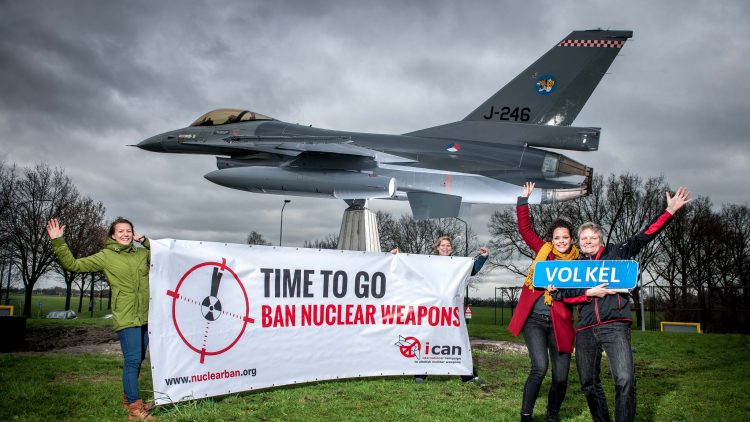 Besides Holland and Hungary, all other NATO countries have decided to stay away from the UN negotiations.  The Dutch government decided to participate in the negotiations process in October 2016 after its parliament passed a resolution in April of that year.
In Germany, Angelika Wilmen said, "The government of Germany affirms that it hasn't been easy to take the decision to not participate in the negotiations.  Nevertheless, we have received an internal paper from NATO asking countries under the NATO nuclear umbrella to vote against nuclear weapons negotiations and not form part of the process.  The only exception is Holland as the government has been obliged to do so by a decision of parliament."
Today in the German capital, representatives of IPPNW (International Physicians for the Prevention of Nuclear War) and ICAN demonstrated in front of the Ministry of Foreign Affairs with a sign "Time to Go – Ban Nuclear Weapons" and demanded Minister Sigmar Gabriel to participate in the UN negotiations.  Furthermore a petition was delivered with 3500 signatures from healthcare workers who support the ban for humanitarian reasons.
In the activity, Dr. Alex Rosen, president of IPPNW Germany said, "It is time for Germany to stop harbouring nuclear weapons.  We demand the government immediately prohibits the current stationing of nuclear weapons and actively and constructively participates in the negotiations to ban nuclear weapons worldwide."
On Thursday, the Bundestag debated Germany's participation in negotiations.  On the agenda were interventions from Die Linke (The Left) and The Greens.  In Belgium and Italy there were similar requests in their respective parliaments in order to demand their governments' active participation.
IPPNW Germany today started a new campaign "Germany Chooses Nuclear Free" that will go on until the general elections in September.  The campaign is based on a survey by Forsa in which 85% of the country's population wants nuclear weapons to be removed from Germany while 93% are in favour of banning them.
On Sunday there will be a 20-week protest at the Büchel airbase in Southeast Germany.  In Europe, US nuclear weapons are deployed in five countries: Belgium, Holland, Germany, Italy and Turkey.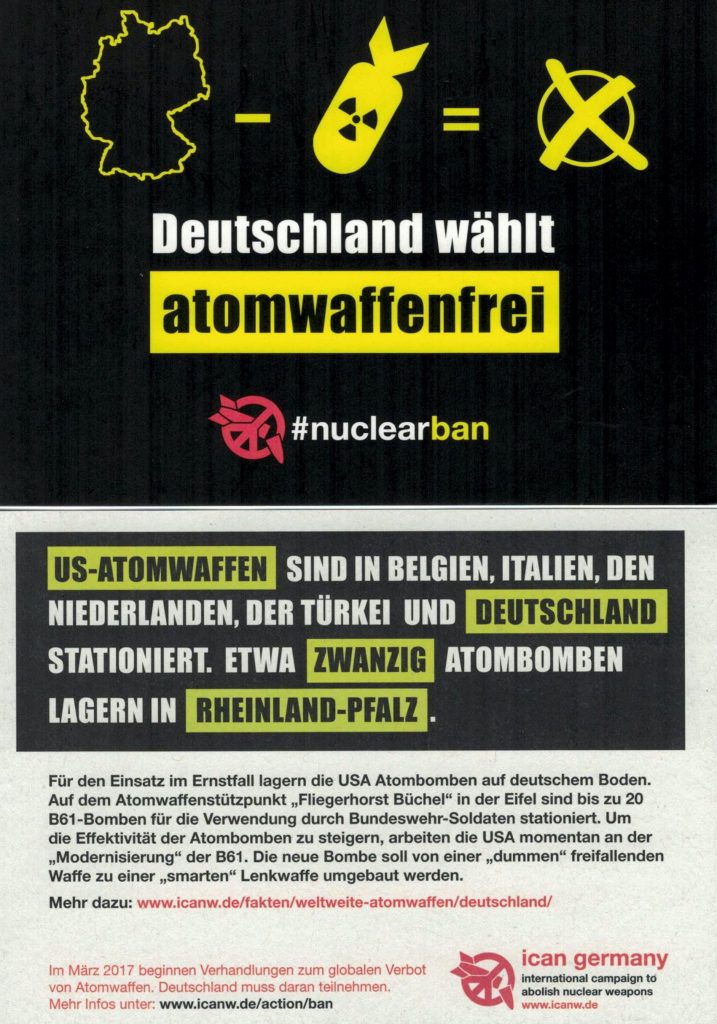 Oddkin's Thoughts
One of my favorite names for God is "the Eternal Num-Num." There's a lot that I love about God included in this term.
On one level, the meaning is pretty obvious: God is an eternal source of nourishment for us, a true "num-num" for the soul.
"Taste and see that the Lord is good," the psalmist tells us; "happy are those who take refuge in Him" (Psalm 34:8).
Whether this is meant literally (as when we consume the body and blood of Jesus in the Eucharist) or more figuratively, there's certainly a sense in which God "tastes" good, in which God can be described as "nummy."
But there's another reason that I call God the Eternal Num-Num.
"Num-num" is baby talk for food. So when I call God the Eternal Num-Num, I'm also saying that God is eternally childlike – that God is eternally filled with joy and…
View original post 343 more words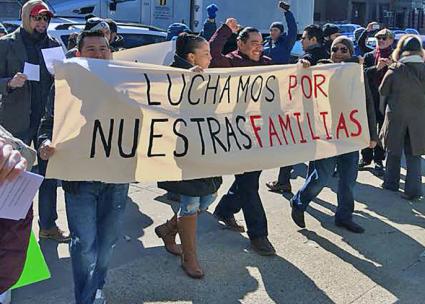 Danny Katch reports on the struggle of immigrant workers at Tom Cat Bakery to defend their jobs in the face of company demands to prove their legal status.
WHEN PEOPLE talk about Donald Trump's anti-immigrant base, they usually aren't thinking of artisanal bakeries in New York City.
But when Tom Cat Bakery in Queens handed out letters to 30 employees on March 15 demanding that they show proof of legal status, it showed that the people who have the most to gain from Trump's crackdown aren't white factory workers in the Rustbelt, but bosses everywhere who want to keep their workers divided and afraid.
At a Wednesday rally organized by Brandworkers, an advocacy organization for workers in New York City's food and retail industry, Héctor, a 13-year Tom Cat worker, addressed the crowd:
I pay taxes, I work hard, I have a family. Last week, we received a letter asking us for documentation. We were only given 10 days [to submit the paperwork]. I think it's very unfair the way we're being treated. We've given so much to this company. The reason why the company is successful today is because of our hard work.

We are asking for everybody to stand up with us today in solidarity. We are not criminals like we've been identified as. We're calling on Tom Cat and the American government not to treat us as criminals. We are hard workers, and we're taking this country upward.
Democratic City Council member Mark Levine told the crowd, "We reject the racist policies of Donald Trump's ICE which have targeted decent hardworking New Yorkers who have done nothing but contribute to this community contribute to this economy and made our city a better place."
"We demand that Tom Cat defend their workers in their time of need," he continued, "and that they offer the sponsorship that they need to remain here without this horrible threat standing over their heads."
But at this point workers don't even know whether the company is being forced to hand out these letters or if their employer is taking advantage of the national climate to advance its own agenda.
"The company has unilaterally done this," Brandworkers Executive Director Daniel Gross said in an interview. "We don't have any confirmation except for a letter on company letterhead about what's happening here."
Gross added that workers are demanding transparency "and immediate cooperation, in terms of challenging whatever is or isn't happening. They're demanding to stay in their jobs. And they're going to fight for that."
The New York Daily News reported in 2014 that there were 14,000 workers in New York City's $5 billion food manufacturing industry, and that 70 percent of them were recent immigrants, mostly from Latin America and Asia.
According to a study conducted that year by Brandworkers and the Urban Justice Center's Community Development Project, over 40 percent of those workers reported suffering from a workplace injury.
– – – – – – – – – – – – – – – –
MANY OF the Tom Cat workers under threat of termination have been at the company for at least 10 years. "We've given so many years to this company and made so many sacrifices," said one employee. "We built this company from the ground up."
"Last week, I was called into the office, and I was only given 10 days' notice to submit my working papers," said another. "They have given us only until the 28th of this month. After that we're fired. After hearing that news we've been devastated since we've given so many years of our lives to the rise of this company."
Worker after worker at the rally talked through Spanish translation of the shock at being given only a few days notice after giving the company so many years, without even word of severance pay. It was, of course, the same feelings of betrayal often heard from native-born workers going through factory closures or mass layoffs.
But Tom Cat workers are determined to fight. This is a group that first contacted Brandworkers five years ago for help in taking on abusive management from the bakery's new private equity owners, and that spirit of an organized workplace was evident at the rally.
Dozens of workers marched from a nearby park to the factory, chanting "¡Tom Cat, escucha! ¡Estamos in la lucha!" and "¡El pueblo unido jamás será vencido!" and joined by fifty supporters from various unions and labor solidarity groups.
"Their fight is our fight, our fight is their fight," said Julian, an organizer with Teamsters Local 814. "No matter their status, if they're working here, they deserve respect and they deserve rights."
Henry, a packing worker for 11 years at Tom Cat, echoed the sentiment of solidarity at the end of the rally. "Thank you all for being united with us fighting for justice," he said. "We'll continue fighting until victory, not only for the workers at Tom Cat, but for the workers of New York and all the workers in the nation–because many workers are going through exploitative conditions."
"What I know is that Trump picked the wrong group of workers and the wrong organization," says Gross. "They concluded that there's nowhere to run, nowhere to hide. Trump is coming for all marginalized people, and this is the moment to draw the line and fight back. They're committed to fight in the end."
This post is also available in: French, Italian, Greek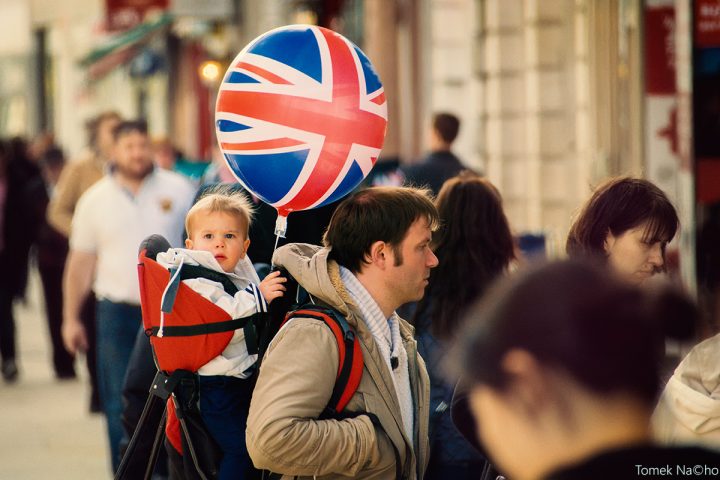 The British Prime Minister Theresa May has announced her government will trigger Article 50  – the Lisbon Treaty article that sets in motion the secession of a member state of the European Union – on March 29th , formally starting Brexit negotiations. The European Union and the United Kingdom will have a two-year period during which they should agree the terms of Brexit and their relations once Britain leaves.
"This obviously marks a historic and uncertain step for our country" Labour leader Jeremy Corbyn commented in his Facebook page. "Labour respects the result of the referendum and accepts that Britain will be leaving the European Union, but the manner in which we leave is still up for negotiation.
We can't allow the Tories to use Brexit as an excuse to turn Britain into an unregulated tax haven. As Article 50 is triggered, Labour will do all it can to protect your jobs, protect your rights and protect our environment".
This post is also available in: Spanish, French, German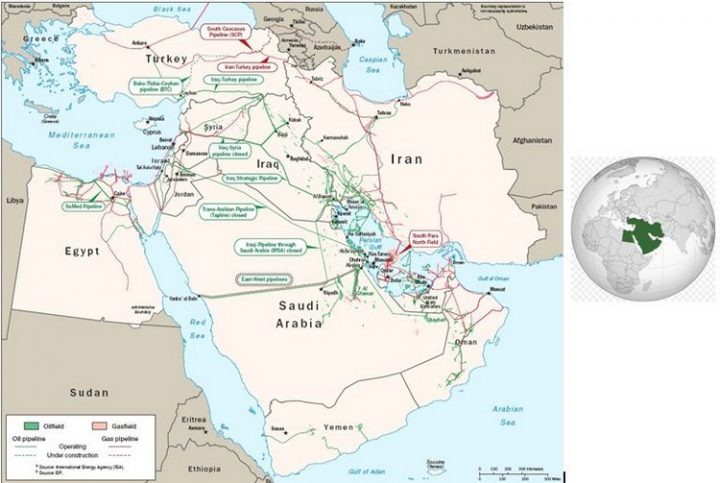 To understand the situation of today's Middle East, it's necessary to review a century of history. Indeed one has to go back to the aftermath of World War I to see the establishment of a large proportion of the geopolitical data that explains the multiplicity of the entanglement of current conflicts. One thing is certain, if the great powers have long influenced the course of events in a decisive manner, regional and local players have asserted themselves increasingly throughout the century. After France's and Great Britain's domination during the inter-war years, both Cold War superpowers took over. After the fall of the Berlin Wall opened the phase of American omnipotence which was called into question after 11 September 2001. The globalisation era saw the regional powers widening their autonomy, their independence of action, their influence, and saw the rivalries between them exacerbate. Let's try to see a little clearer.
Link to others parts:
From one world war to another (1/3)
1945 saw the famous encounter between Roosevelt and Ibn Saud the Saudi ruler. It was the Quincy Agreement: US protection provided to the regime in return for a monopoly over Saudi oil. The traditional Franco-British rivalry, of which the Middle East was the theatre during the inter-war period, was substituted at the end of the Second World War by American-Soviet rivalry. It would mark the region for almost half a century. The Americans gradually took over the baton from the British. The French had to abandon Syria and Lebanon, partly under pressure from Arab nationalists and partly under the pressure of their Anglo-Saxon allies. Turkey joined NATO in 1952. Mossadegh, the Shah's prime minister, tried to nationalise Iranian oil. He was overthrown in a coup orchestrated by the CIA. The Shah then owed his power to the Americans. The Baghdad pact, a kind of Middle-Eastern NATO, was created. It was the era of the Eisenhower doctrine, "containment", which claimed to stem the influence of the USSR. It was clear that the Middle East, which contains the largest known hydrocarbon reserves, was a major issue of the Cold War. For the Western economies (USA, Europe, Japan), it must be remembered, it was the era of "peak-oil". Low prices stimulated consumption, one of the pillars of economic growth in the post-war years.
The case of Israel, whose independence was proclaimed in 1948, was a special case since this state was the result of the partition of Palestine in November 1947, voted for by the General Assembly of the United Nations, at that time mainly composed of Western countries. Most Asian and African countries were indeed still under colonial tutelage. The refusal to share the Arab part of Palestine, supported by neighboring states, triggered the first Israeli-Arab war (1948-49) which ended in an Israeli victory. Three other wars (1956, 1967, 1973) ended with new victories for the Jewish state. In 1959 the Palestine Liberation Organisation (PLO) was founded. It engaged in armed conflict against Israel, marked by guerilla action on its borders. In the aftermath of the 1967 war, the so-called "six-day war", Israel occupied the West Bank and the Gaza Strip, that is, the Palestinian territories that remained Arab after the 1948-49 war. This was the beginning of what are known as the "Occupied Territories" in UN terminology. In 1982 the Israeli army invaded southern Lebanon to drive out PLO forces which had installed bases from where they could leed the guerrilla movement against Israel. The PLO was expelled, the Israeli occupation lasted 3 years. In the Occupied Territories of the West Bank and Gaza, a first Palestinian revolt, the Intifada, began in December 1987 and was broken by the occupier after several years of confrontation.
More generally, the confrontation with the Soviet camp directly impacted the entire region. Some Arab nationalist states rejecting Western interference approached Moscow. These were Syria, Egypt, and lastly Iraq. Nasserians and Baathists of pan-Arab, secular and socialist ideologies opposed the pro-Western monarchical regimes: those of the Gulf and that of Egypt overthrown in 1952, that of Iraq overthrown in 1958, that of Jordan, which resisted several attempted coup d'états. The Palestinian national movement, embodied by the PLO, of which Arafat took control in 1965, was also close to the countries of the East. The Middle East was thus on a level with the Cold War. The Peoples of the Middle East were confronted with censorship, a police state and repression everywhere.
In 1971, Great Britain granted independence to the small states of the southern shore of the Persian Gulf: Kuwait, Bahrain, Qatar and the United Arab Emirates. Members of OPEC (Organisation of Petroleum Exporting Countries established in 1960), they tended to align with the policy of the Saudi "big brother". As petro-monarchies, they also benefitted from American protection and the solicitude of the West. The Shah of Iran became the regional policeman thanks to his oil and his army. Turkey, the south-western pillar of NATO, saw alternating civil and military regimes following coups d'états (1960, 1971, 1980) whenever the army considered that the country's policy was moving too far from its Kemalist heritage.
1973 was a warning shot. Following the Yom Kippur war which saw Israel put in difficulty by the Arab armies before diverting the situation to its profit with American aid, the oil-producing countries decided the embargo and then the increase in crude oil prices. OPEC defended its interests. The Western economies were in crisis because of the renewed energy on which the growth of the post-war years was built, the famous "Trente Glorieuses".
The shock of the Iranian revolution
A second oil shock, with the same consequences on Western economies as the first one, took place in 1979. This time, it was a consequence of a major political event. The Iranian revolution was indeed a real thunderclap. Before being reclaimed by the more conservative and authoritarian part of the Shiite clergy lined up behind the charismatic figure of the Ayatollah Khomeiny, this revolution was very popular and overthrew the Shah's autocracy. It also reunited the traditional middle classes and the liberal bourgeoisie with the working classes and the Shiite clergy, or the far-left student movements and the communist party. In a matter of weeks, the administration and the army collapsed, refusing to serve any longer a regime discredited by its authoritarianism, its corruption, its megalomania and its alignment with the United States. The West was challenged as it had never been in the region. It then supported the Iraqi baathist regime of Saddam Hussein in an attempt to stem the revolutionary contagion: Iraq attacked Iran. The Gulf monarchies funded the Iraqis' war effort. After a murderous war from 1980 to 1988, which claimed more than half a million deaths, an armistice was signed, without winners or losers.
Political Islam had meanwhile imposed itself as a major actor on the political, ideological and geopolitical scene of the Near and Middle East. Shiite political activism inspired by Tehran responded like an echo, half-rival, half-disciple to that of the Sunnites. The Sunnites Islamist movements, inspired by the Egyptian Muslim Brotherhood and Pakistan's Jamat-i-Islami grew in the Arab and Muslim World. They challenged the order inherited from colonialism as much as the powers in place, whether republican or monarchical. They took over from the nationalist and Marxist currents that had lost their popularity following the military defeats against Israel, the relative economic failures of the regime in place, and finally, political repression. They took advantage of the Gulf monarchies' money that had been flooding in since the enrichment following the increase in oil prices. The Saudi Wahhabis exported their interpretation of Islam wherever they could. But if the Islamists knew how to take advantage of the financial aid of the Gulf patrons, they nevertheless retained their critical attitude towards the alignment of the regimes on the West. In December 1979, the Soviet army intervened in Afghanistan to support the communist regime of Kabul which was prey to insurrection. Embroiled massively in the war against the Soviet invasion of Afghanistan, the jihadists took an irreversible step. Funded by the Saudis, armed by the Americans, organised and formed by the Pakistanis, they contributed to the anti-Soviet jihad. It was nevertheless the Afghan "Mujahideen" who did most of the fighting. It was in this context that Al-Qaida was formed, an international organisation led by Bin Laden, the Saudi Islamist. It would acquire a sinister celebrity by perpetrating the attacks of 11 September 2001 against the Twin Towers of New York.
During the entire period the states of the region thus found themselves embroiled in major East-West confrontation. The Israeli-Arab conflict deviated in part from this configuration, given that Israel was more or less opposed to the hostility of all the Arab states of the region, whatever their allegiance, pro-American or pro-Soviet. The Iranian Islamic revolution revealed a new factor of upheaval: the politico-religious factor. The latter completely escaped the determinations arising from the Cold War. It prefigured the subsequent geopolitical evolutions as the next episode.
Translated from French by Julie Kieffer – Trommons.org
This post is also available in: Greek
By Baher Kamal
Once a year, there is a day when the seven billion inhabitants of Planet Earth should feel happy or at least are encouraged to do so–the World Happiness Day, which is marked every year on March 20. So far, so good.

But what happiness is all about? And who are the world's happiest people… or at least the happy ones?
According to the Day's promoters—the United Nations "It's –literally– a day to be happy, of course!" Consequently, the world body has celebrated, since 2013, the International Day of Happiness "as a way to recognise the importance of happiness in the lives of people around the world."
Now the UN launched 17 Sustainable Development Goals that seek "to end poverty, reduce inequality, and protect our planet– three key aspects that lead to well-being and happiness." Fine!
Being this a really sound idea, the UN invites each person "of any age, plus every classroom, business and government to celebrate the International Day of Happiness using hashtag #SmallSmurfsBigGoals."
And it asks you to pledge to create more happiness in the world, and to share your happiness with the world.
All this is fine. But how, and when did the idea of celebrating a world happiness day was conceived? Which countries are the happiest? And, more importantly, are people really happy?
The idea, according to former UN secretary general Ban Ki-moon in his address in Aril 2012 to a High Level Meeting on "Happiness and Well-Being: Defining a New Economic Paradigm " is that the world "needs a new economic paradigm that recognises the parity between the three pillars of sustainable development. Social, economic and environmental well-being are indivisible. Together they define gross global happiness."
The meeting was convened at an initiative of small (770,000 inhabitants) but great Asian country–Bhutan, which already in the early 70s recognised the "supremacy" of national happiness over national income and famously adopted the goal of Gross National Happiness (GNH) over Gross National Product (GNP), which measures the total value of goods and services produced by a country in one year, including profits made in foreign countries.
The Happy Kingdom of the Himalaya…
Well, that Buddhist kingdom on the Himalayas' eastern edge, which is known for its monasteries, fortresses (or dzongs) and dramatic landscapes that range from subtropical plains to steep mountains and valleys, has been so far the first-ever country to apply the supremacy of people's happiness—measured in terms of people's happiness, over macro-economic indicators.
In that period, in the 1970s, developing countries were focused on increasing economic success to help develop prosperity. Then, Bhutan's King, Jigme Singye Wangchuck, however, believed an economic approach dehumanised the development process. Therefore, he instead decided to focus on a concept that he precisely called "Gross National Happiness.
For that there is an institution—the Centre for Bhutan Studies and GNH Research, which works precisely on the Gross National Happiness. It is a government autonomous organisation, mandated to carry out research on GNH. Its first pilot GNH Survey was carried out in 2006 with 350 respondents.
The questionnaire was further refined after the pilot survey and it was administered to 950 respondents from 12 dzongkhags. And it was again reviewed and refined for a nation wide GNH Survey which was carried out in 2010.
The Survey's result was then used to develop the indicators and set benchmark values for the different indicators that were used for the GNH Index. The next nation-wide GNH Survey was carried out in 2015. The results of both these surveys are available here, showing the people are happy.
… The Happy Emirates of the Gulf
There is another small (around 6 million inhabitants) but rich country (second richest in the Gulf after Saudi Arabia)—the United Arab Emirates (UAE), which has created a Ministry of Happiness.
It is a federation of seven emirates: Abu Dhabi, Ajman, Dubai, Fujairah, Ras al-Khaimah, Sharjah, and Umm al-Quwain, located in the southeast end of the Arabian Peninsula. And it decided a year ago to create that Ministry for Happiness as part of the largest-ever government reshuffling that implied the appointment of a cabinet of 30 ministers and secretary of state, including 8 women.
The youngest woman minister–only 22-years-old, Ohoud al-Roumi, was appointed as minister of State for Happiness. Her mission is to drive policy "to create social good and satisfaction."
In 2016, the government of Dubai established the Ministry of Happiness and referenced GNH as the background for the initiative
Moreover, a new post of minister of State for Tolerance was also created "to promote such virtue "as a fundamental value in UAE society." Another woman, Sheikha Lubna bint Khalid Al Qasimi, heads this ministry.
The same year, 2016, Thailand launched its own GNH Initiative.
… And The Happy Women of Brazil
The GNH concept evolved through the contribution of international and local scholars and researchers to become an initiative beyond the borders of Bhutan.
The idea of measuring peoples' happiness has been gradually extended to other countries. For instance, in the year 2012, studies showed that Brazilian women are happy. Not only happy—they declared being much happier than men.
According to a study published five years ago by Brazilian Bubble, which provides the business and financial community with an economic and investment perspective on Brazil, on a scale of zero to ten, the Brazilians had to rate their current perception of happiness and expectations of future joy.
Averaging 8.98 against 8.51 for the Danish women (second place), Brazilian women showed their grace and optimism about life, being the international average was 6.74. In the last place of the ranking were the women of Zimbabwe, with 4.04.
This post is also available in: Spanish
From 18-26 March, hundreds of activities will take place all over Europe to protest against racism and advocate for open, inclusive, and UNITED societies.
Organisations all over Europe are preparing activities to mark the European Action Week Against Racism. Organised by UNITED for Intercultural Action, a European network of antiracist NGOs, this annual campaign sees civil society groups, educational institutions and city governments come together to protest against racism and celebrate the diversity that enriches European societies.
In light of the divisive political rhetoric that has gripped Europe in recent years, the message of the 2017 Action Week campaign is simple: Don't be divided, Stay UNITED!
"We are living in a time where the core ideas of European culture and identity are questioned and there is a confusion of values." Said UNITED Programme Coordinator Balint Josa. "UNITED believes in solidarity and equality, and the possibility of different identities living in peace together. Taking action in defence of these ideas is the responsibility of everyone, so it's vital that as many people as possible take part in activities organised by our network to mark this important annual campaign."
The campaign is based around 21 March, the anniversary of the Sharpeville Massacre in South Africa in 1960, which in 1966 was recognised by the UN as the International Day for the Elimination of Racial Discrimination. UNITED has been coordinating an annual antiracism campaign around this date since 1993.
You can find more information about the campaign, including an interactive map showing the hundreds of activities taking place across Europe, and the city governments who have joined the campaign, at www.weekagainstracism.eu